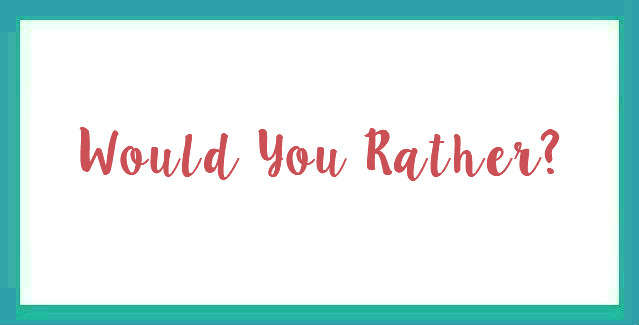 Today's post is another post inspired by a podcast. Last week, the Mom Hour Podcast did an episode in which they asked each other "would you rather" questions. I thought it would be fun to answer their questions here today. You can feel free to join in as well!
1. Would you rather start your day without coffee or start your day knowing you had to stay up until 3 AM?
I would rather know I had to stay up until 3, because I could drink my coffee in the morning and then drink more coffee later, which I normally don't do, knowing I won't be able to fall asleep! I'm more of a night person than a morning person though, so if you changed the question to would I rather skip my coffee or have to wake up at 3 AM, I might be willing to skip my coffee…not on the same day I'm waking up at 3 AM though!
2. Would you rather spend the day at a nude beach where you don't know anyone there or spend the day at your neighborhood beach (or pool I guess!) wearing a skimpy bikini?
I would rather wear a skimpy bikini because I am not very comfortable being naked! But the part about not knowing people versus possibly seeing people you know makes me wonder how I'd feel in a skimpy bikini!
3. Would you rather lead a glitter craft party for 6 year olds or put on a home fireworks display with 13 year olds?
I would probably go with the glitter because I'm not very comfortable with fire and therefore with fireworks! I've never set off fireworks myself before although I did go to a friends' house where they set off fireworks!
4. Would you rather wake up and discover a new space in your house that you didn't know about or discover a bank account that you didn't know you had with $10,000 in it?
I would probably go with the money. If I had a new area in my house to fill with things or decorate, that would cost money I don't have! With $10,000 I could redecorate space I already have.
5. If you had one child permanently stuck at a certain age, would you rather have them stuck at 3 weeks, 18 months, or 3 years?
At first I was going to say 3 weeks, because they are pretty easy, but then the podcast reminded me I'd be permanently breastfeeding! I think I'd choose 18 months because a baby at that age is still a cute baby, but may be able to talk and be fun to play with. A 3 year old is more difficult I think!
6. Would you rather change a poopy toddler diaper or clean up dog poop from a rug?
Not currently having a toddler or a dog, I wasn't sure which one of these was worse until the podcast mentioned how when you are changing a toddler, you also have to deal with the toddler and his or her body! For a dog, the dog does its business and leaves. It's gross, but maybe not quite as difficult.
7. Would you rather have a huge surprise birthday party thrown for you or have everyone forget your birthday?
I'd definitely go with the party. I don't love being the center of attention but for my birthday I want to be remembered! I thought the question was going to be would you rather have a party thrown for you or throw one for someone else and I would still rather have it thrown for me. I'm not very good at planning without the input of the person involved and I would worry that they wouldn't like it! I once had a small surprise party thrown for me and I have planned a few small surprise parties but nothing huge at all.
8. Would you rather take a job you are a little under qualified for or one that you are way over qualified for?
If I was motivated to work, I'd take the job that I'm a little under qualified for with the goal of learning and growing. If I just wanted to have a job that I could do and earn money, I'd choose the one that I'm over qualified for.
9. Would you rather have a full house of guests for a week or be alone in your house for a week?
I'd rather be alone for sure!
Will you share your answers for any of these in the comments? Also, go listen to the podcast to find out their answers to these as well!