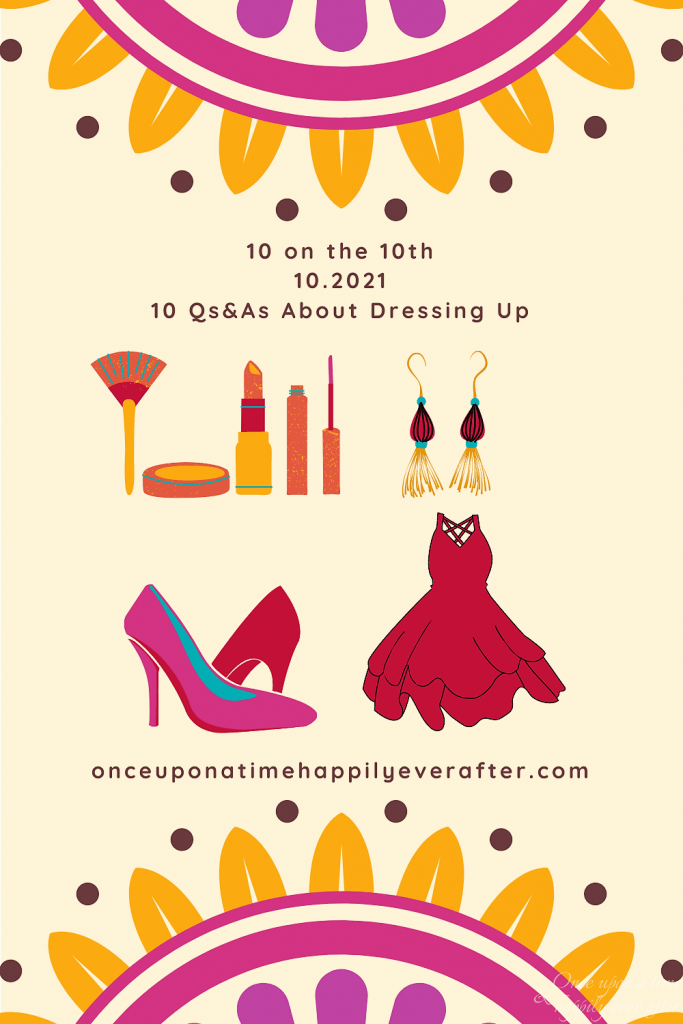 Today I'm linking up with Leslie for her 10 on the 10th link up. This month's topic is Dressing Up, and Leslie has asked 10 questions on this topic for us to think about!
1. When do you most often dress up?
I most often dress up once a week for synagogue. It's nowhere near formal dress up wear though, more like business casual.
2. What does a dress up outfit look like? What makes you feel fancy and dressed up?
For synagogue, I wear a dress or skirt. I don't really feel fancy, but more put together. The last time I really dressed up fancy for something was probably in 2019 for the synagogue annual dinner!
3. Share a time when you felt especially dressed up and pretty.
I have dressed up for weddings over the years, but I haven't really felt like I did it right since my own wedding!
4. What does getting dressed for the day mean to you?
I'm not the kind of person who can stay in pajamas all day. I always feel like I need to at the very least put on a bra! Usually in the morning I will get dressed for a run and after I get back, I shower and put on regular clothes. If I'm not going for a run, showering is still part of my getting ready.
5. Do you wear make up every day? If so, which cosmetics do you wear? Do you do anything different for special or dress up occasions?
I don't wear makeup every day, although there have been times when I've tried to add makeup into my regular routine. It's just never stuck. If I'm going to a fancy event I will wear makeup.
6. What is your skin care regimen? What issues do you address with your routine and choice of products?
I don't really have one, although I should.
7. Do you wear heels? A slip? Foundation garments like Spanx or, heaven forbid, a girdle?
I can't walk in heels. I never learned. The highest ones I have are about an inch with a block heel to help me balance. I have Spanx-like garments that I haven't worn in awhile.
8. For dress up occasions, do you prefer costume jewelry or better jewelry? What is your go-to piece of jewelry? Describe any vintage or heirloom pieces you have.
I usually wear a very pretty rose gold Jewish star necklace that I love, and costume type bracelets. I do have a diamond that was my grandma's that I had set into a pendant and I love.
9. Do you have pierced ears? If so, what age were your ears pierced?
I got my ears pierced when I was 10. I wear earrings daily, just to keep the holes open! I don't change them out too often. I also got a second piercing when I was 17, but I thought it closed up. I recently tried putting in earrings and they did go in, but I haven't actually worn two pairs at once in quite a long time.
10. Did you dress up for Halloween as a child? As an adult? Describe a favorite costume you or your children wore for Halloween. Will you be giving out candy this year?

Yes, although I don't celebrate it now, I did dress up as a kid. One of my favorite costumes that my mom made me was a wrapped present. I also remember being the ace of spades, a crayon, a clown, and a witch. I do buy candy if we get any trick or treaters, but we don't usually get many here!
Do you like to get dressed up?