Today I am featuring the book The Brothers of Auschwitz by Malka Adler on the Blog Tour hosted by TLC Book Tours. I am sharing my review of the book, so be sure to read on. This post contains affiliate links, so if you use them and make a purchase, I may receive a small commission.
About The Book: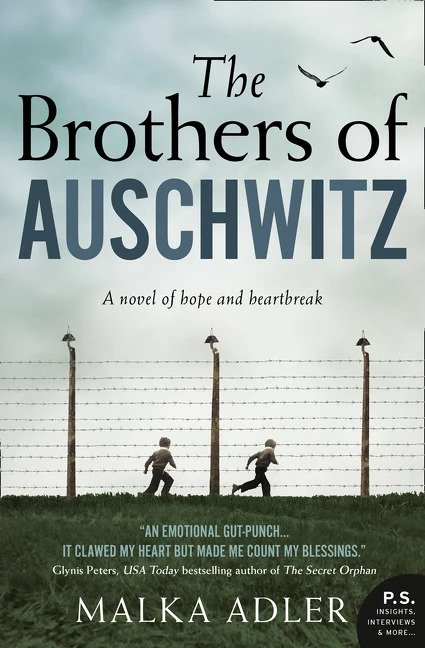 Title: The Brothers of Auschwitz
Author: Malka Adler
Genre: Historical Fiction
Publisher: One More Chapter, 9/1/2020
Source: TLC Book Tours
Find It: HarperCollins | Amazon | Barnes & Noble
Book Description:
An extraordinary novel of hope and heartbreak, this is a story about a family separated by the Holocaust and their harrowing journey back to each other.
There was a good orchestra at Auschwitz. I could immediately hear it was good. I almost wept for the beauty of it, but the large pile of striped pajamas stayed in my mind, and I didn't cry…
Dov and Yitzhak live in a small village in the mountains of Hungary, isolated both from the world and from the horrors of the war.
But one day in 1944, everything changes. The Nazis storm the homes of the Jewish villagers and inform them they have one hour. One hour before the train will take them to Auschwitz.
Six decades later, from the safety of their living rooms at home in Israel, the brothers finally break their silence to a friend who will never let their stories be forgotten.
Narrated in a poetic style reminiscent of Margaret Atwood, Malka Adler has penned a visceral yet essential read for those who have found strength, solace and above all, hope, in books like The Choice by Edith Eger and The Librarian of Auschwitz by Antonio Iturbe.
My Review:
I have a lot of thoughts on this book. And questions. First of all, being that Dov and Yitzhak are real people that the author knows and interviewed, I'm not sure why the book is considered fiction. What is fiction about it and what is real? Secondly, I wonder why this writing style was chosen. The narrative is long and repetitive, a basic stream of consciousness told as if the brothers are talking about their experiences. Towards the end of the book, they brothers are reunited with another family member and we start over, telling her story from the beginning. This may be a worthwhile way for Holocaust survivors to share their stories, but I'm not sure it makes for a great novel. Finally, I wonder when a historical account goes from something you can learn from and veers into trauma porn territory. It got to be a bit much for me.
My last question has to do with the title. Why are they considered the brothers of Auschwitz? The majority of the book doesn't even take place in Auschwitz. What the book does a good job of covering is the trauma the survivors had to cope with after the end of the war. They were teenagers when they were imprisoned and children when they were freed. They had to learn to live life again, and the brothers did so in Israel. I thought that the book made a statement as to why the Jewish people needed a homeland and how being surrounded by others Jews they didn't need to be afraid of was so important for their recovery. However, I also thought there could have been more tie in to current events in Israel.
While this might be a moving account of what happened to Dov and Yitzhak, I cannot say it's the one of the best Holocaust novels or call it a must read as it is written.
What is the best book you've read about the Holocaust or World War II?