Today I am excited to be featuring the Ben Braver book series by Marcus Emerson on the Blog Tour hosted by Rockstar Book Tours! I am sharing our review of the book, as well as a giveaway, so be sure to read on. This post contains affiliate links, so if you use them and make a purchase, I may receive a small commission.
About The Book:
Title: Ben Braver and the Vortex of Doom (Ben Braver #3)
Author: Marcus Emerson
Genre: Middle Grade
Publisher: Roaring Brook Press, 3/3/20
Source: Rockstar Book Tours
Find It: Goodreads, Amazon, Kindle, B&N, iBooks, Kobo, TBD, Bookshop.org
Book Description:
An ordinary kid like Ben Braver is no match for a band of super villains, but he may be humanity's only hope in Marcus Emerson's Ben Braver and the Vortex of Doom.
The world will never be the same . . .
When the baddest of bad guys threatens the world with a giant black hole, Ben Braver is the only one who can stop it. Ready or not, he's about to learn what it really means to be a hero.
The Ben Braver series is "a crazy fun ride–action packed and loaded with laughs!" says Max Brallier, author of the New York Times–bestselling series The Last Kids on Earth.
Grab the first 2 books in the series!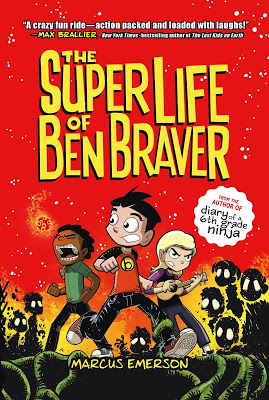 The Super Life of Ben Braver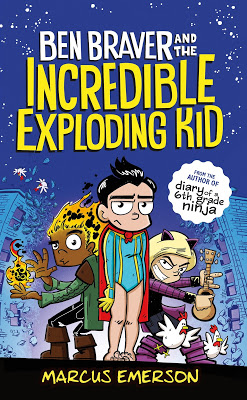 Ben Braver and the Incredible Exploding Kid
About The Author: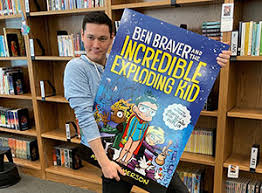 Marcus Emerson is the author of the hit Diary of a 6th Grade Ninja series and the Secret Agent 6th Grader series. His career started in 2nd grade when he discovered Garfield. He grew up playing Super Mario Bros. 4, watching Thundercats, and reading comics like X-Men, Superman, and Wildcats. He lives in Eldridge, Iowa with his wife and children.
Website | Twitter | Instagram | Facebook | Goodreads
Our Review:
Unfortunately, we didn't receive this series of books with enough time to read them all before this post! Simon started with book 1, The Super Life of Ben Braver, and he hasn't finished it yet. He told me that the book is about a boy with secret powers who goes to a special school, but he doesn't know what his powers are yet. I find this funny, because I can think of at least 3 other books that start with this same premise! It must be popular for this age group. I asked him if there is a mean student at the school and he said yes! This book is unique from some of the others because it has pictures on almost every page. As you know, my kids love graphic novels, so while this isn't a graphic novel, the pictures are enticing. The book is a good length and seems to contain an engaging story. I hope that my kids will both read the rest of the series.
Ben Braver Series Giveaway:
Three lucky winners will receive finished copies of the Ben Braver Series, US Only.
Blog Tour Schedule:
Week One:
Week Two:
Do you know any middle grade readers who might like this series?