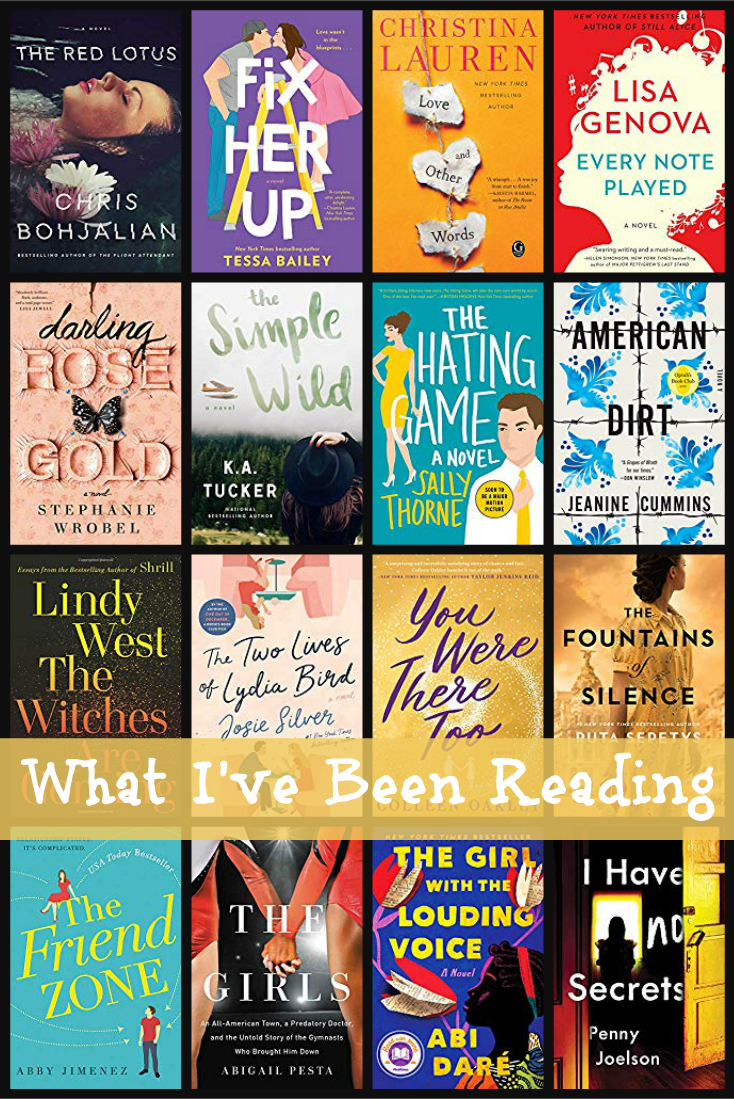 It's time for my monthly book review post! These are the books that I finished in February. I will be linking up this post with the Show Us Your Books Link Up, and as always, the Amazon links to the books I've read are affiliate links and if you use them and make a purchase, I may receive a small commission. If you've read any of these books or are interested in them, I'd love to hear about it in the comments! I also read two books that I reviewed separately: The Rise and Fall of Charles Lindbergh and What I Want You To See.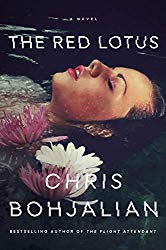 Title: The Red Lotus
Author: Chris Bohjalian
Genre: Thriller
Publisher: Doubleday Books, 3/17/20
Source: Publisher
Why I Read It: I have enjoyed most of his books and I requested it to review.
My Rating: 5 Stars
Chris Bohjalian has been a favorite author of mine for a long time. While I didn't love The Flight Attendant as much as others he's written, I was excited to try The Red Lotus and I ended up loving it. It was a major page turner!
"The first time Alexis saw Austin, it was a Saturday night. Not in a bar, but in the emergency room where Alexis sutured a bullet wound in Austin's arm. Six months later, on the brink of falling in love, they travel to Vietnam on a bike tour so that Austin can show her his passion for cycling and he can pay his respects to the place where his father and uncle fought in the war. But as Alexis sips white wine and waits at the hotel for him to return from his solo ride, two men emerge from the tall grass and Austin vanishes into thin air. The only clue he leaves behind is a bright yellow energy gel dropped on the road. As Alexis grapples with this bewildering loss, and deals with the FBI, Austin's prickly family, and her colleagues at the hospital, Alexis uncovers a series of strange lies that force her to wonder: Where did Austin go? Why did he really bring her to Vietnam? And how much danger has he left her in?"
This book deals with biological warfare, the plague, and so many rats. You will want to figure out what happened to Austin and why, including who is working for or against each other. This book does contain mentions of self-harm and again, rats.
---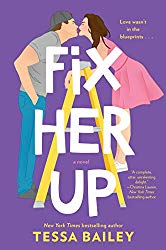 Title: Fix Her Up
Author: Tessa Bailey
Genre: Rom Com
Publisher: Avon, 6/11/19
Source: Target
Why I Read It: Rom Com February
My Rating: 4 Stars
I decided to tackle my pile of rom coms in February in honor of the month of love and I picked up this one first. It seemed to include so many romantic tropes including friends to lovers, a crush fulfilled, forbidden love (due to family friendships), and fake dating.
"Georgette Castle's family runs the best home renovation business in town, but she picked balloons instead of blueprints and they haven't taken her seriously since. Frankly, she's over it. Georgie loves planning children's birthday parties and making people laugh, just not at her own expense. She's determined to fix herself up into a Woman of the World… whatever that means. Phase one: new framework for her business (a website from this decade, perhaps?) Phase two: a gut-reno on her wardrobe (fyi, leggings are pants.) Phase three: updates to her exterior (do people still wax?) Phase four: put herself on the market (and stop crushing on Travis Ford!) Living her best life means facing the truth: Georgie hasn't been on a date since, well, ever. Nobody's asking the town clown out for a night of hot sex, that's for sure. Maybe if people think she's having a steamy love affair, they'll acknowledge she's not just the "little sister" who paints faces for a living. And who better to help demolish that image than the resident sports star and tabloid favorite? Travis Ford was major league baseball's hottest rookie when an injury ended his career. Now he's flipping houses to keep busy and trying to forget his glory days. But he can't even cross the street without someone recapping his greatest hits. Or making a joke about his… bat. And then there's Georgie, his best friend's sister, who is not a kid anymore. When she proposes a wild scheme—that they pretend to date, to shock her family and help him land a new job—he agrees. What's the harm? It's not like it's real. But the girl Travis used to tease is now a funny, full-of-life woman and there's nothing fake about how much he wants her…"
While I found Georgie and Travis to have a sweet love story, I didn't love the steamy and somewhat raunchy sex scenes. I'm not shy, but they were a little much! Both Georgie and Travis wanted to be scene for more than what they were known for and they learned to support one another with those goals.
---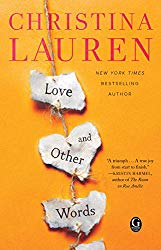 Title: Love and Other Words
Author: Christina Lauren
Genre: Rom Com
Publisher: Gallery Books, 4/10/18
Source: Amazon
Why I Read It: Rom Com February
My Rating: 5 Stars
The next book I picked up for Rom Com February checked all of my rom com boxes! Macy and Elliot were childhood friends and a couple in their teenage years when she suddenly disappeared from his life. 11 years later, they run into each other and discover that their past feelings are very much still there.
"Macy Sorensen is settling into an ambitious if emotionally tepid routine: work hard as a new pediatrics resident, plan her wedding to an older, financially secure man, keep her head down and heart tucked away. But when she runs into Elliot Petropoulos—the first and only love of her life—the careful bubble she's constructed begins to dissolve. Once upon a time, Elliot was Macy's entire world—growing from her gangly bookish friend into the man who coaxed her heart open again after the loss of her mother…only to break it on the very night he declared his love for her. Told in alternating timelines between Then and Now, teenage Elliot and Macy grow from friends to much more—spending weekends and lazy summers together in a house outside of San Francisco devouring books, sharing favorite words, and talking through their growing pains and triumphs. As adults, they have become strangers to one another until their chance reunion. Although their memories are obscured by the agony of what happened that night so many years ago, Elliot will come to understand the truth behind Macy's decade-long silence, and will have to overcome the past and himself to revive her faith in the possibility of an all-consuming love."
You will want to find out what happened that led Macy away from Elliot, and it is definitely heart breaking. Although I'm unsure I really believe in second change love stories, this one was fully believable and beautiful. I want to read all of Christina Lauren's books now!
---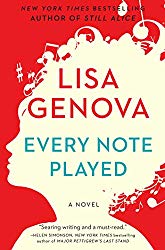 Title: Every Note Played
Author: Lisa Genova
Genre: Contemporary Fiction
Publisher: Scout Press, 3/20/18
Source: Half Price Books
Why I Read It: Backlist Buddy Read on Instagram
My Rating: 4 Stars
This book was chosen by my backlist buddy read group. I had wanted to read Lisa Genova's book Still Alice, but haven't yet. Every Note Played was about a man who is a famous pianist and develops ALS.
"An accomplished concert pianist, Richard received standing ovations from audiences all over the world in awe of his rare combination of emotional resonance and flawless technique. Every finger of his hands was a finely calibrated instrument, dancing across the keys and striking each note with exacting precision. That was eight months ago. Richard now has ALS, and his entire right arm is paralyzed. His fingers are impotent, still, devoid of possibility. The loss of his hand feels like a death, a loss of true love, a divorce—his divorce. He knows his left arm will go next. Three years ago, Karina removed their framed wedding picture from the living room wall and hung a mirror there instead. But she still hasn't moved on. Karina is paralyzed by excuses and fear, stuck in an unfulfilling life as a piano teacher, afraid to pursue the path she abandoned as a young woman, blaming Richard and their failed marriage for all of it. When Richard becomes increasingly paralyzed and is no longer able to live on his own, Karina becomes his reluctant caretaker. As Richard's muscles, voice, and breath fade, both he and Karina try to reconcile their past before it's too late."
This very sad book shows the awfulness of ALS. It is not very emotional, but the reality it describes is painful to read. Richard has a lot of decisions to make with regards to this debilitating disease. If you want to learn more about ALS I highly recommend this book.
---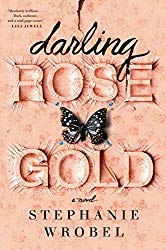 Title: Darling Rose Gold
Author: Stephanie Wrobel
Genre: Thriller
Publisher: Berkley, 3/17/20
Source: Edelweiss
Why I Read It: Buddy Read on Instagram
My Rating: 4 Stars
I was very close to giving this one 5 stars, as it was a super fast read that I couldn't put down. It is about Munchhausen by Proxy, which is an intriguing psychological disorder. It was twisty and compelling, but the ending fell a bit flat for me.
"For the first eighteen years of her life, Rose Gold Watts believed she was seriously ill. She was allergic to everything, used a wheelchair and practically lived at the hospital. Neighbors did all they could, holding fundraisers and offering shoulders to cry on, but no matter how many doctors, tests, or surgeries, no one could figure out what was wrong with Rose Gold. Turns out her mom, Patty Watts, was just a really good liar. After serving five years in prison, Patty gets out with nowhere to go and begs her daughter to take her in. The entire community is shocked when Rose Gold says yes. Patty insists all she wants is to reconcile their differences. She says she's forgiven Rose Gold for turning her in and testifying against her. But Rose Gold knows her mother. Patty Watts always settles a score. Unfortunately for Patty, Rose Gold is no longer her weak little darling…And she's waited such a long time for her mother to come home."
This book was about revenge. It was told by Patty in the present and Rose Gold in the past. There were a lot of things that had me guessing and in suspense. I just thought there might be one last twist at the end, which didn't quite come. Otherwise, I definitely recommend this thriller.
---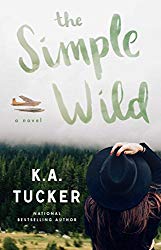 Title: The Simple Wild
Author: KA Tucker
Genre: Contemporary Romance
Publisher: Atria Books, 8/7/18
Source: Book Swap Package
Why I Read It: Buddy Read on Instagram
My Rating: 4 Stars
The Simple Wild was all over Instagram this month because the new sequel, Wild At Heart, just came out. I was excited to finally pick this one up. I loved the setting in Alaska, but the story itself was a little slower moving than I prefer.
"Calla Fletcher was two when her mother took her and fled the Alaskan wild, unable to handle the isolation of the extreme, rural lifestyle, leaving behind Calla's father, Wren Fletcher, in the process. Calla never looked back, and at twenty-six, a busy life in Toronto is all she knows. But when her father reaches out to inform her that his days are numbered, Calla knows that it's time to make the long trip back to the remote frontier town where she was born. She braves the roaming wildlife, the odd daylight hours, the exorbitant prices, and even the occasional—dear God—outhouse, all for the chance to connect with her father: a man who, despite his many faults, she can't help but care for. While she struggles to adjust to this new subarctic environment, Jonah—the quiet, brooding, and proud Alaskan pilot who keeps her father's charter plane company operational—can't imagine calling anywhere else home. And he's clearly waiting with one hand on the throttle to fly this city girl back to where she belongs, convinced that she's too pampered to handle the wild. Jonah is probably right, but Calla is determined to prove him wrong. As time passes, she unexpectedly finds herself forming a bond with the burly pilot. As his undercurrent of disapproval dwindles, it's replaced by friendship—or perhaps something deeper? But Calla is not in Alaska to stay and Jonah will never leave. It would be foolish of her to kindle a romance, to take the same path her parents tried—and failed at—years ago. It's a simple truth that turns out to be not so simple after all."
I guess I expected this to be a full rom com, but it was really a second chance family story for Calla and her father. There was also a bit of an enemies to lovers thing going on with Jonah and Calla, and I loved their relationship. There were great side characters in this book, as well as some funny scenes. Overall, it was enjoyable!
---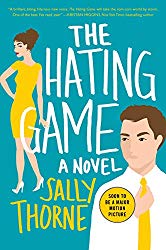 Title: The Hating Game
Author: Sally Thorne
Genre: Rom Com
Publisher: William Morrow Paperbacks, 8/9/16
Source: Book Swap Package
Why I Read It: Rom Com February
My Rating: 4 Stars
This is another well loved book on Instagram. I liked it, but it moved slowly for me. I thought it was very sweet once Lucy and Josh admitted their feelings for each other!
"Lucy Hutton and Joshua Templeman hate each other. Not dislike. Not begrudgingly tolerate. Hate. And they have no problem displaying their feelings through a series of ritualistic passive aggressive maneuvers as they sit across from each other, executive assistants to co-CEOs of a publishing company. Lucy can't understand Joshua's joyless, uptight, meticulous approach to his job. Joshua is clearly baffled by Lucy's overly bright clothes, quirkiness, and Pollyanna attitude. Now up for the same promotion, their battle of wills has come to a head and Lucy refuses to back down when their latest game could cost her her dream job…But the tension between Lucy and Joshua has also reached its boiling point, and Lucy is discovering that maybe she doesn't hate Joshua. And maybe, he doesn't hate her either. Or maybe this is just another game."
The Hating Game is going to be a movie and Lucy is played by Lucy Hale. I can see that working! For a great discussion on this book, The Stacks podcast recently covered it!
---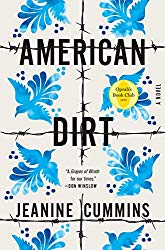 Title: American Dirt
Author: Jeanine Cummins
Genre: Contemporary Fiction
Publisher: Macmillan Audio, 1/21/20
Source: Giveaway Win
Why I Read It: Hype / Controversy
My Rating: 4 Stars
This book is very hard to review for two main reasons – the controversy surrounding it made it hard to be objective and I listened to it on audio, since that was the version I won in a giveaway. The audio was good and kept me riveted to the story. The controversy surrounding the book started about a week before its release date, and I really wish I'd been able to read it before that. I think I would have enjoyed it more if I wasn't constantly remembering the things people wrote about it. I would definitely recommend doing your research before picking this one up.
"Lydia Quixano Pérez lives in the Mexican city of Acapulco. She runs a bookstore. She has a son, Luca, the love of her life, and a wonderful husband who is a journalist. And while there are cracks beginning to show in Acapulco because of the drug cartels, her life is, by and large, fairly comfortable. Even though she knows they'll never sell, Lydia stocks some of her all-time favorite books in her store. And then one day a man enters the shop to browse and comes up to the register with a few books he would like to buy―two of them her favorites. Javier is erudite. He is charming. And, unbeknownst to Lydia, he is the jefe of the newest drug cartel that has gruesomely taken over the city. When Lydia's husband's tell-all profile of Javier is published, none of their lives will ever be the same. Forced to flee, Lydia and eight-year-old Luca soon find themselves miles and worlds away from their comfortable middle-class existence. Instantly transformed into migrants, Lydia and Luca ride la bestia―trains that make their way north toward the United States, which is the only place Javier's reach doesn't extend. As they join the countless people trying to reach el norte, Lydia soon sees that everyone is running from something. But what exactly are they running to?"
There are difficult parts to this story about a mother and her son fleeing danger. I was fully immersed in their journey, as well as with the other migrants that they met along the way. I wouldn't necessarily say this book taught me about what it's like to flee Mexico or even what life is like in Mexico, but I did learn things about the journey that I wasn't previously aware of and it made me want to learn more about immigration stories.
---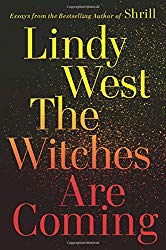 Title: The Witches Are Coming
Author: Lindy West
Genre: Non-fiction, political
Publisher: Hachette Books, 11/5/19
Source: Library Audio App
Why I Read It: Heard it was a good audio book
My Rating: 4 Stars
Lindy West is a very liberal feminist who reads her own book of essays on topics from Adam Sandler movies to abortion to Trump. They were funny and thought provoking and some of them made me mad, but I couldn't help wondering if the book had a point.
"From the moment powerful men started falling to the #MeToo movement, the lamentations began: this is feminism gone too far, this is injustice, this is a witch hunt. In The Witches Are Coming, firebrand author of the New York Times bestselling memoir and now critically acclaimed Hulu TV series Shrill, Lindy West, turns that refrain on its head. You think this is a witch hunt? Fine. You've got one. In a laugh-out-loud, incisive cultural critique, West extolls the world-changing magic of truth, urging readers to reckon with dark lies in the heart of the American mythos, and unpacking the complicated, and sometimes tragic, politics of not being a white man in the twenty-first century. She tracks the misogyny and propaganda hidden (or not so hidden) in the media she and her peers devoured growing up, a buffet of distortions, delusions, prejudice, and outright bullsh*t that has allowed white male mediocrity to maintain a death grip on American culture and politics-and that delivered us to this precarious, disorienting moment in history."
A bit extreme, this book is probably best for those who already agree with West's viewpoints, as it's not going to change anyone's mind, but will definitely make you feel like you aren't alone if you are already standing on the liberal side of the line.
---
Title: The Two Lives of Lydia Bird
Author: Josie Silver
Genre: Contemporary Romance
Publisher: Ballantine Books, 3/3/20
Source: Publisher
Why I Read It: Requested from the publisher to review
My Rating: 4 Stars
Josie Silver is the author of One Day in December, which was very popular in the book world so I wanted to read this one as well. (It is also one of the March Book of the Month Picks! Use my link and get it for only $5!) This book is about loss and grief, as well as healing after a loss.
"Lydia and Freddie. Freddie and Lydia. They'd been together for more than a decade and Lydia thought their love was indestructible. But she was wrong. On Lydia's twenty-eighth birthday, Freddie died in a car accident. So now it's just Lydia, and all she wants is to hide indoors and sob until her eyes fall out. But Lydia knows that Freddie would want her to try to live fully, happily, even without him. So, enlisting the help of his best friend, Jonah, and her sister, Elle, she takes her first tentative steps into the world, open to life—and perhaps even love—again. But then something inexplicable happens that gives her another chance at her old life with Freddie. A life where none of the tragic events of the past few months have happened. Lydia is pulled again and again through the doorway to her past, living two lives, impossibly, at once. But there's an emotional toll to returning to a world where Freddie, alive, still owns her heart. Because there's someone in her new life, her real life, who wants her to stay."
Lydia has dreams of her life as it would have been if Freddie hadn't died and her dreams are basically like living another life. There are things happening in that other life that may not be worth Lydia retreating there permanently. This is a unique way to look at how a bereaved woman copes with loss and learns to continue living in the real world.
---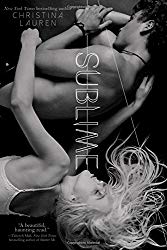 Title: Sublime
Author: Christina Lauren
Genre: YA Paranormal Romance
Publisher: Simon & Schuster Books for Young Readers, 10/27/15
Source: Amazon
Why I Read It: Diverse Genres Buddy Read on Instagram
My Rating: 3 Stars
If you want to read Christina Lauren's backlist, make sure to skip this one! It was obvious that this was one of their much earlier, not perfected books that made very little sense and left a lot of unanswered questions.
"When Lucy walks out of a frozen forest, wearing only a silk dress and sandals, she isn't sure how she got there. But when she sees Colin, she knows for sure that she's here for him. Colin has never been captivated by a girl the way he is by Lucy. With each passing day their lives intertwine, and even as Lucy begins to remember more of her life—and her death—neither of them are willing to give up what they have, no matter how impossible it is. And when Colin finds a way to physically be with Lucy, taking himself to the brink of death where his reality and Lucy's overlap, the joy of being together for those brief stolen moments drowns out everything in the outside world. But some lines weren't meant to be crossed…"
When a living boy falls for a dead girl, things can only be strange! I probably would not have finished this other than for the buddy read.
---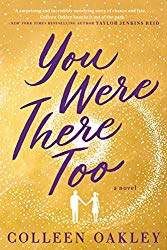 Title: You Were There Too
Author: Colleen Oakley
Genre: Contemporary Romance
Publisher: Berkley, 1/7/20
Source: Library
Why I Read It: Enjoyed her previous book
My Rating: 5 Stars
This book checked all of my boxes – a book that makes me smile and tear up with interconnected characters, about whether or not you can change fate. I was surprised how many books I read this month dealt with loss, as this one did, and it also contains descriptions of miscarriage.
"Mia Graydon's life looks picket-fence perfect; she has the house, her loving husband, and dreams of starting a family. But she has other dreams too—unexplained, recurring ones starring the same man. Still, she doesn't think much of it, until a relocation to small-town Pennsylvania brings her face to face with the stranger she has been dreaming about for years. And this man harbors a jaw-dropping secret of his own—he's been dreaming of her too. Determined to understand, Mia and this not-so-stranger search for answers. But when diving into their pasts begins to unravel her life in the present, Mia emerges with a single question—what if?"
This book took place in Hope Springs, PA, which was so obviously New Hope! Mia is married to Harrison, who is a surgeon and is struggling with the painful parts of his job. When Mia meets the man she's been dreaming of, she is torn as to whether her dreams mean she should have been with him instead of Harrison. I was somewhat able to predict what was going to occur, but I still loved how everything lined up and came together.
---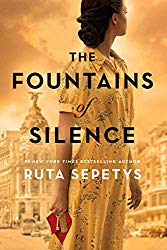 Title: Fountains of Silence
Author: Ruta Sepetys
Genre: YA Historical Fiction
Publisher: Philomel Books, 10/1/19
Source: Amazon
Why I Read It: Buddy Read on Instagram
My Rating: 4 Stars
This book is long, but it has very short chapters, which made it pretty easy for me to read a bit of it every day and keep up with my buddy read discussion schedule. I enjoyed learning about a time period that I knew nothing about.
"Madrid, 1957. Under the fascist dictatorship of General Francisco Franco, Spain is hiding a dark secret. Meanwhile, tourists and foreign businessmen flood into Spain under the welcoming promise of sunshine and wine. Among them is eighteen-year-old Daniel Matheson, the son of an oil tycoon, who arrives in Madrid with his parents hoping to connect with the country of his mother's birth through the lens of his camera. Photography–and fate–introduce him to Ana, whose family's interweaving obstacles reveal the lingering grasp of the Spanish Civil War–as well as chilling definitions of fortune and fear. Daniel's photographs leave him with uncomfortable questions amidst shadows of danger. He is backed into a corner of difficult decisions to protect those he loves. Lives and hearts collide, revealing an incredibly dark side to the sunny Spanish city."
I liked that Daniel was a photographer and the actual news articles that were interspersed in the book. Both of these things made the book come more alive for me. I also liked how the end of the book wove together all of the various viewpoints that tell the story throughout.
---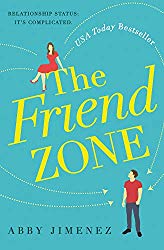 Title: The Friend Zone
Author: Abby Jimenez
Genre: Rom Com
Publisher: Forever, 6/11/19
Source: Book Swap Package
Why I Read It: Rom Com February
My Rating: 5 Stars
When I realized I wasn't going to have time to read all the rom coms I wanted to this month, I looked for advice on the last one I should choose and was told this one. I'm so glad I read it because I think it was my favorite of the month! Josh and Kristen were so adorably cute together and fun to read.
"Kristen Peterson doesn't do drama, will fight to the death for her friends, and has no room in her life for guys who just don't get her. She's also keeping a big secret: facing a medically necessary procedure that will make it impossible for her to have children. Planning her best friend's wedding is bittersweet for Kristen — especially when she meets the best man, Josh Copeland. He's funny, sexy, never offended by her mile-wide streak of sarcasm, and always one chicken enchilada ahead of her hangry. Even her dog, Stuntman Mike, adores him. The only catch: Josh wants a big family someday. Kristen knows he'd be better off with someone else, but as their attraction grows, it's harder and harder to keep him at arm's length."
This book does deal with infertility and the ending has lead some people to dislike the book, but I truly loved it. This book is funny and sad and is about friends, grief, love, and loss.
---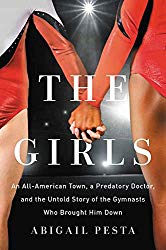 Title: The Girls
Author: Abigail Pesta
Genre: Non-Fiction / True Crime
Publisher: Hachette Audio, 8/6/19
Source: Library Audio App
Why I Read It: Saw it on Bookstagram
My Rating: 4 Stars
I know I left some of you in suspense when I mentioned I'd read a very scary book this month. Well, this is it. It was honestly terrifying how these girls were groomed, lead to trust, and then abused by Larry Nassar. The full title of this book is The Girls: An All-American Town, a Predatory Doctor, and the Untold Story of the Gymnasts Who Brought Him Down.
"We think of Larry Nassar as the despicable sexual predator of Olympic gymnasts — but there is an astonishing, untold story. For decades, in a small-town gym in Michigan, he honed his manipulations on generations of aspiring gymnasts. Kids from the neighborhood. Girls with hopes of a college scholarship. Athletes and parents with a dream. In The Girls, these brave women for the first time describe Nassar's increasingly bold predations through the years, recount their warning calls unheeded, and demonstrate their resiliency in the face of a nightmare."
The author interviewed 25 of Nassar's victims and every one of them said they didn't know that they were being abused when it happened. Nassar was a trusted doctor who convinced the girls and their parents that what he was doing to them was a legitimate medical treatment. Because of the environment of the gym they trained in, they were taught to train through their injuries and then were turned over to Nassar for his "treatment." When the girls talked to each other, they reassured each other that they were each getting the same treatment, so they rationalized that it had to be legit. When the girls were finally listened to, they had a chance to stand up in Nassar's trial and give their impact statements. The judge who heard the case was truly a hero. I listened to this book on audio and my one complaint was the way the narrator read the voices of men, which annoyed me.
---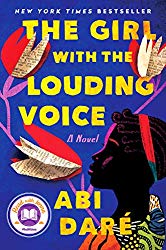 Title: The Girl With The Louding Voice
Author: Abi Dare
Genre: Contemporary Fiction
Publisher: Dutton Books, 2/4/20
Source: Publisher
Why I Read It: Sent by the publisher in exchange for my review
My Rating: 5 Stars
I am happy that I read this book during Black History Month and that it was publicized a lot because it was really good! Adunni is a young Nigerian girl who is sold into marriage to support her family. When she has to run away from her husband, she is enslaved by a rich family where she is beaten and treated very badly.
"Adunni is a fourteen-year-old Nigerian girl who knows what she wants: an education. This, her mother has told her, is the only way to get a "louding voice"—the ability to speak for herself and decide her own future. But instead, Adunni's father sells her to be the third wife of a local man who is eager for her to bear him a son and heir. When Adunni runs away to the city, hoping to make a better life, she finds that the only other option before her is servitude to a wealthy family. As a yielding daughter, a subservient wife, and a powerless slave, Adunni is told, by words and deeds, that she is nothing. But while misfortunes might muffle her voice for a time, they cannot mute it. And when she realizes that she must stand up not only for herself, but for other girls, for the ones who came before her and were lost, and for the next girls, who will inevitably follow; she finds the resolve to speak, however she can—in a whisper, in song, in broken English—until she is heard."
Adunni believes in having a voice and with the help of the family's cook and driver as well as a lovely neighbor, she grows her voice through learning. There is a lot of hope in this book, and while there are descriptions of abuse, Adunni is one of the lucky ones.
---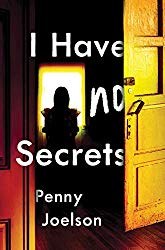 Title: I Have No Secrets
Author: Penny Joelson
Genre: YA Thriller
Publisher: Sourcebooks Fire, 11/5/19
Source: BOTM
Why I Read It: Book Challenge By Erin – Starts with an I
My Rating: 5 Stars
At the end of the month, I decided to squeeze in one last read for Erin's book challenge. I have finished 5 and have 5 to go. This was a quick YA read which skews towards the younger end of YA. I really loved reading Jemma's story.
"Jemma knows who the murderer is. She knows because he told her. He thought his secret was safe because Jemma can't speak or move. But Jemma observes all kinds of things about everyone around her. His secret is just one of them. And when a new technology means she may be able to communicate and reveal all she knows, Jemma no longer feels powerless in the face of this deadly secret. It's a race against time before the killer acts again…or tries to stop her."
Jemma has severe Cerebral Palsy and has been unable to voluntarily move or communicate for her whole life. She also has no secrets because she's never been alone. But she collects information from the others who surround her, including her foster parents, the other two special needs children they foster, and her caretaker. A new technology from Israel may help her communicate, and I loved reading about it, as well as about the mystery that is the center of this story.
---
In conclusion, in February I read 19 books, 17 of which are reviewed in this post. This month I read 15 print books, 1 e-book, and 3 audio books. My stats tell me that I've read 75/25 adult vs YA books. My favorite books this month were The Friend Zone, The Red Lotus, and The Girl With The Louding Voice. Please don't comment on how many books I read – I know it's a lot and I know it's crazy! What I do want to know is whether you think I should post books more often than once a month, in order to make these recap posts shorter?
Have you read any of these books? What have you been reading lately?