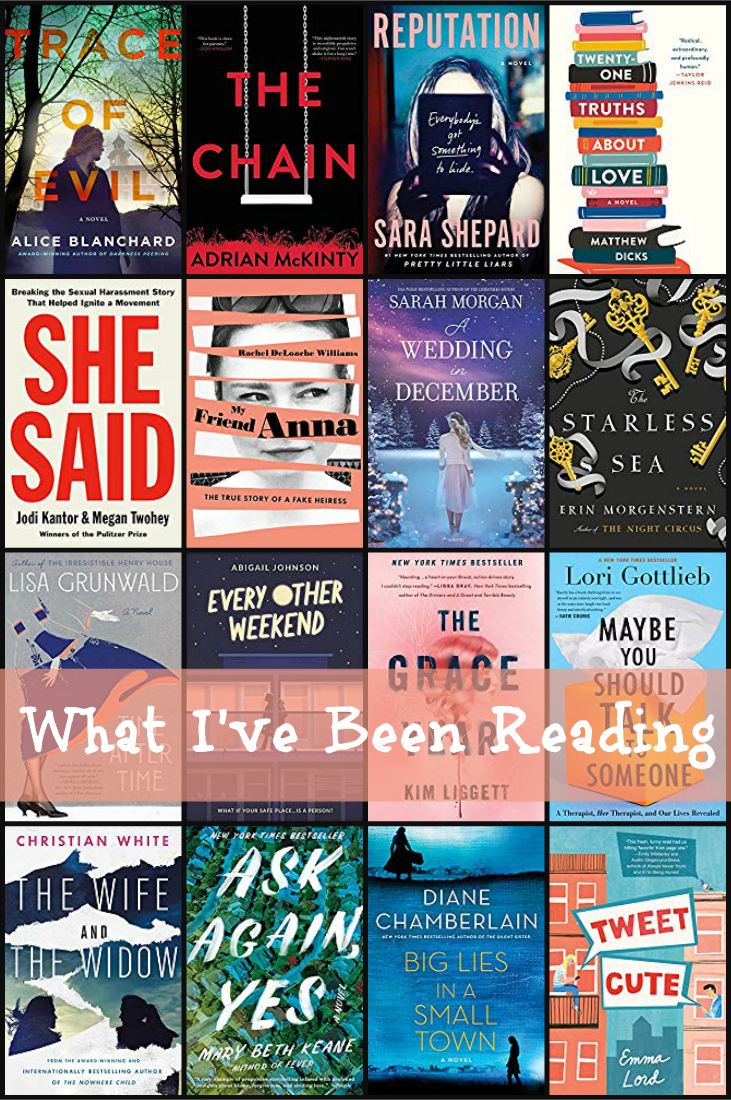 It's time for my monthly book review post! These are the books that I finished in December. Yesterday, I shared the book Lucky Caller, which I actually finished in January! You can also check out my post of 5 Star reads in 2019. I will be linking up this post with the Show Us Your Books Link Up, and as always, the Amazon links to the books I've read are affiliate links and if you use them and make a purchase, I may receive a small commission. If you've read any of these books or are interested in them, I'd love to hear about it in the comments! Two books that I read this month has been reviewed separately: Stay and Meet Me On Love Lane.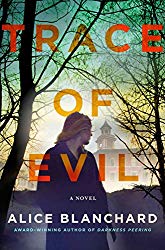 Title: Trace of Evil
Author: Alice Blanchard
Genre: Mystery
Publisher: Minotaur Books, 12/3/19
Source: Publisher
Why I Read It: Sent to me in exchange for my review.
My Rating: 3 Stars
I found this first book in a new mystery series to be a little slow at times. Like many good mysteries, it had a great setting – a town known for witchcraft and covens. There were multiple mysteries regarding the past and the present and I liked how they tied together.
"Natalie Lockhart is a rookie detective in Burning Lake, New York, an isolated town known for its dark past. Tasked with uncovering the whereabouts of nine missing transients who have disappeared over the years, Natalie wrestles with the town's troubled history – and the scars left by her sister's unsolved murder years ago. Then Daisy Buckner, a beloved schoolteacher, is found dead on her kitchen floor, and a suspect immediately comes to mind. But it's not that simple. The suspect is in a coma, collapsed only hours after the teacher's death, and it turns out Daisy had secrets of her own. Natalie knows there is more to the case, but as the investigation deepens, even she cannot predict the far-reaching consequences – for the victim, for the missing of Burning Lake, and for herself."
I actually predicted the suspect, but I didn't figure out the motive. I will be interested in future books in this series.
---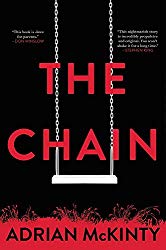 Title: The Chain
Author: Adrian McKinty
Genre: Thriller
Publisher: Mulholland Books, 7/9/19
Source: Library
Why I Read It: Requested it from the library after heard about it on Bookstagram.
My Rating: 5 Stars
This is the kind of book I love – a fast paced thriller that kept me turning the pages! Like a chain letter, the masterminds behind a kidnapping plot threaten parents that they must continue the chain. In order for their own child to be freed, they must in turn kidnap another family's child.
"Rachel is driving to an oncology appointment in the city when she gets a call from a panicked woman who says her child's been kidnapped and that the only way to get him back is to join The Chain by kidnapping another child. So the woman has just kidnapped Rachel's daughter, Kylie, from a bus stop. Now the only way to save Kylie and the caller's child is for Rachel to join The Chain by kidnapping another child, whose parents will also be forced to kidnap a child…and so The Chain goes. Oh, and each must also send $25,000 in Bitcoin before the child will be released. Divorced, poor, a cancer survivor, and a working mom, Rachel is no one's idea of a wealthy mark. But as with any parent, failure is not an option when your child's life hangs in the balance. Before the last page is turned, Rachel, assisted by her ex-brother-in-law (a Special Forces veteran who's hiding a secret), will cross lines she's never crossed before."
If you're looking for an exciting thriller, I highly recommend this one! Also, I loved that one of the side characters mentioned that books should end on Chapter 77 – and this one does.
---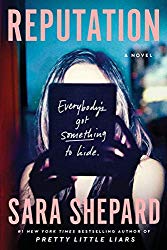 Title: Reputation
Author: Sara Shepard
Genre: Thriller
Publisher: Dutton, 12/3/19
Source: Publisher via NetGalley
Why I Read It: ARC buddy read on Instagram.
My Rating: 4 Stars
From the author of Pretty Little Liars, I could definitely see this multi-viewpoint book being made into a TV show. There were a lot of characters and at some points I found myself mixing them up, but I like books told from multiple viewpoints!
"Aldrich University is rocked to its core when a hacker dumps 40,000 people's e-mails—the entire faculty, staff, students, alums—onto an easily searchable database. Rumors and affairs immediately leak, but things turn explosive when Kit Manning's handsome husband, Dr. Greg Strasser, is found murdered. Kit's sister, Willa, returns for the funeral, setting foot in a hometown she fled fifteen years ago, after a night she wishes she could forget. As an investigative reporter, Willa knows something isn't right about the night Greg was killed, and she's determined to find the truth. What she doesn't expect is that everyone has something to hide. And with a killer on the loose, Willa and Kit must figure out who killed Greg before someone else is murdered."
Everyone in the book has secrets and are worried about their reputations. I was able to predict who killed Greg, but that didn't change my enjoyment of the book!
---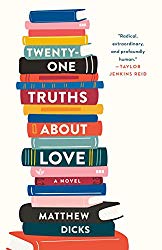 Title: 21 Truths About Love
Author: Matthew Dicks
Genre: Contemporary Fiction
Publisher: St. Martins Press, 11/19/19
Source: Library
Why I Read It: Heard about it on a podcast.
My Rating: 4 Stars
This book is written entirely in lists. It's like reading a journal and it times it was very funny. I even read some of the main character's thoughts out loud to my family. However, the strange thing about this book is that the main character is not very likeable. Dan is kind of a jerk, and dare I say – antisemitic. His lists about why he won't convert to Judaism (his wife is Jewish) were not very funny to me. (Interestingly, an Amazon reviewer felt equally offended about Dan's attacks on Christianity!) However, I did agree on his most underestimated danger – an airplane crashing on you!
"Daniel Mayrock's life is at a crossroads. He knows the following to be true:
1. He loves his wife Jill… more than anything.
2. He only regrets quitting his job and opening a bookshop a little (maybe more than a little)
3. Jill is ready to have a baby.
4. The bookshop isn't doing well. Financial crisis is imminent. Dan doesn't know how to fix it.
5. Dan hasn't told Jill about their financial trouble.
6. Then Jill gets pregnant.
This heartfelt story is about the lengths one man will go to and the risks he will take to save his family. But Dan doesn't just want to save his failing bookstore and his family's finances:
1. Dan wants to do something special.
2. He's a man who is tired of feeling ordinary.
3. He's sick of feeling like a failure.
4. He doesn't want to live in the shadow of his wife's deceased first husband.
Dan is also an obsessive list maker; his story unfolds entirely in his lists, which are brimming with Dan's hilarious sense of humor, unique world-view, and deeply personal thoughts. When read in full, his lists paint a picture of a man struggling to be a man, a man who has reached a point where he's willing to do anything for the love (and soon-to-be new love) of his life."
In this book, Dan makes a friend, cares for his wife, and learns how to be a father. This is a funny and unique read, but don't prepare to love Dan!
---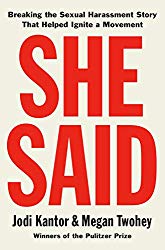 Title: She Said
Author: Jodi Kantor and Megan Twohey
Genre: Non-Fiction
Publisher: Penguin Press, 9/10/19
Source: Libby Library Audio
Why I Read It: Heard about it on a podcast; timely.
My Rating: 4 Stars
She Said is the story of the journalism behind the breaking of the Harvey Weinstein story. The process of investigative journalism and getting women to go on the record against him was discussed. Horrifying details of Weinstein's repeated abuse of women was discussed. The writers also address abuse of women by Trump and Kavanaugh.
"For many years, reporters had tried to get to the truth about Harvey Weinstein's treatment of women. Rumors of wrongdoing had long circulated. But in 2017, when Jodi Kantor and Megan Twohey began their investigation into the prominent Hollywood producer for the New York Times, his name was still synonymous with power. During months of confidential interviews with top actresses, former Weinstein employees, and other sources, many disturbing and long-buried allegations were unearthed, and a web of onerous secret payouts and nondisclosure agreements was revealed. These shadowy settlements had long been used to hide sexual harassment and abuse, but with a breakthrough reporting technique Kantor and Twohey helped to expose it. But Weinstein had evaded scrutiny in the past, and he was not going down without a fight; he employed a team of high-profile lawyers, private investigators, and other allies to thwart the investigation. When Kantor and Twohey were finally able to convince some sources to go on the record, a dramatic final showdown between Weinstein and the New York Times was set in motion. Nothing could have prepared Kantor and Twohey for what followed the publication of their initial Weinstein story on October 5, 2017. Within days, a veritable Pandora's box of sexual harassment and abuse was opened. Women all over the world came forward with their own traumatic stories. Over the next twelve months, hundreds of men from every walk of life and industry were outed following allegations of wrongdoing. But did too much change—or not enough? Those questions hung in the air months later as Brett Kavanaugh was nominated to the Supreme Court, and Christine Blasey Ford came forward to testify that he had assaulted her decades earlier. Kantor and Twohey, who had unique access to Ford and her team, bring to light the odyssey that led her to come forward, the overwhelming forces that came to bear on her, and what happened after she shared her allegation with the world. In the tradition of great investigative journalism, She Said tells a thrilling story about the power of truth, with shocking new information from hidden sources. Kantor and Twohey describe not only the consequences of their reporting for the #MeToo movement, but the inspiring and affecting journeys of the women who spoke up—for the sake of other women, for future generations, and for themselves."
I liked listening to this book on audio. My favorite aspect was the description of how various women who were interviewed came together to support each other.
---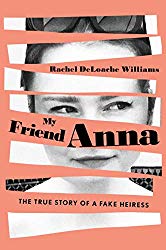 Title: My Friend Anna
Author: Rachel DeLoache Williams
Genre: Non-Fiction
Publisher: Gallery Books, 7/23/19
Source: Libby Library Audio
Why I Read It: Heard about it on Instagram.
My Rating: 4 Stars
I listened to this book on audio because I really like when books are read by their authors. This is the author's story of being scammed by Anna, who stole money from her as well as from hotels, restaurants, and more. I am glad that the author was able to tell her story, because Shonda Rhimes is going to be making a series about Anna which will probably make viewers sympathize with the criminal in this story, not the victims.
"Vanity Fair photo editor Rachel DeLoache Williams's new friend Anna Delvey, a self-proclaimed German heiress, was worldly and ambitious. She was also generous—picking up the tab for lavish dinners at Le Coucou, infrared sauna sessions at HigherDOSE, drinks at the 11 Howard Library bar, and regular workout sessions with a celebrity personal trainer. When Anna proposed an all-expenses-paid trip to Marrakech at the five-star La Mamounia hotel, Rachel jumped at the chance. But when Anna's credit cards mysteriously stopped working, the dream vacation quickly took a dark turn. Anna asked Rachel to begin fronting costs—first for flights, then meals and shopping, and, finally, for their $7,500-per-night private villa. Before Rachel knew it, more than $62,000 had been charged to her credit cards. Anna swore she would reimburse Rachel the moment they returned to New York. Back in Manhattan, the repayment never materialized, and a shocking pattern of deception emerged. Rachel learned that Anna had left a trail of deceit—and unpaid bills—wherever she'd been. Mortified, Rachel contacted the district attorney, and in a stunning turn of events, found herself helping to bring down one of the city's most notorious con artists."
I could definitely identify with Rachel, because I'm sure I would have been just as trusting of my friend to pay me back and being used by someone like Anna. Rachel was overly forgiving of Anna, and her story from her point of view was very interesting to listen to.
---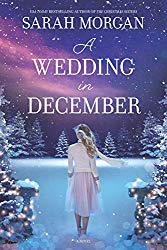 Title: A Wedding in December
Author: Sarah Morgan
Genre: Romance
Publisher: HQN, 10/24/19
Source: Publisher
Why I Read It: I really like Sarah Morgan's books.
My Rating: 4 Stars
At first, I wasn't sure I wanted to read this book because it was marketed as a Christmas book. In the end, I decided reading a wintery book in December would be fun. Like many other books I enjoy, this book features a pair of sisters and their mother and the love stories involving all three.
"In the snowy perfection of Aspen, the White family gathers for youngest daughter Rosie's whirlwind Christmas wedding. First to arrive are the bride's parents, Maggie and Nick. Their daughter's marriage is a milestone they are determined to celebrate wholeheartedly, but they are hiding a huge secret of their own: they are on the brink of divorce. After living apart for the last six months, the last thing they need is to be trapped together in an irresistibly romantic winter wonderland. Rosie's older sister, Katie, is also dreading the wedding. Worried that impulsive, sweet-hearted Rosie is making a mistake, Katie is determined to save her sister from herself! If only the irritatingly good-looking best man, Jordan, would stop interfering with her plans…Bride-to-be Rosie loves her fiancé but is having serious second thoughts. Except everyone has arrived—how can she tell them she's not sure? As the big day gets closer, and emotions run even higher, this is one White family Christmas none of them will ever forget!"
While the book centered around the wedding of Rosie and Dan, I also enjoyed Dan's mother Catherine and the relationship she forms with Rosie's mother, Maggie. I think books like this appeal to a variety of readers by focusing on characters of varying ages and life stages! It was a sweet, wintery romance that also addressed the power of bravery.
---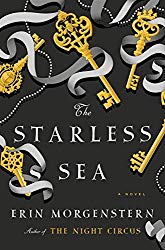 Title: The Starless Sea
Author: Erin Morgenstern
Genre: Fantasy
Publisher: Doubleday Books, 11/5/19
Source: Library
Why I Read It: I really liked her previous book, The Night Circus.
My Rating: 3 Stars
The Starless Sea was a highly anticipated read for me because I remember really enjoying The Night Circus. Sadly, this one didn't live up to my anticipation, as in the end I found it rather strange.
"Zachary Ezra Rawlins is a graduate student in Vermont when he discovers a mysterious book hidden in the stacks. As he turns the pages, entranced by tales of lovelorn prisoners, key collectors, and nameless acolytes, he reads something strange: a story from his own childhood. Bewildered by this inexplicable book and desperate to make sense of how his own life came to be recorded, Zachary uncovers a series of clues—a bee, a key, and a sword—that lead him to a masquerade party in New York, to a secret club, and through a doorway to an ancient library hidden far below the surface of the earth. What Zachary finds in this curious place is more than just a buried home for books and their guardians—it is a place of lost cities and seas, lovers who pass notes under doors and across time, and of stories whispered by the dead. Zachary learns of those who have sacrificed much to protect this realm, relinquishing their sight and their tongues to preserve this archive, and also of those who are intent on its destruction. Together with Mirabel, a fierce, pink-haired protector of the place, and Dorian, a handsome, barefoot man with shifting alliances, Zachary travels the twisting tunnels, darkened stairwells, crowded ballrooms, and sweetly soaked shores of this magical world, discovering his purpose—in both the mysterious book and in his own life."
This is a book about stories and involves people living in their favorite stories. One thing that I loved was that two of the characters are Zachary and Simon – my two boys' names! I also liked the quote "Everyone wants the stars. Everyone wishes to grasp that which exists out of reach. To hold the extraordinary in their hands and keep the remarkable in their pockets." Sadly, I overall found the book to be confusing.
---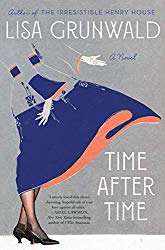 Title: Time After Time
Author: Lisa Grunwald
Genre: Historical Fiction
Publisher: Random House, 6/11/19
Source: Goodreads Giveaway
Why I Read It: Chose for back list buddy read on Instagram.
My Rating: 4 Stars
I had this book on my shelf and it was my turn to choose a buddy read pick. We voted and chose this one, even though it wasn't backlist since it was published in 2019! I read it over a period of weeks, completing about 30 pages per day. It was quite long, but I enjoyed parts of it.
"On a clear December morning in 1937, at the famous gold clock in Grand Central Terminal, Joe Reynolds, a hardworking railroad man from Queens, meets a vibrant young woman who seems mysteriously out of place. Nora Lansing is a Manhattan socialite and an aspiring artist whose flapper clothing, pearl earrings, and talk of the Roaring Twenties don't seem to match the bleak mood of Depression-era New York. Captivated by Nora from her first electric touch, Joe despairs when he tries to walk her home and she disappears. Finding her again—and again—will become the focus of his love and his life. As thousands of visitors pass under the famous celestial blue ceiling each day, Joe and Nora create a life of infinite love in a finite space, taking full advantage of the 'Terminal City'" within a city. But when the construction of another landmark threatens their future, Nora and Joe are forced to test the limits of their freedom—and their love."
Set almost entirely in Grand Central Station and involving the Mahattanhenge phenomena, I quite enjoyed the setting of this book. Nora never ages but can't leave the station. Joe finds that he loves her, but is also quite loyal to his family. The ending was sad, but not what I expected!
---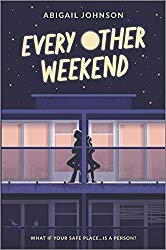 Title: Every Other Weekend
Author: Abigail Johnson
Genre: YA
Publisher: Inkyard Press, 1/7/20
Source: Publisher
Why I Read It: Sent to me in exchange for my review.
My Rating: 4 Stars
I think I requested this book after seeing it on NetGalley. I prefer having print copies to read when I can and I read this on our road trip to Florida. It was a bit long and angsty, plus not much happened until towards the end, but I liked the main character's and their relationship.
"Adam Moynihan's life used to be awesome. Straight As, close friends and a home life so perfect that it could have been a TV show straight out of the 50s. Then his oldest brother died. Now his fun-loving mom cries constantly, he and his remaining brother can't talk without fighting, and the father he always admired proved himself a coward by moving out when they needed him most. Jolene Timber's life is nothing like the movies she loves—not the happy ones anyway. As an aspiring director, she should know, because she's been reimagining her life as a film ever since she was a kid. With her divorced parents at each other's throats and using her as a pawn, no amount of mental reediting will give her the love she's starving for. Forced to spend every other weekend in the same apartment building, the boy who thinks forgiveness makes him weak and the girl who thinks love is for fools begin an unlikely friendship. The weekends he dreaded and she endured soon become the best part of their lives. But when one's life begins to mend while the other's spirals out of control, they realize that falling in love while surrounded by its demise means nothing is ever guaranteed."
Both of these teens are looking for love, sometimes in all the wrong places. I liked the family aspect of the book, as both Adam and Jolene find the support they need in the end.
---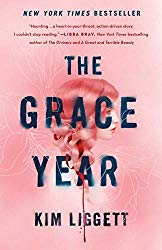 Title: The Grace Year
Author: Kim Liggett
Genre: YA Dystopian
Publisher: Wednesday Books, 10/8/19
Source: Library
Why I Read It: Wanted to read after seeing on Instagram.
My Rating: 4 Stars
I saw this book everywhere and wanted to read it, but as per usual, I didn't love it quite as much as everyone else seemed to! It took me a little while to get into it. It definitely reminded me of The Hunger Games.
"No one speaks of the grace year. It's forbidden. In Garner County, girls are told they have the power to lure grown men from their beds, to drive women mad with jealousy. They believe their very skin emits a powerful aphrodisiac, the potent essence of youth, of a girl on the edge of womanhood. That's why they're banished for their sixteenth year, to release their magic into the wild so they can return purified and ready for marriage. But not all of them will make it home alive. Sixteen-year-old Tierney James dreams of a better life―a society that doesn't pit friend against friend or woman against woman, but as her own grace year draws near, she quickly realizes that it's not just the brutal elements they must fear. It's not even the poachers in the woods, men who are waiting for a chance to grab one of the girls in order to make a fortune on the black market. Their greatest threat may very well be each other."
I enjoyed that the girls and woman had to learn to work together in order to survive. Tierney is a strong female character who wants to change society. The book is entertaining, with an unexpected ending.
---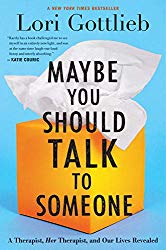 Title: Maybe You Should Talk To Someone
Author: Lori Gottleib
Genre: Memoir
Publisher: Houghton Mifflin Harcourt, 4/2/19
Source: Library
Why I Read It: Extreme Hype.
My Rating: 4 Stars
This book has literally been everywhere and after some resistance on my part, I added it to my library list. I have a Masters degree in Social Work, so the concept of therapy is not foreign to me. I definitely think this book should be required reading for an MSW.
"One day, Lori Gottlieb is a therapist who helps patients in her Los Angeles practice. The next, a crisis causes her world to come crashing down. Enter Wendell, the quirky but seasoned therapist in whose of­fice she suddenly lands. With his balding head, cardigan, and khakis, he seems to have come straight from Therapist Central Casting. Yet he will turn out to be anything but. As Gottlieb explores the inner chambers of her patients' lives — a self-absorbed Hollywood producer, a young newlywed diagnosed with a terminal illness, a senior citizen threatening to end her life on her birthday if nothing gets better, and a twenty-something who can't stop hooking up with the wrong guys — she finds that the questions they are struggling with are the very ones she is now bringing to Wendell. With startling wisdom and humor, Gottlieb invites us into her world as both clinician and patient, examining the truths and fictions we tell ourselves and others as we teeter on the tightrope between love and desire, meaning and mortality, guilt and redemption, terror and courage, hope and change."
I found myself wondering if those who aren't in a helping field could relate to this book. I do like that it makes the concept of going to therapy a little less taboo and explains the therapeutic process in an accessible way. I am unsure I would have related to it quite as well without my own background in the topic.
---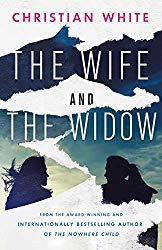 Title: The Wife and The Widow
Author: Christian White
Genre: Thriller
Publisher: Minotaur Books, 1/21/20
Source: Publisher
Why I Read It: Sent to me in exchange for my review.
My Rating: 4 Stars
This was a solid thriller which I very much enjoyed. It is told from two perspectives – the wife, Abby, whose husband Ray begins acting strangely after news broke of a local murder, and the widow, Kate, whose husband John has gone missing and turns up murdered. The question is how these two women are connected, and the twist is that it's not quite what you'd expect!
"Set against the backdrop of an eerie island town in the dead of winter, The Wife and The Widow is an unsettling thriller told from two perspectives: Kate, a widow whose grief is compounded by what she learns about her dead husband's secret life; and Abby, an island local whose world is turned upside when she's forced to confront the evidence of her husband's guilt. But nothing on this island is quite as it seems, and only when these women come together can they discover the whole story about the men in their lives."
I loved the twist in this book and I didn't see it coming! It was a quick read which I enjoyed!
---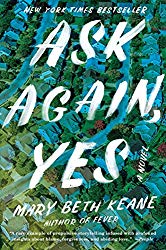 Title: Ask Again, Yes
Author: Mary Beth Keane
Genre: Contemporary Fiction
Publisher: Scribner, 5/28/19
Source: Book swap package.
Why I Read It: Extreme hype.
My Rating: 4 Stars
Ask Again, Yes was a highly anticipated read for me, which I promised to read before the end of the year. It was overly hyped, but I liked it well enough. This book was a well-written drama about two families with a star-crossed history.
"Francis Gleeson and Brian Stanhope, rookie cops in the NYPD, live next door to each other outside the city. What happens behind closed doors in both houses—the loneliness of Francis's wife, Lena, and the instability of Brian's wife, Anne, sets the stage for the explosive events to come. Ask Again, Yes is a deeply affecting exploration of the lifelong friendship and love that blossoms between Kate Gleeson and Peter Stanhope, born six months apart. One shocking night their loyalties are divided, and their bond will be tested again and again over the next 40 years. Luminous, heartbreaking, and redemptive, Ask Again, Yes reveals the way childhood memories change when viewed from the distance of adulthood—villains lose their menace and those who appeared innocent seem less so. Kate and Peter's love story, while haunted by echoes from the past, is marked by tenderness, generosity, and grace."
This book addresses forgiveness, mental health, alcoholism, love, and family. I think the reason it is so popular is because it is about every day people dealing with things that a lot of people have to deal with, and the power of love and family and coming together and surviving. I liked it, but I didn't love it like most people seem to. And I still want to know what the title means!
---
Title: Big Lies in a Small Town
Author: Diane Chamberlain
Genre: Historical Fiction
Publisher: St. Martin's Press, 1/14/20
Source: Publisher.
Why I Read It: Sent to me in exchange for my review.
My Rating: 5 Stars
I requested this book from the publisher because I have loved Diane Chamberlain's books in the past (although I still need to read Dream Daughter!) and this book did not disappoint. The book is told in two time lines – in the past, Anna is painting a mural, and in the present, Morgan is restoring it.
"North Carolina, 2018: Morgan Christopher's life has been derailed. Taking the fall for a crime she did not commit, she finds herself serving a three-year stint in the North Carolina Women's Correctional Center. Her dream of a career in art is put on hold―until a mysterious visitor makes her an offer that will see her released immediately. Her assignment: restore an old post office mural in a sleepy southern town. Morgan knows nothing about art restoration, but desperate to leave prison, she accepts. What she finds under the layers of grime is a painting that tells the story of madness, violence, and a conspiracy of small town secrets. North Carolina, 1940: Anna Dale, an artist from New Jersey, wins a national contest to paint a mural for the post office in Edenton, North Carolina. Alone in the world and desperate for work, she accepts. But what she doesn't expect is to find herself immersed in a town where prejudices run deep, where people are hiding secrets behind closed doors, and where the price of being different might just end in murder. What happened to Anna Dale? Are the clues hidden in the decrepit mural? Can Morgan overcome her own demons to discover what exists beneath the layers of lies?"
I truly loved this book and stayed up late reading it! I loved the characters and found them worth rooting for. There is a twist towards the end, which I was able to predict, but loved all the same. I highly recommend this one!
---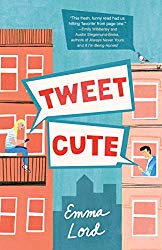 Title: Tweet Cute
Author: Emma Lord
Genre: YA
Publisher: Wednesday Books, 1/21/20
Source: Friend.
Why I Read It: It looked cute!
My Rating: 4 Stars
My Instagram friend picked this up at a book festival and it wasn't her type of book, so she offered to send it to me! I thought it looked cute and it was sooo cute. The two main characters, Pepper and Jack, are involved in their family's respective restaurant businesses. They end up competing with one another via Twitter, while also becoming friends in real life.
"Meet Pepper, swim team captain, chronic overachiever, and all-around perfectionist. Her family may be falling apart, but their massive fast-food chain is booming ― mainly thanks to Pepper, who is barely managing to juggle real life while secretly running Big League Burger's massive Twitter account. Enter Jack, class clown and constant thorn in Pepper's side. When he isn't trying to duck out of his obscenely popular twin's shadow, he's busy working in his family's deli. His relationship with the business that holds his future might be love/hate, but when Big League Burger steals his grandma's iconic grilled cheese recipe, he'll do whatever it takes to take them down, one tweet at a time. All's fair in love and cheese ― that is, until Pepper and Jack's spat turns into a viral Twitter war. Little do they know, while they're publicly duking it out with snarky memes and retweet battles, they're also falling for each other in real life ― on an anonymous chat app Jack built. As their relationship deepens and their online shenanigans escalate ― people on the internet are shipping them?? ― their battle gets more and more personal, until even these two rivals can't ignore they were destined for the most unexpected, awkward, all-the-feels romance that neither of them expected."
In a book that is about business, baking, apps, college, friendships, and family, the cutest relationship develops between Pepper and Jack and their group of friends. I really enjoyed reading this one!
---
In conclusion, in December I read 18 books – 16 reviewed in this post. 15 of these were print books, 1 was an e-books, and 2 were audio. The genres I read included contemporary, mystery, historical fiction, YA, thriller, fantasy, and non-fiction. My favorites of the month were The Chain and Big Lies in a Small Town.
Have you read any of these books? What have you been reading lately?