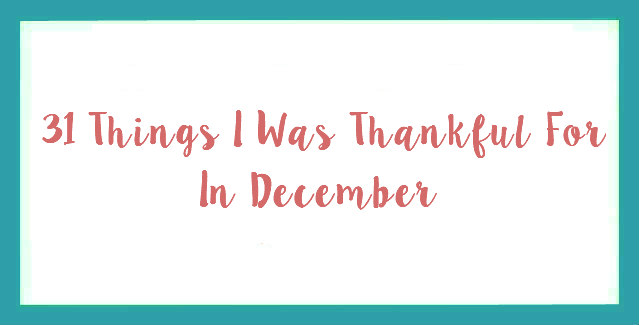 Since last November, I've been keeping lists of things I am thankful for on a daily basis. That means it's been over a year since I've been keeping track of the things I'm grateful for. I use a gratitude journal and it's not always easy but I'm still trying to focus on gratitude. There were 31 days in December, so here are the 31 things I was thankful for between December 1st and 31st. (yes, it's already past mid-January, but I still need to get this posted!)
1. I had to take Gabbie to dance, but I found a TV and was still able to watch the Chiefs game while she was in class. And they won.
2. None of my kids had appointments and I was able to go to the gym all week. I also got a new coat.
3. I took my friends' daughter to her appointments but it ended early so I had extra free time.
4. It was a stressful day because my blog was taken down due to a supposed virus. I was able to provide the proof that my computer was virus-free and therefore my blog host released it from being offline.
5. I bought some snacks from Costco to use in making a trail mix which was really good.
6. We had dinner at a local synagogue.
7. We had trivia night at our synagogue.
8. The Chiefs beat the Patriots! We got some good barbecue to eat.
9. I had a day free of appointments.
10. Gabbie had her dance show.
11. Gabbie and I attended a self-defense class.
12. I got my hair cut.
13. I had to take myself to urgent care but I managed to get Gabbie to her doctor's appointment as well. Dave came home early because he knew I was feeling sick.
14. I ended up in the hospital for IV antibiotics, but the treatment worked and I didn't have to stay at the hospital very long.
15. Everything was canceled due to snow so we had a restful day at home.
16. The kids had a snow day and by the afternoon things were better so we went to the library and Simon had a play date. My ear was all better from my infection.
17. Gabbie and I had a mother-daughter pampering day.
18. We left for our trip to Florida.
19. We visited Nashville and I was happy we fit in a visit to Parnassus Books.
20. We drove to Atlanta.
21. We had a great day with my brother and his family. My brother gave us a ride in his Tesla.
22. We got in our Disney fix and celebrated the first night of Hanukkah.
23. We were in Florida and I read by the pool! We had dinner with my parents and Dave's parents.
24. The kids were happy to swim even though it was cold. We had a tour of the wildlife area even though technically there wasn't room for us on the tour.
25. We did our annual day at Hollywood Beach and went to our friend's restaurant. We also got to see our friends and their kids.
26. It was our 19th anniversary and we went out to dinner.
27. We saw a rainbow.
28. We got to hang out with my friend from college whose parents have a place near Dave's parents' place. Her son and my boys got along great!
29. We spent the day at the Boca Beach Club.
30. We started our trip back home and by ordering food before we reached a restaurant, they had our food ready for us when we arrived.
31. We randomly stopped at a museum that turned out to be a fun stop. We had dinner in Nashville.
What are you thankful for today?