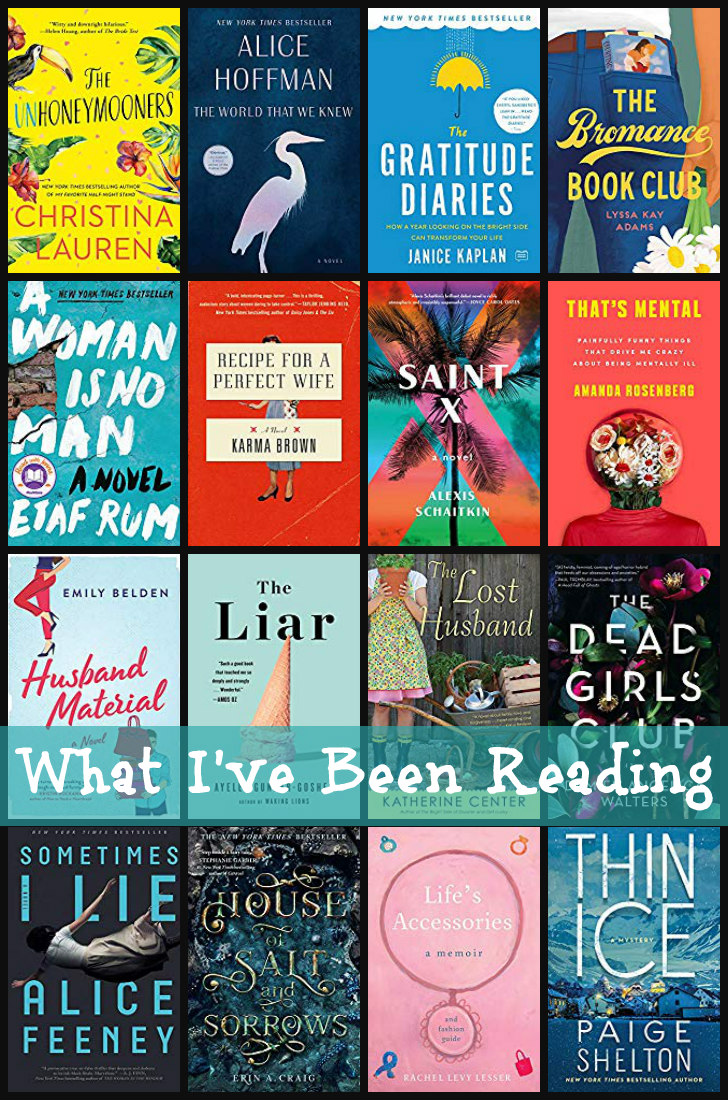 It's time for my monthly book review post! These are the books that I finished in November. I had thought I was having a slow reading month, but I actually finished 20 books. The problem was that most of them were just so-so. In any case, I'm happy to share them here! I will be linking up this post with the Show Us Your Books Link Up, and as always, the Amazon links to the books I've read are affiliate links and if you use them and make a purchase, I may receive a small commission. If you've read any of these books or are interested in them, I'd love to hear about it in the comments! Two books that I read this month have been reviewed separately: Maggie's Ruse and Every Stolen Breath.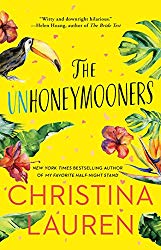 Title: The Unhoneymooners
Author: Christina Lauren
Genre: Rom Com
Publisher: Gallery Books, 5/14/19
Source: Barnes and Noble
Why I Read It: Via my TBR list.
My Rating: 5 Stars
I finished this book early in the morning on the first of November, so I did start out the month on a good note! I really enjoyed this rom com, which may have been my first, and was my first read by Christina Lauren, who are actually two writers who write together.
"Olive Torres is used to being the unlucky twin: from inexplicable mishaps to a recent layoff, her life seems to be almost comically jinxed. By contrast, her sister Ami is an eternal champion . . . she even managed to finance her entire wedding by winning a slew of contests. Unfortunately for Olive, the only thing worse than constant bad luck is having to spend the wedding day with the best man (and her nemesis), Ethan Thomas. Olive braces herself for wedding hell, determined to put on a brave face, but when the entire wedding party gets food poisoning, the only people who aren't affected are Olive and Ethan. Suddenly there's a free honeymoon up for grabs, and Olive will be damned if Ethan gets to enjoy paradise solo. Agreeing to a temporary truce, the pair head for Maui. After all, ten days of bliss is worth having to assume the role of loving newlyweds, right? But the weird thing is . . . Olive doesn't mind playing pretend. In fact, the more she pretends to be the luckiest woman alive, the more it feels like she might be."
The romance tropes in this one were both enemies to lovers and pretending to be together. There was also the interesting conflict that Olive's sister and Ethan's brother were together. I loved the Maui scenes since Dave and I also went there on our honeymoon. I also thought it was interesting that the whole book was told from Olive's viewpoint – usually romances switch off between the woman and the man. Ethan's view was only shared in the epilogue. I did have one complaint on an inconsistency, when everyone had such a hard time believing Dane would say something that they literally all heard him say earlier!Overall, I loved this book!
---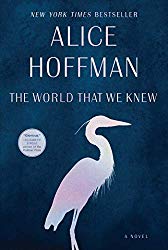 Title: The World That We Knew
Author: Alice Hoffman
Genre: Historical Fiction / Magical Realism
Publisher: Simon & Schuster, 9/24/19
Source: Library
Why I Read It: Heard about it on a podcast.
My Rating: 3 Stars
I had high hopes for this book. A World War II historical novel that also included bits of mysticism sounded interesting to me. But I found it boring and I guess too literary for me.
"In Berlin, at the time when the world changed, Hanni Kohn knows she must send her twelve-year-old daughter away to save her from the Nazi regime. She finds her way to a renowned rabbi, but it's his daughter, Ettie, who offers hope of salvation when she creates a mystical Jewish creature, a rare and unusual golem, who is sworn to protect Lea. Once Ava is brought to life, she and Lea and Ettie become eternally entwined, their paths fated to cross, their fortunes linked. Lea and Ava travel from Paris, where Lea meets her soulmate, to a convent in western France known for its silver roses; from a school in a mountaintop village where three thousand Jews were saved. Meanwhile, Ettie is in hiding, waiting to become the fighter she's destined to be."
I found the bits about the golem and the heron to be strange. I did like the way the characters were interconnected. This is definitely not the best WWII fiction I've read.
---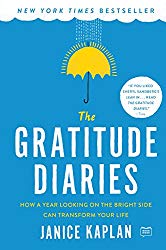 Title: The Gratitude Diaries
Author: Janice Kaplan
Genre: Non-fiction
Publisher: Dutton, 8/18/15
Source: Library
Why I Read It: Thought it would be helpful with my gratitude practice.
My Rating: 3 Stars
This book took me a long time to read, but it was convenient to finish it in November and count it towards non-fiction November reading. I felt like I would have liked to read more advice about how to be more grateful and less of the research on why being grateful is a good thing.
"On New Year's Eve, journalist and former Parade Editor-in-Chief Janice Kaplan makes a promise to be grateful and look on the bright side of whatever happens. She realizes that how she feels over the next months will have less to do with the events that occur than her own attitude and perspective. Getting advice at every turn from psychologists, academics, doctors, and philosophers, she brings readers on a smart and witty journey to discover the value of appreciating what you have. Relying on both amusing personal experiences and extensive research, Kaplan explores how gratitude can transform every aspect of life including marriage and friendship, money and ambition, and health and fitness. She learns how appreciating your spouse changes the neurons of your brain and why saying thanks helps CEOs succeed. Through extensive interviews with experts and lively conversations with real people including celebrities like Matt Damon, Daniel Craig, and Jerry Seinfeld, Kaplan discovers the role of gratitude in everything from our sense of fulfillment to our children's happiness."
There was a lot of name dropping in the book, as well as a few chapters about being grateful in the work place, which I only skimmed. I did find some quotes on gratitude and ideas that I found helpful, including the advice to find reasons to thank your spouse daily, focusing on the positives, appreciating your meals, and eating foods that make you grateful. This was an mix of memoir and non-fiction, and I guess it needed to just decide where it wanted to be.
---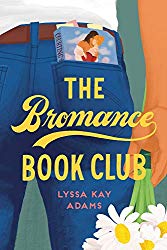 Title: The Bromance Book Club
Author: Lyssa Kay Adams
Genre: Rom Com
Publisher: Berkley, 11/5/19
Source: Edelweiss
Why I Read It: Hype.
My Rating: 4 Stars
At first, I thought this book was funny. It is a meta look at romance novels and even better, the men are the ones reading them! Gavin and Thea are a married couple having problems in the bedroom. Gavin's friends vow to help him fix his marriage.
"Nashville Legends second baseman Gavin Scott's marriage is in major league trouble. He's recently discovered a humiliating secret: his wife Thea has always faked the Big O. When he loses his cool at the revelation, it's the final straw on their already strained relationship. Thea asks for a divorce, and Gavin realizes he's let his pride and fear get the better of him."
I didn't love the parts of the book that contained pages from the book the book club was reading, "Courting the Countess." I did like how Gavin always thought of this book in his head when thinking about Thea. I didn't really see how the issue in their marriage was resolved, but I liked that there was growth on Gavin's part. I would say for me, this book didn't live up to the hype, but it wasn't awful!
---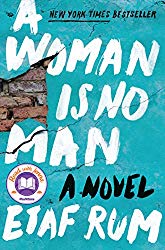 Title: A Woman Is No Man
Author: Etaf Rum
Genre: Contemporary Fiction
Publisher: Harper, 3/5/19
Source: Library
Why I Read It: Hype.
My Rating: 3 Stars
This book was everywhere this year and many people called it their favorite of 2019. Unfortunately, it didn't live up to the hype for me, and not for the reason I was concerned about – I was worried it would be very anti Israel, and it was in some senses, but it was also very anti Palestinian and I felt it did not fairly portray their culture.
"Palestine, 1990. Seventeen-year-old Isra prefers reading books to entertaining the suitors her father has chosen for her. Over the course of a week, the naïve and dreamy girl finds herself quickly betrothed and married, and is soon living in Brooklyn. There Isra struggles to adapt to the expectations of her oppressive mother-in-law Fareeda and strange new husband Adam, a pressure that intensifies as she begins to have children—four daughters instead of the sons Fareeda tells Isra she must bear. Brooklyn, 2008. Eighteen-year-old Deya, Isra's oldest daughter, must meet with potential husbands at her grandmother Fareeda's insistence, though her only desire is to go to college. Deya can't help but wonder if her options would have been different had her parents survived the car crash that killed them when Deya was only eight. But her grandmother is firm on the matter: the only way to secure a worthy future for Deya is through marriage to the right man. But fate has a will of its own, and soon Deya will find herself on an unexpected path that leads her to shocking truths about her family—knowledge that will force her to question everything she thought she knew about her parents, the past, and her own future."
This sad story is about the cycle of violence in a family, and yet the book makes it seem like this family's behavior is the typical for the entire culture. The woman in this family are oppressed and are sadly unable to break free, until the current generation, which does give the reader some hope that things could change. I found the ending to be unfulfilling. I did like the quote "to want what you can't have in this life is the greatest pain of all."
---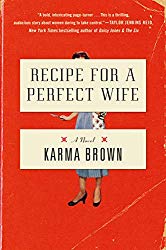 Title: Recipe For A Perfect Wife
Author: Karma Brown
Genre: Contemporary / Historical Fiction
Publisher: Dutton, 1/21/20
Source: Edelweiss
Why I Read It: ARC buddy read on Instagram.
My Rating: 5 Stars
This upcoming release was about controlling husbands and difficult relationships both in the present time period and in the 1950s. Alice moves into the same house where Nellie lived and discovers her old recipes and letters.
"When Alice Hale leaves a career in publicity to become a writer and follows her husband to the New York suburbs, she is unaccustomed to filling her days alone in a big, empty house. But when she finds a vintage cookbook buried in a box in the old home's basement, she becomes captivated by the cookbook's previous owner–1950s housewife Nellie Murdoch. As Alice cooks her way through the past, she realizes that within the cookbook's pages Nellie left clues about her life–including a mysterious series of unsent letters penned to her mother. Soon Alice learns that while baked Alaska and meatloaf five ways may seem harmless, Nellie's secrets may have been anything but. When Alice uncovers a more sinister–even dangerous–side to Nellie's marriage, and has become increasingly dissatisfied with the mounting pressures in her own relationship, she begins to take control of her life and protect herself with a few secrets of her own."
I was one of the only ones in my buddy read to enjoy this book. Some of the other readers felt that the book seemed to be saying that being a house wife leads to difficulties in marriage. I am sensitive to messages like that, and I didn't feel that the book had that vibe. I actually thought that each of the two woman stood up for themselves in their own ways, and I liked reading about both of them. There are trigger warnings for this book including domestic violence, abortion, miscarriage, and suicide.
---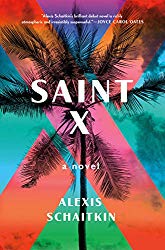 Title: Saint X
Author: Alexis Schaitkin
Genre: Contemporary Fiction
Publisher: Celadon, 2/18/20
Source: Publisher
Why I Read It: Sent to me in exchange for my review.
My Rating: 4 Stars
I read Saint X a bit ahead of the publication date because the publisher wanted posts up by this month and I wanted to read it before I posted about it. While it is marketed as a thriller, it really seemed more literary, with themes of privilege, trauma, family, and how one incident can effect many lives.
"Claire is only seven years old when her college-age sister, Alison, disappears on the last night of their family vacation at a resort on the Caribbean island of Saint X. Several days later, Alison's body is found in a remote spot on a nearby cay, and two local men–employees at the resort–are arrested. But the evidence is slim, the timeline against it, and the men are soon released. The story turns into national tabloid news, a lurid mystery that will go unsolved. For Claire and her parents, there is only the return home to broken lives. Years later, Claire is living and working in New York City when a brief but fateful encounter brings her together with Clive Richardson, one of the men originally suspected of murdering her sister. It is a moment that sets Claire on an obsessive pursuit of the truth–not only to find out what happened the night of Alison's death but also to answer the elusive question: Who exactly was her sister? At seven, Claire had been barely old enough to know her: a beautiful, changeable, provocative girl of eighteen at a turbulent moment of identity formation. As Claire doggedly shadows Clive, hoping to gain his trust, waiting for the slip that will reveal the truth, an unlikely attachment develops between them, two people whose lives were forever marked by the same tragedy."
While this book moved slowly, it was not boring. It was well written and meaningful. Claire was understandably traumatized by what occurred in her past and it was interesting to read about what happened as well as the effects of the incident from various points of view.
---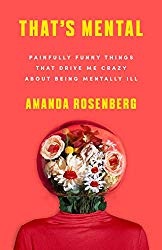 Title: That's Mental
Author: Amanda Rosenberg
Genre: Memoir
Publisher: Turner, 11/6/19
Source: Book Sparks
Why I Read It: Sent to me in exchange for my review.
My Rating: 3 Stars
This memoir is about banishing the stigma when it comes to living with a mental illness. It is funny and contained many stories about what it is like to live with or love a person with mental illness. I read it as a part of non-fiction November.
"In her book, British comedy writer Amanda Rosenberg breaks down myths and misconceptions about what it means to live, laugh, love with bipolar II in a darkly funny, but familiar way. That's Mental dives head-first into the overlooked and offbeat issues of mental illness, it shines a harsh, fitting room light on thoughts and ideas that are often avoided, because they're uncomfortable or just downright embarrassing. These pages move through the everyday realities of mental illness, covering everything from, how reaching out for help is a nightmare, to dealing with people who suggest "cures" for your depression, to making up excuses to miss work just so you can take a mental health day. That's Mental is an uproarious and brutally honest collection of confessions from someone who's been there, done that, and still has no idea what she's doing."
This book has a lot of 5 star reviews and I will say it did provide a lot of good advice. I am not a huge fan of memoirs and I read this for non-fiction November. It was just so-so for me, hence the 3 star rating.
---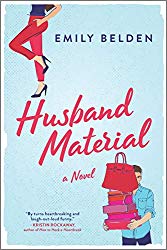 Title: Husband Material
Author: Emily Belden
Genre: Rom Com
Publisher: Graydon House, 12/30/19
Source: Publisher
Why I Read It: Requested from publisher as I really enjoyed her past book.
My Rating: 3 Stars
Emily Belden's previous book, Hot Mess, was much more gritty than this one and sadly I didn't enjoy this one as much. In this book, Charlotte has a job matching influencers to clients. She is a widow and she freaks out when her husband's ashes are returned to her.
"Twenty-nine-year-old Charlotte Rosen has a secret: she's a widow. Ever since the fateful day that leveled her world, Charlotte has worked hard to move forward. Great job at a hot social media analytics company? Check. Roommate with no knowledge of her past? Check. Adorable dog? Check. All the while, she's faithfully data-crunched her way through life, calculating the probability of risk—so she can avoid it. Yet Charlotte's algorithms could never have predicted that her late husband's ashes would land squarely on her doorstep five years later. Stunned but determined, Charlotte sets out to find meaning in this sudden twist of fate, even if that includes facing her perfectly coiffed, and perfectly difficult, ex-mother-in-law—and her husband's best friend, who seems to become a fixture at her side whether she likes it or not. But when her quest reveals a shocking secret, Charlotte is forced to answer questions she never knew to ask and to consider the possibility of forgiveness. And when a chance at a new life arises, she'll have to decide once and for all whether to follow the numbers or trust her heart."
After her husband's ashes arrive, Charlotte reconnects with this best friend Brian. Charlotte is developing an app that is meant to determine a person's ideal match. Of course, she doesn't realize that Brian may be hers. I sadly found Charlotte to be self-centered and the new romance a little forced. There was also a glaring error that made me crazy – Brian tells Charlotte how much gas mileage his Tesla gets. Just think about that one for a minute!
---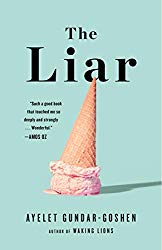 Title: The Liar
Author: Ayelet Gundar-Goshen
Genre: Contemporary Fiction
Publisher: Little, Brown and Company, 9/24/19
Source: NetGalley
Why I Read It: Read a review and wanted to read it myself.
My Rating: 4 Stars
The Liar is translated from Hebrew and takes place in Israel, which is one of the reasons I wanted to read it! This book is about the ways a lie can take on a life of its own and spread and effect different people.
"Nofar is an average teenage girl—so average, in fact, that she's almost invisible. Serving customers ice cream all summer long, she is desperate for some kind of escape. One afternoon, a terrible lie slips from her tongue. And suddenly everyone wants to talk to her: the press, her schoolmates, and even the boy upstairs. He is the only one who knows the truth, and he is demanding a price for his silence. Then Nofar meets Raymonde, an elderly immigrant whose best friend has just died. Raymonde keeps her friend alive the only way she knows how, by inhabiting her stories. But soon, Raymonde's lies take on a life of their own."
Nofar's lie is about a minor celebrity. Obviously he is effected by the lie, as are a variety of minor characters from Nofar's family, the boy who witnesses the lied about witness, a homeless man, and a police officer. Raymonde also lies about her life and her past and her story overlaps with Nofar's. I enjoyed the writing in this book and would recommend it.
---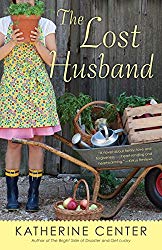 Title: The Lost Husband
Author: Katherine Center
Genre: Contemporary Fiction
Publisher: Ballentine Books, 8/1/13
Source: A friend
Why I Read It: Backlist buddy read on Instagram.
My Rating: 4 Stars
Katherine Center is one of my favorite writers and I've read almost all of her books, but I hadn't yet read this one! While it wasn't my favorite of hers, I did enjoy the story and the characters a lot.
"Dear Libby, It occurs to me that you and your two children have been living with your mother for–Dear Lord!–two whole years, and I'm writing to see if you'd like to be rescued. The letter comes out of the blue, and just in time for Libby Moran, who–after the sudden death of her husband, Danny–went to stay with her hypercritical mother. Now her crazy Aunt Jean has offered Libby an escape: a job and a place to live on her farm in the Texas Hill Country. Before she can talk herself out of it, Libby is packing the minivan, grabbing the kids, and hitting the road. Life on Aunt Jean's goat farm is both more wonderful and more mysterious than Libby could have imagined. Beyond the animals and the strenuous work, there is quiet–deep, country quiet. But there is also a shaggy, gruff (though purportedly handsome, under all that hair) farm manager with a tragic home life, a formerly famous feed-store clerk who claims she can contact Danny 'on the other side,' and the eccentric aunt Libby never really knew but who turns out to be exactly what she's been looking for. And despite everything she's lost, Libby soon realizes how much more she's found. She hasn't just traded one kind of crazy for another: She may actually have found the place to bring her little family–and herself–back to life."
This book was very sweet. Libby not only finds romance, but finds herself. I really liked the two children and the way Libby, her aunt, and their new friends helped to parent them. The goats were also fun and all were named after famous women. I loved the message that losing things makes what you have even better.
---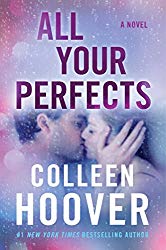 Title: All Your Perfects
Author: Colleen Hoover
Genre: Contemporary Fiction
Publisher: Atria Books, 7/17/18
Source: Libby audio app
Why I Read It: Decided to give Colleen Hoover another try.
My Rating: 4 Stars
I stopped reading Colleen Hoover when I decided her books are basically all the same format – characters with difficult pasts and volatile relationships finding love. On the other hand, she does write about contemporary problems and has a knack for the romantic.
"Quinn and Graham's perfect love is threatened by their imperfect marriage. The memories, mistakes, and secrets that they have built up over the years are now tearing them apart. The one thing that could save them might also be the very thing that pushes their marriage beyond the point of repair."
I probably would have finished this much quicker in print rather than on audio, but I wanted to listen to something and this was available. This book is about a couple dealing with infertility. I think it is very true to life with how this issue can effect both partners. The book goes back and forth between the past and the present and explains how their love is perfect, but also shows how infertility has changed them as a couple.
---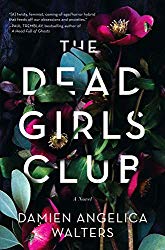 Title: The Dead Girls Club
Author: Damien Angelica Walters
Genre: Thriller
Publisher: Crooked Lane Books, 12/10/19
Source: Edelweiss
Why I Read It: ARC buddy read on Instagram.
My Rating: 5 Stars
Once again, I was one of the few people in my discussion group that loved this book! It was a bit long, but it kept me reading and I enjoyed the suspense of the story.
"In 1991, Heather Cole and her friends were members of the Dead Girls Club. Obsessed with the macabre, the girls exchanged stories about serial killers and imaginary monsters, like the Red Lady, the spirit of a vengeful witch killed centuries before. Heather knew the stories were just that, until her best friend Becca began insisting the Red Lady was real–and she could prove it. That belief got Becca killed. It's been nearly thirty years, but Heather has never told anyone what really happened that night–that Becca was right and the Red Lady was real. She's done her best to put that fateful summer, Becca, and the Red Lady, behind her. Until a familiar necklace arrives in the mail, a necklace Heather hasn't seen since the night Becca died. The night Heather killed her. Now, someone else knows what she did…and they're determined to make Heather pay."
Heather is haunted by the past and it effects her current life in big ways. The past story line occurred when Heather and her friends were 12 years old and I thought it was well written from their view point. Heather's friend Becca had a difficult home life and her belief in a ghost story led to her death. Heather never told anyone what had truly happened when Becca died, but someone knows, and Heather goes on a quest to find out who it is. I had my suspicions but I wasn't quite right! This is definitely a good thriller!
---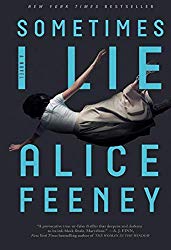 Title: Sometimes I Lie
Author: Alice Feeney
Genre: Thriller
Publisher: HQ, 3/23/17
Source: Barnes and Noble
Why I Read It: Buddy read on Instagram.
My Rating: 4 Stars
Sometimes I Lie was a super twisty thriller. It had one of those twists that seemed to be purposely misleading the reader, which I normally don't love, but it was okay for this one.
"Amber wakes up in a hospital. She can't move. She can't speak. She can't open her eyes. She can hear everyone around her, but they have no idea. Amber doesn't remember what happened, but she has a suspicion her husband had something to do with it. Alternating between her paralyzed present, the week before her accident, and a series of childhood diaries from twenty years ago, this brilliant psychological thriller asks: Is something really a lie if you believe it's the truth?"
I was a little bit confused after the twist, because I had to rearrange the way I was thinking about the characters! Without giving too much away, I will say that both of the main characters are a little bit crazy! This book has a trigger warning for rape.
---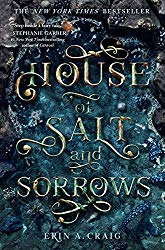 Title: House of Salt and Sorrows
Author: Erin A. Craig
Genre: YA Fantasy
Publisher: Delacourte, 8/6/19
Source: Library
Why I Read It: Buddy read on Instagram.
My Rating: 4 Stars
This book was well loved by most of the people who reviewed it. It is not my typical genre, and I have had a lot of difficulty with fantasy in the past few months! I gave this book 4 stars because I enjoyed the atmosphere and as far as fantasy goes, I was able to enjoy it!
"Annaleigh lives a sheltered life at Highmoor with her sisters and their father and stepmother. Once there were twelve, but loneliness fills the grand halls now that four of the girls' lives have been cut short. Each death was more tragic than the last–the plague, a plummeting fall, a drowning, a slippery plunge–and there are whispers throughout the surrounding villages that the family is cursed by the gods. Disturbed by a series of ghostly visions, Annaleigh becomes increasingly suspicious that her sister's deaths were no accidents. The girls have been sneaking out every night to attend glittering balls, dancing until dawn in silk gowns and shimmering slippers, and Annaleigh isn't sure whether to try to stop them or to join their forbidden trysts. Because who–or what–are they really dancing with? When Annaleigh's involvement with a mysterious stranger who has secrets of his own intensifies, it's a race to unravel the darkness that has fallen over her family–before it claims her next."
House of Salt and Sorrows is a retelling of the fairy tale The 12 Dancing Princesses. Only some of the story follows the fairy tale story though. At first, I had a hard time getting into the book, but as time went on I enjoyed it more. The ending was a bit twisty and a little confusing, but I made it through and didn't hate it!
---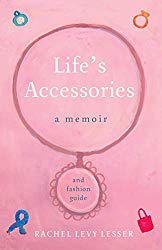 Title: Life's Accessories
Author: Rachel Levy Lesser
Genre: Memoir
Publisher: She Writes Press, 11/5/19
Source: Book Sparks
Why I Read It: Sent to me in exchange for my review.
My Rating: 3 Stars
This memoir that I read as a part of non-fiction November is basically a series of essays about the author's life. Each essay focuses around an article of clothing or an accessory, which is an interesting approach to framing a memoir.
"Rachel Levy Lesser can relive almost every significant life event through an accessory. A scarf, a pair of earrings, a bag, even a fleece pair of socks―each contains the elements that put together the story of a life. Life's Accessories is a funny, sad, touching, relatable, shake-your-head-right-along-as-you-laugh-and-wipe-away-tears, coming-of-age memoir. In fourteen essays, Lesser tackles sensitive issues like anxiety, illness, and loss in a way that feels a bit like having a chat with a good friend. Out of the stories comes solid life―and fashion―advice. About far more than just a hair tie, a bracelet, or a belt, Life's Accessories is a window into the many ways in which Lesser has come to understand life―in all of its beauty, its joys, its sorrows, its heartaches, its challenges, and its absurdity."
While most of the essays address coping with loss of one's mother and are relatable, I found the author to come across as snobby. She bragged about her expensive purchases and all of her amazing friends. Again, I am not a huge fan of memoirs, and this one didn't do much for me.
---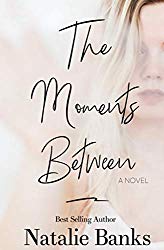 Title: The Moments Between
Author: Natalie Banks
Genre: Contemporary Fiction
Publisher: Champion Books, 12/6/19
Source: The author
Why I Read It: Sent to me in exchange for my review.
My Rating: 3 Stars
This book had a good concept but a poor execution, as the writing was very amateur. The book reminds us to value our family and to work on our relationships, as we hope we won't lose them.
"Tragedy strikes the life of Claire DuPont when her husband of nine years is killed in a train accident on his way home from work, leaving her alone with two small children. One morning, six months later, she awakes to find him alive and there with her in the house, like he had never been gone. With her head spinning she picks up her phone only to see the date is actually three months before the accident ever occurred. Bewildered but grateful, she writes it off as a very vivid, bad dream. But as time goes on, she realizes that events are unfolding exactly the way they did in her dream. Racing against time, she desperately tries to change the inevitable but finds herself helpless to change anything. Unwilling to give up, she vows to stop at nothing to save her husband before it's too late."
I enjoyed the concept of the story about fate and whether it can be changed. The book is about family relationships and valuing what we have before it's gone. Aside from the marital relationship, it is also about the relationship between sisters, who don't get along very well. I wish the writing was a bit more well done, but the story itself was enjoyable.
---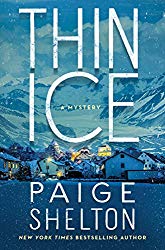 Title: Thin Ice
Author: Paige Shelton
Genre: Mystery
Publisher: Minotaur Books, 12/3/19
Source: Publisher
Why I Read It: Sent to me in exchange for my review.
My Rating: 4 Stars
This mystery takes place in a small town in Alaska. I loved the setting! A famous author is abducted and she escapes, but must disappear, because her kidnapper has not been found. In Alaska, she gets involved in solving the mystery behind a suspicious death.
"Beth Rivers is on the run – she's doing the only thing she could think of to keep herself safe. Known to the world as thriller author Elizabeth Fairchild, she had become the subject of a fanatic's obsession. After being held in a van for three days by her kidnapper, Levi Brooks, Beth managed to escape, and until he is captured, she's got to get away. Cold and remote, Alaska seems tailor-made for her to hideout. Beth's new home in Alaska is sparsely populated with people who all seem to be running or hiding from something, and though she accidentally booked a room at a halfway house, she feels safer than she's felt since Levi took her. That is, until she's told about a local death that's a suspected murder. Could the death of Linda Rafferty have anything to do with her horror at the hands of Levi Brooks? As Beth navigates her way through the wilds of her new home, her memories of her time in the van are coming back, replaying the terror and the fear―and threatening to keep her from healing, from reclaiming her old life again. Can she get back to normal, will she ever truly feel safe, and can she help solve the local mystery, if only so she doesn't have to think about her own?"
The side characters in this book are interesting and Beth's adjustment to Alaska life was fun to read about. I liked the multiple mysteries, and the book ended on a good cliffhanger on which to continue the series!
---
In conclusion, in November I read 20 books – 18 reviewed in this post. 12 of these were print books, 5 were e-books, and 1 was audio. The genres I read included contemporary, rom com, historical fiction, YA fantasy, thriller, and non-fiction. My favorites of the month were The Unhoneymooners, Recipe for a Perfect Wife, and The Dead Girls Club.
I noticed while writing this post that many of these books qualify for Amazon's current spend $20 get $5 off offer. Although I did not manage to read my Book of the Month selections this month, I did want to make everyone aware of their current deal – join Book of the Month or Book of the Month YA and get your first month for only $5 with the code YES5. The books offered each month are usually new releases and you are able to get them before they come out and for much less money!
Have you read any of these books? What have you been reading lately?