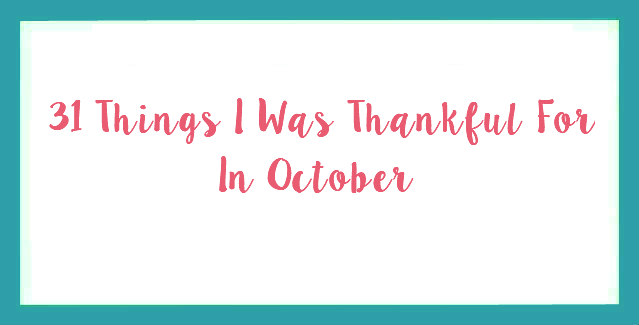 For almost one year, I've been keeping lists of things I am thankful for on a daily basis. With the addition of my gratitude journal, I have been actually writing down more than one thing per day that I want to remember and that I was thankful for! There were 31 days in October, so here are the 31 things (and some days I even have a few extra!) I was thankful for between October 1st and 31st.
1. It was Rosh Hashanah and we went to our friends' house for lunch.
2. I worked on catching up on everything I missed over the holiday. I was thankful I didn't have to do school pick up.
3. I realized I could use the audio book app from the Kansas City library, even though I don't live in Kansas City, and I downloaded an audio book to listen to.
4. The boys were very helpful in bringing out our large trash items that would be picked up the next day.
5. Dave and I went to the Water/Fire Festival that was on my fall list of things to do.
6. Gabbie had a picnic with youth group and Simon had a play date so they were both occupied during the day.
7. Zachary got a ride home from school and I didn't have to make lunches for the following day.
8. I took the kids for lunch at the bagel store and we went to the library.
9. It was Yom Kippur and now everyone in our family besides Simon does the whole fast.
10. School had a late start. I took Zachary to see Gabbie's orthodontist and we are thinking he won't need braces. Zachary helped Simon with his homework.
11. I picked up library books for me, Gabbie, and Simon.
12. The weather felt like fall. The kids helped start building the Sukkah.
13. I found out that my father will be able to come to us for Thanksgiving, as we weren't sure it would be possible due to some health issues he has.
14. We had dinner with our friends.
15. Simon and Zachary were out playing with neighborhood kids all afternoon. We had lunch with our friends.
16. I didn't have to drive anyone anywhere thanks to various changes in plans!
17. I had a cold but I was feeling better, even making it to the gym. It was a beautiful day. Simon had two awesome field trips this week.
18. I bought an adorable gnome at HomeGoods. Dave remembered to help prepare for when he would be away.
19. Dave did the dishes. We went to a wine tasting at our friends' house.
20. We went to the pumpkin patch.
21. Dave made lunch for us.
22. I was thankful that I decided to stop recording everything I ate as it was hard over the holidays to keep track.
23. Zachary got a ride home from school when I thought he might not have one.
24. The kids were back to their regular school schedule.
25. Dave's flight was canceled but he managed to get home when we were worried he wouldn't make it till during the weekend. I asked my friend if we would be able to join them for dinner if Dave didn't make it home and she was willing to have us.
26. Gabbie and Zachary were both out with their friends and Simon also spent time out of the house so it was quiet.
27. The kids enjoyed playing with the Harry Potter Coding Kit I received to review.
28. I finally finished the audio book I had been listening to all month.
29. Dave and I went out for a date night. The kids did well on their report cards.
30. I stayed home and put oils in my diffuser.
31. I still now am having issues getting mail notifications on my Apple Watch, but on this day I fixed a setting that I somehow messed up on my phone and they worked for the time being! I also bought an iPad and received it!
You may notice I mentioned my husband more than normal – I was reading a book about gratitude and it talked about being more thankful for your spouse!
What are you thankful for today?