Styling and fashion boxes can be a lot of fun, and when I heard about the Fashom Style Box service, I decided it would be fun to try it. I was excited that Fashom offers budget friendly clothing and that you get to choose the five items you will receive before they are sent to you.
How Fashom Works
In order to get started with Fashom, you fill out a style profile in which you provide your sizes and style preferences. You also let Fashom know the prices you prefer. I of course told them that I like the cheapest options available, because I hate to spend too much on clothing! There is a $15 style fee, which is applied to the items you decide to buy, and your first style fee is waived!
After a few days, I received 8 choices and I chose 5 that I wanted to receive in my box. I didn't save the pictures of the items that I didn't choose, but here is what I decided I wanted to try: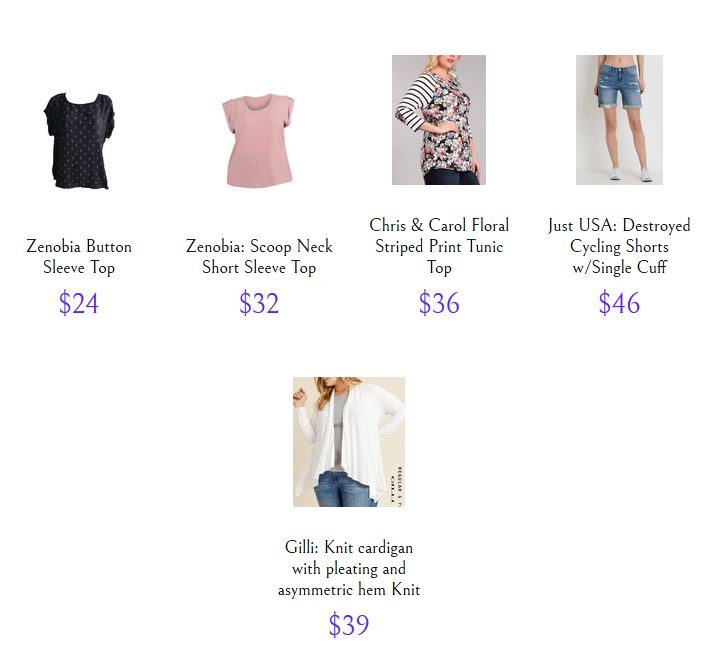 You can see that the prices averaged to around $35, which is pretty budget friendly in my opinion. If you don't like any of your choices, you can ask for new ones or cancel your session at that point. After I chose my items, it took about a week to receive them.
My Fashom Try-On Session
When my clothing arrived, I was a little surprised by the sizes I received. In my style profile I provided my current sizes. I didn't provide a waist measurement, but I did provide my chest size, and I suppose the sizes chosen were based off of that. My chest size is rather large, but that doesn't mean I wear plus size clothing, and all of the tops that I received were plus size. I was also slightly disappointed that while size exchanges are offered, you don't get to re-try on the clothes, meaning if you want to exchange for a different size, you do this by buying the clothing and committing to it without a second try-on session.
Item 1: Zenobia Button Sleeve Top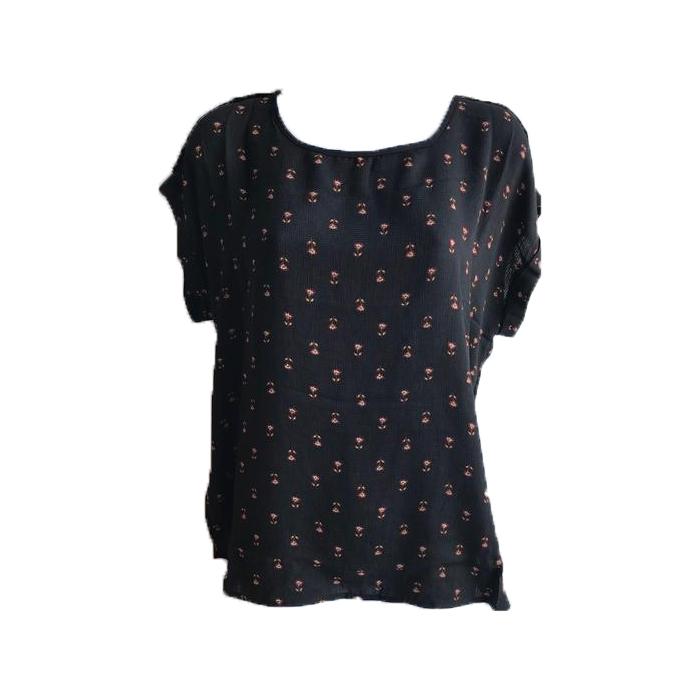 Based on the photo, I thought I would like this top. It has a cute print and it is a style I could imagine wearing with a skirt to synagogue. Plus it was only $24! I received this top in a size 2X.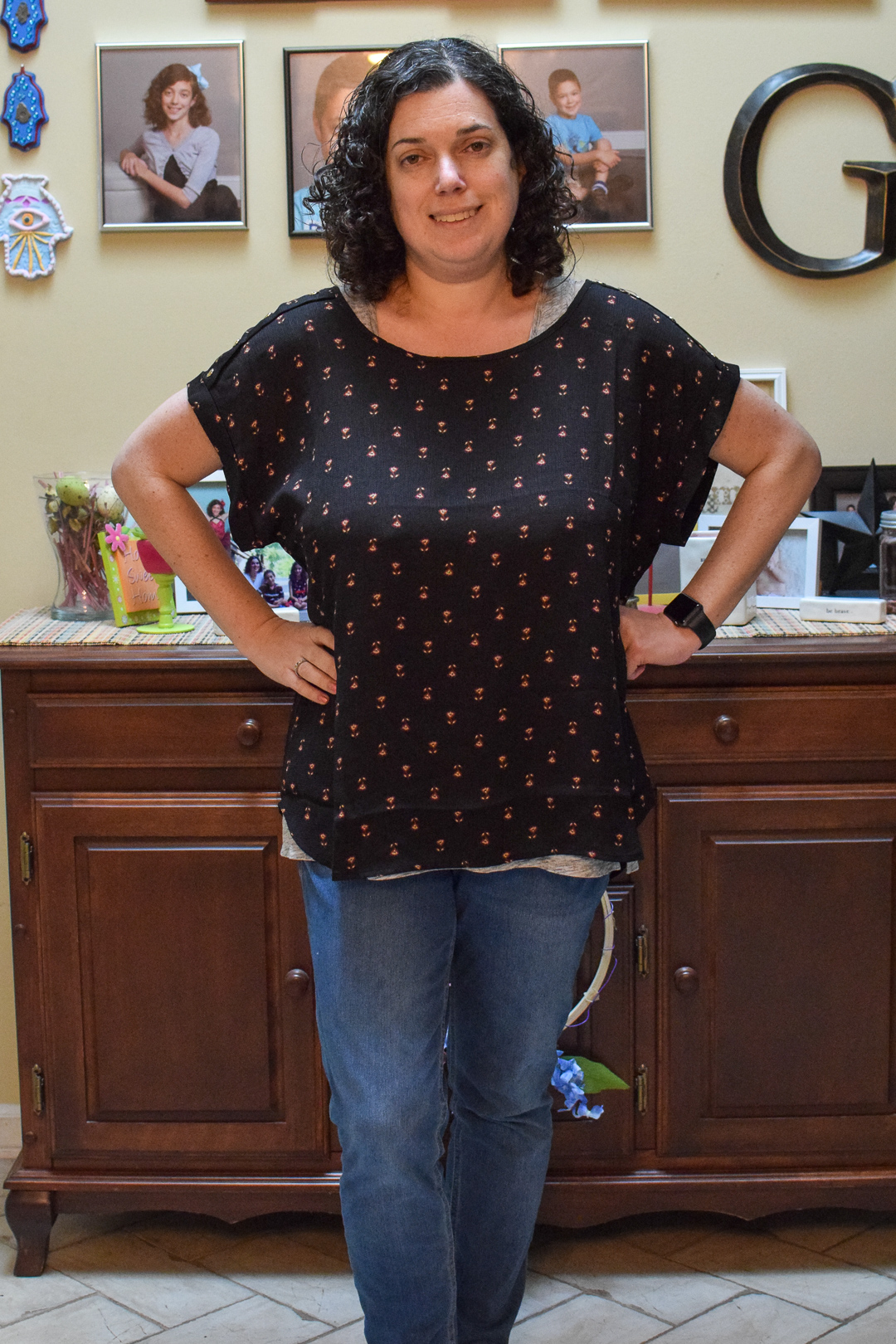 This top was cute on, but I didn't love the large sleeve holes. The neck was also pretty wide. The size was too big, so it was hard to tell if that would be changed with a smaller size, but ultimately I decided to pass on this shirt.
Item 2: Zenobia Scoop Neck Short Sleeve Top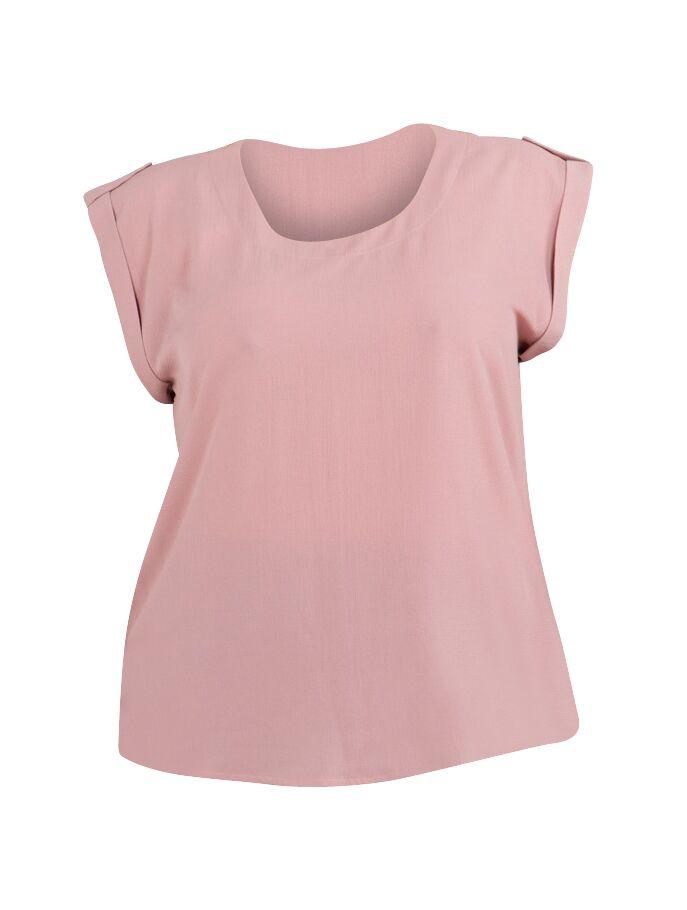 Again, I thought this shirt would be nice to wear to synagogue. The style was actually very similar to the first top, also with buttons on the top of the sleeves and a similar sleeve shape, however I received this top in a 3X. Even before I lost 35 pounds I didn't wear a 3X…but I tried it on anyway.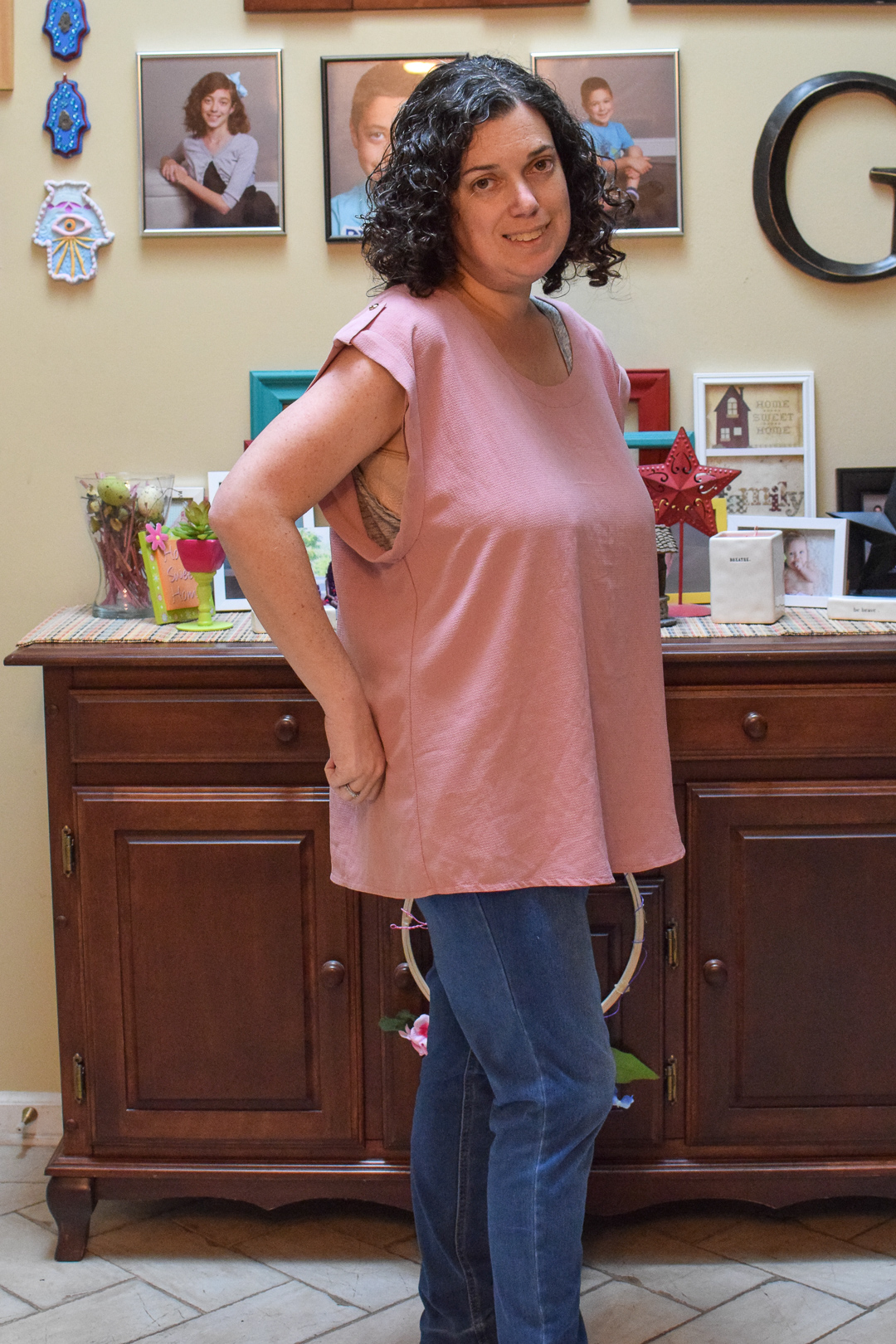 Yeah. I think you can see how gigantic it was on me! I also didn't love the material, so I passed on this one as well.
Item 3: Chris & Carol Floral Striped Print Tunic Top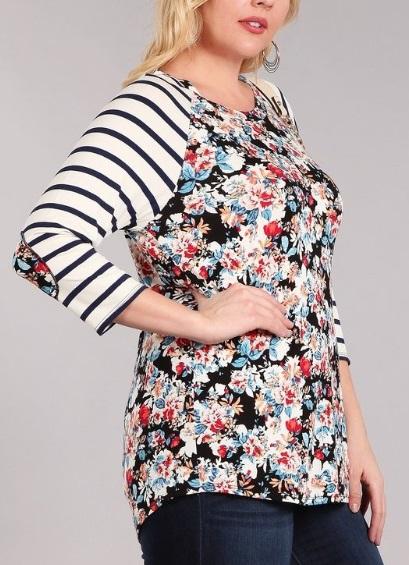 I have always wanted a mixed pattern top like this! I love the elbow patches that match the floral front of the top. The pattern I received wasn't exactly like the picture, but I still liked it, and it was so soft! I received this top in a 2X.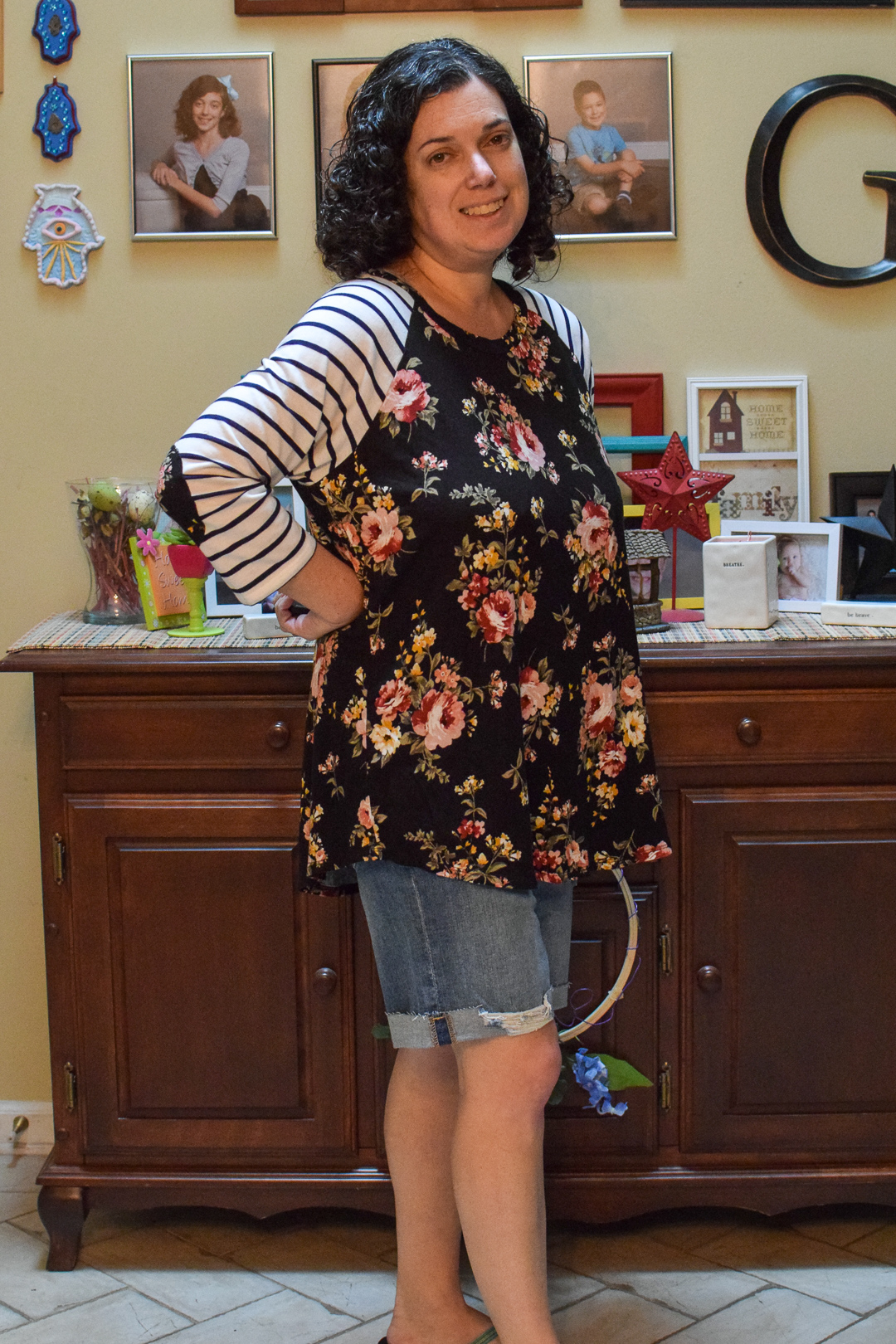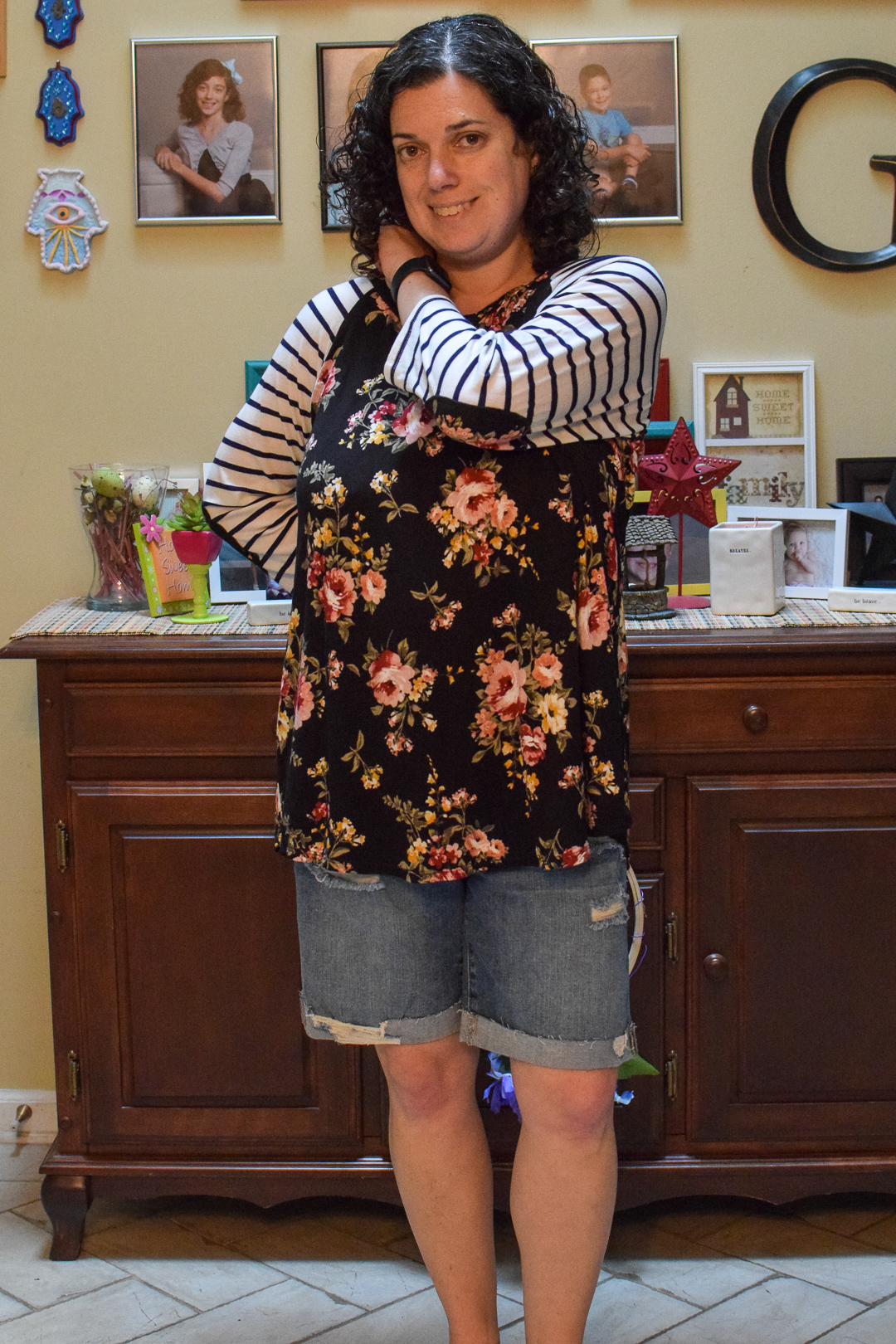 It was definitely too big, but I really liked it, so I asked for a size exchange and purchased this top.
Item 4: Just USA Destroyed Cycling Shorts With Single Cuff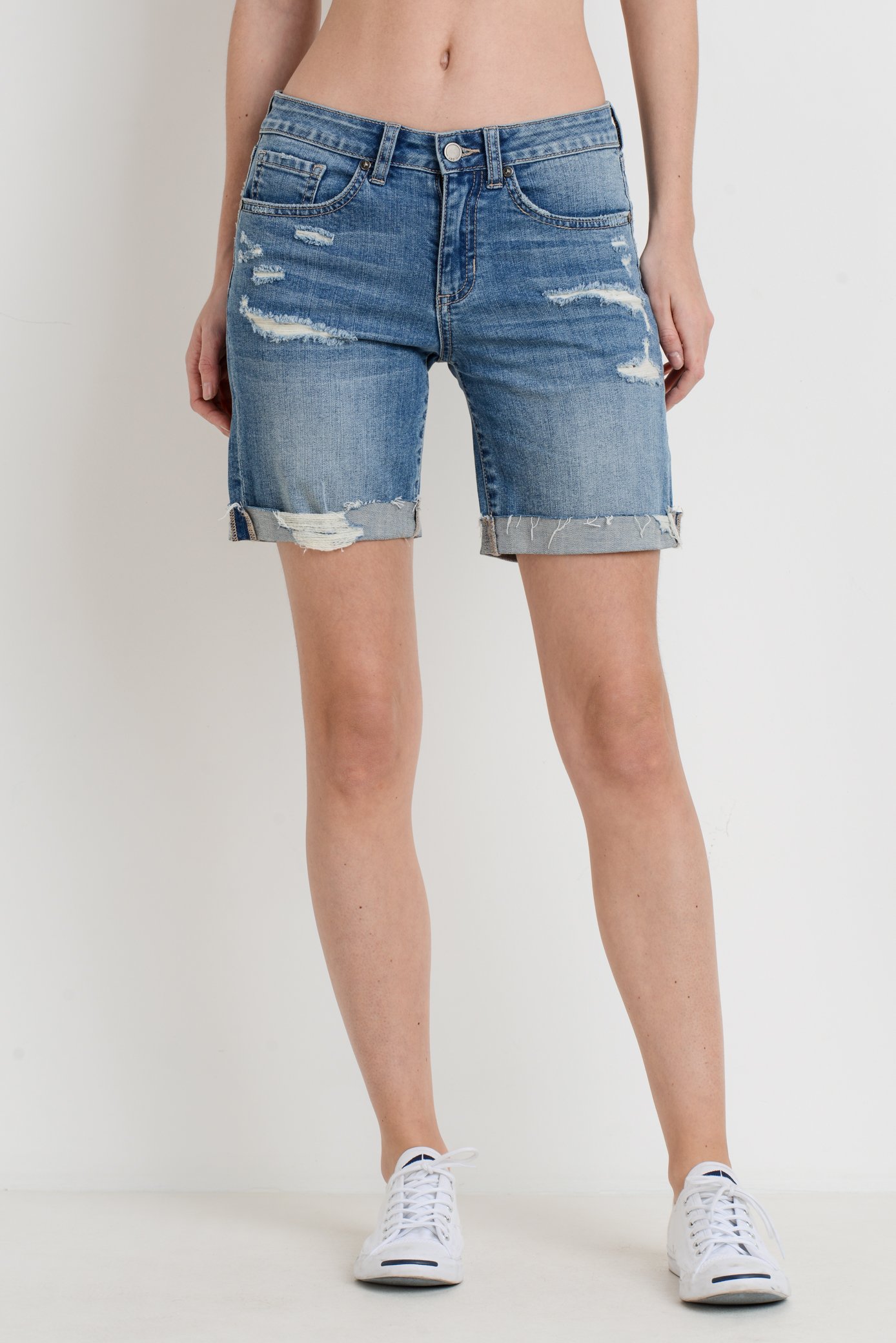 Although I do have a lot of shorts, none of them are this length and I thought I might like a distressed look. I am also wearing the shorts in the above photo.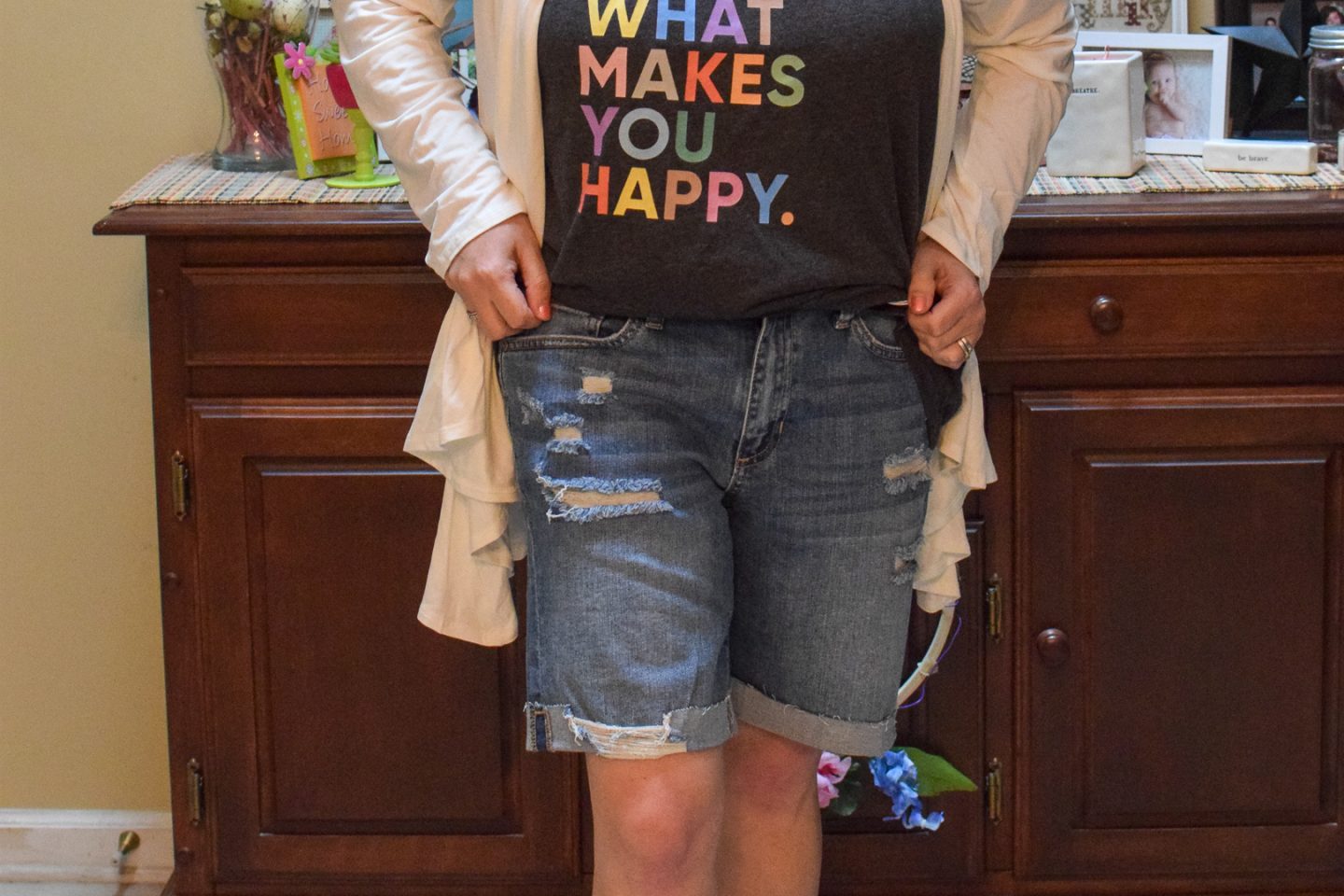 I received these in a size L and they were just a bit too big. I decided to ask for a size exchange to one size smaller and purchased these shorts.
Item 5: Gilli Knit Cardigan With Pleating and Asymmetric Hem Knit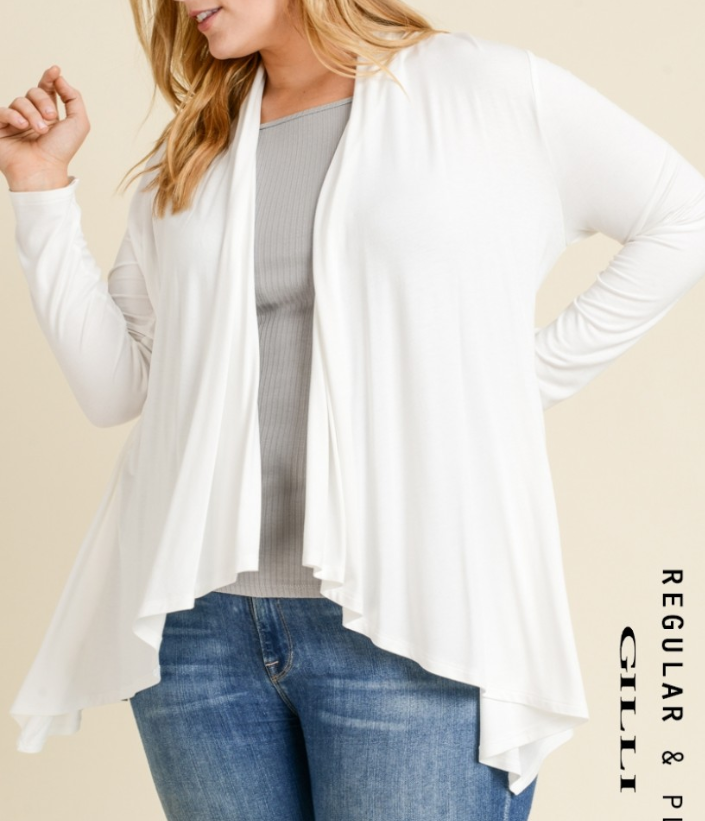 Lastly, I received this white cardigan. It is a style that I wear often, but I don't have a white one!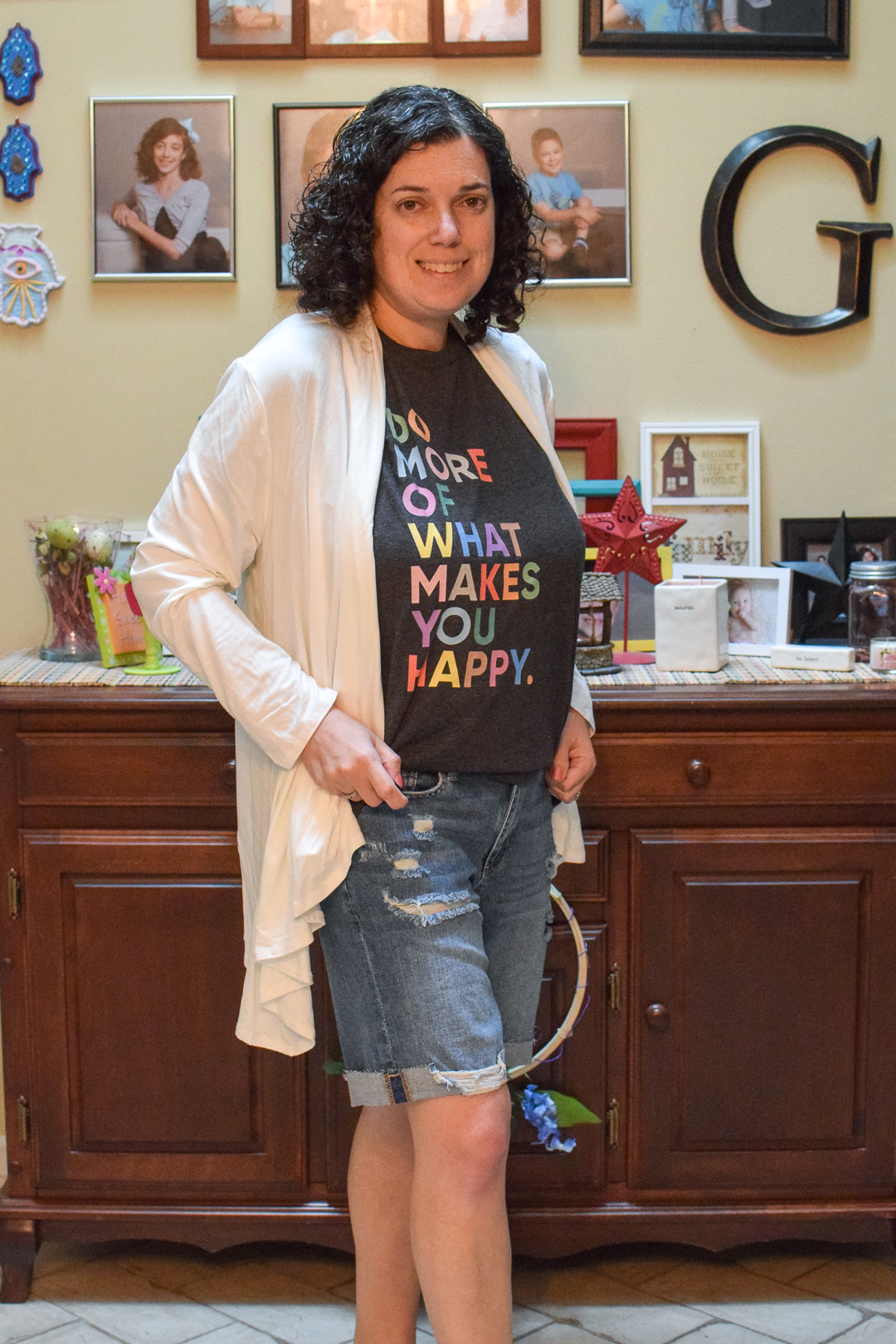 Very soft and not too heavy weight, I think it is perfect for adding over a t-shirt. I received a 1X and while it wasn't obviously too big, I again decided to ask for a size exchange and purchased this item.
My Picks: Summary
If you were paying attention, you can see that I decided to return 2 items and keep 3. I did have to send all of the items back though, because for the 3 items I kept, I needed smaller sizes. This is a risk for me, because I don't know if the new sizes I chose will fit. I was torn between keeping 1, 2, or 3 of these items, but I chose to keep all 3 because I really like them, can see myself wearing them, and when you keep 3-4 items, you receive a 25% discount. If you keep all 5 items, you receive a 30% discount as well.
Should You Try Fashom?
Yes! You should definitely try Fashom because your first style fee is waived, so you have absolutely no risk in getting a box to try! Plus, if you join using the link provided, you will get a $10 credit towards anything you do decide to purchase. This is my referral link, and if you join using it, we will both receive a $10 credit to Fashom. Shipping is free to receive and return your items and for every box, Fashom contributes $1 to Second Chance Rescue NYC Dogs!
What do you think of the items I decided to keep? Would you try a Fashom Style Box?
I received a credit to my Fashom account for sharing this post with you. All opinions are my own.