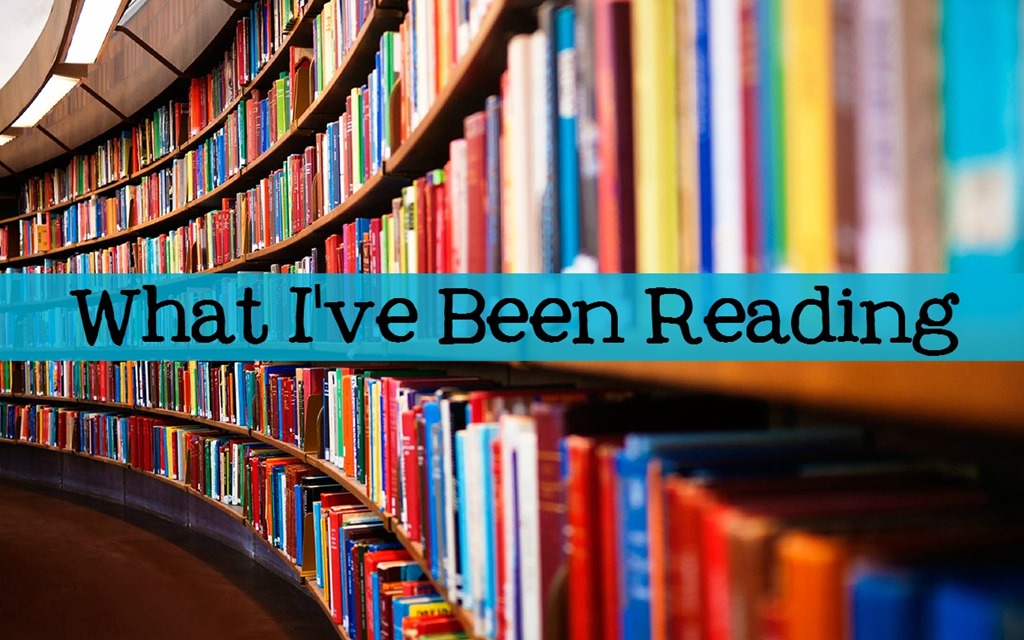 Since the beginning of this year, I've been successful in finishing a book every week! That means that today I have 4 recent reads to share with you.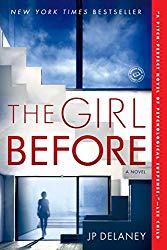 In my efforts to read books off of my To Be Read list, I made much use of the library this month. The first that I chose to read was The Girl Before by JP Delaney. This book was slightly suspenseful and kept me guessing, but in the end, it didn't really stay with me, like good books should.
"Please make a list of every possession you consider essential to your life.
The request seems odd, even intrusive—and for the two women who answer, the consequences are devastating.
EMMA
Reeling from a traumatic break-in, Emma wants a new place to live. But none of the apartments she sees are affordable or feel safe. Until One Folgate Street. The house is an architectural masterpiece: a minimalist design of pale stone, plate glass, and soaring ceilings. But there are rules. The enigmatic architect who designed the house retains full control: no books, no throw pillows, no photos or clutter or personal effects of any kind. The space is intended to transform its occupant—and it does.
JANE
After a personal tragedy, Jane needs a fresh start. When she finds One Folgate Street she is instantly drawn to the space—and to its aloof but seductive creator. Moving in, Jane soon learns about the untimely death of the home's previous tenant, a woman similar to Jane in age and appearance. As Jane tries to untangle truth from lies, she unwittingly follows the same patterns, makes the same choices, crosses paths with the same people, and experiences the same terror, as the girl before."
There were definitely twists in the book as well as some surprises but I think the women main characters could have been further developed and the ending could have been a little less strange!
---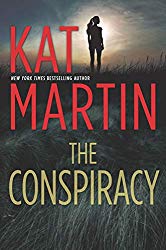 The next book that I read was actually not on my To Be Read list, but was sent to me by Harlequin Books in exchange for posting about it on Instagram. The Conspiracy by Kat Martin is the first book in her new series Maximum Security.
"Harper Winston's brother has disappeared. Pursuing his dream of sailing the Caribbean, Michael hasn't responded to texts or emails in days. When even the Coast Guard can't find him, Harper is forced to take desperate measures. Which means going to Chase Garrett, once her brother's best friend, now the only man she can trust…or so she hopes. As the successful owner of Maximum Security, Chase has learned to trust his gut. He knows Harper's father is mixed up in a deadly business, and suspects there's more to Michael's disappearance than meets the eye. Getting involved again with the Winstons goes against everything he stands for, yet old loyalties die hard. As the case draws him closer to Harper and deeper into the Winstons' snarled crime family, he is forced to put everything on the line to keep Harper safe…and both of them alive."
I liked that there more to the book than the description mentions – the story continues after Harper's brother is found. There is a lot going on in the book and there are some surprises as well. I liked the characters and before I knew that this was part of a series, I wondered about the other men that work with Chase. They will be explored in further books in the series. I think it's worth mentioning that Dave read this book and enjoyed it a lot, so if you have men in your life who like to read, this may be a good choice for them!
---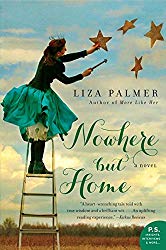 Having been on my To Be Read list for quite awhile, I think Nowhere But Home by Liza Palmer was one that I added because I read another of Palmer's books and enjoyed it. This book is about sisters, the difficulties of growing up with a neglectful mother, and whether or not you can actually go back home.
"After Queenie Wake is dismissed from her restaurant job, she returns to North Star to cook meals for death row inmates. Hopeful that the bad memories of her late mother and promiscuous sister (now the mother of the captain of the high school football team) have been forgotten by the locals, Queenie discovers that some people can't be forgotten—heartbreaker Everett Coburn—her old high-school sweetheart. When secrets from the past emerge, will Queenie be able to stick by her family or will she leave home again?"
One of the most amusing parts of this book is that Queenie's real name is Queen Elizabeth. The depiction of a small town in Texas where everyone judges Queenie and her sister by their mother's actions was sad and relatable. The same people that Queenie grew up with are still there in town and she has to find out if they have grown up or remain stuck back in high school. Her new job cooking last meals for death row inmates is something that helps her figure out who and where she wants to be, when there's nowhere left to go but home.
---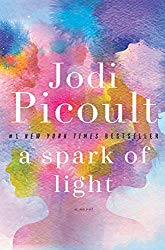 Finally, while working through the pile of books I got from the library, one that I had been on the waiting list for came in – Jodi Picoult's newest, A Spark of Light. Jodi Picoult has been my favorite author forever, but I wasn't sure if I wanted to read this because I had heard a lot of mixed reviews. As it turns out, this book did not change my opinion of her as a writer at all.
"The warm fall day starts like any other at the Center—a women's reproductive health services clinic—its staff offering care to anyone who passes through its doors. Then, in late morning, a desperate and distraught gunman bursts in and opens fire, taking all inside hostage. After rushing to the scene, Hugh McElroy, a police hostage negotiator, sets up a perimeter and begins making a plan to communicate with the gunman. As his phone vibrates with incoming text messages he glances at it and, to his horror, finds out that his fifteen-year-old daughter, Wren, is inside the clinic. But Wren is not alone. She will share the next and tensest few hours of her young life with a cast of unforgettable characters: A nurse who calms her own panic in order to save the life of a wounded woman. A doctor who does his work not in spite of his faith but because of it, and who will find that faith tested as never before. A pro-life protester, disguised as a patient, who now stands in the crosshairs of the same rage she herself has felt. A young woman who has come to terminate her pregnancy. And the disturbed individual himself, vowing to be heard. Told in a daring and enthralling narrative structure that counts backward through the hours of the standoff, this is a story that traces its way back to what brought each of these very different individuals to the same place on this fateful day."
A controversial book because of the issue that it covers – abortion – I wonder if those who did not like this book are firmly entrenched on one side of the argument or the other and are unwilling to read about the other side. I thought the author did a good job showing the different reasons some might want to have an abortion as well as the feelings of those who are against abortion for any reason at all. There are complaints that she did not describe the pro-life characters fairly, making them stereotypical religious fanatics. I didn't necessarily feel that way and found their opinions understandable. There is a description of an abortion at 15 weeks that could definitely make anyone think harder about whether a fetus is a person or not. On the other hand, it is obvious that the author supports the right of women to choose. The doctor feels that he himself is pro-life – pro the life of the women he helps.
The other complaint that people have about the book is the way that it reads from the end back to the beginning. This was probably an unnecessary plot device, because even though we learned more about each character as time went backwards, the same reveals could have happened if the book was written chronologically. I did find myself confusing a few characters, as unlike Picoult's other books, she doesn't alternate chapters from character's alternating perspectives, she instead switches off by smaller sections. The one problem I felt was that there is no follow up on many of the characters in the book. Wren and her father are the main people we learn about and we do find out what happens to them in the end, but I wondered about some of the others as well.
Overall, I am glad I decided to read this one, as it definitely made me think and is a relevant book for life in the current political climate.
What have you been reading lately?