Today's topic is favorite scenes. Here are my top 6 favorite scenes from Scandal!
6. Episode 308. Fitz built a house for Olivia. And their song is playing and it's beautiful.

[source]
"This house is yours… Ours. I had it built for us. When it looked like there was a chance for us, I bought the land and had it built. I couldn't really be mayor, but you can make jam. And there are bedrooms for lots of kids. This was going to be you and me raising a family and growing old together in this house. It was supposed to be our house Livvie, and I just wanted you to see it at least once, at least once before I sell it. I wanted you to see the dream." [You Tube Link]
5. Episode 219 – Olivia is in the hospital and Fitz realizes he needs her. And that song!

[source]
"This past year I have learned only one thing: that I cannot exist without you, that I cannot breathe without you; that the man I am without you is …. I'm nothing. I'm nothing and you are everything, and I need you to give me another chance. I demand another chance. We're worth another chance." [You Tube Link]
4. Episode 220 – Fitz runs out the clock on his marriage and chooses Olivia.
"I am here to find out what do you want? You can't fix the fact that I love you more than I love being president. I think you don't believe me. I think you believe I'll never choose you. This time we're going to fix this. We're going to sit here. You're going to sit here with me and watch me choose you. Sit with me, Liv. Sit with me and let's run out of the clock. Sit with me and watch me earn you." [You Tube Link Part 1 and Part 2]
3. Episode 106 – Olivia sits with Fitz and they hold hands.

[source]
"Oh, for God's sake, we are so far beyond the 'Governor Grant' crap. Just say my name." "That's crossing the line. It would be inappropriate." "Then let's be inappropriate. Say my name." [You Tube Link]
2. Episode 106 – I love this whole episode really, but at the end when Fitz holds Olivia for one minute it is just amazing. Oh, and their song is playing! And I love her sweater.

[source]
"When we were doing the scene, because of the embrace, I never got to see the work that Tony was doing. So I was really struck the first time I saw the episode by the level of intensity of what he was experiencing. It was an interesting, lovely artistic surprise to be able to go, Wow, wow, look what's going on for him in that moment." – Kerry Washington [You Tube Link]
1. Episode 208 – In the rose garden when Fitz tells Olivia he's in love with her.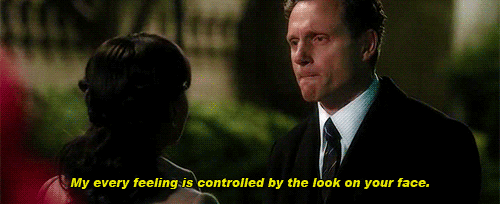 [source]
"You own me! You control me, I belong to you. You think I don't want to be a better man? You think that I don't want to dedicate myself to my marriage? You don't think I want to be honorable, to be the man that you voted for? I love you. I'm in love with you. You're the love of my life. My every feeling is controlled by the look on your face. I can't breathe without you. I can't sleep without you. I wait for you, I watch for you. I exist for you. If I could escape all of this and run away with you? There's no Sally and Thomas here. You're nobody's victim, Liv. I belong to you. We're in this together." [You Tube Link]
"Up until that fight, you wondered why. Why does she put herself in this position? Why does she stay? And then you see how vulnerable she is and how truly in love with her he is. I had to come in kind of angry with my mind made up and let my heart be changed by him in that moment, which is not the hardest thing in the world to do with Tony Goldwyn." – Kerry Washington
There you have it, my top 6 favorite Scandal scenes. Tell me some of your favorite TV scenes!