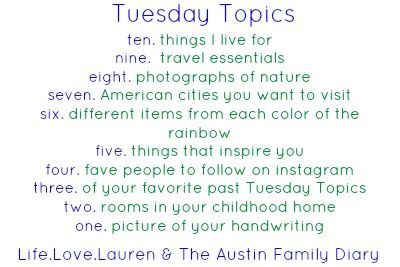 What inspires me to continue posting on this blog? How do I come up with what to write day after day? Well, here are 5 things that inspire me.
1. Number 1 is obviously my kids! My favorite thing to write about is our adventures, followed closely by their accomplishments.
2. Seeing new and exciting places. I love to share my travels, both the trips we've taken recently and those from the past!
3. Books and blogs. I'm inspired a lot by what I read, whether that be in one of the books I'm currently reading or on a blog.
4. Pinterest inspires me as far as finding craft ideas, party ideas, recipes, and fashion!
5. Being Jewish. I like to share the traditions and customs that I love as a Jewish person.

Simon setting up Shabbat candles (before his haircut obviously!)
And if there was a number 6, I'd have to say that Link Ups like this one inspire me! I have been doing Tuesday Topics for quite awhile now and I always enjoy sharing my answers each week. So thanks!