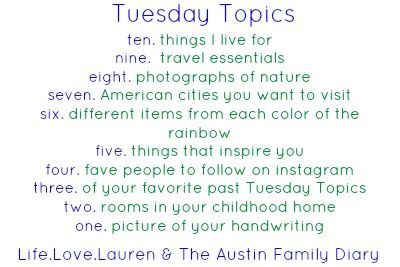 A lot of people asked me how I managed a cross country road trip and three weeks spent away from home with three kids, and I thought this week's Tuesday Topic would be perfect for elaborating on some of our needed items, both for me and for the kids. As I have mentioned in the past, I always end up forgetting something important when I travel, but luckily I tend to travel in places where I can go to the store and buy whatever it is I forgot – for example, on this trip I forgot swim diapers, so we just bought more. I do have a packing list that I go over when I travel, I just tend to leave stuff out.
Anyway here are nine recommendations for road trip travel essentials from me!
1. Camera – I would be very upset if I left for a trip and forgot my camera. I know there are people who take trips without taking photos in order to try to live more in the moment and not behind the lens, but I'm not like that! I love to look back at my trips afterwards, and especially to share the memories with others!
2. Travel DVD player – Our van has a built in system which is nice and keeps the kids occupied at least for a little while! Our old car didn't have a built in system so we had one that attached to the seats. It is much more convenient now that we can load movies from the front of the car!
3. iPhone charger – I forgot my charger when we went to Florida last November. The iPhone 5 had just come out and the charger was only carried by Apple. None of the hotels had them available to borrow since they were so new. I think the charger is available in regular stores now, but for me it is an essential that must be packed!
4. License Plate Game and other games – We ordered the Melissa & Doug License Plate Game before our road trip. Since we decided to leave earlier in the day than we'd originally planned, our package arrived after we left! The kids have been playing with it during Mommy Camp though and I can highly recommend it for a road trip. We did bring along a box of games that we took out in the different places we stayed so that we had things to do when we were not out touring.
5. Box of Cars and Bag of Barbies – or whatever toys your kids love to play with. The boys were occupied for quite awhile lining up all of their cars and playing Disney World parking lot. Gabbie played with her Barbies a little less than they played cars, but at least she had a bag of toys she knew she liked to play with. If you are road tripping, it doesn't take that much extra space to bring along your kids' favorite type of toys.
6. First Aid Kit – Stock your kit with kids' medicines as well as adult medicines. When you get a cold on vacation it is so much easier to grab the medicine you brought from home then to make time to hit the pharmacy. Don't forget the Band-Aids – Simon fell while running outside a restaurant and we were able to quickly put a Band-Aid on his leg to heal the boo boo.
7. Water bottles – I highly recommend giving each kid his or her own bottle of water to keep by his or her seat in the car. This way you don't have to listen to complaints of thirst and you don't have to keep passing bottles back from the front of the car. I also prefer the sports top type that even Simon can open himself (when he wants to).
8. A plan – My best bit of road trip advice is to set out with a plan. Know where you're going, so when your GPS tells you it will take you 10 hours to get somewhere and you only expected it to take 8, you will realize that it probably doesn't know about a recently opened road. Have some idea of your stopping points, because depending where you are traveling you may only have a few options.
9. Flexibility – Even though you may have planned to leave your house at a certain time, if your husband hears about storms coming he may want to leave earlier. Be flexible! You may have a plan but it may not carry itself out exactly as you thought it would. Things happen!
What do you think of my road trip travel essentials? Other ideas I forgot?
---
We all know how important it is for tweens everywhere to wear what they like and to have clothing that fits their personality. That's why zulily.com is having a Back to School event dedicated for your tween, giving you all of the great savings that zulily has to offer. Whatever their developing tastes, zulily has plenty of on-trend choices to help them on their fashionable way. Happy Shopping!