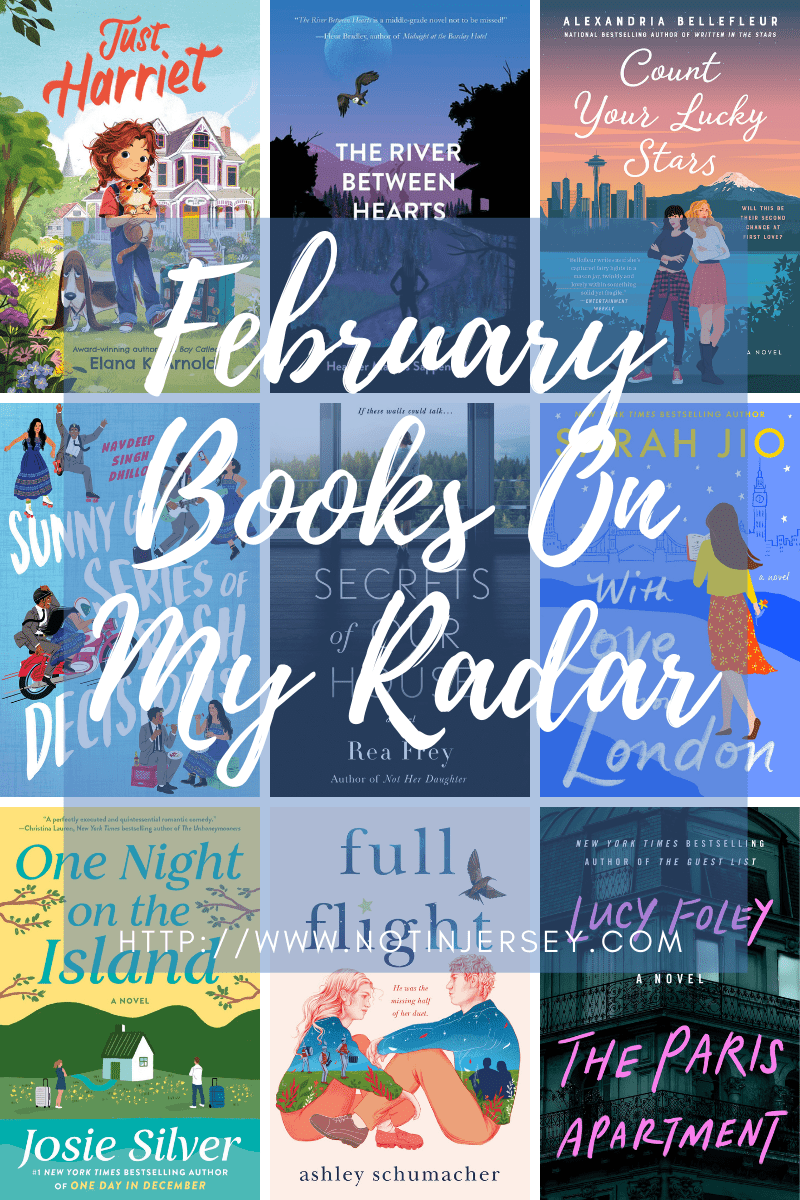 Today I'm sharing some of the February books on my radar. These are books that are releasing this February that I'm excited about, interested in reading, or just wanting to share with others. There are always so many books coming out that this definitely doesn't cover all of the books that one may be interested in reading. I have marked the dates the books release next to their titles! This post contains Amazon affiliate links. If you choose to make a purchase after clicking on my link, I may receive a small commission.
Just Harriet
by Elana Arnold (2/1) – From the award-winning author of A Boy Called Bat comes a new young middle grade series in the tradition of Ramona and Clementine, starring an unforgettable girl named Harriet.
There are a few things you should know about Harriet Wermer:
She just finished third grade.
She has a perfect cat named Matzo Ball.
She doesn't always tell the truth.
She is very happy to be spending summer vacation away from home and her mom and dad and all the wonderful things she had been planning all year.
Okay, maybe that last one isn't entirely the truth.
Of course, there's nothing Harriet doesn't like about Marble Island, the small island off the coast of California where her nanu runs a cozy little bed and breakfast. And nobody doesn't love Moneypenny, Nanu's old basset hound. But Harriet doesn't like the fact that Dad made this decision without even asking her.
When Harriet arrives on Marble Island, however, she discovers that it's full of surprises, and even a mystery. One that seems to involve her Dad, back when he was a young boy living on Marble Island. One that Harriet is absolutely going to solve. And that's the truth.
---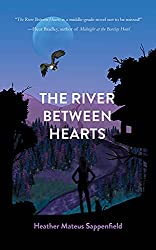 The River Between Hearts by Heather Mateus Sappenfield (2/1) – On an ordinary Monday, Rill Kruse left for third grade with a dad, but when she came home, he'd been stolen. By a river. One year and thirteen days later—on the first morning of summer vacation—Rill still insists he's trudging home. Her mom has become a practical woman. Her older brother, Eddy, now calls her baby and dork. Gus, second-in-command at Kruse Whitewater Adventures, Rill's family's rafting company, has gone from being her dad's "risk bro" to her mom's guardian angel. Joyce, company secretary, arm-wrestler, and mechanic, still calls Rill a fingerling, but, after learning what a cheater water is, Rill wishes she'd stop. When Rill's cat, Clifford, leads her to the family tree fort on the mountainside behind home, she discovers a stowaway, Perla. To help Perla, Rill embarks on an adventure that tests her understanding of the world, of loss, and of what it means to be a friend. In the end, what Rill discovers will nudge her—and all those she loves—toward healing.
---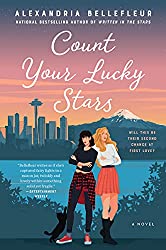 Count Your Lucky Stars by Alexandria Bellefleur (2/1) – Following Written in the Stars and Hang the Moon, Lambda Literary Award winner and national bestselling author Alexandria Bellefleur pens another steamy queer rom-com about former best friends who might be each other's second chance at love…
Margot Cooper doesn't do relationships. She tried and it blew up in her face, so she'll stick with casual hookups, thank you very much. But now her entire crew has found "the one" and she's beginning to feel like a fifth wheel. And then fate (the heartless bitch) intervenes. While touring a wedding venue with her engaged friends, Margot comes face-to-face with Olivia Grant—her childhood friend, her first love, her first… well, everything. It's been ten years, but the moment they lock eyes, Margot's cold, dead heart thumps in her chest.
Olivia must be hallucinating. In the decade since she last saw Margot, her life hasn't gone exactly as planned. At almost thirty, she's been married… and divorced. However, a wedding planner job in Seattle means a fresh start and a chance to follow her dreams. Never in a million years did she expect her important new client's Best Woman would be the one that got away.
When a series of unfortunate events leaves Olivia without a place to stay, Margot offers up her spare room because she's a Very Good Person. Obviously. It has nothing to do with the fact that Olivia is as beautiful as ever and the sparks between them still make Margot tingle. As they spend time in close quarters, Margot starts to question her no-strings stance. Olivia is everything she's ever wanted, but Margot let her in once and it ended in disaster. Will history repeat itself or should she count her lucky stars that she gets a second chance with her first love?
---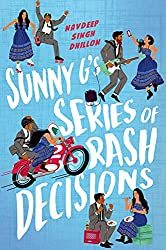 Sunny G's Series of Rash Decisions by Navdeep Singh Dhillon (2/8) – For fans of Sandhya Menon and Adam Silvera comes a prom-night romantic-comedy romp about a Sikh teen's search for love and identity.
Sunny G's brother left him one thing when he died: His notebook, which Sunny is determined to fill up with a series of rash decisions. Decision number one was a big one: He stopped wearing his turban, cut off his hair, and shaved his beard. He doesn't look like a Sikh anymore. He doesn't look like himself anymore. Even his cosplay doesn't look right without his beard.
Sunny debuts his new look at prom, which he's stuck going to alone. He's skipping the big fandom party—the one where he'd normally be in full cosplay, up on stage playing bass with his band and his best friend, Ngozi—in favor of the Very Important Prom Experience. An experience that's starting to look like a bust.
Enter Mindii Vang, a girl with a penchant for making rash decisions of her own, starting with stealing Sunny's notebook. When Sunny chases after her, prom turns into an all-night adventure—a night full of rash, wonderful, romantic, stupid, life-changing decisions.
---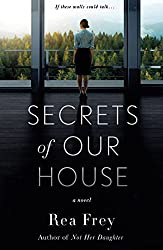 Secrets of Our House by Rea Frey (2/8) – A thrilling domestic drama set against the power of the wilderness, Rea Frey's Secrets of Our House is a deeply-felt novel of long-held secrets and the strength of family.
Desi is the mastermind behind her dream getaway house. Nestled high into the mountains of North Carolina, it is a sleek place, a luxurious place, a dark place.
A place full of secrets.
Secrets about the man she longs for, a man who is not her husband. Secrets about the roots of her family that must never, ever, see the light of day. When Desi and her family arrive from Chicago to spend the summer in the mountains, the seeds for the tumultuous months to follow are planted―her marriage on the rocks, not knowing which way they'll go. Her seventeen year-old daughter Jules, falling in love for the first time with a local boy―and forging a new path that will take her to uncharted places. And Carter―a man Desi knew long ago, before she expunged him from her life for good.
All hurtling toward events none of them can undo.
Engaging, propulsive, and with a dramatic, heart-pounding final act, Secrets of Our House is a dazzling novel, richly-drawn, that shows no matter how hard outside forces may shake you, the bonds of family are stronger than the harshest winds.
---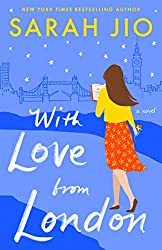 With Love From London by Sarah Jio (2/8) – When a woman inherits her estranged mother's bookstore in London's Primrose Hill, she finds herself thrust into the pages of a new story—hers—filled with long-held family secrets, the possibility of new love, and, perhaps, the single greatest challenge of her life.
When Valentina Baker was only eleven years old, her mother, Eloise, unexpectedly fled to her native London, leaving Val and her father on their own in California. Now a librarian in her thirties, fresh out of a failed marriage and still at odds with her mother's abandonment, Val feels disenchanted with her life.
In a bittersweet twist of fate, she receives word that Eloise has died, leaving Val the deed to her mother's Primrose Hill apartment and the Book Garden, the storied bookshop she opened almost two decades prior. Though the news is devastating, Val jumps at the chance for a new beginning and jets across the Atlantic, hoping to learn who her mother truly was while mourning the relationship they never had.
As Val begins to piece together Eloise's life in the U.K., she finds herself falling in love with the pastel-colored third-floor flat and the cozy, treasure-filled bookshop, soon realizing that her mother's life was much more complicated than she ever imagined. When Val stumbles across a series of intriguing notes left in a beloved old novel, she sets out to locate the book's mysterious former owner, though her efforts are challenged from the start, as is the Book Garden's future. In order to save the store from financial ruin and preserve her mother's legacy, she must rally its eccentric staff and journey deep into her mother's secrets. With Love from London is a story about healing and loss, revealing the emotional, relatable truths about love, family, and forgiveness.
---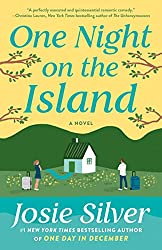 One Night On The Island by Josie Silver (2/15) – Spending her thirtieth birthday alone is not what dating columnist Cleo Wilder wanted, but she plans a solo retreat―at the insistence of her boss―in the name of re-energizing herself and adding a new perspective to her column. The remote Irish island she's booked is a far cry from London, but at least it's a chance to hunker down in a luxury cabin and indulge in some self-care while she figures out the next steps in her love life and her career.
Mack Sullivan is also looking forward to some time to himself. With his life in Boston deteriorating in ways he can't bring himself to acknowledge, his soul-searching has brought him to the same Irish island to explore his roots and find some clarity. Unfortunately, a mix-up with the bookings means both have reserved the same one-room hideaway on exactly the same dates.
Instantly at odds, Cleo and Mack don't know how they're going to manage until the next weekly ferry arrives. But as the days go by, they no longer seem to mind each other's company quite as much as they thought they would.
Written with Josie Silver's signature charm, One Night on the Island explores the meaning of home, the joys of escape, and how the things we think we want are never the things we really need.
---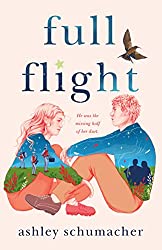 Full Flight by Ashley Schumacher (2/22) – Ashley Schumacher's Full Flight is about how first love shapes us―even after it's gone.
Everyone else in the tiny town of Enfield, Texas, calls fall football season, but for the forty-three members of the Fighting Bearcat Marching Band, it's contest season. And for new saxophonist Anna James, it's her first chance to prove herself as the great musician she's trying hard to be.
When she's assigned a duet with mellophone player Weston Ryan, the boy her small-minded town thinks of as nothing but trouble, she's equal parts thrilled and intimidated. But as he helps her with the duet, and she sees the smile he seems to save just for her, she can't help but feel like she's helping him with something too.
When her strict parents find out she's been secretly seeing him and keep them apart, Anna and Weston learn what it truly means to fight for something they love. With the marching contest nearing and the two falling hard for one another, the unthinkable happens, and Anna is left grappling for a way forward without Weston.
---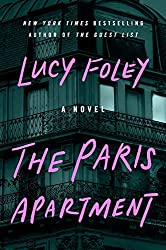 The Paris Apartment by Lucy Foley (2/22) – From the New York Times bestselling author of The Guest List comes a new locked room mystery, set in a Paris apartment building in which every resident has something to hide…
Jess needs a fresh start. She's broke and alone, and she's just left her job under less than ideal circumstances. Her half-brother Ben didn't sound thrilled when she asked if she could crash with him for a bit, but he didn't say no, and surely everything will look better from Paris. Only when she shows up – to find a very nice apartment, could Ben really have afforded this? – he's not there.
The longer Ben stays missing, the more Jess starts to dig into her brother's situation, and the more questions she has. Ben's neighbors are an eclectic bunch, and not particularly friendly. Jess may have come to Paris to escape her past, but it's starting to look like it's Ben's future that's in question.
The socialite – The nice guy – The alcoholic – The girl on the verge – The concierge
Everyone's a neighbor. Everyone's a suspect. And everyone knows something they're not telling.
---
Are any of these on your radar?