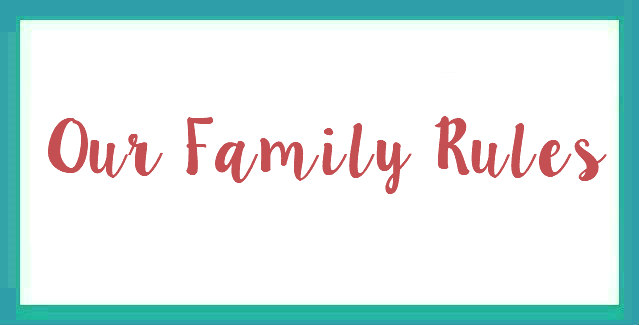 On one of the earlier episodes of the 10 Things To Tell You podcast, Laura Tremaine discussed family rules. My blog friend Sarita also wrote a post on this topic and I've been meaning to do so as well! This topic is about the spoken or unspoken rules that we live by and that shape our behavior. The topic covers rules we were raised with as well as rules we live by in our current lives.
Growing up, I felt like my parents were relatively strict. I couldn't come and go as I pleased and they always needed to know where I was, who I was with, and when I'd be back. They expected me to do well in school, to be respectful, and to help around the house. These rules weren't necessarily said out loud, but they were known, and I tried to follow them for the most part. One spoken rule that I was supposed to follow was to be off the phone by 10 PM. I can't imagine how my life would have been different if I'd had a smart phone!
As far as my family rules for my children, we do have a few, which they sometimes follow!
1. If you ask my kids, the number one rule in the house is that they can have 4 snacks per day. This is something we started when they were preschoolers and used to snack non-stop. Of course, they think they HAVE to have 4 snacks, and they get mad if there isn't enough time to eat them all! They also aren't allowed to repeat snacks, meaning they can't have 4 of the same thing each day, and they aren't supposed to have only sugary snacks! They aren't supposed to have snacks after 5 PM either, but they don't usually follow that rule!
2. If they want to stay up later than their official bed times, they have to be reading. The older two are supposed to say goodnight to me before they start reading and aren't supposed to come back out of their rooms after that.
3. They are supposed to clean up after themselves and clear their plates after they eat. We are still working on this with the boys.
4. Dave is always telling Zachary to only use one device at a time, but he doesn't listen!
5. No screaming and acting crazy in the car. That's self explanatory, don't you think?
6. I'm always telling the kids not to climb on or hang on each other, but they do.
7. We are working on not interrupting each other. I get very overwhelmed when everyone tries to talk to me at the same time!
8. I expect my kids to do well in school. I'm pretty sure they know the grades I'm happy with because I always tell them when I think they do a good job. We were recently going over their report cards and we talked about whether they would be punished for bad grades. I said they wouldn't be punished, but we would try to determine why their grades were low and help them fix them.
9. Another thing we are still working on is for the kids to listen when we tell them something without arguing!
10. Finally, this is something I tell them all the time and it's more a motto for our family than a rule: things are fun if you make them fun!
What are some of your family rules?