I was inspired by a series Rachel at Holy Craft did earlier this year in which she planned a Pinterest Wedding Do-Over – she detailed all the things she would include in her wedding if she was to do it over again. I have been sharing my own Pinterest Wedding Do-Over ideas, and I have also been sharing some posts from my blog friends this month all about their weddings and the unique things they did to make their weddings special!
Today's post comes from Pamela at My Married Life – today she has been married for 2.5 years!. Read on to delight in her amazing destination wedding!
Hello NotinJersey readers! I'm Pamela from over at pamela-mymarriedlife. The title says it all, I basically blog about everything currently happening in my life from being a working mom, family, vacations, my struggles while trying to start a career in nursing, and every day ramblings. It is so nice to be here helping Dara celebrate her anniversary while sharing details from our own wedding. Our destination wedding.
My husband and I are high school sweethearts and from the very moment he proposed on the red carpet at Universal Studios I knew I wanted a destination wedding. Once we talked about it and I realized he was on board I started the planning right away. We ended up tying the knot at a beautiful Resort in Punta Cana, DR one hot summer day in June surrounded by our closest family and friends.
A site I found very helpful was The Knot. I learned so much and met wonderful ladies as well as got tons of ideas for our wedding. If you're in the planning stage and haven't checked that site out I totally recommend it. You'll be forever thankful to have found it. Sadly at that time I didn't know about Pinterest but I think we did pretty good with our ideas that I got from other brides and tweaked a little to make our own. You could say that that was my Pinterest back then.
Our wedding was filled with little details made by yours truly. Yes, many hours of DIY were involved for our wedding. From barefoot sandals, to monogrammed aisle runner, to our very own message in a bottle invites – scented and all, "just married" and "thank you" parasols, program fans, menus, 2 different guest books and so on. There were just so many details. I had no idea I could be that creative 🙂 We had a welcome beach bon fire for our guests where we handed out beach bags with some goodies for the week, ate s'mores, had some drinks, and danced the night away. Well, at least the hubby and I did 🙂
Thinking back, I had so much fun planning our wedding. Yes it was a bit stressful but I would do it over in a heartbeat. Every bit of it. Ok maybe not every bit. For example our monogrammed aisle runner that I have not a single picture of during our wedding. The longest project with the most sweat and not a single picture. Shame on me for not emphasizing its importance to the photographer and for her not thinking to take a keepsake for us. Oh well, at least it was that and not something of greater importance.
My all time favorite part of the wedding though has got to be the boudoir session I did with my photographer to give as an album to my husband-to-be right before the ceremony. You know, to take away any cold feet 😉 and of course our Trash The Dress session on the beach the day after the wedding. We were even fortunate enough to have our wedding featured on a destination wedding website. A dream come true!
You can find a recap of our wedding week in Dominican Republic over in my blog as well as all the details. I hope to see you over there!
Thank you so much Dara for having me over. I wish you and your husband many more years of love and happiness. God Bless.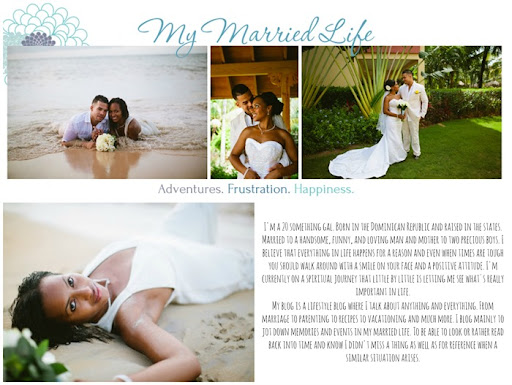 blog | twitter | pinterest | instagram