I was inspired by a series Rachel at Holy Craft did ear­li­er this year in which she planned a Pin­ter­est Wed­ding Do-Over – she detailed all the things she would include in her wed­ding if she was to do it over again. I have been shar­ing my own Pin­ter­est Wed­ding Do-Over ideas, and I have also been shar­ing some posts from my blog friends this month all about their wed­dings and the unique things they did to make their wed­dings spe­cial!
Today's post comes from Pamela at My Mar­ried Life – today she has been mar­ried for 2.5 years!. Read on to delight in her amaz­ing des­ti­na­tion wed­ding!
Hel­lo Not­in­Jer­sey read­ers! I'm Pamela from over at pamela-mymar­riedlife. The title says it all, I basi­cal­ly blog about every­thing cur­rent­ly hap­pen­ing in my life from being a work­ing mom, fam­i­ly, vaca­tions, my strug­gles while try­ing to start a career in nurs­ing, and every day ram­blings. It is so nice to be here help­ing Dara cel­e­brate her anniver­sary while shar­ing details from our own wed­ding. Our des­ti­na­tion wed­ding.
My hus­band and I are high school sweet­hearts and from the very moment he pro­posed on the red car­pet at Uni­ver­sal Stu­dios I knew I want­ed a des­ti­na­tion wed­ding. Once we talked about it and I real­ized he was on board I start­ed the plan­ning right away. We end­ed up tying the knot at a beau­ti­ful Resort in Pun­ta Cana, DR one hot sum­mer day in June sur­round­ed by our clos­est fam­i­ly and friends.
A site I found very help­ful was The Knot. I learned so much and met won­der­ful ladies as well as got tons of ideas for our wed­ding. If you're in the plan­ning stage and haven't checked that site out I total­ly rec­om­mend it. You'll be for­ev­er thank­ful to have found it. Sad­ly at that time I didn't know about Pin­ter­est but I think we did pret­ty good with our ideas that I got from oth­er brides and tweaked a lit­tle to make our own. You could say that that was my Pin­ter­est back then.
Our wed­ding was filled with lit­tle details made by yours tru­ly. Yes, many hours of DIY were involved for our wed­ding. From bare­foot san­dals, to mono­grammed aisle run­ner, to our very own mes­sage in a bot­tle invites — scent­ed and all, "just mar­ried" and "thank you" para­sols, pro­gram fans, menus, 2 dif­fer­ent guest books and so on. There were just so many details. I had no idea I could be that cre­ative 🙂 We had a wel­come beach bon fire for our guests where we hand­ed out beach bags with some good­ies for the week, ate s'mores, had some drinks, and danced the night away. Well, at least the hub­by and I did 🙂
Think­ing back, I had so much fun plan­ning our wed­ding. Yes it was a bit stress­ful but I would do it over in a heart­beat. Every bit of it. Ok maybe not every bit. For exam­ple our mono­grammed aisle run­ner that I have not a sin­gle pic­ture of dur­ing our wed­ding. The longest project with the most sweat and not a sin­gle pic­ture. Shame on me for not empha­siz­ing its impor­tance to the pho­tog­ra­ph­er and for her not think­ing to take a keep­sake for us. Oh well, at least it was that and not some­thing of greater impor­tance.
My all time favorite part of the wed­ding though has got to be the boudoir ses­sion I did with my pho­tog­ra­ph­er to give as an album to my hus­band-to-be right before the cer­e­mo­ny. You know, to take away any cold feet 😉 and of course our Trash The Dress ses­sion on the beach the day after the wed­ding. We were even for­tu­nate enough to have our wed­ding fea­tured on a des­ti­na­tion wed­ding web­site. A dream come true!
You can find a recap of our wed­ding week in Domini­can Repub­lic over in my blog as well as all the details. I hope to see you over there!
Thank you so much Dara for hav­ing me over. I wish you and your hus­band many more years of love and hap­pi­ness. God Bless.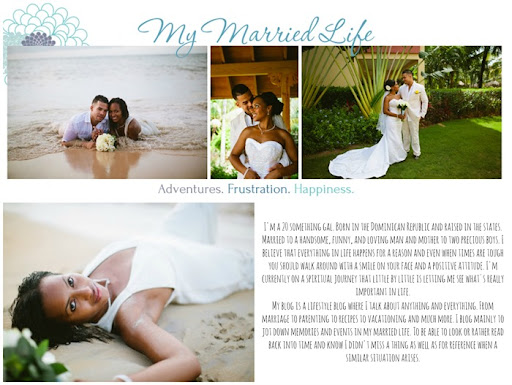 blog | twit­ter | pin­ter­est | insta­gram