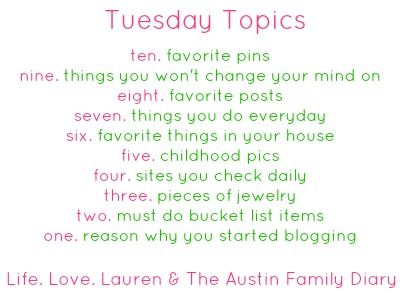 Well obviously my favorite things in my house are Dave, Gabbie, Zachary, Simon, and Rudy…but that's only 5! Just kidding. They are not things, they are people! So here are my favorite décor type items in my house, plus the stories of each item.
1. The Seven Species of Israel – this was bought in Tel Aviv at the art market which I love. It hangs in my kitchen. The Seven Species, starting at the top, from left to right, are barley, wheat, date honey, olives, pomegranate, figs, and grapes.
2. This is Sam. He used to live with my grandparents and I always loved him. When my grandmother passed away, Sam came to live with me. He made the move from NJ to Kansas and currently resides in my dining room.
3. Speaking of my grandparents, this is their wedding picture. I just love it and having it in my house! It is in my entry hall way on top of a shelf.
4. This is a print that I framed and hung in my bathroom. The background of the print matches the bathroom wall perfectly!
5. This piece of art hangs in Simon's room. He and his camp group last summer made this for a silent auction they held and we won. Each handprint has a Hebrew letter on it and is labeled with the name of the child whose print it is.
6. This is the bulletin board in my office. It displays meaningful items, pictures of friends, art by my kids, etc. The bottom left corner is my calendar.
Do you have any similar favorite things in your house? I love decorating, so I have lots more!