April was a busy month in a lot of ways, although for me, the second half of the month disappeared. Here are some of the highlights.
Family Activities:
We celebrated the last two days of Passover.
We celebrated Gabbie's 8th birthday.
We flew kites.
We also visited the train garden near the kite flying location.
Around The House:
Me:
And now I'm going to share three pieces of jewelry that I love!
---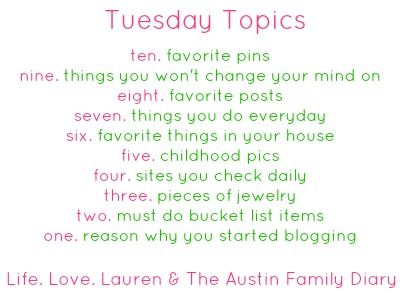 This came out blurry but I didn't want to take it over. (Also my neck is a little bit broken out, ugh). This diamond belonged to my grandmother and when she passed away she left it to me. It was set in a gaudy gold necklace. I eventually took it to a local jeweler and when he popped the diamond out of the gold I was able to see just how beautiful it was! He reset the diamond and "gave" me the chain in exchange for the gold from the original necklace.

Also blurry, also diamonds left to me from my grandmother. They were set in gold again, in a super small band. I had them reset into this simple ring, which I love. The first day I had it, I wore it at the gym and one of the diamonds popped out! My jeweler man replaced it for free. I don't know which one is not an original, so I try not to worry about it.

Finally, my engagement ring and wedding band! Super pretty, yes?
---
Last by not least, I'm taking part in Allie's giveaway along with 20 other ladies – wow! Check it out and make sure to enter!
Today's the day y'all.
These lovely 20 ladies below have come together and are giving away one awesome prize!
Thanks to these wonderful ladies, one lucky person will win $115 dollars CASH!
Enter below via Rafflecopter!
All entries will be verified.