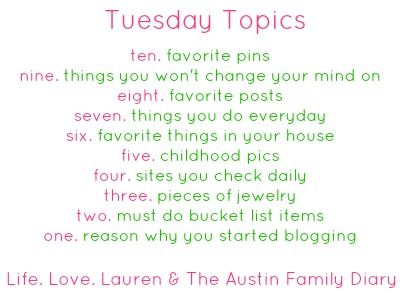 I am honestly not sure how to qualify my pinterest pins as "favorite" pins, I pinned them all because I love them or want to try them! So instead I'm going to share my 10 of my recent pins. Think of this as a look into my brain, because I tend to pin things I'm thinking about!

Source: theeatyourheartoutdiet.blogspot.com
This is a cleanse diet I read about at Heart Shaped Sweat. I am interested in trying it!

Source: beeinourbonnet.com
Gabbie wants to have an art themed birthday party and I thought these would make good party favors.

Source: megherald.blogspot.com
Also for Gabbie's party.

Source: tatertotsandjello.com
Green smoothies are yummy. This is one I want to try.

Source: outfitposts.blogspot.com
I love the idea of having certain key items that mix and match into different outfits.

Source: dishfunctionaldesigns.blogspot.com
I have a pallet in my garage and I want to do something cool with it!

Source: blog.landofnod.com
This is an idea I might incorporate in Gabbie's new room when we move the bedrooms around eventually.

Source: eighteen25.blogspot.com
This was another idea for wall art for Gabbie's room.

Source: raisingbean.com
I would like to do something like this with Simon.

Source: busykidshappymom.org
I want to look into the idea of Love Languages and showing love to children in various ways.
I have not been pinning things as much as I used to, but I still love using pinterest as a virtual bulletin board!