This week I fin­ished Gone Girl by Gillian Fly­nn.
"On the day of their fifth wed­ding anniver­sary, Nick's wife Amy dis­ap­pears. There are signs of strug­gle in the house and Nick quick­ly becomes the prime sus­pect. It doesn't help that Nick hasn't been com­plete­ly hon­est with the police and, as Amy's case drags out for weeks, more and more vil­i­fy­ing evi­dence appears against him. Nick, how­ev­er, main­tains his inno­cence. Told from alter­nat­ing points of view between Nick and Amy, Gillian Fly­nn cre­ates an untrust­wor­thy world that changes chap­ter-to-chap­ter. Call­ing Gone Girl a psy­cho­log­i­cal thriller is an under­state­ment. As rev­e­la­tion after rev­e­la­tion unfolds, it becomes clear that the truth does not exist in the mid­dle of Nick and Amy's points of view; in fact, the truth is far more dark, more twist­ed, and more creepy than you can imag­ine." It's hard to read a book where you can't accept the writ­ing as truth! The char­ac­ters paint pic­tures of them­selves and you nev­er know whose thoughts, if anyone's, are real­i­ty. Through­out the book I found myself dis­lik­ing the char­ac­ters more and more, which I'm sure was the author's intent, but also makes it dif­fi­cult to enjoy the book. I def­i­nite­ly would have liked it bet­ter if there was jus­tice in the end, but I agree with most reviews out there which call the end­ing "pal­lid" or a "let down"!
---
It's the 3rd week of the month which means the Lit­er­ary Junkies Link Up, yay!
1. What are you read­ing right now? Tell us about it.
I just start­ed read­ing The Third Vic­tim by Lisa Gard­ner. It begins with a school shoot­ing and I haven't got­ten much far­ther than know­ing the event occurred.
2. Give us the recipe for a great book.
Like­able char­ac­ters, inter­est­ing plot line, a sto­ry that keeps mov­ing, just the right amount of descrip­tion, fac­tu­al back­ground with­out mis­takes, and a sat­is­fy­ing con­clu­sion.
3. Tell us things you've learned from a book recent­ly. Did you learn any­thing about his­to­ry? Did you take away a deep & pro­found real­iza­tion about the world around you? Or maybe even a beau­ty tip?
I learned a lot about the late 50's and ear­ly 60's from 11/22/63 by Stephen King, which I reviewed last week at Jen's blog. If you missed my write up, here it is!
"Life can turn on a dime—or stum­ble into the extra­or­di­nary, as it does for Jake Epping, a high school Eng­lish teacher in a Maine town. While grad­ing essays by his GED stu­dents, Jake reads a grue­some, enthralling piece penned by jan­i­tor Har­ry Dun­ning: fifty years ago, Har­ry some­how sur­vived his father's sledge­ham­mer slaugh­ter of his entire fam­i­ly. Jake is blown away … but an even more bizarre secret comes to light when Jake's friend Al, own­er of the local din­er, enlists Jake to take over the mis­sion that has become his obsession—to pre­vent the Kennedy assas­si­na­tion. How? By step­ping through a por­tal in the diner's store­room, and into the era of Ike and Elvis, of big Amer­i­can cars, sock hops, and cig­a­rette smoke.… Find­ing him­self in warm­heart­ed Jodie, Texas, Jake begins a new life. But all turns in the road lead to a trou­bled lon­er named Lee Har­vey Oswald. The course of his­to­ry is about to be rewrit­ten … and become heart-stop­ping­ly sus­pense­ful."
I was not dis­ap­point­ed. This book was amaz­ing. I lit­er­al­ly could not put it down. There is so much in this book. Although the main plot­line leads up to and beyond the events of Novem­ber 22, 1963, the nov­el "com­bines a vari­ety of gen­res, being [about the] JFK assas­si­na­tion, a sto­ry of time trav­el, a vari­a­tion on the grail quest, a nov­el of voyeurism, a love sto­ry, a his­tor­i­cal nov­el, [and] a counter-fac­tu­al his­tor­i­cal nov­el.."
This book is about fate and the pos­si­bil­i­ty of chang­ing the past (the past doesn't want to be changed). The char­ac­ters are believ­ably flawed and yet per­fect for their roles in the sto­ry.
If you've ever won­dered what the world would be like if a water­shed event was changed or elim­i­nat­ed, this book pro­vides a pos­si­ble answer. Stephen King weaves facts about Lee Har­vey Oswald in with the fic­tion of the sto­ry mak­ing the pos­si­bil­i­ty of a man named George liv­ing across the street from Oswald seem com­plete­ly real.
Is there an event that you would go back in time to change? Before you answer that ques­tion, read this book!!
4. What was your favorite book as a child?
I remem­ber read­ing Just As Long As We're Togeth­er by Judy Blume and I Want To Go Home by Gor­don Kor­man repeat­ed­ly!
---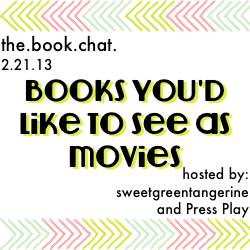 Late­ly I've found myself think­ing a lot of the books I've read should be movies! Actu­al­ly, with 11/22/63, I was think­ing it would have made a great TV series. (Maybe a mini-series?) I could see Edward Nor­ton play­ing Jake and Blake Live­ly as Sadie.
Like I've seen oth­ers say­ing, I'd also love to see The Night Cir­cus as a movie. Appar­ent­ly it will be one! The author, Erin Mor­gen­stern, sug­gests Lee Pace as Mar­co.
Works for me!