Today I'm participating in Monthly Musings with Holly and Patti. This month's topic is Vacation and Trips – this is a topic I can always talk about! And I'm also participating in this week's Wednesday Hodgepodge with Joyce at From This Side of the Pond.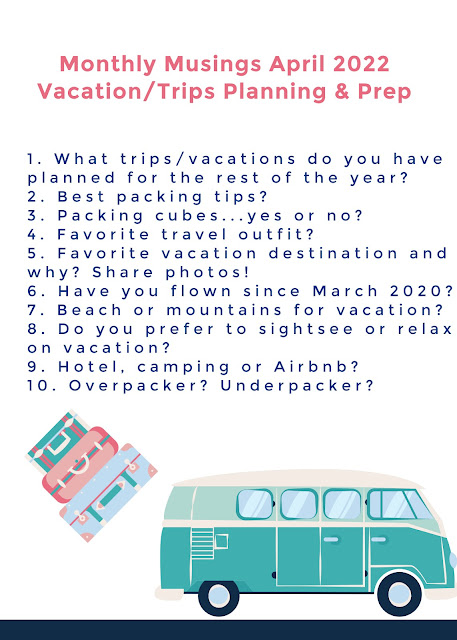 1. What trips / vacations do you have planned for the rest of the year?
We tend to only plan a bit in advance, so right now we're looking at summer planning. We will be visiting Niagara Falls and Toronto. From there, we'll be heading to our family in NJ, and while we're in NJ we have a college visit planned in NYC.
2. Best Packing Tips?
I hate packing…I tend to count the days I'll be there and pack outfits for each day plus one. Think about any events or locations you are planning to make sure you have the right things. Check the weather report. Make a list.
3. Packing Cubes…Yes or No?
I own packing cubes but Gabbie uses them. I once used them to separate clothes out for each kid, which was helpful. Now we usually just each take our own suitcase, which makes our family think we've brought too much.
4. Favorite Travel Outfit?
I like to travel comfy – joggers mostly. They are also helpful because they have pockets. If it's plane travel, I like non-tie shoes (not that many of my shoes have laces anyway).
5. Favorite Vacation Destination and Why?
I always have to say Disney World. I miss it! I may try to get there next year. We were last there in the parks in 2018, although we've been outside the parks since.

Random photo.
6. Have You Flown Since March 2020?
Yes, we flew to NJ for Thanksgiving and to FL for winter break this year.
7. Beach or Mountains For Vacation?
I can go for either. We usually get our beach fix in Florida. And lately we've liked visiting National Parks for the mountains! (or desert!)
8. Do You Prefer to Sightsee or Relax on Vacation?
I like both! We usually tend to want to see things and keep up a fast pace, but when we went to TX during Covid, we really enjoyed just hanging out at our Air BnB.
9. Hotel, Camping, or Air BnB?
The only time we've been camping was actually glamping, and it was fun! Usually we do the hotel thing. But if we're staying in one place for awhile, I prefer an Air BnB!
10. Overpacker or Underpacker?
I'm more likely to forget things than to overpack.
---
And now for this week's hodgepodge!
1. What does the word values mean to you personally? Where did your values come from? What are some of the values that have guided you throughout your life?
I think my values come from my religion and practice of Judaism. Obviously the basics of being kind to others, giving to charity, honoring your parents…but there are other things we follow as well with regards to what we eat, observing the sabbath, etc.
2. Your favorite vanilla flavored something?
Ice cream is good. Or cake.
3. What's something you've seen/done recently that you found to be very difficult, very confusing, very helpful, very interesting, or very special. Elaborate.
It can be very difficult to walk Mika when she sees another dog. I was confused by something someone was telling me about the slideshow I'm working on for Gabbie's dance show, but she ended up offering to do a part of it, which is very helpful! Some of the books I've read are very interesting, which makes me happy. It is very special that my husband is in Poland during the week of Holocaust Remembrance Day.
4. Something you own and love that is violet in color?
I have an amethyst stone on my dresser…I like it but I'm not sure it's technically violet!
5. Do you have vacation plans on the calendar this summer? Tell us more.
See above!
6. Insert your own random thought here.
I feel like I have a lot to do. Paperwork for my kids' summer trips – and payments to make – topping the list! I tend to keep my to do lists in my email inbox, and there are 3 that are there from before this week, which I don't like!
Tell me your answers to any of these!