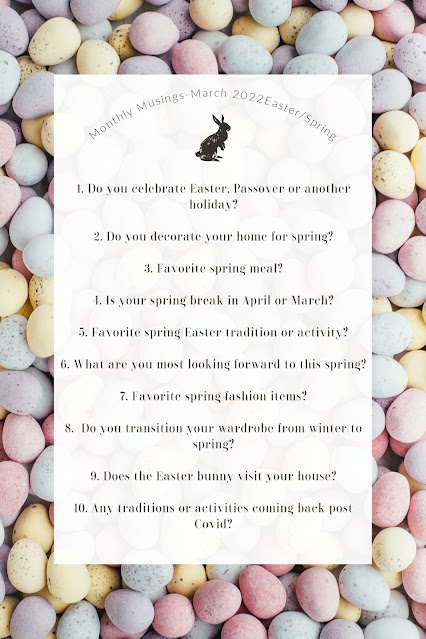 Today I'm participating in Monthly Musings with Holly and Patti. This month's topic is Easter and Spring. I have not linked up with Monthly Musings in a few months. The questions tend to focus a lot on fashion and holidays I don't celebrate, so I have skipped participating, but I still felt like doing this one.
1. Do you celebrate Easter, Passover, or another holiday?
We celebrate Passover, so we are starting to prepare!
2. Do you decorate your home for spring?
Yes, I decorate my entry way for each season, so I put out my spring stuff in the beginning of March!
3. Favorite spring meal?
I don't think I really have a food that I specifically eat in spring, but our Passover seders are meals that are fun!
4. Is your spring break in March or April?
The public school spring break is in March, but the boys are off whenever Passover falls, which this year is in April.
5. Favorite spring tradition or activity?
I like going to the zoo. Or to a Royals game.
6. What are you most looking forward to this spring?
Nicer weather and flowers blooming.
7. Favorite spring fashion items?
Probably my denim jacket.
8. Do you transition your wardrobe from winter to spring?
I guess so? I start wearing lighter clothes or t-shirts instead of sweatshirts.
9. Does the Easter bunny visit your house?
lol no.
10. Any traditions or activities coming back post Covid?
More sharing meals with friends, less wearing masks in public places.
Happy last day of March!