Today I am excited to be featuring the book Loveless by Alice Oseman on the Blog Tour hosted by Rockstar Book Tours! I am also sharing a giveaway, so be sure to read on. This post contains affiliate links, so if you use them and make a purchase, I may receive a small commission.
About The Book:
Title: Loveless
Author: Alice Oseman
Genre: YA
Publisher: Scholastic Press, 3/1/22 (US Edition)
Source: Rockstar Book Tours
Find it: Goodreads, Amazon, Kindle, Audible, B&N, iBooks, Kobo, TBD, Bookshop.org
Book Description:
For fans of Love, Simon and I Wish You All the Best, a funny, honest, messy, completely relatable story of a girl who realizes that love can be found in many ways that don't involve sex or romance.
From the marvelous author of Heartstopper comes an exceptional YA novel about discovering that it's okay if you don't have sexual or romantic feelings for anyone . . . since there are plenty of other ways to find love and connection.
This is the funny, honest, messy, completely relatable story of Georgia, who doesn't understand why she can't crush and kiss and make out like her friends do. She's surrounded by the narrative that dating + sex = love. It's not until she gets to college that she discovers the A range of the LGBTQIA+ spectrum — coming to understand herself as asexual/aromantic. Disrupting the narrative that she's been told since birth isn't easy — there are many mistakes along the way to inviting people into a newly found articulation of an always-known part of your identity. But Georgia's determined to get her life right, with the help of (and despite the major drama of) her friends.
About Alice Oseman: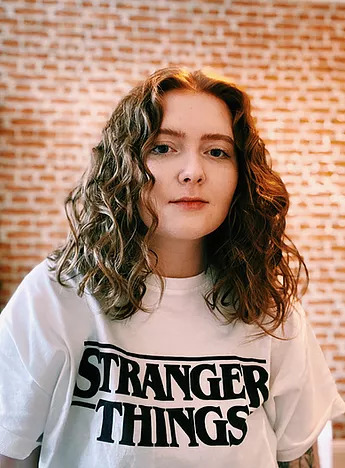 Alice Oseman was born in 1994 in Kent, England. She graduated from Durham University and is the author of YA contemporaries Solitaire, Radio Silence, and I Was Born for This. Visit Alice online at aliceoseman.com or on Twitter @AliceOseman.
Website | Twitter | Facebook | Instagram | TikTok | Goodreads | Amazon | BookBub
My Review:
This is a book about friendship and self-discovery. When Georgia tries to experience her first kiss with a boy, she only feels revulsion. She thinks she might like to kiss a girl, but doesn't find this attractive either. And when she thinks about settling down with someone for the long term, she realizes she doesn't like the feelings that brings for her either. Soon, she learns what it means to be asexual and aromantic and realizes that she identifies with those descriptors. While Georgia's experiences don't embody everyone's experiences who identify as aro/ace, her representation is important and I appreciated reading about her coming to terms with her identity.
The friendships that Georgia takes with her to university as well as the ones she meets once there add a lot to the book. There are a range of LGBTQIA+ identities described in this book and while it's specifically about being aro/ace, it will likely be relatable for those who identify as queer, those who are questioning, and queer allies. The development of the friendships in the story seem realistic, as the characters act like teenagers who are growing into adulthood. Their conversations and actions were relatable and understandable. I also enjoyed their love for Shakesphere and their goal of putting on a play at school.
Loveless Giveaway:
3 winners will receive a finished copy of LOVELESS, US Only.
Tour Schedule:
Week One:
Week Two:
This book will be great for YA readers, university aged readers, and beyond.