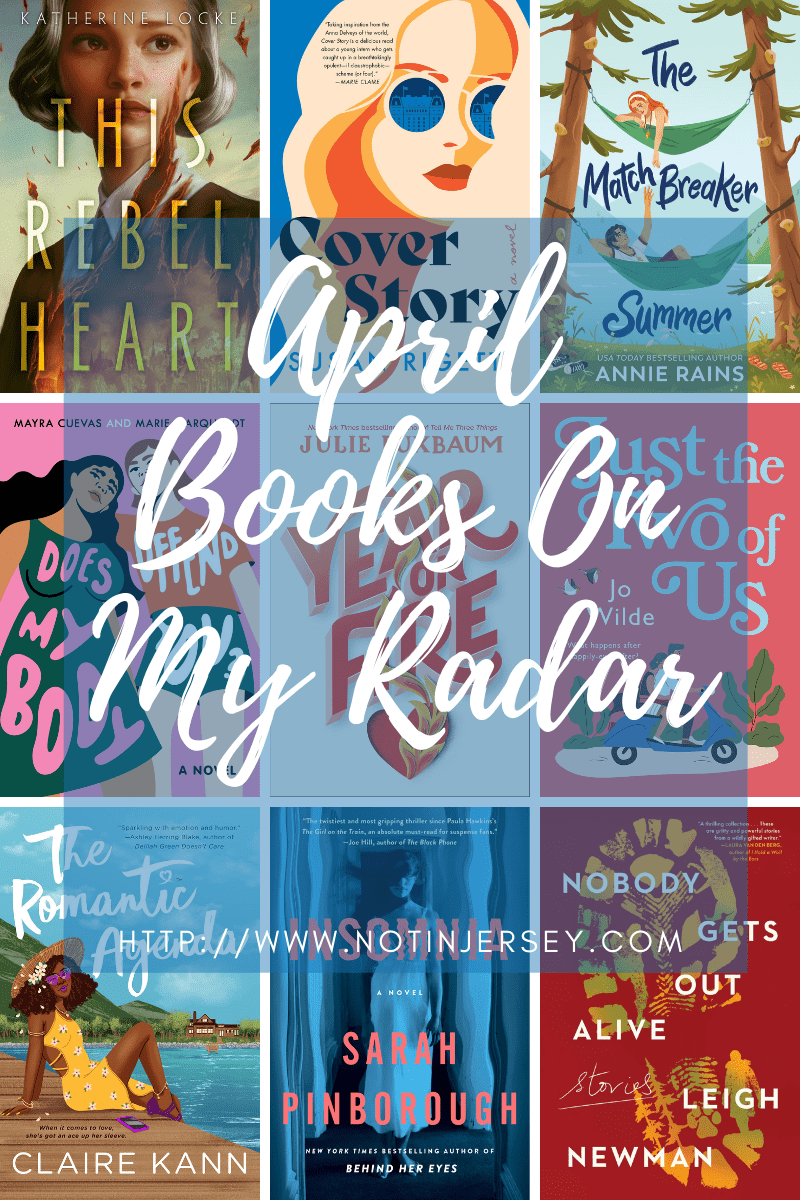 Today I'm sharing some of the April books on my radar. These are books that are releasing this April that I'm excited about, interested in reading, or just wanting to share with others. There are always so many books coming out that this definitely doesn't cover all of the books that one may be interested in reading. I have marked the dates the books release next to their titles! This post contains Amazon affiliate links. If you choose to make a purchase after clicking on my link, I may receive a small commission.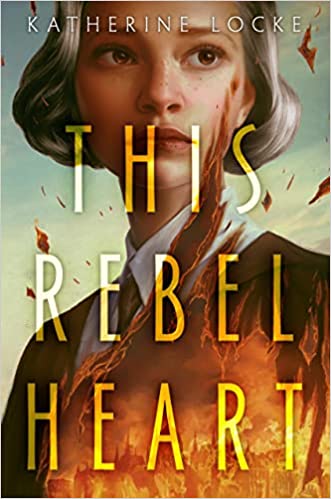 This Rebel Heart by Katherine Locke (4/5) – The Fountains of Silence meets Spinning Silver in this rollicking tale set amid the 1956 Hungarian revolution in post-WWII Communist Budapest from Sydney Taylor Honor winner Katherine Locke.
In the middle of Budapest, there is a river. Csilla knows the river is magic. During WWII, the river kept her family safe when they needed it most–safe from the Holocaust. But that was before the Communists seized power. Before her parents were murdered by the Soviet police. Before Csilla knew things about her father's legacy that she wishes she could forget.
Now Csilla keeps her head down, planning her escape from this country that has never loved her the way she loves it. But her carefully laid plans fall to pieces when her parents are unexpectedly, publicly exonerated. As the protests in other countries spur talk of a larger revolution in Hungary, Csilla must decide if she believes in the promise and magic of her deeply flawed country enough to risk her life to help save it, or if she should let it burn to the ground.
With queer representation, fabulist elements, and a pivotal but little-known historical moment, This Rebel Heart is Katherine Locke's tour de force.
---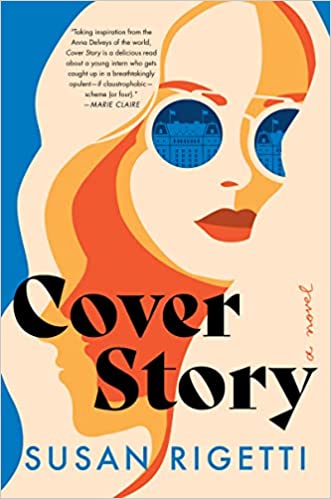 Cover Story by Susan Rigetti (4/5) – Netflix's "Inventing Anna" and Hulu's "The Dropout" meets Catch Me If You Can, a captivating novel about an ambitious young woman who gets trapped in a charismatic con artist's scam.
A Most Anticipated by Entertainment Weekly, Marie Claire, Parade, Fortune, PopSugar, and more!
"[A] page-turner that's hilarious in its dedication to vamping on viral news stories about real-life strivers and cons from Delvey to Instagram personality Caroline Calloway … a delicious read." —TIME magazine
After a rough year at NYU, aspiring writer Lora Ricci is thrilled to land a summer internship at ELLE magazine where she meets Cat Wolff, contributing editor and enigmatic daughter of a clean-energy mogul. Cat takes Lora under her wing, soliciting her help with side projects and encouraging her writing.
As a friendship emerges between the two women, Lora opens up to Cat about her desperate struggles and lost scholarship. Cat's solution: Drop out of NYU and become her ghostwriter. Lora agrees and, when the internship ends, she moves into Cat's suite at the opulent Plaza Hotel. Writing during the day and accompanying Cat to extravagant parties at night, Lora's life quickly shifts from looming nightmare to dream-come-true. But as Lora is drawn into Cat's glamorous lifestyle, Cat's perfect exterior cracks, exposing an illicit, shady world.
A whip-smart and delightfully inventive writer, Susan Rigetti brilliantly pieces together a perceptive, humorous caper full of sharp observations about scam culture. Composed of diary entries, emails, FBI correspondence, and more, Cover Story is a fresh, fun, and wholly original novel that takes readers deep into the codependency and deceit found in a relationship built on power imbalance and lies.
---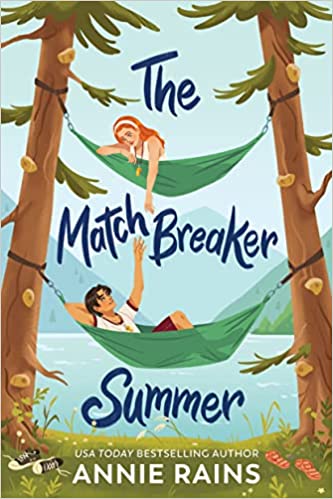 The Matchbreaker Summer by Annie Rains (4/5) – A pitch-perfect summer camp rom-com about two teens with nothing in common who come together to help break up a romance and unexpectedly start one of their own…
Sixteen-year-old Paisley Manning has been attending Camp Starling since she was a little girl, when her parents ran it together. For the last few years, since her father's death, she's been the one helping her mom run the camp behind the scenes. This year, however, will be Camp Starling's last hurrah because Paisley's mom has met a guy online and they're getting married.
Enter Hayden Bennett, who is working alongside Paisley. Paisley and Hayden are like oil and water. She follows the rules, and he seems to live to break them all. But when Hayden catches wind of Paisley's predicament, he has an idea. If a matchmaker in some computer algorithm caused the issue, a couple of real-life matchbreakers can fix it.
As they work to break up the happy couple, Paisley discovers that maybe Hayden's not so bad after all. Has she met her own perfect match in her fellow matchbreaker?
---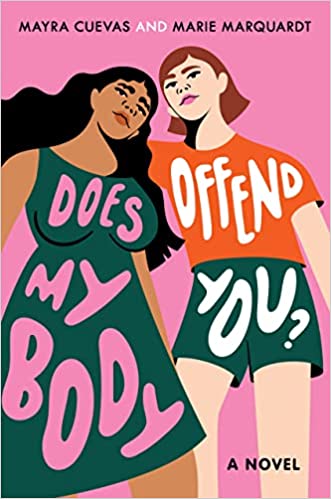 Does My Body Offend You? by Mayra Cuevas and Marie Marquardt (4/5) – A timely story of two teenagers who discover the power of friendship, feminism, and standing up for what you believe in, no matter where you come from. A collaboration between two gifted authors writing from alternating perspectives, this compelling novel shines with authenticity, courage, and humor.
Malena Rosario is starting to believe that catastrophes come in threes. First, Hurricane María destroyed her home, taking her unbreakable spirit with it. Second, she and her mother are now stuck in Florida, which is nothing like her beloved Puerto Rico. And third, when she goes to school bra-less after a bad sunburn and is humiliated by the school administration into covering up, she feels like she has no choice but to comply.
Ruby McAllister has a reputation as her school's outspoken feminist rebel. But back in Seattle, she lived under her sister's shadow. Now her sister is teaching in underprivileged communities, and she's in a Florida high school, unsure of what to do with her future, or if she's even capable making a difference in the world. So when Ruby notices the new girl is being forced to cover up her chest, she is not willing to keep quiet about it.
Neither Malena nor Ruby expected to be the leaders of the school's dress code rebellion. But the girls will have to face their own insecurities, biases, and privileges, and the ups and downs in their newfound friendship, if they want to stand up for their ideals and––ultimately––for themselves.
---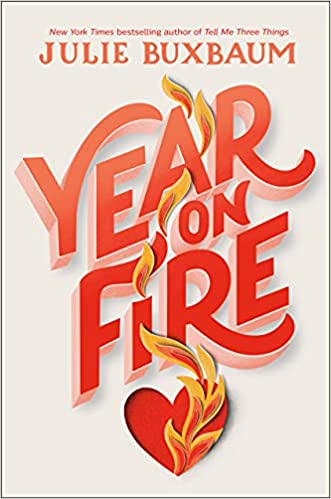 Year on Fire by Julie Buxbaum (4/12) – What secrets will people keep—or reveal—to protect those they love? This novel, set against the frightening backdrop of an encroaching fire season, sparks reflection about friendship, the allure of romantic love, and loyalty to family.
Can a single kiss change everything?
It was a year on fire. They fell in love. Someone was bound to get burned.

The Spark: Just days before the start of junior year for twins Arch and Immie and their best friend, Paige, a spontaneous kiss shakes the very foundation of their friendship. But some loyalties run too deep to be broken by accidental betrayal.
The Fuel: Enter Rohan, new to Wood Valley High by way of London, who walks into school on the first day completely overwhelmed by his sudden move halfway around the world. When Paige calls dibs on him—he's too cute to ignore—Immie is in no position to argue, certainly not after taking the fall for the disloyal kiss. Too bad for Immie that Ro feels like the best kind of familiar.

The Kindling: Former lab partners Arch and Jackson, Paige's ex-boyfriend, have never considered themselves more than friends. But sometimes feelings can grow like wildfire.
The Flames: When the girls' bathroom at Wood Valley is set ablaze, no one doubts it's arson. But in this bastion of privilege, who'd be angry enough to want to burn down the school? Answer: pretty much everyone.
Year on Fire explores the blinding power of the lies we tell others and those we tell ourselves, the tight grip of family secrets, the magic of first love, and the grounding beauty of friendship.
---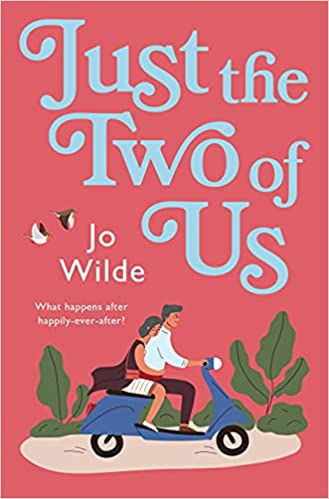 Just The Two of Us by Jo Wilde (4/12) – A couple on the brink of divorce after 35 years of marriage gets a second chance to rediscover their love now that a pandemic lockdown has forced them to spend more time together.
Julie and Michael Marshall have stayed together through thick and thin, through better and worse — and, for the last few years, it has mostly been worse. As their thirty-fifth wedding anniversary approaches, Julie realizes something: she doesn't want to pretend anymore.
Divorce papers at the ready, she's just about to have The Talk with Michael when everything changes. Lockdown begins and Julie and Michael face the greatest terror they can imagine: uninterrupted time with each other. But, when stripped of all distraction and forced to meet eyes across the dinner table, could it be that Julie and Michael might find a way back to where they first began?
---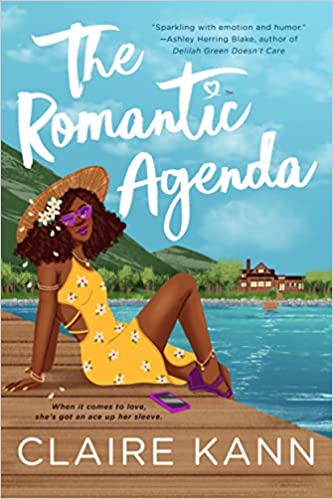 The Romantic Agenda by Claire Kann (4/12) – One of Buzzfeed's Most Anticipated LGBTQ Reads of 2022!
Joy is in love with Malcolm.
But Malcolm really likes Summer.
Summer is in love with love.
And Fox is Summer's ex-boyfriend.
Thirty, flirty, and asexual Joy is secretly in love with her best friend Malcolm, but she's never been brave enough to say so. When he unexpectedly announces that he's met the love of his life—and no, it's not Joy—she's heartbroken. Malcolm invites her on a weekend getaway, and Joy decides it's her last chance to show him exactly what he's overlooking. But maybe Joy is the one missing something…or someone…and his name is Fox.
Fox sees a kindred spirit in Joy—and decides to help her. He proposes they pretend to fall for each other on the weekend trip to make Malcolm jealous. But spending time with Fox shows Joy what it's like to not be the third wheel, and there's no mistaking the way he makes her feel. Could Fox be the romantic partner she's always deserved?
---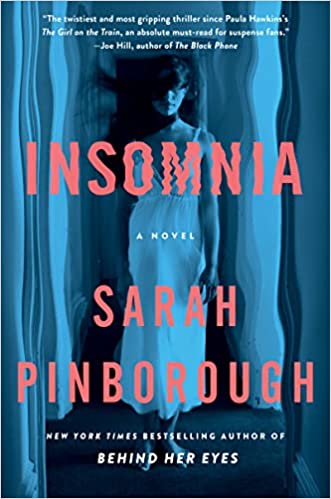 Insomnia by Sarah Pinborough (4/12) – "If you loved Behind Her Eyes, prepare to be totally and utterly blown away by Insomnia. Sarah Pinborough is a twisted genius." — Lisa Jewell
IN THE DEAD OF NIGHT, MADNESS LIES . . .
Emma can't sleep.
CHECK THE WINDOWS.
It's been like this since her big 4-0 started getting closer.
LOCK THE DOORS.
Her mother stopped sleeping just before her own fortieth birthday.
She went mad and did the unthinkable because of it.
LOOK IN ON THE CHILDREN.
Is that what's happening to Emma?
WHY CAN'T SHE SLEEP?
"Insomnia is the twistiest and most gripping thriller since Paula Hawkins' The Girl on the Train, an absolute must-read for suspense fans." — Joe Hill
---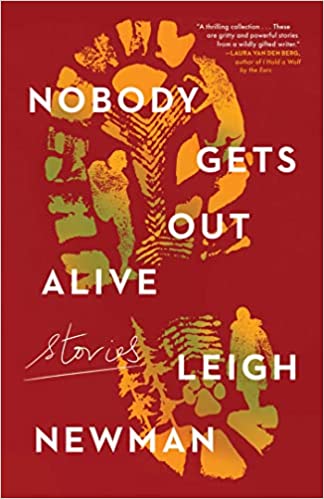 Nobody Gets Out Alive by Leigh Newman (4/12) – Named a MOST ANTICIPATED book by Vogue, Literary Hub, The Millions, Good Housekeeping, and Oprah Daily
From the ​prizewinning, debut fiction author: an exhilarating virtuosic story collection about women navigating the wilds of male-dominated Alaskan society.
Set in Newman's home state of Alaska, Nobody Gets Out Alive is a collection of dazzling, courageous stories about women struggling to survive not just grizzly bears and charging moose but the raw, exhausting legacy of their marriages and families. In "Howl Palace"—winner of The Paris Review's Terry Southern Prize, a Best American Short Story, and Pushcart Prize selection—an aging widow struggles with a rogue hunting dog and the memories of her five ex-husbands while selling her house after bankruptcy. In the title story, "Nobody Gets Out Alive," newly married Katrina visits her hometown of Anchorage and blows up her own wedding reception by flirting with the host and running off with an enormous mastodon tusk.
Alongside stories set in today's Last Frontier—rife with suburban sprawl, global warming, and opioid addiction—Newman delves into remote wilderness of the 1970s and 80s, bringing to life young girls and single moms in search of a wilder, freer, more adventurous America. The final story takes place in a railroad camp in 1915, where an outspoken heiress stages an elaborate theatrical in order to seduce the wife of her husband's employer, revealing how this masterful storyteller is "not only writing unforgettable, brilliantly complex characters, she's somehow inventing souls" (Kimberly King Parsons, author of Black Light).
---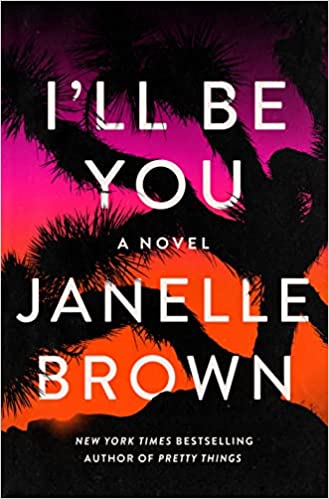 I'll Be You by Janelle Brown (4/26) – Two identical twin sisters and former child actors have grown apart—until one disappears, and the other is forced to confront the secrets they've kept from each other in this twisty suspense novel from the New York Times bestselling author of Pretty Things.
"You won't be able to put this novel down, and you won't want to."—Laura Dave, New York Times bestselling author of The Last Thing He Told Me
ONE OF THE MOST ANTICIPATED BOOKS OF 2022—PopSugar, CrimeReads

"You be me, and I'll be you," I whispered.

As children, Sam and Elli were two halves of a perfect whole: gorgeous identical twins whose parents sometimes couldn't even tell them apart. They fell asleep to the sound of each other's breath at night, holding hands in the dark. And once Hollywood discovered them, they became B-list child TV stars, often inhabiting the same role.
But as adults, their lives have splintered. After leaving acting, Elli reinvented herself as the perfect homemaker: married to a real estate lawyer, living in a house just blocks from the beach. Meanwhile, Sam has never recovered from her failed Hollywood career, or from her addiction to the pills and booze that have propped her up for the last fifteen years.
Sam hasn't spoken to her sister since her destructive behavior finally drove a wedge between them. So when her father calls out of the blue, Sam is shocked to learn that Elli's life has been in turmoil: her husband moved out, and Elli just adopted a two-year-old girl. Now she's stopped answering her phone and checked in to a mysterious spa in Ojai. Is her sister just decompressing, or is she in trouble? Could she have possibly joined a cult? As Sam works to connect the dots left by Elli's baffling disappearance, she realizes that the bond between her and her sister is more complicated than she ever knew.
I'll Be You shows Janelle Brown at the top of her game: a story packed with surprising revelations and sharp insights about the choices that define our families and our lives—and could just as easily destroy them.
---
Are any of these on your radar?