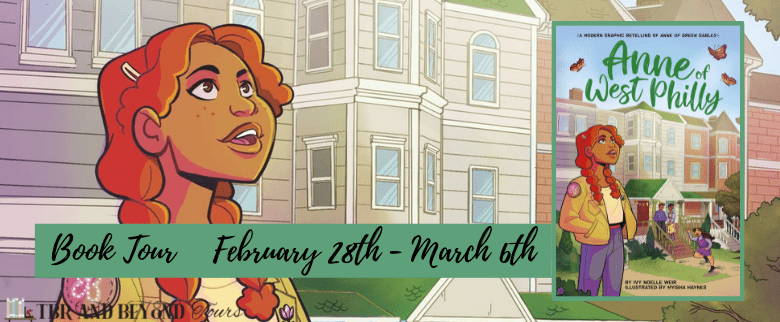 Today I am excited to be featuring the book Anne of West Philly: A Modern Graphic Retelling of Anne of Green Gables by Ivy Noelle Weir, illustrated by Myisha Haynes on the Blog Tour hosted by TBR and Beyond Tours. This post contains affiliate links, so if you use them and make a purchase, I may receive a small commission.
About The Book: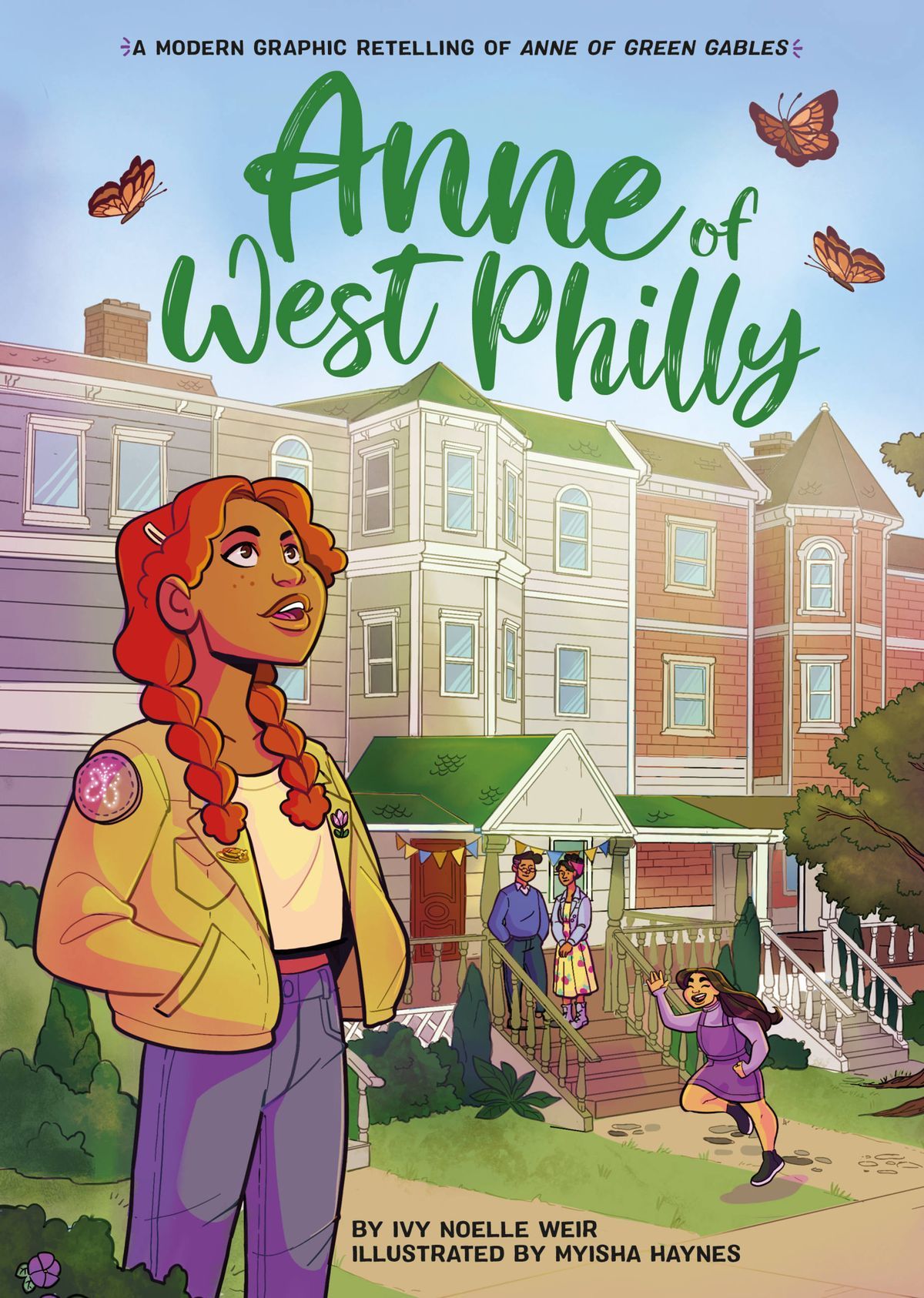 Title:Anne of West Philly: A Modern Graphic Retelling of Anne of Green Gables
Author: Ivy Noelle Weir and Myisha Haynes (illustrator)
Genre: Middle Grade Graphic Novel
Publisher: Little, Brown Books for Young Readers, 3/1/22
Source: TBR and Beyond Tours
My Rating: 4 stars
Find it: Goodreads, Amazon, B&N, Book Depository, Indigo, Indie Bound
Book Description:
Anne of Green Gables with a twist: in this follow-up to Meg, Jo, Beth, and Amy and The Secret Garden on 81st Street, this full-color graphic novel moves Anne Shirley to modern-day West Philadelphia, where where she finds new friends, new rivals, and a new family.
When Marilla and Matthew Cuthbert decide to foster a teenage girl for the first time, their lives are changed forever. Their redheaded foster daughter, Anne Shirley, is in search of an exciting life and has decided that West Philly is where she's going to find it. Armed with a big personality and unstoppable creativity, Anne takes her new home by storm as she joins the robotics club, makes new friends in Diana and Gilbert, experiences first love, and turns the ordinary into the extraordinary. But as Anne starts to get comfortable, she discovers one thing she wasn't looking for: a family.
About The Author:
Ivy Noelle Weir is a writer of comics and prose. She is the co-creator of the Dwayne McDuffie Award-winning graphic novel Archival Quality (Oni Press), the upcoming The Secret Garden on 81st Street (Little, Brown for Young Readers), and her writing has appeared in anthologies such as Princeless: Girls Rock (Action Lab Entertainment) and Dead Beats (A Wave Blue World). She lives in the greater Boston area with her husband and their two tiny, weird dogs.
website | instagram | twitter | goodreads
My Review:
I recently realized I had two copies of Anne of Green Gables, plus a graphic novel version, an adult novel adaptation called Anne of Manhattan, and this book, and I didn't remember much about the original story! So before I read Anne of West Philly, I read the Anne of Green Gables Graphic Novel that I recently got as a gift. This way I was fully prepared to read this modern graphic adaptation! That version of the original book highlights many of the main events in the novel and follows Anne as trouble, friendships, and adventures follow her. I found that this modern adaptation included much of the same events in the graphic novel, with a modern twist.
In this modern adaptation, Anne is a foster child who is brought home by siblings Matthew and Marilla. She has a similar personality to the original Anne, finding joy in the little things like the alley behind the home, and easily becoming friends with Diana, and later Gilbert. In this version of the book, Anne joins the Robotics Club and wants to earn a scholarship to a special STEM high school. The illustrations in this graphic novel were great and I loved how diverse the characters were. I think this book does a good job of updating the original classic and making it accessible to today's children!
For more on this book, check out the TBR and Beyond Tour Schedule.