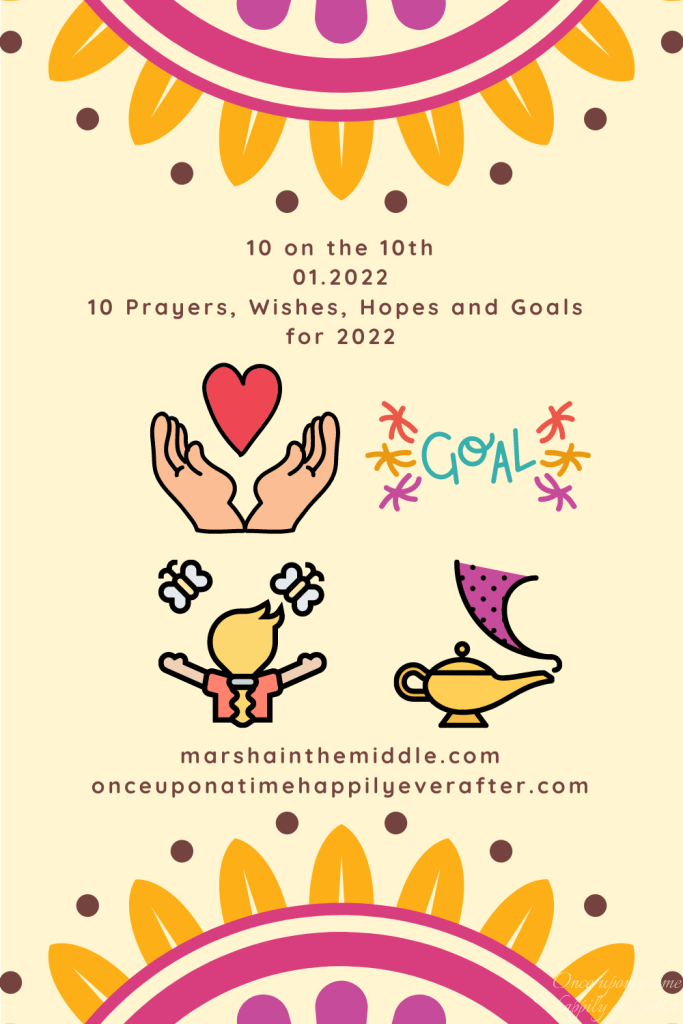 Today I'm linking up with Leslie and new co-host Marsha for the 10 on the 10th link up. This month's topic is 10 Prayers, Wishes, Hopes, and Goals for 2022. This is certainly an appropriate topic for the new year.
1. Along with everyone else, I wish we didn't have to deal with Covid anymore. I know it's not going away, but my hope is that it is now turning into "just a cold." And no one wants to be sick with a cold (why isn't there a medicine you can take to make a cold go away??) but everyone gets a few colds a year and moves on. I wish that if (when) we did get it, we wouldn't have to stay home for 10 days or worry about spreading it, etc.
2. Also along with everyone else, I wish that we could have a more normal year in terms of travel and fun. We were lucky with our visits to see our family in 2021, but they were not without worry, and it would be nice to have the days back when we could just plan a trip and take it without the added concerns of Covid.
3. I hope we can all stay healthy this year in the regular realm too. I already have my next mammogram scheduled and I'm hoping they will decide that yearly checks are fine and that nothing new is seen.
4. I hope the kids continue to do well in school. Especially Zachary, as he has the most struggles right now. I hope we make the right decisions when it comes to what school the kids attend and I hope they are happy with where they are.
5. I hope Gabbie continues to dance and that this year some of her dances place in competitions. She's been working so hard towards that goal!
6. I hope I can continue deriving joy from reading. I know people think it's crazy how much I read, but it's my main hobby and I enjoy it, so it's ok!
7. I really need to lose weight. I say this every year, and over the past two years, I gained weight. So I need to figure out how to get back to my goal weight. I wish it wasn't so hard!
8. Running is something I am liking more as I do it more, and I hope I continue to do it and like it. I would also love to be able to run faster.
9. I hope we can continue to foster dogs and find homes for dogs who need families.
10. I hope and pray I can be the best mom to my kids.
What are some of your prayers, wishes, hopes, or goals for 2022?