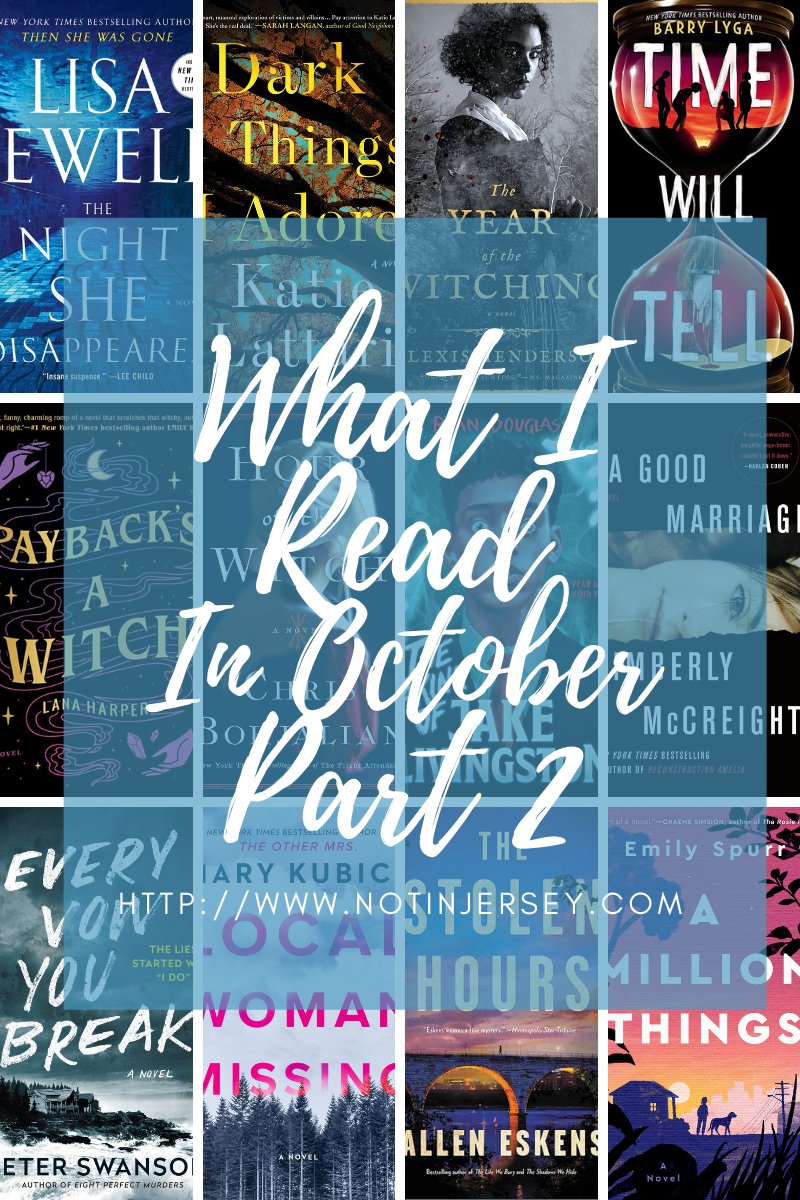 Today's post covers the second half of the books I read in October 2021. I shared the first half of the books I read here. My top books of the month can be found here. I usually include my 5 star reads in my favorites post, but I did read two more 5 star books after that, which will be in this post! I also read The Lost Language, which I reviewed separately here. I will be linking up this post with the Show Us Your Books Link Up, and the Amazon links to the books I've read are affiliate links and if you use them and make a purchase, I may receive a small commission. If you've read any of these books or are interested in them, I'd love to hear about it in the comments!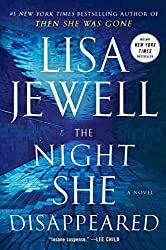 Title: The Night She Disappeared
Author: Lisa Jewell
Genre: Thriller
Publisher: Simon and Schuster Audio, 9/7/21
Source: Audio Publisher
Why I Read It: TBR
My Rating: 4 Stars
Lisa Jewell is somewhat of a slow burn thriller writer, but I have enjoyed the books I've read by her in the past. You can tell she loves her missing person novels! In this one, there are a variety of characters trying to find Tallulah, who went missing with her boyfriend, leaving her baby with her mother.
"On a beautiful summer night in a charming English suburb, a young woman and her boyfriend disappear after partying at the massive country estate of a new college friend. One year later, a writer moves into a cottage on the edge of the woods that border the same estate. Known locally as the Dark Place, the dense forest is the writer's favorite area for long walks and it's on one such walk that she stumbles upon a mysterious note that simply reads, 'DIG HERE.' Could this be a clue towards what has happened to the missing young couple? And what exactly is buried in this haunted ground?"
The viewpoints shift from the present to what happened before Tallulah's disappearance. At times, I wanted to yell at the characters for what I thought was an obvious misdirection. I was only partially right! The timeline at the end of the book confused me, but overall, it was a good listen.
---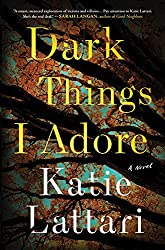 Title: Dark Things I Adore
Author: Katie Lattari
Genre: Thriller
Publisher: Sourcebooks Landmark, 9/14/21
Source: Publisher
Why I Read It: Sent to me for my review
My Rating: 4 Stars
Dark Things I Adore by Katie Lattari is a dark revenge story. There are dual timelines and since the past timeline uses nicknames, it is harder to tell who is who in the present. It is dark – with violence, suicide, and self harm.
"Three campfire secrets. Two witnesses. One dead in the trees. And the woman, thirty years later, bent on making the guilty finally pay. 1988. A group of outcasts gather at a small, prestigious arts camp nestled in the Maine woods. They're the painters: bright, hopeful, teeming with potential. But secrets and dark ambitions rise like smoke from a campfire, and the truths they tell will come back to haunt them in ways more deadly than they dreamed. 2018. Esteemed art professor Max Durant arrives at his protégé's remote home to view her graduate thesis collection. He knows Audra is beautiful and brilliant. He knows being invited into her private world is a rare gift. But he doesn't know that Audra has engineered every aspect of their weekend together. Every detail, every conversation. Audra has woven the perfect web. Only Audra knows what happened that summer in 1988. Max's secret, and the dark things that followed. And even though it won't be easy, Audra knows someone must pay."
I was able to figure out who some of the past characters were in the present, but there was a twist that I didn't guess. If you like dark, literary thrillers, you will like this one.
---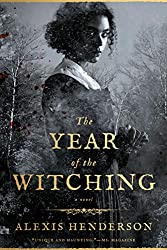 Title: The Year of the Witching
Author: Alexis Henderson
Genre: Fantasy
Publisher: Ace, 7/21/20
Source: Publisher
Why I Read It: Sent to me for my review / TBR
My Rating: 3 Stars
I thought that this month would be a good time to pick up all the books about witches that I'd had waiting on my shelves, and this one was up first. Unfortunately, with it being fantasy, it wasn't for me.
"In the lands of Bethel, where the Prophet's word is law, Immanuelle Moore's very existence is blasphemy. Her mother's union with an outsider of a different race cast her once-proud family into disgrace, so Immanuelle does her best to worship the Father, follow Holy Protocol, and lead a life of submission, devotion, and absolute conformity, like all the other women in the settlement. But a mishap lures her into the forbidden Darkwood surrounding Bethel, where the first prophet once chased and killed four powerful witches. Their spirits are still lurking there, and they bestow a gift on Immanuelle: the journal of her dead mother, who Immanuelle is shocked to learn once sought sanctuary in the wood. Fascinated by the secrets in the diary, Immanuelle finds herself struggling to understand how her mother could have consorted with the witches. But when she begins to learn grim truths about the Church and its history, she realizes the true threat to Bethel is its own darkness. And she starts to understand that if Bethel is to change, it must begin with her."
I was hoping this book would have been more scary, but it wasn't really. It was somewhat gory though. Immanuelle was a strong woman character, but otherwise, the book gave me a headache.
---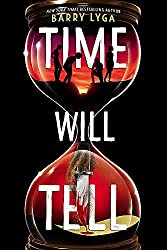 Title: Time Will Tell
Author: Barry Lyga
Genre: YA Thriller
Publisher: Hachette Audio, 9/28/21
Source: Audio Publisher
Why I Read It: Sounded good
My Rating: 4 Stars
I'm actually not sure how I ended up choosing this book from the audio publisher, but it turned out to be a rather long but interesting listen. It tells the story of two groups of teens, the first in 1986, and the second being their children in the present time. It was hard to keep track of who was whose parent at first, and it seems that this was done on purpose.
"Four teens have dug up the time capsule that their parents buried in 1986 and never bothered to recover. But in addition to the expected ephemera of mixtapes, Walkmans, photographs, letters, toys, and assorted junk, Elayah, Liam, Marcie, and Jorja discover something sinister: a hunting knife stained with blood and wrapped with a note. 'I'm sorry. I didn't mean to kill anyone.' As the action dramatically alternates between the present day and 1986, the mystery unfolds and the sins of the past echo into today. The teens haven't just unearthed a time capsule: they've also dug up pain and secrets that someone–maybe one of their own parents–is willing to kill for."
The story reminded me a bit of One of Us is Lying and the audio reminded me of Sadie, with the included podcast pieces. The homophobia and racism that the first group of teens experienced was compared to that of today's times and that was an interesting part of the story.
---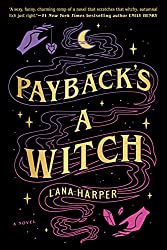 Title: Payback's A Witch
Author: Lana Harper
Genre: Rom Com
Publisher: Berkley, 10/5/21
Source: Publisher
Why I Read It: Sent to me for my review
My Rating: 4 Stars
My second witchy choice, Payback's A Witch was a fun rom com which I enjoyed.
"Emmy Harlow is a witch but not a very powerful one—in part because she hasn't been home to the magical town of Thistle Grove in years. Her self-imposed exile has a lot to do with a complicated family history and a desire to forge her own way in the world, and only the very tiniest bit to do with Gareth Blackmoore, heir to the most powerful magical family in town and casual breaker of hearts and destroyer of dreams. But when a spellcasting tournament that her family serves as arbiters for approaches, it turns out the pull of tradition (or the truly impressive parental guilt trip that comes with it) is strong enough to bring Emmy back. She's determined to do her familial duty; spend some quality time with her best friend, Linden Thorn; and get back to her real life in Chicago. On her first night home, Emmy runs into Talia Avramov—an all-around badass adept in the darker magical arts—who is fresh off a bad breakup . . . with Gareth Blackmoore. Talia had let herself be charmed, only to discover that Gareth was also seeing Linden—unbeknownst to either of them. And now she and Linden want revenge. Only one question stands: Is Emmy in? But most concerning of all: Why can't she stop thinking about the terrifyingly competent, devastatingly gorgeous, wickedly charming Talia Avramov?"
I really liked the characters in this one and I'm glad it's the beginning of a series!
---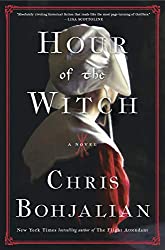 Title: Hour of the Witch
Author: Chris Bohjalian
Genre: Historical Fiction
Publisher: Doubleday, 5/4/21
Source: Publisher
Why I Read It: Sent to me for my review / TBR
My Rating: 4 Stars
This book was on my "read soon" shelf for quite awhile and I finally got to it this month! I like the author a lot and was hopeful for this book, but it was not my favorite by him. I expected it to be faster paced, as it was billed as a historical thriller, but I wouldn't call it a thriller.
"Boston, 1662. Mary Deerfield is twenty-four-years-old. Her skin is porcelain, her eyes delft blue, and in England she might have had many suitors. But here in the New World, amid this community of saints, Mary is the second wife of Thomas Deerfield, a man as cruel as he is powerful. When Thomas, prone to drunken rage, drives a three-tined fork into the back of Mary's hand, she resolves that she must divorce him to save her life. But in a world where every neighbor is watching for signs of the devil, a woman like Mary—a woman who harbors secret desires and finds it difficult to tolerate the brazen hypocrisy of so many men in the colony—soon becomes herself the object of suspicion and rumor. When tainted objects are discovered buried in Mary's garden, when a boy she has treated with herbs and simples dies, and when their servant girl runs screaming in fright from her home, Mary must fight to not only escape her marriage, but also the gallows."
The story follows two trials – the first as Mary tries to get a divorce and the second as she is accused of being a witch. Mary was quite a strong woman. This book includes violence, abuse, and racism towards Indigenous people.
---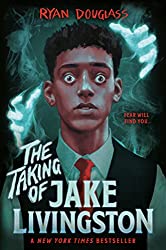 Title: The Taking of Jake Livingston
Author: Ryan Douglass
Genre: YA Fantasy
Publisher: Listening Library, 7/13/21
Source: Library Audio App
Why I Read It: Buddy Read
My Rating: 3 Stars
I would not have read this if it wasn't chosen for a buddy read, and it wasn't my type of book. It could have been good if so much wasn't crammed into it! It felt almost like two separate stories – that of Jake being Black in a racist school and that of Jake seeing ghosts.
"Sixteen-year-old Jake Livingston sees dead people everywhere. But he can't decide what's worse: being a medium forced to watch the dead play out their last moments on a loop or being at the mercy of racist teachers as one of the few Black students at St. Clair Prep. Both are a living nightmare he wishes he could wake up from. But things at St. Clair start looking up with the arrival of another Black student—the handsome Allister—and for the first time, romance is on the horizon for Jake. Unfortunately, life as a medium is getting worse. Though most ghosts are harmless and Jake is always happy to help them move on to the next place, Sawyer Doon wants much more from Jake. In life, Sawyer was a troubled teen who shot and killed six kids at a local high school before taking his own life. Now he's a powerful, vengeful ghost and he has plans for Jake. Suddenly, everything Jake knows about dead world goes out the window as Sawyer begins to haunt him. High school soon becomes a different kind of survival game—one Jake is not sure he can win."
I wasn't sure I liked the way Sawyer was portrayed or the way the story went overall. This book contains racism, abuse, a school shooting, and homophobia.
---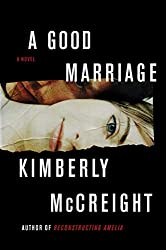 Title: A Good Marriage
Author: Kimberly McCreight
Genre: Thriller
Publisher: Harper, 5/5/20
Source: Publisher
Why I Read It: Sent to me for my review / TBR
My Rating: 4 Stars
I went on a thriller binge this month and picked this one off of my shelf. It is about a man who is suspected of killing his wife and the lawyer that he asks to defend him.
"Lizzie Kitsakis is working late when she gets the call. Grueling hours are standard at elite law firms like Young & Crane, but they'd be easier to swallow if Lizzie was there voluntarily. Until recently, she'd been a happily underpaid federal prosecutor. That job and her brilliant, devoted husband Sam—she had everything she'd ever wanted. And then, suddenly, it all fell apart. No. That's a lie. It wasn't sudden, was it? Long ago the cracks in Lizzie's marriage had started to show. She was just good at averting her eyes. The last thing Lizzie needs right now is a call from an inmate at Rikers asking for help—even if Zach Grayson is an old friend. But Zach is desperate: his wife, Amanda, has been found dead at the bottom of the stairs in their Brooklyn brownstone. And Zach's the primary suspect. As Lizzie is drawn into the dark heart of idyllic Park Slope, she learns that Zach and Amanda weren't what they seemed—and that their friends, a close-knit group of fellow parents at the exclusive Brooklyn Country Day school, might be protecting troubling secrets of their own. In the end, she's left wondering not only whether her own marriage can be saved, but what it means to have a good marriage in the first place."
I thought it was interesting how the group and their secrets overlapped and twisted and made you question what was a good marriage. I did not predict the ending. This book contains alcoholism, delusions, murders, and references to childhood abuse.
---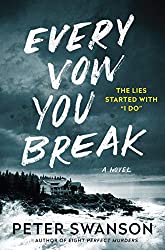 Title: Every Vow You Break
Author: Peter Swanson
Genre: Thriller
Publisher: William Morrow, 3/23/21
Source: Publisher
Why I Read It: Sent to me for my review / TBR
My Rating: 4 Stars
This was on my "read soon" shelf as well and it was a great atmospheric thriller for the season.
"Abigail Baskin never thought she would fall in love with a millionaire. Then she met Bruce Lamb. He's a good guy, stable, level-headed, kind—a refreshing change from her previous relationships. But right before the wedding, Abigail has a drunken one-night stand on her bachelorette weekend. She puts the incident—and the sexy guy who wouldn't give her his real name—out of her mind, and now believes she wants to be with Bruce for the rest of her life. Their honeymoon on a luxurious, secluded island will be the beginning of their blissful lives together. Then the mysterious stranger suddenly appears—and Abigail's future life and happiness are turned upside down. He insists that their passionate night was the beginning of something much, much more. Something special. Something real—and he's tracked her down to prove it. Does she tell Bruce and ruin their idyllic honeymoon—and possibly their marriage? Or should she handle this psychopathic stalker on her own? To make the situation worse, strange things begin to happen. She sees a terrified woman in the shadows one night, and no one at the resort seems to believe anything is amiss… including her perfect new husband."
I found this book creepy and it kept me on edge while turning the pages! Abigail was another strong woman character, which I always appreciate in my books!
---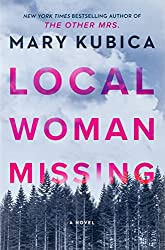 Title: Local Woman Missing
Author: Mary Kubica
Genre: Thriller
Publisher: Park Row Books, 5/18/21
Source: PR for Author
Why I Read It: Sent to me for my review / TBR
My Rating: 5 Stars
Yet another book that was waiting on my "read soon" shelf and one that belonged in my monthly favorites post because I loved this one! Told from multiple viewpoints, the unraveling of missing women in the same neighborhood was twisty and page turning.
"Shelby Tebow is the first to go missing. Not long after, Meredith Dickey and her six-year-old daughter, Delilah, vanish just blocks away from where Shelby was last seen, striking fear into their once-peaceful community. Are these incidents connected? After an elusive search that yields more questions than answers, the case eventually goes cold. Now, eleven years later, Delilah shockingly returns. Everyone wants to know what happened to her, but no one is prepared for what they'll find…"
The book starts out with a difficult scene of a child in a kidnapping situation. There were other difficult to read scenes involving an OB. I did not predict the ending and it was surprisingly emotional as well!
---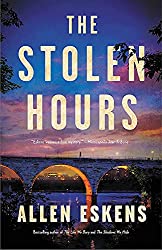 Title: The Stolen Hours
Author: Allen Eskens
Genre: Thriller
Publisher: Hachette Audio, 9/7/21
Source: Audio Publisher
Why I Read It: Liked a previous book by him
My Rating: 4 Stars
I previously read and enjoyed another book by Allen Eskens. When I requested this one, I didn't realize that it is actually a part of the same series, but rather than focusing on Joe, the previous main character, it focuses on his girlfriend Lila.
"Lila Nash is on the verge of landing her dream job—working as a prosecutor under the Hennepin County Attorney—and has settled into a happy life with her boyfriend, Joe Talbert. But when a woman is pulled from the Mississippi River, barely alive, things in the office take a personal turn. The police believe the woman's assailant is local photographer Gavin Spenser, but the case quickly flounders as the evidence wears thin. It seems Gavin saw this investigation coming—and no one can imagine how carefully he has prepared. The more determined Lila is to put Gavin behind bars, the more elusive justice becomes. Battling a vindictive new boss and haunted by the ghosts of her own unspeakable attack, which she's kept a dark secret for eight long years, Lila knows the clock is ticking down. In a race against an evil mastermind, it will take everything Lila's got to outsmart a killer—and to escape the dark hold of her own past."
The plot of this book relies on a major coincidence, but I suppose living in a small town will do that. It is told in part by Lila, in part by Gavin, and in part by Nikki, who is a police detective. It reminded me of Criminal Minds in a lot of ways!
---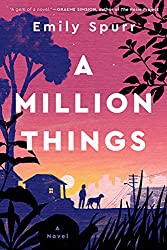 Title: A Million Things
Author: Emily Spurr
Genre: Contemporary Fiction
Publisher: Berkley, 8/24/21
Source: Publisher
Why I Read It: Sent to me for my review / TBR
My Rating: 5 Stars
This one also belongs in my favorites post. It was so good and so moving! It is told from the voice of a 10 year old, Rae, although it is an adult novel.
"For as long as Rae can remember, it's been her and Mum, and their dog, Splinter; a small, deliberately unremarkable, family. They have their walks, their cooking routines, their home. Sometimes Mum disappears for a while to clear her head but Rae is okay with this because Mum always comes back. So, when Rae wakes to Splinter's nose in her face, the back door open, and no Mum, she does as she's always done and carries on. She tends to the house, goes to school, walks Splinter, and minds her own business—all the while pushing down the truth she isn't ready to face. That is, until her grumpy, lonely neighbor Lettie—with her own secrets and sadness—falls one night and needs Rae's help. As the two begin to rely on each other, Rae's anxiety intensifies as she wonders what will happen to her when her mother's absence is finally noticed and her fragile world bursts open."
This book was so heartbreaking. Rae was used to taking care of herself, but imagining her on her own was so difficult. Her neighbor Lettie had her own grief issues and seeing the two of them bond was heartwarming. This book definitely made me cry, but I loved it.
---
As you can see, I read a lot this month, and a lot of it was chosen from my shelves, which made me happy! This post included 12 of the books I read this month. Of these books, 8 were print and 4 were audio books. 10 were adult and 2 were YA. Genres included thriller, fantasy, historical, and contemporary.
Have you read any of these books or do you want to? What have you been reading lately?