Yes, it's the first day of November, but today I'm answering the Monthly Musings questions that I missed over the past two months! September's topic was Fall Fashion and October's was fall fun! I'm late, so I'll miss the link up, but thanks to Holly and Patti for the questions!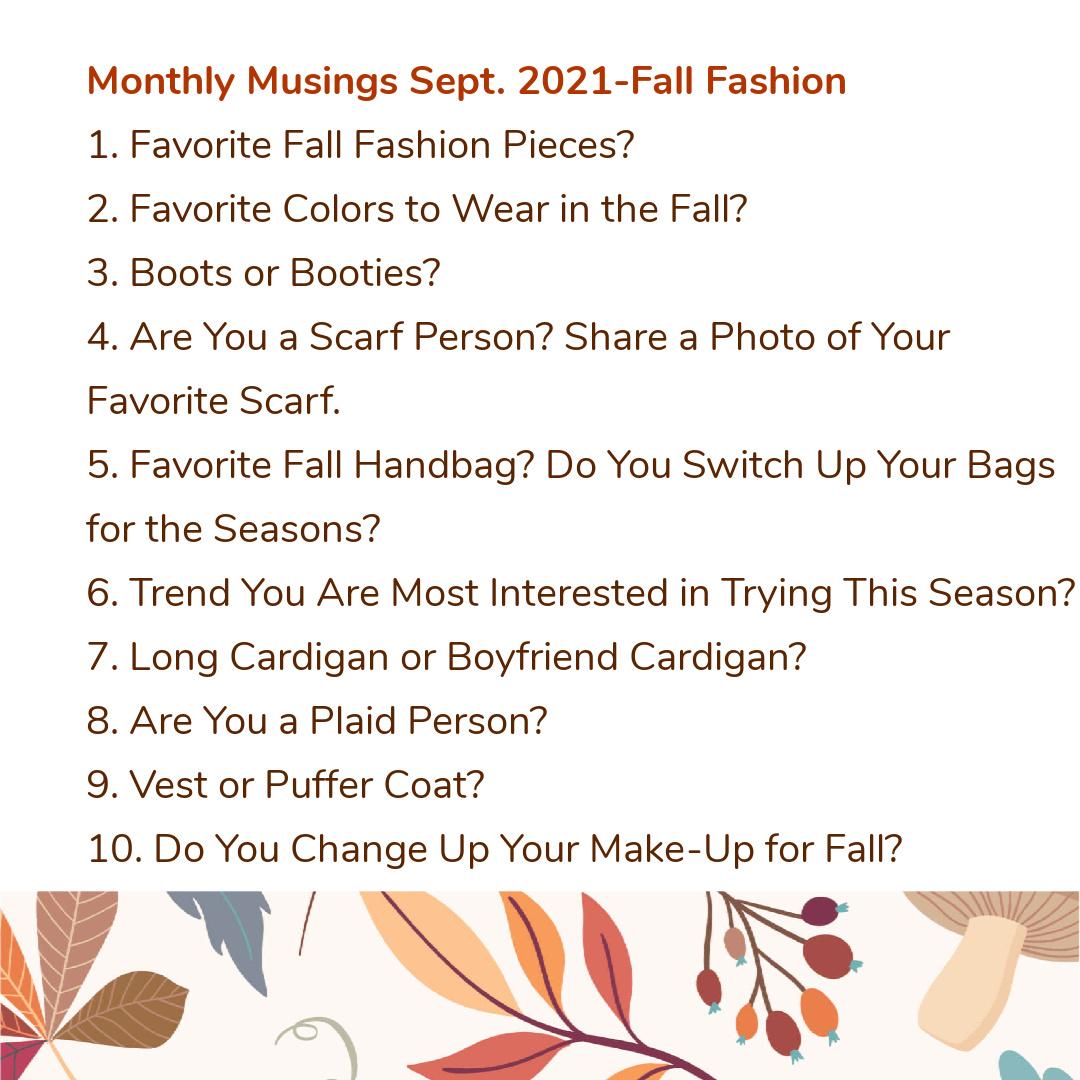 1. Favorite Fall Fashion Pieces
I like jackets. My jean jacket for one, and my olive jacket too. I also like boots.
2. Favorite Colors to Wear In Fall
Mustard yellow, navy.
3. Boots or Booties?
I'll wear booties until it's too cold, then I'll wear boots.
4. Are You a Scarf Person?
I knit scarves, but I hardly wear them, except for warmth, if I'm walking outside. I don't often wear them for fashion.
5. Favorite Fall Handbag?
I really just use whatever bag I'm using at the moment! Right now it's a sling backpack.
6. Trend You Are Most Interested in Trying?
This assumes I know anything about trends…
7. Long Cardigan or Boyfriend Cardigan?
Either, but I'm not sure I have anything that is considered a boyfriend cardigan!
8. Are you a Plaid Person?
I wouldn't say I'm a plaid person, but I do have a flannel shirt that I like.
9. Vest or Puffer Coat?
I rarely hit the temperature right to wear vests, but I do have one. I don't think my coat is considered a puffer coat, so I guess vests!
10. Do you change your make up for fall?
No, I rarely wear make up anyway.
Can you tell how into fashion I am? Ok, moving on to the fall fun questions!
1. What are your Halloween Traditions?
We don't celebrate Halloween, but we buy candy and if anyone comes by we give it out. Otherwise we eat it.
2. Favorite Fall Activities?
I am the last one in the family to still want to go apple picking (this year at least Simon came with me!) and to the pumpkin patch. This is the first year we didn't get our annual pumpkin patch pictures.
3. Favorite Fall Recipe?
When it gets to be fall, I start wanting soup and chili! Here is my vegetarian chili recipe.
4. What Beverage makes you think of Fall?
Apple cider. Hot, spiked, whatever!
5. Favorite Fall Fashion Staples?
See above!
6. Do you decorate for Fall?
Yes, I decorate my front entry way for each season.
7. Bonfire, Corn Maze, or Hay Ride?
My favorite is probably a corn maze, but I haven't been in one in awhile!
8. Apple Pie or Apple Cider?
Can I have both?
9. Favorite Type of Apple?
Gala, or anything sweet.
10. What are your Thanksgiving Traditions?
Eating all the food!
Happy November everyone!