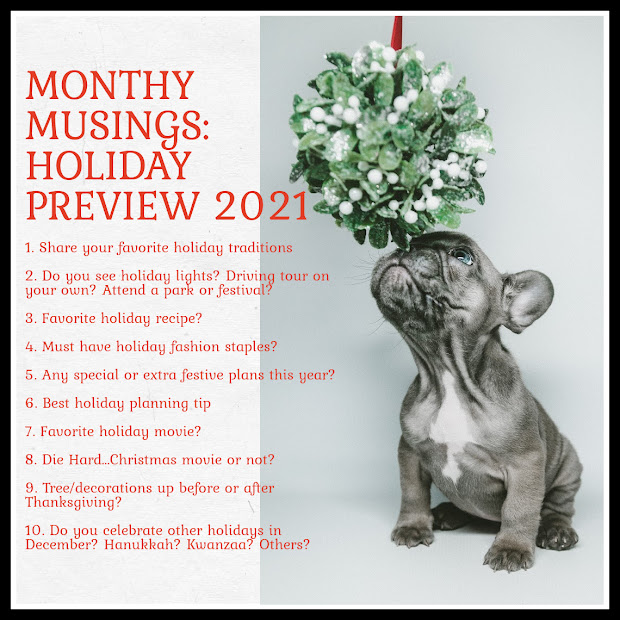 Today I'm participating in Monthly Musings with Holly and Patti. This month's topic is Holiday Preview, so I guess it's time for my occasional reminder that not everyone celebrates Christmas. The questions are meant to be inclusive, but as you can see, for someone who doesn't celebrate Christmas, they are somewhat harder to answer.
1. Share your favorite holiday traditions.
Last year, I wrote a post about all of our favorite traditions for the holidays we celebrate throughout the year.
2. Do you see holiday lights?
Christmas lights are pretty, and yes, we see them! There are a few dancing light shows near us and we usually will check them out. Please note: they aren't holiday lights, they are Christmas lights!
3. Favorite holiday recipe?
We really like the chicken I make for Rosh Hashanah and the kids even call it Rosh Hashanah chicken! But if we're talking Hanukkah, you gotta have latkes.
4. Must have holiday fashion staples?
I like to have a new dress to wear to synagogue at Rosh Hashanah and Passover…but it doesn't always happen!
5. Any special or extra festive plans this year?
Since we're heading to NJ for Thanksgiving and Hanukkah starts the Sunday night of that same weekend, we will actually be in NJ for the first two days!
6. Best holiday planning tip?
I always make lists so I don't forget things.
7. Favorite holiday movie?
You mean Christmas movie? I always say Home Alone!
8. Die Hard – Christmas movie or not?
I've never seen it so I have no idea.
9. Tree / decorations up before or after Thanksgiving?
I decorate for each season and I change from fall to winter sometime around December 1.
10. Do you celebrate other holidays in December?
Hmm. Well, yes, I celebrate an "other" holiday. But I don't celebrate Christmas, so I only celebrate one holiday in December.
Are you getting ready for whatever holidays you are celebrating soon? American Thanksgiving is this week!