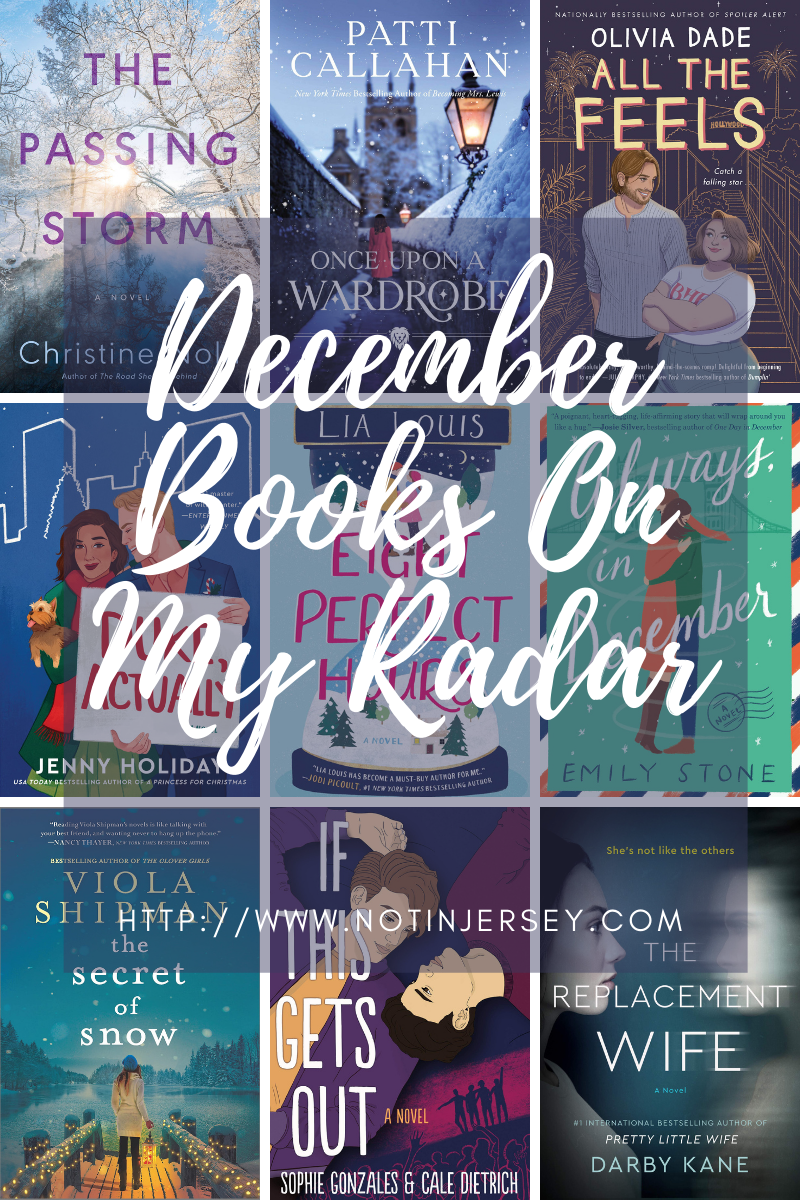 Today I'm sharing some of the books on my radar which I want to read in December. I usually share new releases for the upcoming month, but I only have two that actually publish in December, so instead I'm sharing books I'm excited to read this month. Some of them have been shared in my previous on my radar posts! This post contains Amazon affiliate links. If you choose to make a purchase after clicking on my link, I may receive a small commission.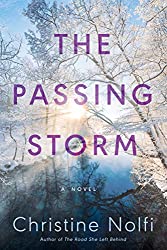 The Passing Storm by Christine Nolfi – A gripping, openhearted novel about family, reconciliation, and bringing closure to the secrets of the past.
Early into the tempestuous decade of her thirties, Rae Langdon struggles to work through a grief she never anticipated. With her father, Connor, she tends to their Ohio farm, a forty-acre spread that itself has enjoyed better days. As memories sweep through her, some too precious to bear, Rae gives shelter from a brutal winter to a teenager named Quinn Galecki.
Quinn has been thrown out by his parents, a couple too troubled to help steer the misunderstood boy through his own losses. Now Quinn has found a temporary home with the Langdons―and an unexpected kinship, because Rae, Quinn, and Connor share a past and understand one another's pain. But its depths―and all its revelations and secrets―have yet to come to light. To finally move forward, Rae must confront them and also fight for Quinn, whose parents have other plans in mind for their son.
With forgiveness, love, and the spring thaw, there might be hope for a new season―a second chance Rae believed in her heart was gone forever.
---
Once Upon a Wardrobe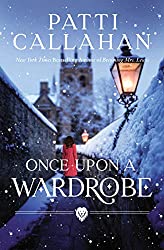 by Patti Callahan –
"Where did Narnia come from?"
The answer will change everything.
Megs Devonshire is brilliant with numbers and equations, on a scholarship at Oxford, and dreams of solving the greatest mysteries of physics.
She prefers the dependability of facts—except for one: the younger brother she loves with all her heart doesn't have long to live. When George becomes captivated by a brand-new book called The Lion, the Witch and the Wardrobe and begs her to find out where Narnia came from, there's no way she can refuse.
---
All The Feels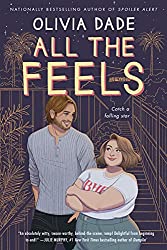 by Olivia Dade –
Following Spoiler Alert, Olivia Dade returns with another utterly charming romantic comedy about a devil-may-care actor—who actually cares more than anyone knows—and the no-nonsense woman hired to keep him in line.
"An absolutely witty, swoon worthy behind the scenes romp! Delightful from beginning to end!"–Julie Murphy, #1 New York Times bestselling author of Dumplin'
Alexander Woodroe has it all. Charm. Sex appeal. Wealth. Fame. A starring role as Cupid on TV's biggest show, Gods of the Gates. But the showrunners have wrecked his character, he's dogged by old demons, and his post-show future remains uncertain. When all that reckless emotion explodes into a bar fight, the tabloids and public agree: his star is falling.
Enter Lauren Clegg, the former ER therapist hired to keep him in line. Compared to her previous work, watching over handsome but impulsive Alex shouldn't be especially difficult. But the more time they spend together, the harder it gets to keep her professional remove and her heart intact, especially when she discovers the reasons behind his recklessness…not to mention his Cupid fanfiction habit.
When another scandal lands Alex in major hot water and costs Lauren her job, she'll have to choose between protecting him and offering him what he really wants—her. But he's determined to keep his improbably short, impossibly stubborn, and extremely endearing minder in his life any way he can. And on a road trip up the California coast together, he intends to show her exactly what a falling star will do to catch the woman he loves: anything at all.
---
Duke, Actually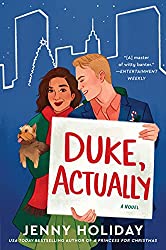 by Jenny Holiday –
USA Today bestselling author Jenny Holiday follows A Princess for Christmas with another delightful contemporary Christmas romance between a playboy baron and a woman who has said goodbye to love.
"[A] master of witty banter."—Entertainment Weekly
There's a royal wedding on, and things are about to get interesting.
Meet the man of honor
Maximillian von Hansburg, Baron of Laudon and heir to the Duke of Aquilla, is not having a merry Christmas. He's been dumped by a princess, he's unemployed, and his domineering father has sent him to New York to meet a prospective bride he has no interest in. In the city, he meets Dani Martinez, a smart (and gorgeous) professor he's determined to befriend before their best friends marry in the Eldovian wedding of the century.
Meet the best woman
Newly single, no-nonsense New Yorker Dani is done with love—she even has a list entitled "Things I Will Never Again Do for a Man"—which is why she hits it off with notorious rake Max. He's the perfect partner for snow angels in Central Park and deep conversations about the futility of love.
It's all fun and games until their friendship deepens into attraction and, oops…
Falling in love was never part of the plan.
---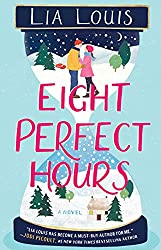 Eight Perfect Hours by Lia Louis – In this romantic and heartwarming novel, two strangers meet in chance circumstances during a blizzard and spend one perfect evening together, thinking they'll never see each other again. But fate seems to have different plans. From the acclaimed author of the "swoon-worthy…rom-com" (The Washington Post) Dear Emmie Blue.
On a snowy evening in March, thirty-something Noelle Butterby is on her way back from an event at her old college when disaster strikes. With a blizzard closing off roads, she finds herself stranded, alone in her car, without food, drink, or a working charger for her phone.
All seems lost until Sam Attwood, a handsome American stranger also trapped in a nearby car, knocks on her window and offers assistance. What follows is eight perfect hours together, until morning arrives and the roads finally clear. The two strangers part, positive they'll never see each other again but fate, it seems, has a different plan. As the two keep serendipitously bumping into one another, they begin to realize that perhaps there truly is no such thing as coincidence.
With plenty of charming twists and turns and Lia Louis's "bold, standout voice" (Gillian McAllister, author of The Good Sister), Eight Perfect Hours is a gorgeously crafted novel that will make you believe in the power of fate.
---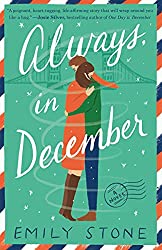 Always In December by Emily Stone – "A poignant, heart-tugging, life-affirming story that will wrap around you like a hug during any season. Keep tissues nearby!"—Josie Silver, #1 New York Times bestselling author of One Day in December
It started with a letter. It ended with a love story.
Every December, Josie posts a letter from her home in London to the parents she lost on Christmas night many years ago. Each year, she writes the same three words: Missing you, always. But this year, her annual trip to the postbox is knocked off course by a bicycle collision with a handsome stranger–a stranger who will change the course of Josie's life.
Josie always thought she was the only one who avoided the Christmas season, but this year, Max has his own reasons for doing the same—and coincidence leads them to spending the holiday together. Aglow with new love, Josie thinks this might be the start of something special.
Only for Max to disappear without saying goodbye.
Over the course of the next year, Max and Josie will find that fate continues to bring them together in places they'd never expect. New York City. Edinburgh. The quiet English countryside. And it turns out, Max had every reason to leave and every reason to stay. But what does fate hold for Josie and Max as Christmas approaches again?
A devastating, romantic, life-affirming love story, Always, in December will stay with readers long after they've finished the last page.
---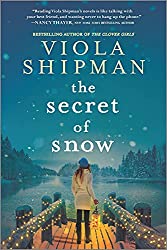 The Secret of Snow by Viola Shipman – "A beautifully written story about second chances. Fans of women's fiction won't be able to put this down." —Publishers Weekly
The forecast is calling for a reluctant homecoming and regrettable decisions with a strong chance of romance…
When Sonny Dunes, a SoCal meteorologist whose job is all sunshine and seventy-two-degree days, is replaced by a virtual meteorologist that will never age, gain weight or renegotiate its contract, the only station willing to give the fifty-year-old another shot is the very place Sonny's been avoiding since the day she left for college—her northern Michigan hometown.
Sonny grudgingly returns to the long, cold, snowy winters of her childhood…with the added humiliation of moving back in with her mother. Not quite an outsider but no longer a local, Sonny finds her past blindsiding her everywhere: from the high school friends she ghosted, to the former journalism classmate and mortal frenemy who's now her boss, to, most keenly, the death years ago of her younger sister, who loved the snow.
To distract herself from the memories she's spent her life trying to outrun, Sonny throws herself headfirst into covering every small-town winter event to woo a new audience, made more bearable by a handsome widower with optimism to spare. But with someone trying to undermine her efforts to rebuild her career, Sonny must make peace with who she used to be and allow her heart to thaw if she's ever going to find a place she can truly call home.
---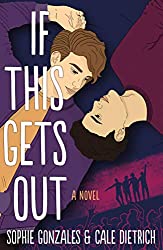 If This Gets Out by Sophie Gonzales and Cale Dietrich (out on 12/7) – Sophie Gonzales and Cale Dietrich's "If This Gets Out is an absolute showstopper! Equal parts edgy and adorable, this bright, joyful book has everything I look for in a queer YA romance." ―Phil Stamper, bestselling author of The Gravity of Us

Eighteen-year-olds Ruben Montez and Zach Knight are two members of the boy-band Saturday, one of the biggest acts in America. Along with their bandmates, Angel Phan and Jon Braxton, the four are teen heartthrobs in front of the cameras and best friends backstage.
But privately, the pressure to stay in the closet has Ruben confiding in Zach.
On a whirlwind tour through Europe with an unrelenting schedule and minimal supervision, the two come to rely on each other more and more, and their already close friendship evolves into a romance. But when they decide they're ready to tell their fans and live freely, Zach and Ruben realize they will never truly have the support they need.
How can they hold tight to each other when their whole world is coming apart?
---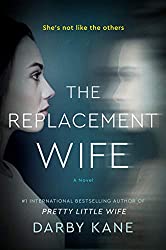 The Replacement Wife by Darby Kane (out on 12/28) –
The #1 International bestselling author of Pretty Little Wife returns with another thrilling domestic suspense novel that asks, how many wives and girlfriends need to disappear before your family notices?
Elisa Wright is a mom and wife, living a nice, quiet life in a nice, quiet town. She's also convinced her brother-in-law is a murderer. Josh has one dead wife and one missing fiancée, and though he grieved for them he starts dating someone new. Elisa fears for that woman's safety, and she desperately wants to know what happened to her friend, Josh's missing fiancée.
Searching for clues means investigating her own family. And she doesn't like what she finds. A laptop filled with incriminating information. Other women.
But when Elisa becomes friends with Josh's new girlfriend and starts to question things she thinks are true, Elisa wonders if the memories of a horrible incident a year ago have finally pushed her over the edge and Josh is really innocent. With so much at stake, Elisa fights off panic attacks and a strange illness. Is it a breakdown or something more? The race is on to get to the truth before another disappearance because there's a killer in the family…or is there?
---
Are any of these on your radar?