When you're raising a family there are so many different things to think about. You need to think about making sure that your children are healthy and happy, as well as learning all that they need to learn about life. If you are looking for children that are more empathetic, well-rounded, smarter, and quite possibly healthier, then who wouldn't want that?
One of the things that this can be achieved is by getting a pet dog for the family. Having a pet dog can benefit children in a number of ways, including the emotional intelligence of your children, with many studies stating just how much pet dog ownership can benefit children. There is other research around the topic that shows just how much of a positive impact having a pet dog can have on the health of children as well.
If you are looking for some other things to think about when it comes to getting a pet and how it can be a benefit in the family home, then here are some things to think about. As long as you do it for the right reasons, a pet dog, much like a labrador, can be a big blessing in the home. You'll be looking up a silver lab for sale in no time, all ready to start living in your family home. It can be a big benefit for children.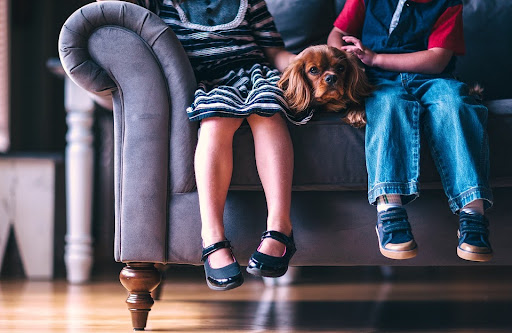 image
Children can have higher self-esteem
When it comes to children completing different tasks, such as them having to take care of the home or about their pet, then it can be a big improvement for a child's self-esteem. Of course, you should give children tasks that are age appropriate, as a younger child wouldn't be able to walk the dog necessarily, but they could help to put food out for the dog and help with the dog's bedding. Giving children confidence and some responsibility to look after a pet can definitely give children's esteem a boost.
Children can be more compassionate
There are a number of studies that have shown that children who have a pet dog are much more empathetic towards other people. When there are pets in the house, then it allows children, as well as parents, to share looking after the pet. This then helps young children, as well as older children, to learn how to care for something else and how to nurture something else. When children have something that is dependent on them, such as a pet dog, then it gives responsibility to children and helps them be more aware of what is around them. This easily helps them to become more compassionate which is always going to be a good thing for children to learn.
Children will feel supported
Growing up can be tough on some children, and if they don't have a close friend at school, they can come home and know that their pet is there for them. Pet dogs can be something to cuddle and something that offers unconditional love and companionship, helping children to feel supported, no matter what they are going through. In fact, some research has shown that children feel comfortable going to their pets when they feel sad or when they have a problem. They know that they are loved unconditionally and that they won't be judged, which can happen if they were to reach out to a friend instead.
Children can have improved cognitive development
There has been some research that suggests that children who have pet dogs, and who talk to their pet dog, have shown to have an improved cognitive development. Of course, this isn't always the case, but if you have a pet, it has got to be a good thing to try! From toddlers that are just mumbling or babbling to a pet to children who can talk and praise their pet, or give commands to their pet, they have all shown differences and improvements in cognitive development.
Children can be less stressed
Children and stress isn't something that you would normally associate together, but it can make a difference. In the modern world that we live in, there are a lot of pressures facing our children and they can feel more stressed than we may think. There is a reason why people choose a dog as a therapy animal, because there is a lot that can be gained from petting a dog. It can be a good thing to help lower stress levels in the person petting the dog, and for the dog itself. By having a release, such as petting or cuddling a dog, or even reading to a dog or talking to a dog, can help to relieve stress levels in children. Having this built-in stress-reliever at home can be such a good thing for all of the family.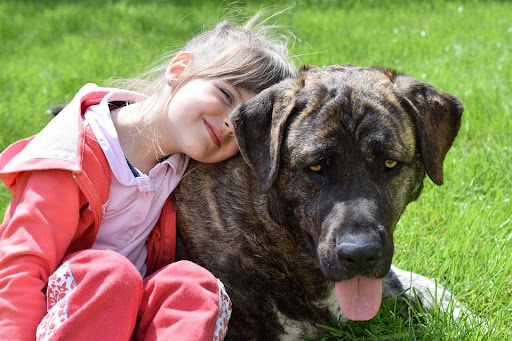 image
Children can be happier
Along the same lines of having a pet to be a stress-reliever, having a pet dog can help children to be happier. There is a playful mate at home that will want to play, wrestle or go for a walk with you, which can help to release certain levels of happy hormones. This release can help to keep children calm and increase their mood, helping them to feel happier. As mentioned above, children can also feel supported with a pet, and if they are having a hard time at school or even with members of their family, they can have the happiness boost that comes from having a pet dog in the home.
Children can be healthier
One thing springs to mind when you think of having a pet dog and that is how active as a family you need to be as dogs enjoy plenty of walks. You will all get the benefit of needing to take a dog out to exercise, sometimes multiple times in a day, which helps to keep the family (and the children) active too. This can be a good thing for mental health, to be outdoors and moving, but it can be a good thing for physical health too, as it can help to maintain weight levels and get them fitter.
There is also a lot of research into allergies and children who have a pet dog in the home. In fact, there are a number of studies that have shown that if you have a dog in the home, then the children in the home have a reduced chance of developing any allergies. The studies claim that dogs have a probiotic impact on humans, which is a great way to maintain children's health.
When you are thinking about getting a pet dog for your child, it is wise to look into the different breeds that are available and see what option will be best for your family and your circumstances. In a small home, something like a labrador wouldn't be ideal, as they need space to run and play. However, for a larger home or a home with outside space, they could be the ideal choice. Think about how often the dog would have to be left alone too. Some breeds, such as cockapoos, do not do well when they are left alone for long periods of time. If you work long hours out of the home, then this is something to consider.
There are numerous benefits to having a pet dog in the home, so you just need to make sure that if you are going to get a dog, that it is the right one for you.
---
This post was submitted by Simone Devonshire.