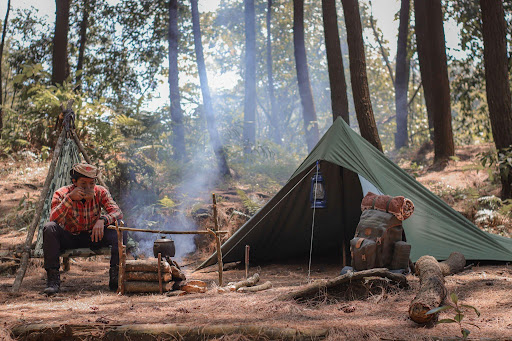 Image credit
Camping is a great way to be outside and enjoy nature. Camping can also bring about the feeling of serenity and peace that we all crave from time to time. However, there are some things that you need to do and some that you should avoid when camping for maximum enjoyment. Here are the dos and don'ts of camping.
Always Have the Necessary Equipment
It's essential to be prepared for any situation. Therefore, it is a good idea to make sure you have everything you need before taking off on your camping trip. Since there are so many possible scenarios, it is too difficult to list every item that could come in handy. However, here are some basics: A flashlight for nighttime, sunscreen for sunny days, bug spray to ward off mosquitos or ticks, bandages in case of injuries.
One thing you don't want to forget is your food. Ensure you have enough provisions and snacks so that everyone has plenty while out on the trail. Keep a cooler with ice packed full of water bottles, fresh fruit like oranges and apples, yoghurts for a quick breakfast or snack on the run.
Learn How To Use the Tools and Equipment
Camping can be fun, but there are several things you'll need to watch out for. This will ensure that your trip is safe and doesn't leave you with any regrets or issues later on down the road. An essential thing in camping is to know how to use the tools and equipment available to you. Ensure that you are familiar with using your tent, sleeping bag, cooking equipment, do not forget to carry a rechargeable 18650 button top battery and water filter before setting out on the journey. Then, if needed, practise these things at home first, so they become second nature when camping.
Proper Food Storage
The first thing you should know about proper food storage when camping is that keeping all of your supplies in one place is essential. This will make for an easier time when looking through everything later on and make sure nothing gets lost or forgotten. Also, keeping things organized might be helpful if someone else takes over cooking duties while you take a night off.
Another thing to keep in mind is where you're putting your food, especially perishables like meat or dairy products, into. Make sure they are all kept together and that the cooler stays closed at all times. If there are any holes in its bottom, use duct tape to cover them up before using it again.
When storing food for camping trips, keep these two things in mind, so nothing goes missing during storage or spoilage due to improper temperatures occurring while cooking or eating meals. In addition, doing this will help make everyone feel safe about eating their dinner without having an upset stomach afterwards.
Pack Enough Clothes and Essentials
Do not pack too much stuff as it will become heavy to carry or transport back home. Also carry cozy and protective gear. Also, be careful with the weather forecast for your camping destination. If it is going to be hot, bring lots of water bottles so that you stay hydrated throughout the day. Make sure they are sealed tightly before placing them inside your backpack because leaking liquids can ruin other items, especially electronic ones like phones or computers.
Bring enough clothes and footwear because there might be instances when they get wet, mainly if the weather forecast was wrong about rain chances, especially during the rainy season or monsoon months, which varies depending on the location where one plans to go camping. Never forget insect repellent as mosquitoes are prevalent around grassy open spaces away from houses plus other insects that may bite like ants, bees, hornets. Proper packing of essentials ensures a safe trip.
Learn About Campfires and Safety
It is essential to maintain a safe environment when camping, and this is one of the most important things to consider. Of course, you want your kids to enjoy themselves, but you also want them to remain in good health and not get hurt or sick from something that can easily be prevented with some simple actions.
Campfires are an essential part of many campgrounds, even if it's just for roasting marshmallows or hot dogs at night before going inside tents. It creates a friendly atmosphere for everyone participating in the activity and provides additional warmth during cold nights. However, two significant elements should always be considered; fire safety itself, where you will make the fire, and how big it will grow since more giant flames tend to rise more than smaller ones.
There is a difference in building campfires between countries and states with different laws, so knowing where you are going beforehand is essential. However, they should always be made on an open area with no surrounding trees or plants close enough for flames to reach them easily.
Always make sure there is nothing flammable nearby, such as dry leaves or grasses, since these would catch fire very quickly and spread the blaze very far due to how fast this happens. Adding logs around instead of straws can help contain small fires if one does occur though still keep everyone away from its vicinity just in case something goes wrong.
Don't Forget Your First Aid Kit
Don't leave to go camping without a first aid kit. It is better to be safe than sorry. Make sure you have things like bandaids, ointments and gauze in there for general scrapes or cuts that happen while hiking or exploring. You never know what can happen when you are out of civilization!
Conclusion
The best way to make sure you have a good trip when camping is to do your research beforehand. Make sure to pack all the necessary equipment and plan where you are going in advance so that there isn't any hassle with trying to find campsites or other essential factors of camping. You should also make sure to document the trip in some way if you are going with friends. This can be through pictures, videos, or even blog posts. With a few simple steps and precautions taken beforehand, your next camping experience will probably end up being a great one.
---
This post was submitted by Simone Devonshire