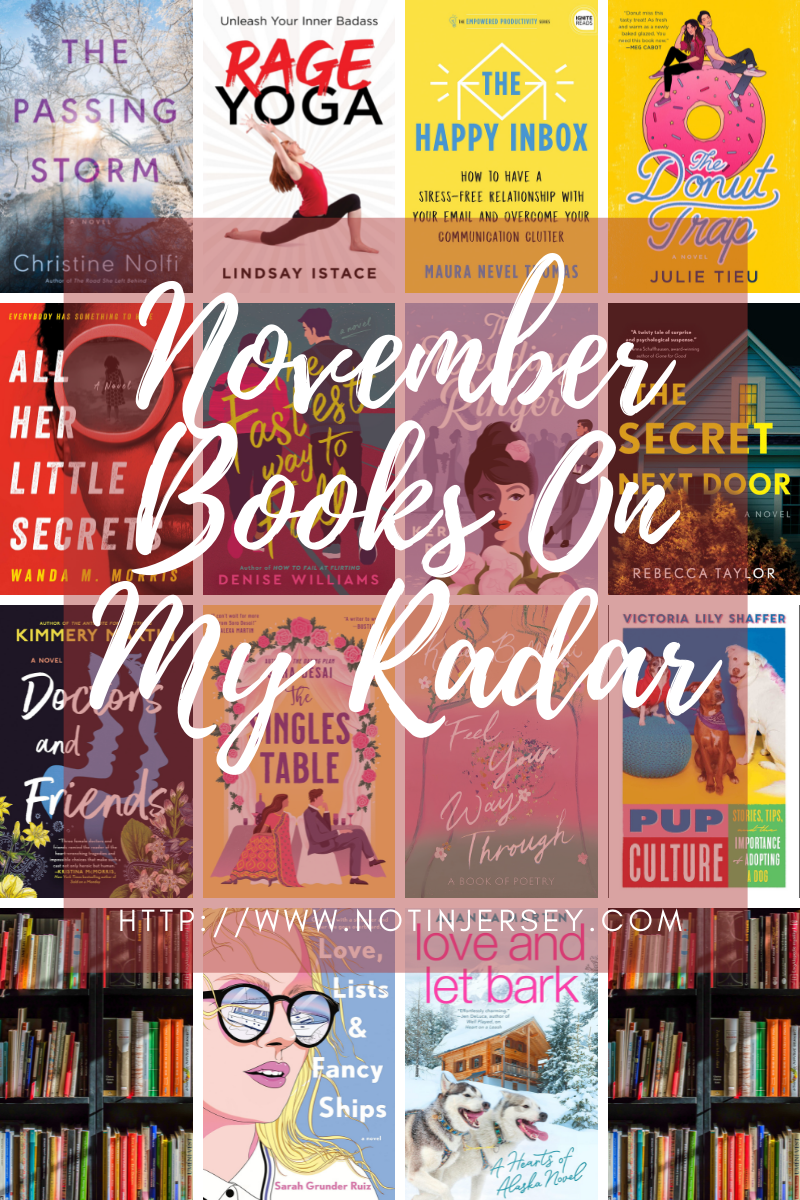 Today I'm sharing some of the November books on my radar. These are books that are releasing this November that I'm excited about, interested in reading, or just wanting to share with others. There are always so many books coming out that this definitely doesn't cover all of the books that one may be interested in reading. I have marked the dates the books release next to their titles! This post contains Amazon affiliate links. If you choose to make a purchase after clicking on my link, I may receive a small commission.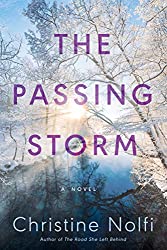 The Passing Storm by Christine Nolfi (11/1) – A gripping, openhearted novel about family, reconciliation, and bringing closure to the secrets of the past.
Early into the tempestuous decade of her thirties, Rae Langdon struggles to work through a grief she never anticipated. With her father, Connor, she tends to their Ohio farm, a forty-acre spread that itself has enjoyed better days. As memories sweep through her, some too precious to bear, Rae gives shelter from a brutal winter to a teenager named Quinn Galecki.
Quinn has been thrown out by his parents, a couple too troubled to help steer the misunderstood boy through his own losses. Now Quinn has found a temporary home with the Langdons―and an unexpected kinship, because Rae, Quinn, and Connor share a past and understand one another's pain. But its depths―and all its revelations and secrets―have yet to come to light. To finally move forward, Rae must confront them and also fight for Quinn, whose parents have other plans in mind for their son.
With forgiveness, love, and the spring thaw, there might be hope for a new season―a second chance Rae believed in her heart was gone forever.
---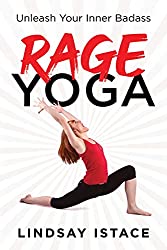 Rage Yoga by Lindsay Istace (11/1) –
An irreverent and hilarious guide to unleashing your inner badass, from the creator of Rage Yoga.
From the creator of the international viral sensation Rage Yoga comes a book that will empower readers to crush their bullsh*t, unleash their inner Badass Self, and be Zen as f*ck. Rage Yoga is taught by certified instructors and done while blasting hard rock music, hydrating with a cold beer, loudly cursing like a sailor, and extending your fist unicorns in a state of bleeped-out bliss. This book will explore how and why Rage Yoga came to be and how to create a regular practice through breath work, positional exercises, and mindfulness, along with two 7-day programs.
---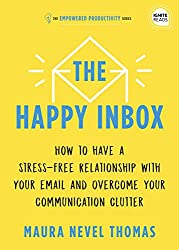 The Happy Inbox by Maura Nevel Thomas (11/1) – Get ready to learn how to conquer the distractions caused by information and communication overload, and how to get out from under "communication clutter," so you can live a life of choice―one of action, not reaction.
Feeling buried by communication clutter is that it's that state of feeling like you are always owing return communication to someone. It's the subtle sense of anxiety caused by your backlog of email, taunting you with the little red indicators on the communication apps on your phone―texts, voicemails, missed calls, social media notifications―plus the mountain of outstanding email piling up in your inbox even as you read this.
Want to live free of that feeling?! Get ready to dive in and live free of communication clutter! Positive results include:

Reduced anxiety caused by digital and paper clutter.
An ability to retrieve information you need quickly.
The opportunity to spend less time managing communication clutter and more time working toward your goals!
---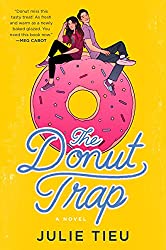 The Donut Trap by Julie Tieu (11/2) – Julie Tieu sparkles in this debut romantic comedy, which is charmingly reminiscent of the TV show Kim's Convenience and Frankly in Love by David Yoon, about a young woman who feels caught in the life her parents have made for her until she falls in love and finds a way out of the donut trap.Jasmine Tran has landed herself behind bars—maple bars that is. With no boyfriend or job prospects, Jasmine returns home to work at her parents' donut shop. Jasmine quickly loses herself in a cyclical routine of donuts, Netflix, and sleep. She wants to break free from her daily grind, but when a hike in rent threatens the survival of their shop, her parents rely on her more than ever.
Help comes in the form of an old college crush, Alex Lai. Not only is he successful and easy on the eyes, to her parents' delight, he's also Chinese. He's everything she should wish for, until a disastrous dinner reveals Alex isn't as perfect as she thinks. Worse, he doesn't think she's perfect either.
With both sets of parents against their relationship, a family legacy about to shut down, and the reappearance of an old high school flame, Jasmine must scheme to find a solution that satisfies her family's expectations and can get her out of the donut trap once and for all.
---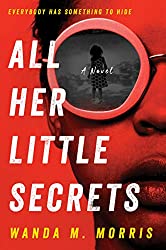 All Her Little Secrets by Wanda M. Morris (11/2) – Everyone has something to hide…
Ellice Littlejohn seemingly has it all: an Ivy League law degree, a well-paying job as a corporate attorney in midtown Atlanta, great friends, and a "for fun" relationship with a rich, charming executive, who just happens to be her white boss. But everything changes one cold January morning when Ellice arrives in the executive suite and finds him dead with a gunshot to his head.
And then she walks away like nothing has happened. Why? Ellice has been keeping a cache of dark secrets, including a small-town past and a kid brother who's spent time on the other side of the law. She can't be thrust into the spotlight—again.
But instead of grieving this tragedy, people are gossiping, the police are getting suspicious, and Ellice, the company's lone black attorney, is promoted to replace her boss. While the opportunity is a dream-come-true, Ellice just can't shake the feeling that something is off.
When she uncovers shady dealings inside the company, Ellice is trapped in an impossible ethical and moral dilemma. Suddenly, Ellice's past and present lives collide as she launches into a pulse-pounding race to protect the brother she tried to save years ago and stop a conspiracy far more sinister than she could have ever imagined…
---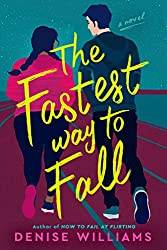 The Fastest Way To Fall by Denise Williams (11/2) – Britta didn't plan on falling for her personal trainer, and Wes didn't plan on Britta. Plans change and it's unclear if love, career, or both will meet them at the finish line.
Britta Colby works for a lifestyle website, and when tasked to write about her experience with a hot new body-positive fitness app that includes personal coaching, she knows it's a major opportunity to prove she should write for the site full-time.
As CEO of the FitMi Fitness app, Wes Lawson finally has the financial security he grew up without, but despite his success, his floundering love life and complicated family situation leaves him feeling isolated and unfulfilled. He decides to get back to what he loves—coaching. Britta's his first new client and they click immediately.
As weeks pass, she's surprised at how much she enjoys experimenting with her exercise routine. He's surprised at how much he looks forward to talking to her every day. They convince themselves their attraction is harmless, but when they start working out in person, Wes and Britta find it increasingly challenging to deny their chemistry and maintain a professional distance.
Wes isn't supposed to be training clients, much less meeting with them, and Britta's credibility will be sunk if the lifestyle site finds out she's practically dating the fitness coach she's reviewing. Walking away from each other is the smartest thing to do, but running side by side feels like the start of something big.
---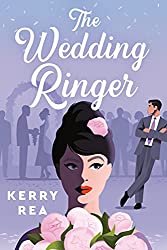 The Wedding Ringer by Kerry Rea (11/9) – A woman who wants nothing to do with love or friendship finds both in the unlikeliest ways in this hilarious and heartwarming debut by Kerry Rea.
Once upon a time, Willa Callister was a successful blogger with a good credit score, actual hobbies, and legs that she shaved more than once a month. But after finding her fiancé in bed with her best friend, she now spends her days performing at children's birthday parties in a ball gown that makes her look like a walking bottle of Pepto Bismol. Willa dreams of starting fresh, where no one knows who she used to be, but first she needs to save up enough money to make it happen.
Maisie Mitchell needs something too: another bridesmaid for her wedding. After a chance encounter at a coffee shop, Maisie offers to pay Willa to be in her bridal party. Willa wants nothing to do with weddings—or Maisie—but the money will give her the freedom to start the new life she so badly desires.
Willa's bridesmaid duties thrust her into Maisie's high-energy world and into the path of hotshot doctor Liam Rafferty. But as Willa and Maisie form a real friendship, and Liam's annoyingly irresistible smile makes her reconsider her mantra that all men are trash, Willa's exit strategy becomes way more complicated. And when a secret from Maisie's past threatens to derail the wedding, Willa must consider whether friendship—and romance—are worth sticking around for.
---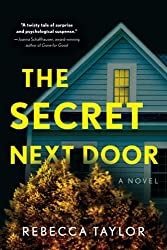 The Secret Next Door by Rebecca Taylor (11/9) – How well do you really know your neighbors?
Alyson Tinsdale is giving her son the childhood she never had: a stable family, a loving home, and a great school in a safe neighborhood.
Bonnie Sloan is the neighborhood matriarch. With her oldest son headed to Yale, and her youngest starting kindergarten, Bonnie is now pursuing her own long-held political aspirations despite private family struggles.
When the open space behind some of the most expensive homes gets slated for development into an amusement facility, the neighborhood becomes deeply divided. The personal pressures and community conflicts ratchet with every passing day, but it's when a thirteen-year-old is found dead beside the neighborhood lake that simmering tensions boil over into panic.
Gossip flows, lies are exposed, and accusations are made as cracks run through the community's once solid foundations. The neighborhood's faith in exterior appearances is eclipsed by the secrets every house keeps. And as Bonnie and Alyson fight to keep their children safe and their messy personal lives from becoming neighborhood knowledge, it becomes clear that their neighbors might not be who they appear to be.
---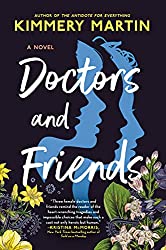 Doctors and Friends by Kimmery Martin (11/9) – "Three female doctors and friends remind the reader of the heart-wrenching tragedies and impossible choices that make such a cast not only heroic but human."—Kristina McMorris, New York Times bestselling author of Sold on a Monday
Hannah, Compton, and Kira have been close friends since medical school, reuniting once a year for a much-needed vacation. Just as they gather to travel in Spain, an outbreak of a fast-spreading virus throws the world into chaos.
When Compton Winfield returns to her job as an ER doctor in New York City, she finds a city changed beyond recognition—and a personal loss so gutting it reshapes every aspect of her life.
Hannah Geier's career as an ob-gyn in San Diego is fulfilling but she's always longed for a child of her own. After years of trying, Hannah discovers she's expecting a baby just as the disease engulfs her city.
Kira Marchand, an infectious disease doctor at the CDC in Atlanta, finds herself at the center of the American response to the terrifying new illness. Her professional battle turns personal when she must decide whether her children will receive an experimental but potentially life-saving treatment.
Written prior to Covid-19 by a former emergency medicine physician, Doctors and Friends incorporates unexpected wit, razor-edged poignancy, and a deeply relatable cast of characters who provoke both laughter and tears. Martin provides a unique insider's perspective into the world of medical professionals working to save lives during the most difficult situations of their careers.
---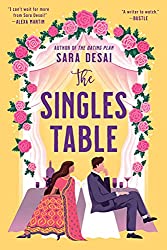 The Singles Table by Sara Desai (11/16) – Opposites attract in this laugh-out-loud romantic comedy about a free-spirited lawyer who is determined to find the perfect match for the grumpy bachelor at her cousin's wedding.
After a devastating break-up, celebrity-obsessed lawyer Zara Patel is determined never to open her heart again. She puts her energy into building her career and helping her friends find their happily-ever-afters. She's never faced a guest at the singles table she couldn't match, until she crosses paths with the sinfully sexy Jay Dayal.
Former military security specialist Jay has no time for love. His life is about working hard, staying focused, and winning at all costs. When charismatic Zara crashes into his life, he's thrown into close contact with exactly the kind of chaos he wants to avoid. Worse, they're stuck together for the entire wedding season.
So they make a deal. She'll find his special someone if he introduces her to his celebrity clients. But when their arrangement brings them together in ways they never expected, they realize that the perfect match might just be their own.
---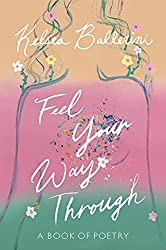 Feel Your Way Through by Kellsea Ballerini (11/16) – The personal and poignant debut poetry collection from the award-winning singer, songwriter, and producer revolves around the emotions, struggles, and experiences of finding your voice and confidence as a woman.
"I've realized that some feelings can't be turned into a song . . . so I've started writing poems. Just like my songs, they are personal and honest. Just like my songs, they have hooks and rhymes. Just like my songs, they talk about what it's like to be twenty-something trying to navigate a wildly beautiful and broken world."
Deeply emotional and candid, Feel Your Way Through explores the challenges and celebrates the experiences faced by Kelsea Ballerini as she navigates the twists and turns of growing into a woman today. In this book of original poetry, Ballerini addresses themes of family, relationships, body image, self-love, sexuality, and the lessons of youth. Her poems speak to the often harsh, and sometimes beautiful, onset of womanhood. Honest, humble, and ultimately hopeful, this collection reveals a new dimension of Ballerini's artistry and talent.
---
Pup Culture by Victoria Lily Shaffer (11/16) – Prepare yourself for every step of the dog adoption process and make your new best friend's life the happiest and healthiest it can be with these fostering and adoption tips and tales from dog-loving expert Victoria Schaffer.
Adopting a dog and making them the newest member of your family can sometimes feel like a daunting task. How do you know what dog is right for you? What do you need to know about the adoption process? And how do you make sure your new best friend has the best life possible while they're settling into their new home? Pup Culture is here to help.
Pup Culture is a well-deserved ode to man's best friend. Fostering-extraordinaire Victoria Lily Shaffer presents a wide-ranging collection of dog adoption and fostering tales, tips, handy checklists, heartwarming stories, and Q&A's from both celebs—like Dan Levy, Glenn Close, and David Letterman—as well as everyday dog lovers.
These inspiring stories and lessons dig deep into the beloved relationships between dogs and humans, from exploring the harrowing journey of finding your perfect "fur-ever" companion to spotlighting the selfless, dedicated community of rescuers that help save and change lives.
---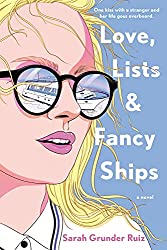 Love, Lists, and Fancy Ships by Sarah Grunder Ruiz (11/23) – Sometimes a yacht, a bold bucket list, and a kiss with a handsome stranger are all a person needs to dive into the deep end of life.
For the last year, yacht stewardess Jo Walker has been attempting to complete a bucket list of thirty things she wants to accomplish by her thirtieth birthday. Jo has almost everything she's ever wanted, including a condo on the beach (though she's the youngest resident by several decades) and an exciting job (albeit below deck) that lets her travel the world.
Jo is on track until the death of her nephew turns her life upside down, and the list falls by the wayside. But when her two nieces show up unannounced with plans to stay the summer, they discover her list and insist on helping Jo finish it. Though the remaining eight items (which include running a marathon, visiting ten countries, and sleeping in a castle) seem impossible to complete in twelve weeks, Jo takes on the challenge.
When she summons the courage to complete item number five–kiss a stranger–and meets Alex Hayes, all bets are off. As her feelings for Alex intensify and Jo's inability to confront difficult emotions about her family complicates her relationships, she must learn to quit playing it safe with her heart before she loses what matters most.
---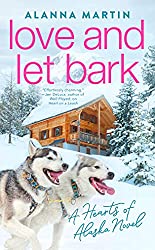 Love and Let Bark by Alanna Martin (11/30) – It's up to two rescue husky puppies to convince their owners it's never too late for a second leash on love.
When Nate Porter left Helen, Alaska, to become a firefighter with the Forest Service, he claimed it was because he craved adventure. The truth was, he couldn't stand to hang around, pining for a girl the town's century-old feud meant he could never have. But Nate got over Lydia Lipin years ago, or so he thought until he learns that an old rival has come sniffing around. The solution—a trip home with his rescue puppies to prove to himself he completely extinguished that old flame.
Lydia Lipin has always been satisfied being the "good" Lipin daughter—dutiful, practical, and always putting others before herself. But that role begins to chafe as Nate's return ignites old memories. No one in town knew about their secret friendship or those forbidden kisses they stole the summer after graduation. Suddenly, Nate and his puppies are everywhere, and sparks are flying.
When Nate realizes he never got over Lydia, he'll risk everything for a second chance. But Lydia's not a risk-taker, and she has to make a choice—play it safe and pretend their summer fling was just puppy love, or step out of the family shadow and unleash her heart.
---
Are any of these on your radar?