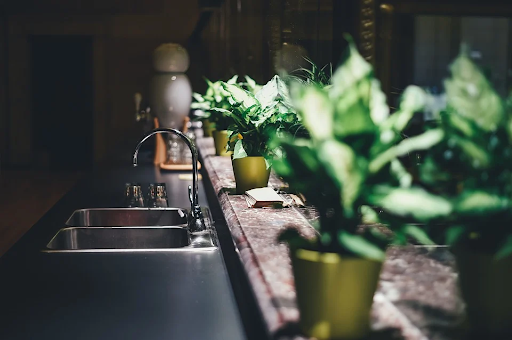 Image Source
It will come as no surprise to anyone with children that a household will have to deal with all kinds of seasonal illnesses, and ones that mostly get attributed to children. As you know, if your child becomes ill, everyone else in the household will often follow suit.
Illnesses aren't something anyone looks forward to. While you can take steps to reduce the chances of getting ill, such as eating healthy foods or ensuring kids wash their hands after using the bathroom, your home might play a leading part in everyone's health.
With that in mind, take a look at these steps to make your home more healthy. Some of the following tips might even surprise you:
Keep On Top of Your Household Cleaning
When you're a busy parent and have to juggle your home life with work, your household's cleaning regimen can sometimes take a back seat in your list of daily priorities. But, it's worth finding ways to keep your home clean as much as possible.
Firstly, you'll reduce the risk of any illnesses from outside thriving in your home and getting transferred to your family. Secondly, you won't need to spend much time with your household chores each day (i.e., tasks take minutes instead of hours to complete).
Get Your AC Serviced
Many homes have AC systems that provide cool air during the summer and warm air in the winter. If your abode has an AC system, make sure you get it serviced, and consider using a 24 hour AC service contractor if it stops working.
Air conditioning does an excellent job of filtering the air and diminishing things like dust particles and allergens that can cause or even exacerbate medical conditions like asthma and airborne allergies.
Open Your Windows Each Morning
The problem with stale air in any home is that it seldom has a chance to escape, especially in most properties that have excellent insulation. As a result, that stale air will linger, and your family ends up breathing in pollutants, carbon dioxide, and more.
Opening your windows each morning, especially in your bedrooms, allows that stale air to escape and get replaced with fresh air from outdoors. Another advantage of doing that is you reduce moisture build-up in your rooms which can cause mold.
Go Green in Your Rooms
Many people have houseplants in various rooms in their homes. They might look pretty, but did you know they can also boost people's health? For example, plants can absorb carbon dioxide in the air, making each room feel less stale by the morning.
There's even some medical research to suggest that houseplants can help people recover quicker from any illnesses. As you can imagine, that's a real boon to someone with a condition that other family members could potentially get.
Lastly, plants also boast wellness benefits, such as decreasing stress levels and providing other therapeutic values. You can buy plants that are child and pet-friendly, such as evergreens like Festuca.
---
This post was contributed by Simone Devonshire.