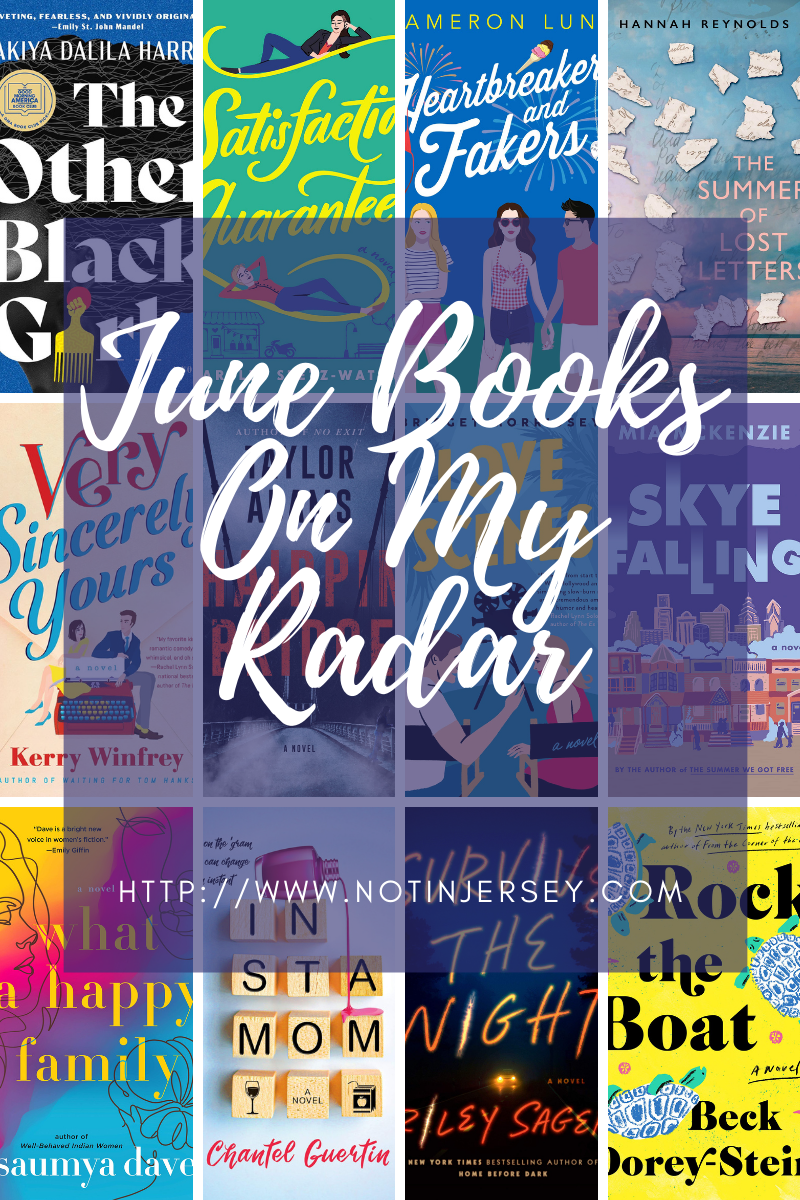 This month's On My Radar feature is all about books that are releasing this June that I'm excited about, interested in reading, or just wanting to share with others. This post is a little late so some of these are out already. There are so many books that are coming out each week that I can't keep up! So obviously this doesn't cover all of the books that one may be interested in reading. This post contains Amazon affiliate links. If you choose to make a purchase after clicking on my link, I may receive a small commission.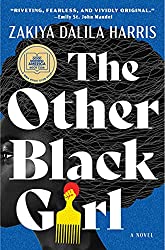 The Other Black Girl by Zakiya Dalila Harris (6/1) – Urgent, propulsive, and sharp as a knife, The Other Black Girl is an electric debut about the tension that unfurls when two young Black women meet against the starkly white backdrop of New York City book publishing.
Twenty-six-year-old editorial assistant Nella Rogers is tired of being the only Black employee at Wagner Books. Fed up with the isolation and microaggressions, she's thrilled when Harlem-born and bred Hazel starts working in the cubicle beside hers. They've only just started comparing natural hair care regimens, though, when a string of uncomfortable events elevates Hazel to Office Darling, and Nella is left in the dust.
Then the notes begin to appear on Nella's desk: LEAVE WAGNER. NOW.
It's hard to believe Hazel is behind these hostile messages. But as Nella starts to spiral and obsess over the sinister forces at play, she soon realizes that there's a lot more at stake than just her career.
---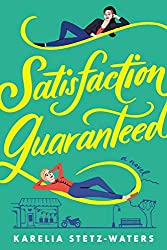 Satisfaction Guaranteed by Karelia Stetz-Waters (6/1) –For fans of Casey McQuiston and Abby Jimenez comes a bold, hilarious, and out-of-the-box novel about mixing business with battery-operated pleasure . . .
When it comes to her career, Cade Elgin has it all figured out. Only "professional talk" has become her default mode, relationships are nonexistent, and don't even mention the word "orgasm." All work and no play makes Cade a dull human. But when she inherits a sex toy store, Cade is caught between business and a store filled with every imaginable kind of pleasure—including her infuriatingly irresponsible and deliciously sexy new co-owner.
Selena Mathis learned the hard way that she can have too much of a good thing. Which is precisely why she's taken an oath of celibacy and is focusing on how to make Satisfaction Guaranteed a success. She won't mess this up. Not this time. But once again, Selena's emotions are getting in the way and tempting her with a serious attraction to buttoned-up Cade.
But the shop isn't exactly vibe-ing, and Cade and Selena are on the verge of losing both their income and the possibility of love. Can they find a way to work together . . . before Satisfaction Guaranteed runs out of batteries?
---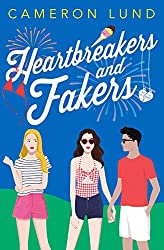 Heartbreakers and Fakers by Cameron Lund (6/8) – From the author of The Best Laid Plans comes another fresh voiced, hilarious rom-com perfect for fans of You Have a Match and The Rest of the Story.
Penny Harris just ruined her life.
As one of the most popular girls in school, she's used to being invited to every party, is dating the Jordan Parker, and can't wait to rule senior year with her best friend, Olivia. But when Penny wakes up on Jordan's lawn the morning after his first-day-of-summer bash, she knows something went terribly wrong the night before.
She kissed Kai Tanaka.
Kai, her long-time nemesis. Kai, Olivia's boyfriend. Penny can't figure out what could have inspired her to do it–she loves Jordan and she would never hurt Olivia–but one thing's for sure: freshly dumped, and out a best friend, the idyllic summer she pictured is over.
Despite the fact that Jordan seems to be seeking comfort (and a whole lot more) in Olivia, all Penny can think about is winning him back. Kai wants to save his relationship too, so they come up with a plan: convince their friends that they really do have feelings for each other. After all, everyone forgives a good love story, and maybe seeing Penny and Kai together will make Jordan and Olivia change their minds.
But as summer heats up, so does Penny and Kai's "relationship," and Penny starts to question whether she's truly faking it with Kai, if he's really as terrible as she always thought he was, and if the life she's fighting so hard to get back is the one she really wants.
---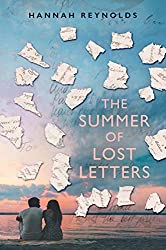 The Summer of Lost Letters by Hannah Reynolds (6/15) – Perfect for fans of Morgan Matson and Ruta Sepetys, this sweet, summery romance set in Nantucket follows seventeen-year-old Abby Schoenberg as she uncovers a secret about her grandmother's life during WWII.
Seventeen-year-old Abby Schoenberg isn't exactly looking forward to the summer before her senior year. She's just broken up with her first boyfriend and her friends are all off in different, exciting directions for the next three months. Abby needs a plan–an adventure of her own. Enter: the letters.
They show up one rainy day along with the rest of Abby's recently deceased grandmother's possessions. And these aren't any old letters; they're love letters. Love letters from a mystery man named Edward. Love letters from a mansion on Nantucket. Abby doesn't know much about her grandmother's past. She knows she was born in Germany and moved to the US when she was five, fleeing the Holocaust. But the details are either hazy or nonexistent; and these letters depict a life that is a bit different than the quiet one Abby knows about.
And so, Abby heads to Nantucket for the summer to learn more about her grandmother and the secrets she kept. But when she meets Edward's handsome grandson, who wants to stop her from investigating, things get complicated. As Abby and Noah grow closer, the mysteries in their families deepen, and they discover that they both have to accept the burdens of their pasts if they want the kinds of futures they've always imagined.
---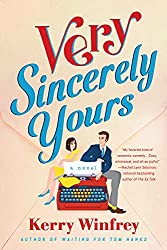 Very Sincerely Yours by Kerry Winfrey (6/15) –A charming and heartwarming new romantic comedy by the acclaimed author of Waiting for Tom Hanks, Kerry Winfrey.
Teddy Phillips never thought she would still be spending every day surrounded by toys at almost thirty years old. But working at a vintage toy store is pretty much all she has going on in her life after being unceremoniously dumped by her longtime boyfriend. The one joy that she has kept is her not-so-guilty pleasure: Everett's Place, a local children's show hosted by Everett St. James, a man whom Teddy finds very soothing . . . and, okay, cute.
Teddy finds the courage to write to him, feeling slightly like one of the children who write to him on his show. He always gives sound advice and seems like he has everything figured out—and he pretty much does: Everett has a great support system, wonderful friends, and his dream job. But there is still that persistent feeling in the back of his mind that something is missing.
When a woman named Theodora starts writing to Everett, he is drawn to her honesty and vulnerability. They continue writing to each other, all the while living their lives without meeting. When their worlds collide, however, they must both let go of their fears and figure out what they truly want—and if the future they want includes each other.
---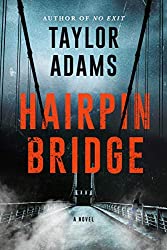 Hairpin Bridge by Taylor Adams (6/15) –
From the author of the "full-throttle thriller" (A. J. Finn) No Exit—a riveting new psychological page-turner featuring a fierce and unforgettable heroine.
Three months ago, Lena Nguyen's estranged twin sister, Cambry, drove to a remote bridge seventy miles outside of Missoula, Montana, and jumped two hundred feet to her death. At least, that is the official police version.
But Lena isn't buying it.
Now she's come to that very bridge, driving her dead twin's car and armed with a cassette recorder, determined to find out what really happened by interviewing the highway patrolman who allegedly discovered her sister's body.
Corporal Raymond Raycevic has agreed to meet Lena at the scene. He is sympathetic, forthright, and professional. But his story still seems a bit off. For one thing, he stopped Cambry for speeding just an hour before she supposedly leaped to her death. Then there are the sixteen attempted 911 calls from her cell phone, made in what was unfortunately a dead zone.
But perhaps most troubling of all, the state trooper is referred to by name in Cambry's final enigmatic text to her sister: Please Forgive Me. Lena will do anything to uncover the truth. But as her twin's final hours come into focus, Lena's search turns into a harrowing tooth-and-nail fight for her own survival—one that will test everything she thought she knew about her sister and herself…
---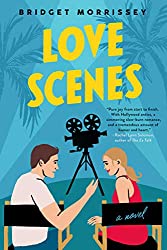 Love Scenes by Bridget Morrissey (6/22) – Acting like she's in love with her handsome nightmare of a co-star—in a movie directed and produced by her complicated Hollywood royalty family—is Sloane's job. But what happens when the lines between script and reality get blurred?
Out-of-work actress Sloane Ford is in desperate need of something to do after losing her steady TV gig. When her famous family ropes her into working as a producer on their World War II-era romance, they neglect to mention that the film will be headlined by Joseph Donovan, her least favorite former co-star of all time. The roguish actor made her life a living hell the last time they worked together, using his movie star good looks and Irish charm to cover for his erratic professional behavior. On their new film set, he promises he's different now, but Sloane is far from convinced.
As filming gets underway, it becomes clear that anything that can go wrong will go wrong. When the lead actress is abruptly fired, Sloane agrees to step in and take over the role, and she starts to remember why she fell in love with acting in the first place. On camera, she and Joseph share an electric chemistry. Off camera, they've been honing their characters and, much to Sloane's surprise, growing closer. But playing the role of a woman in love with Joseph Donovan is a dangerous business, and the more time they spend together, the less Sloane can tell what's real between them, and what's just for show.
---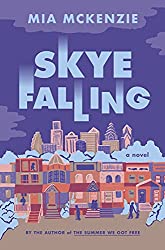 Skye Falling by Mia Mckenzie (6/22) – A woman who's used to going solo discovers that there's one relationship she can't run away from in this buoyant novel, a probing examination of the complexities of family, queerness, race, and community.
When she was twenty-six and broke, Skye didn't think twice before selling her eggs and happily pocketing the cash. Now approaching forty, Skye still moves through life entirely—and unrepentantly—on her own terms, living out of a suitcase and avoiding all manner of serious relationships. Maybe her junior high classmates weren't wrong when they voted her "Most Likely to Be Single" instead of "Most Ride-or-Die Homie," but at least she's always been free to do as she pleases.
Then a twelve-year-old girl tracks Skye down during one of her brief visits to her hometown of Philadelphia and informs Skye that she's "her egg." Skye's life is thrown into sharp relief and she decides that it might be time to actually try to have a meaningful relationship with another human being. Spoiler alert: It's not easy.
Things get even more complicated when Skye realizes that the woman she tried and failed to pick up the other day is the girl's aunt, and now it's awkward. All the while, her brother is trying to get in touch, her mother is being bewilderingly kind, and the West Philly pool halls and hoagie shops of her youth have been replaced by hipster cafés.
With its endearingly prickly narrator and a cast of characters willing to both challenge her and catch her when she falls, this novel is a clever, moving portrait of a woman and the relationships she thought she could live without.
---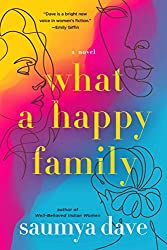 What A Happy Family by Saumya Dave (6/22) – Nestled in the suburbs of Atlanta, a family learns the funniest punchlines can hide the hardest truths in this evocative women's fiction novel from the author of Well-Behaved Indian Women
From the outside, the Joshi family is the quintessential Indian-American family. Decades ago, Bina and Deepak immigrated to America, where she became a pillar of their local Indian community and he, a successful psychiatrist. Their eldest daughter, Suhani, is following the footsteps of her father's career and happily married. Natasha, their middle daughter, is about to become engaged to the son of longtime family friends. And Anuj, their son—well he's a son and what could be better than that?
But a family scandal shows that nothing is as it seems. Bina's oldest friendship starts to unravel and she finds herself as an outsider in the community she helped build. Suhani discovers that her perfect marriage isn't as solid as she thought. Natasha faces a series of rejections that send her into a downward spiral.
As they encounter public humiliation, gossiping aunties, and self-doubt, the Joshi family must rely on each other like never before. But sometimes, family has to fall apart in order to come back stronger than before.
---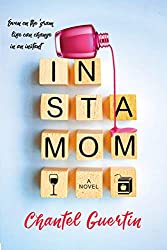 Instamom by Chantel Guertin (6/29) – From bestselling author, beauty expert and TV personality Chantel Guertin, an intelligent yet swoon-worthy rom-com about modern relationships, modern choices, and redefining–not to mention rebranding–your dreams. When a proudly #childfree forever influencer seriously falls for a smart and sexy single dad, will his parental status be the ultimate #dealbreaker? Or will her world–and her brand on the 'gram–be turned upside down?
In this #funny, #wise, #emotionally compelling look at modern love and finding your true path, a proudly kid-free influencer meets the ultimate #dealbreaker . . .
It's the influencer's golden rule: know your niche. Kit Kidding has found hers on Instagram, where she gets paid to promote brands and share expertly curated posts about her fun, fabulous, child-free life. Kit likes kids just fine, but she passionately believes that women who choose not to become mothers shouldn't have to face guilt. Or judgement. Or really hot chefs who turn out to be single dads.
Will MacGregor is aggravating, sexy, persistent, averse to social media, and definitely a bad idea. As soon as Kit learns his parenting status, she vows to put their scorching one-night stand behind her and move on. But Will and Kit are thrown together on an Instagram campaign, and the more time she spends with him—and his whip-smart, eight-year-old daughter, Addie—the more difficult it is to stay away, much less sustain what Will so cleverly calls her "Resting Beach Face." Kit's picture-perfect career path is suddenly clashing with the possibility of a different future—messy, complicated, and real. Which life does she truly want? Will she have to re-invent herself? And will love still be waiting by the time she figures it out?
---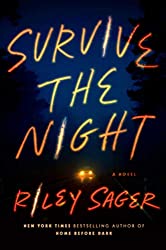 Survive The Night by Riley Sager (6/29) – It's November 1991. Nirvana's in the tape deck, George H. W. Bush is in the White House, and movie-obsessed college student Charlie Jordan is in a car with a man who might be a serial killer.
Josh Baxter, the man behind the wheel, is a virtual stranger to Charlie. They met at the campus ride board, each looking to share the long drive home to Ohio. Both have good reasons for wanting to get away. For Charlie, it's guilt and grief over the shocking murder of her best friend, who became the third victim of the man known as the Campus Killer. For Josh, it's to help care for his sick father—or so he says.
The longer she sits in the passenger seat, the more Charlie notices there's something suspicious about Josh, from the holes in his story about his father to how he doesn't want her to see inside the trunk. As they travel an empty, twisty highway in the dead of night, an increasingly anxious Charlie begins to think she's sharing a car with the Campus Killer. Is Josh truly dangerous? Or is Charlie's jittery mistrust merely a figment of her movie-fueled imagination?
One thing is certain—Charlie has nowhere to run and no way to call for help. Trapped in a terrifying game of cat and mouse played out on pitch-black roads and in neon-lit parking lots, Charlie knows the only way to win is to survive the night.
---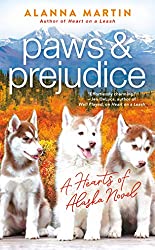 Paws and Prejudice by Alanna Martin (6/29) – It's up to a trio of adorable rescue huskies to make two lonely hearts in a coastal Alaskan town realize that true love is worth too much to turn tail and run.
Glaciers have nothing on Kelsey Porter when she decides to freeze someone out. After getting burned once, she's not about to let it happen again. And right now all that icy contempt is focused on one annoyingly attractive and entitled interloper: Ian Roth. Not only is he looking to take advantage of her quaint, coastal community, tainting the small-town charm of Helen, Alaska, but he has committed the one crime she can never forgive–he doesn't like her dogs.
Unlike what Kelsey believes, Ian loves Helen's charms as much as she does. That's partly why he's determined to open a brewery there, and he's not about to let anything or anyone stop his dream from coming true. But he didn't count on the beautiful, prickly woman getting under his skin. Or having to be within hand-biting proximity of her three huge huskies.
When Kelsey's family conscripts her into helping Ian get his brewery off the ground, she finds herself caught between a rock and a hard . . . muscular . . . man who has a fear of dogs. But the longer they work together, the more she can feel herself begin to thaw. Now she'll have to choose: let sleeping dogs lie to protect her heart, or mush head-on toward love.
---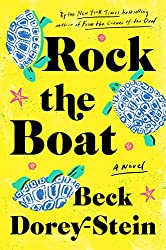 Rock The Boat by Beck Dorey-Stein (6/29) – Old friends discover how much has changed (and how much has stayed the same) when they reunite in their seaside hometown for one unforgettable summer—from the New York Times bestselling author of From the Corner of the Oval
When Kate Campbell's life in Manhattan suddenly implodes, she is forced to return to Sea Point, the small town full of quirky locals, quaint bungalows, and beautiful beaches where she grew up. She knows she won't be home for long; she's got every intention (and a three-point plan) to win back everything she thinks she's lost.
Meanwhile, Miles Hoffman—aka "The Prince of Sea Point"—has also returned home to prove to his mother that he's capable of taking over the family business, and he's promised to help his childhood best friend, Ziggy Miller, with his own financial struggles at the same time. Kate, Miles, and Ziggy converge in Sea Point as the town faces an identity crisis when a local developer tries to cash in on its potential. The summer swells, and white lies and long-buried secrets prove as corrosive as the salt air, threatening to forever erode not only the bonds between the three friends but also the landscape of the beachside community they call home.
Full of heart and humor—and laced with biting wit—Rock the Boat proves that even when you know all the back roads, there aren't any shortcuts to growing up.
---
Are any of these on your radar?