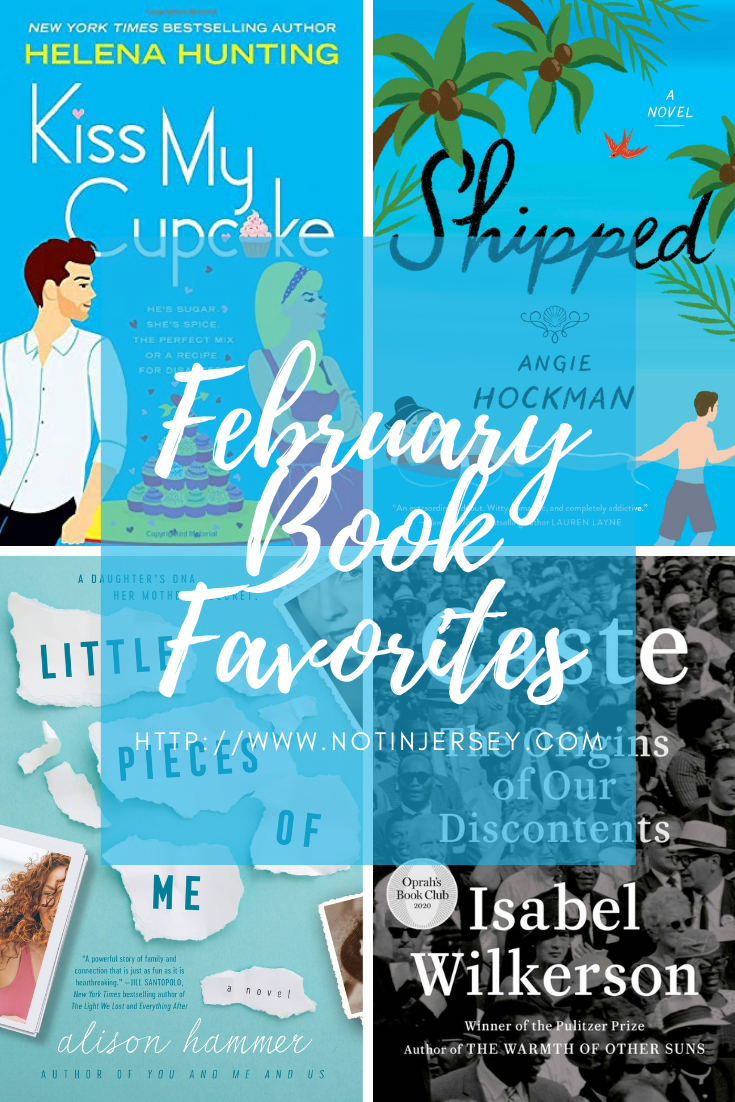 I almost didn't post a favorite books post for February because I already reviewed two of my favorites this month and I didn't have any other favorites to share, but the last two books I read this month belong in this post, so here they are. The Amazon links to the books I've read are affiliate links and if you use them and make a purchase, I may receive a small commission.
Favorite Romances:
My first two favorites are books I already shared – Kiss My Cupcake by Helena Hunting (review in this post) and Shipped by Angie Hockman (review in this post).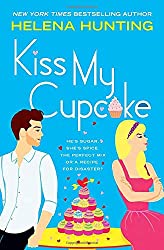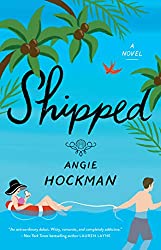 ---
Favorite Contemporary Fiction:
For the second month in a row, one of my favorite reads this month doesn't come out until April! So make sure you put this on your radar for when it is available.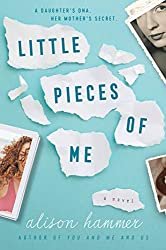 Title: Little Pieces of Me
Author: Alison Hammer
Genre: Contemporary Fiction
Publisher: William Morrow, 4/13/21
Source: Publisher
Why I Read It: Loved her previous book, Jewish rep
My Rating: 5 Stars
This book appeared on my list of books on my radar by Jewish authors with Jewish representation. I was very excited to read this book because I loved Alison Hammer's previous release, You Me and Us, which came out last year. This book was one of the best I've read in awhile and had me turning the pages to find out what would happen. The characters were all so relatable!
"When Paige Meyer gets an email from a DNA testing website announcing that her father is a man she never met, she is convinced there must be a mistake. But as she digs deeper into her mother's past and her own feelings of being the odd child out growing up, Paige begins to question everything she thought she knew. Could this be why Paige never felt like she fit in her family, and why her mother always seemed to keep her at an arm's length? And what does it mean for Paige's memories of her father, a man she idolized and whose death she is still grieving? Back in 1975, Betsy Kaplan, Paige's mom, is a straightlaced sophomore at the University of Kansas. When her sweet but boring boyfriend disappoints her, Betsy decides she wants more out of life, and is tired of playing it safe. Enter Andy Abrams, the golden boy on campus with a potentially devastating secret. After their night together has unexpected consequences, Betsy is determined to bury the truth and rebuild a stable life for her unborn child, whatever the cost. When Paige can't get answers from her mother, she goes looking for the only other person who was there that night. The more she learns about what happened, the more she sees her unflappable, distant mother as a real person faced with an impossible choice. But will it be enough to mend their broken relationship?"
This book asks the question of who we are – our name? Our DNA? Our parents or how we were raised? Paige finds out that the father she idolized wasn't her biological father and goes on a quest to find out who she really is. What she finds out is that there are little pieces of her in her childhood, her biology, and her relationships that define the person she is today. I highly recommend this book!
---
Favorite Non-Fiction: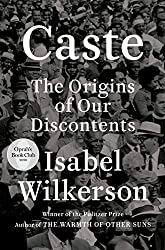 Title: Caste
Author: Isabel Wilkerson
Genre: Non-Fiction
Publisher: Random House, 8/4/20
Source: Publisher via Net Galley
Why I Read It: Antiracism, Buddy Read on Instagram
My Rating: 5 Stars
In this book, Isabel Wilkerson describes the caste system in the United States, from its origins up until now, as it differs from both race and class. She compares it with the caste system in India, as well as in Nazi Germany. This book was eye opening in many ways.
"In this brilliant book, Isabel Wilkerson gives us a masterful portrait of an unseen phenomenon in America as she explores, through an immersive, deeply researched narrative and stories about real people, how America today and throughout its history has been shaped by a hidden caste system, a rigid hierarchy of human rankings. Beyond race, class, or other factors, there is a powerful caste system that influences people's lives and behavior and the nation's fate. Linking the caste systems of America, India, and Nazi Germany, Wilkerson explores eight pillars that underlie caste systems across civilizations, including divine will, bloodlines, stigma, and more. Using riveting stories about people—including Martin Luther King, Jr., baseball's Satchel Paige, a single father and his toddler son, Wilkerson herself, and many others—she shows the ways that the insidious undertow of caste is experienced every day. She documents how the Nazis studied the racial systems in America to plan their out-cast of the Jews; she discusses why the cruel logic of caste requires that there be a bottom rung for those in the middle to measure themselves against; she writes about the surprising health costs of caste, in depression and life expectancy, and the effects of this hierarchy on our culture and politics. Finally, she points forward to ways America can move beyond the artificial and destructive separations of human divisions, toward hope in our common humanity."
I found the individual stories included in the book to be helpful in understanding the effects of caste. I appreciated that Jewish people were included and not overlooked as well. One thing I did not know was that the Nazis actually looked at America's racial system when making their plans to rid the country of the Jewish people. However, in Germany now, Nazis are not uplifted, as generals of the confederacy are here. We need to stop celebrating the very people who started the racist history of the United States. I think this book should be required reading, though it may be tough for some people to understand.
---
Do you have a favorite book you read in February?