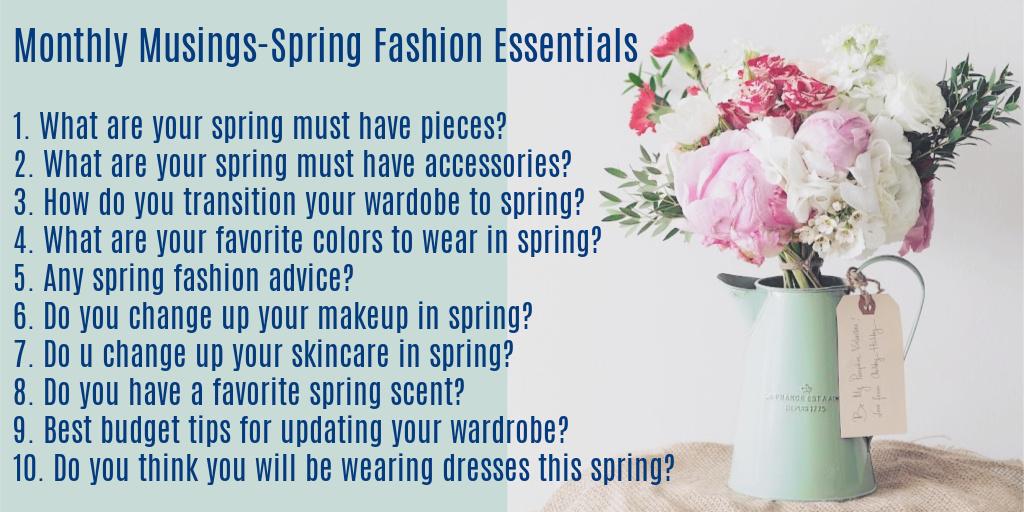 This month I'm able to participate in Monthly Musings with Holly and Patti because the questions are on a topic that applies to me, well about as well as it can apply to someone who doesn't really know a lot about fashion!
1. What are your spring must have pieces?
Cardigans to go over t-shirts, or long sleeved but light weight shirts.
2. What are your spring must have accessories?
I'd love to say light weight scarves, but I never wear the ones I have! I guess I'll go with my denim jacket.
3. How do you transition your wardrobe to spring?
I stop wearing sweaters? Haha, I don't have an official way to transition or a different wardrobe really. I still wear the same jeans, but lighter weight tops.
4. What are your favorite colors to wear in spring?
Pink, and anything floral!
5. Any spring fashion advice?
Wear what makes you feel comfortable or good about yourself.
6. Do you change up your makeup in the spring?
Nope. I'm pretty lax at wearing makeup in general.
7. Do you change up your skin care in the spring?
I can't say that I do! But I should…
8. Do you have a favorite spring scent?
I love the smell of flowers!
9. Best budget tips for updating your wardrobe?
Probably to be aware of what you already have before you buy more. Meanwhile, I'm itching to buy some new things!
10. Do you think you will be wearing dresses this spring?
I really only wear dresses when I go to synagogue, which I have not been doing lately. I did tell my family that I'll start going again when it's warmer out, so yes, I suppose I will wear some dresses!
Obviously I need some fashion advice – what are your best tips?