Today I am excited to be featuring the book Battle of the Bodkins by Lincoln Peirce on the Blog Tour hosted by Rockstar Book Tours! I am sharing Simon's thoughts about the book, as well as a giveaway, so be sure to read on. This post contains affiliate links, so if you use them and make a purchase, I may receive a small commission.
About The Book: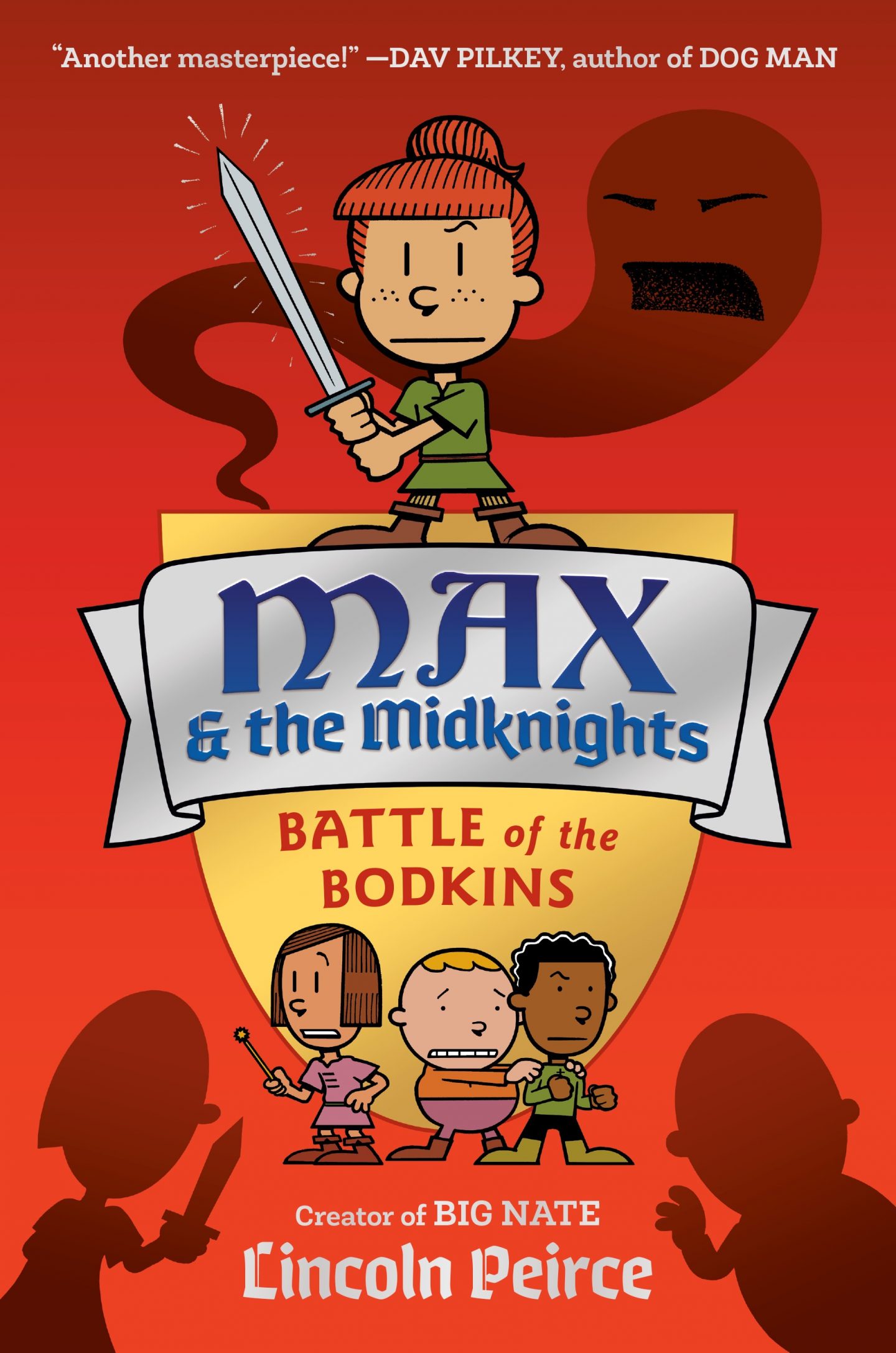 Title: Battle of the Bodkins (Max and the Midknights #2)
Author: Lincoln Peirce
Genre: Middle Grade Graphic Novel
Publisher: Crown Books for Young Readers, 12/1/20
Source: Rockstar Book Tours
Find it: Goodreads, Amazon, Kindle, Audible, B&N, iBooks, Kobo, TBD, Bookshop.org
Book Description:
A NEW YORK TIMES BESTSELLER! Max takes on knight school in the hilarious sequel to the bestselling illustrated novel Max and the Midknights, from the author of the Big Nate series!
"Fantastic! I loved it!" -Dav Pikley, New York Times bestselling author of the Dog Man series
"Max is epic fun!" -Jeff Kinney, New York Times bestselling author of the Diary of a Wimpy Kid series
Max didn't expect knight school to be so tough. Luckily, she has her best friends–the Midknights–at her side. But when Byjovia is under attack, the Midknights will have to face beastly creatures, powerful spells, and their greatest foe yet–themselves? Lincoln Peirce, author of the New York Times bestselling Max & the Midknights, brings more laughs, more adventures, and more silliness to Battle of the Bodkins, book two in the Max & the Midknights series.
Grab the other book in the series!
Max and the Midknights
About The Author: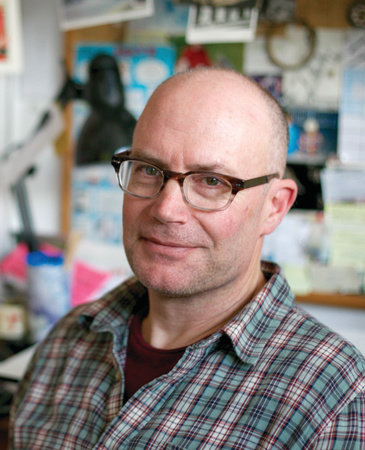 Max and the Midknights, Lincoln's first book for Crown Books for Young Readers, originated as an unfinished spoof of sword & sorcery tales. Returning to the idea years later, Lincoln rewrote the story around Max, a ten-year-old apprentice troubadour who dreams of becoming a knight. The result is a high-spirited medieval adventure, supported by hundreds of dynamic illustrations employing the language of comics. Of the lively visual format that has become his trademark, Lincoln says, "I try to write the sort of books I would have loved reading when I was a kid." When he is not writing or drawing, Lincoln enjoys playing ice hockey, doing crossword puzzles, and hosting a weekly radio show devoted to vintage country music. He and his wife, Jessica, have two children and live in Portland, Maine.
Simon's Review:
Simon was really excited to find out about these books, as he was a fan of the Big Nate books by the same author. He was also impressed to see that two of his other favorites – Dav Pilkey and Jeff Kinney – endorsed the books. We received both books in the series, so of course Simon started with book one, which he has been enjoying. He was very excited to discover that the main character Max is a girl! As a mom, I am impressed that in between the panels of graphic comics, there are paragraphs of text as well, so it is a mix of a graphic novel and a regular middle grade book. These books should keep Simon occupied for awhile!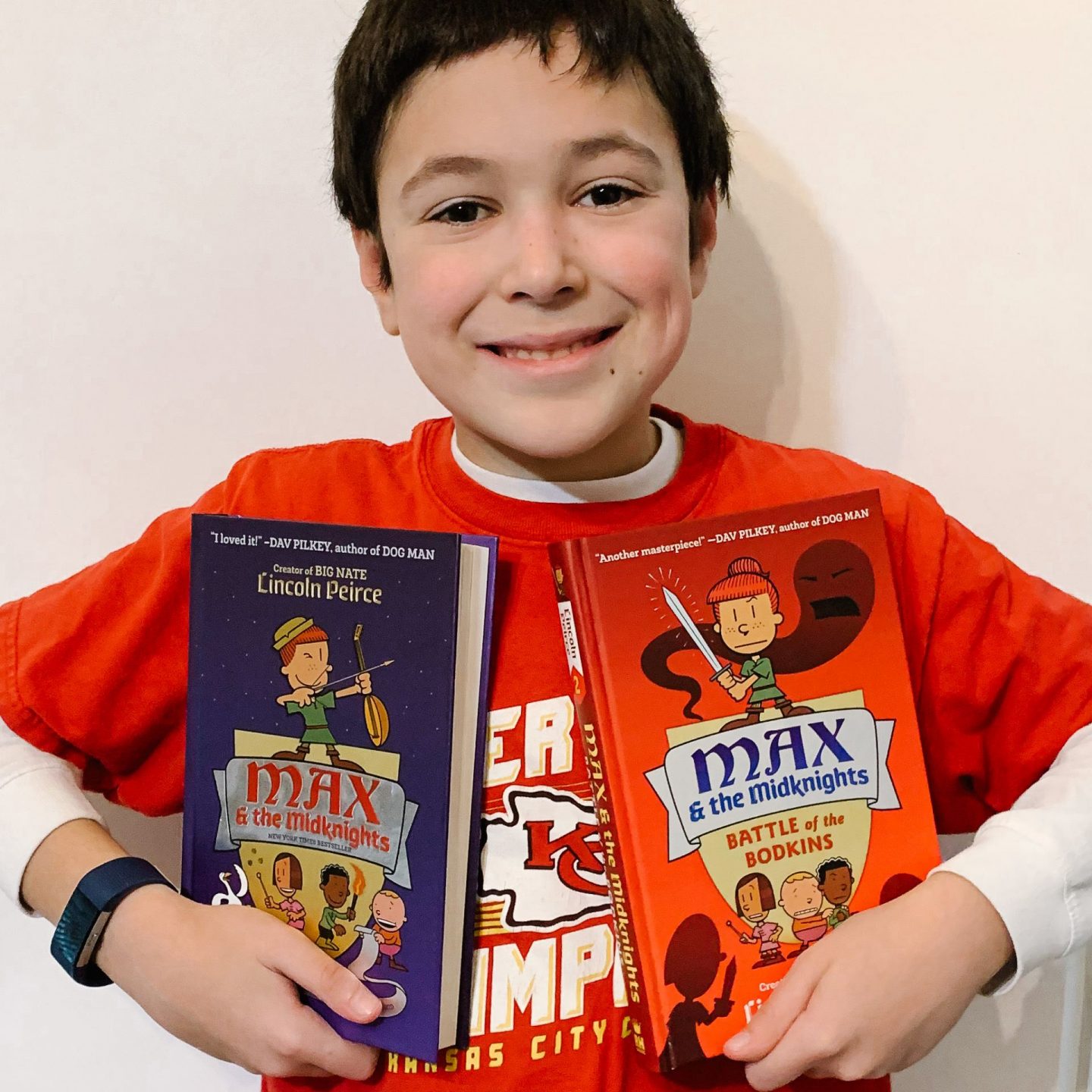 Battle of the Bodkins Giveaway:
3 lucky winners will win a finished copy of Battle of the Bodkins, US Only.
Tour Schedule:
Week One:
Week Two: