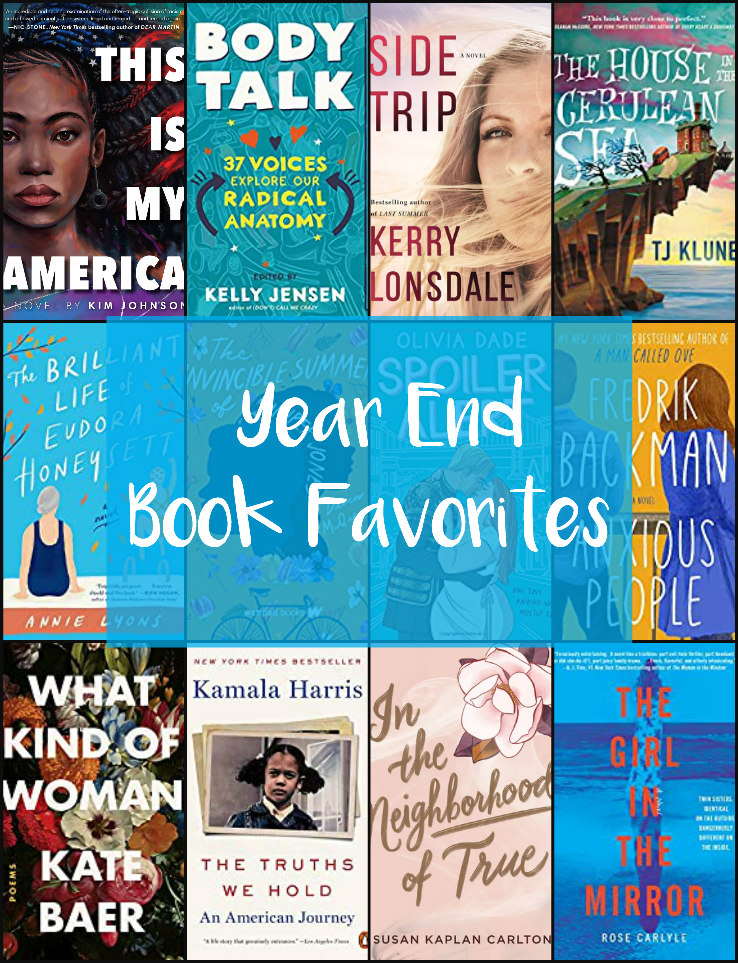 Back in July, I wrote a post about my mid year book favorites. Today I'll be posting favorites from the second half of the year, as well as some overall book stats. December isn't over yet, so these numbers aren't going to be exactly right, with a few more days to finish a few more books.
Here are some stats on my reading this year:
From January to June, I'd read 116 books. From July until now, I've read 141.
My largest reading month was September, with 27 books.
By far, the type of book I read the most is Contemporary Fiction. That is followed by Thrillers and Romance (rom coms).
70% of my books read this year were print books. 12% were ebooks and 18% were audio.
My average days per book is 5.
I've read 89% fiction and 11% non-fiction.
71% were adult books and 28% YA and Middle Grade.
While at mid year my books by BIPOC authors was at 18%, at year end it's up to 25%. Counting BIPOC as well as queer writers, I read books by Own Voices authors 30% of the time.
These are the books that I labeled my top books each month:
January: Monday's Not Coming by Tiffany D Jackson
February – The Friend Zone by Abby Jimenez
March – Most Likely by Sarah Watson
April – Dear Edward by Ann Napolitano
May – This Is How It Always Is by Laurie Frankel
June – Yes No Maybe So by Becky Albertalli and Aisha Saeed
July – This Is My America by Kim Johnson
August – Body Talk by Kelly Jensen (ed)
September – The House In The Cerulean Sea by TJ Klune
October – Anxious People by Fredrik Backman
November – The Truths We Hold by Kamala Harris
December – undecided as of yet!
Here are my favorites in a variety of categories from the second half of the year:
Favorite Rom-Coms: Side Trip, Spoiler Alert, The Ex Talk
Favorite Contemporary: Dear Emmie Blue, The Friendship List, The Brilliant Life of Eudora Honeysett, Anxious People, One To Watch, Head Over Heels, Happiness For Beginners, Rodham
Favorite YA: This Is My America, In The Neighborhood of True, They Wish They Were Us, Clap When You Land, The Black Flamingo, How To Live on the Edge, My Eyes Are Up Here, Felix Ever After, The Invincible Summer of Juniper Jones, The Poet X, The House In The Cerulean Sea, Grown, Foolish Hearts, Girls Like Us, What If It's Us, More Than Just A Pretty Face
Favorite Thriller: The Girl In The Mirror, They Never Learn
Favorite Non-Fiction: Body Talk, What Kind of Woman (poetry)
Favorite Middle Grade: Dress Coded, The Places We Sleep
Favorite Memoir: The Truths We Hold
Goals For The Coming Year
I am thinking about my reading and blog goals for this coming year. My main interest has turned to reading and reviewing books once per month has become a lot, so I am considering reducing the amount of books reviewed in one post by reviewing twice per month, as well as writing individual posts about certain books that I have more to say about. I'm not sure how that will work or whether people will be interested, but this blog used to be about my family and our life and this year our life has become a lot less interesting. If we do end up doing more activities and traveling, I will still blog about those things too. I would also like to post book round ups and books that are coming soon and are on my radar, so look for these types of posts coming soon.
I would like to read 3-4 Net Galley ARCs per week and keep up with my print ARCs as well. I want to read from my shelves and resist obtaining books that I don't intend to read. I will try not to fall for hype surrounding books and learn what I actually like reading, as not everyone has the same tastes. I would like to continue reading diversely and books regarding anti-racism.
I will be back with my books read in December post next week! What were some of your favorite books this year?