Today I am featuring the book Confessions in B-Flat by Donna Hill on the Blog Tour hosted by TLC Book Tours. I am sharing my review of the book, so be sure to read on. This post contains affiliate links, so if you use them and make a purchase, I may receive a small commission.
About The Book: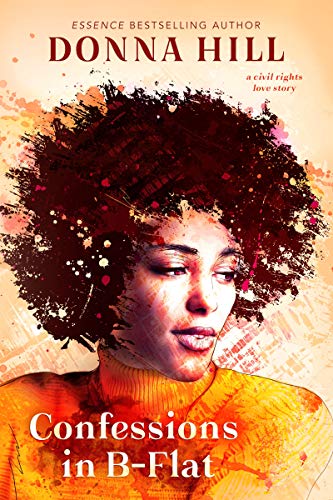 Title: Confessions in B-Flat
Author: Donna Hill
Genre: Historical Fiction
Publisher: Sideways Books (November 24, 2020)
Source: TLC Book Tours
The year is 1963. In Harlem, the epicenter of Black culture, the fight for equality has never been stronger. The time is now. Enough is enough. Yet even within its ranks, a different kind of battle rages. Love thy neighbor? Or rise up against your oppressors?
Jason Tanner has just arrived in New York to help spread the message of his mentor, Dr. Martin Luther King, Jr., of passive resistance, while beat poet Anita Hopkins believes the teachings of Malcolm X with all her heart: that the way to true freedom is "by any means necessary." When Jason sees Anita perform her poetry at the iconic B-Flat lounge, he's transfixed. And Anita has never met anyone who can match her wit for wit like this…
One movement, two warring ideologies―can love be enough to unite them?
Confessions in B-Flat is a celebration of the hard-won victories of those who came before us, and a stark reminder of just how far we still have to go.
About The Author:
Donna Hill, author of books including Divas, Inc. and In My Bedroom, lives in Brooklyn, New York. She has more than fifty published titles to her credit, three of which were adapted for television. She has been featured in Essence, the Daily News, USA Today, Today's Black Woman, and Black Enterprise, among many others.
My Review:
This was a very interesting book set in the midst of the civil rights movement. It taught me about the differences in the beliefs of Martin Luther King Jr. and Malcolm X. Anita is an inspiring character who is able to get her words out to others through her poetry. Jason also determines how to help others while also sharing his message.
A sad part of reading this book was that while Anita and Jason wanted to see progress, they argued over whether the civil rights bill would actually help. Anita wondered if it would lead to higher pay and better jobs, decent places to live, and not getting beaten by the police. The truth is that these are difficulties that are still happening now.
As far as historical fiction goes, this was done in a unique way with actual news articles and photographs included, as well as YouTube links to speeches that were given. The book spans from the early 60s through the Vietnam War and concludes with a hopeful feeling.
I will be posting a giveaway for this book on my Instagram, so be sure to come enter!