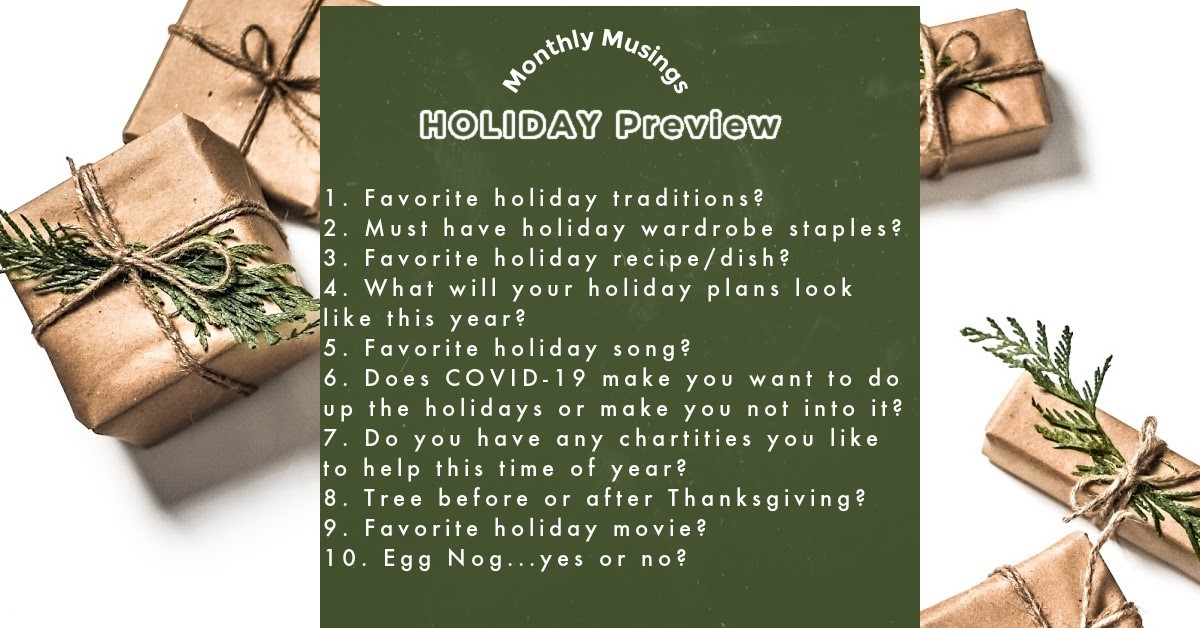 I debated with myself as to whether I should participate in this link up this month. The questions appear to be inclusive, in that they don't reference Christmas at all, but when you read through them, it is pretty obvious that the holiday we are talking about is Christmas. I could go about this post in a few ways. 1. Pretend we are talking about Hanukkah and make the questions apply as I can. 2. Answer the questions with regards to all the Jewish holidays that aren't only at this time of year. 3. Sit out this month. (No idea what I'm talking about? Read this.)
After I typed all of that, Simon walked by and asked what I was doing. I explained to him my dilemma and he decided to answer the questions for me. So here are our answers, from Simon and myself.
Favorite Holiday Traditions?
Simon says: Going to Florida and having Hanukkah there. He also says I should spell Hanukkah with a Ch.
Hanukkah doesn't always fall on the same week in December, and this year, if we do end up going to Florida, we probably won't be there over Hanukkah. I would agree that it is always fun to be in Florida on Hanukkah.
My favorite holiday traditions are probably the meals we have with friends or sometimes family, which haven't happened this year on all the holidays that we've already celebrated in the pandemic.
Must Have Holiday Wardrobe Staples?
Simon says: Comfy like warm clothes.
Perfect for winter at home! Gabbie has a Hanukkah sweater, but none of the rest of us have any holiday specific clothes. Although on the holidays that we go to synagogue, we dress up nicely!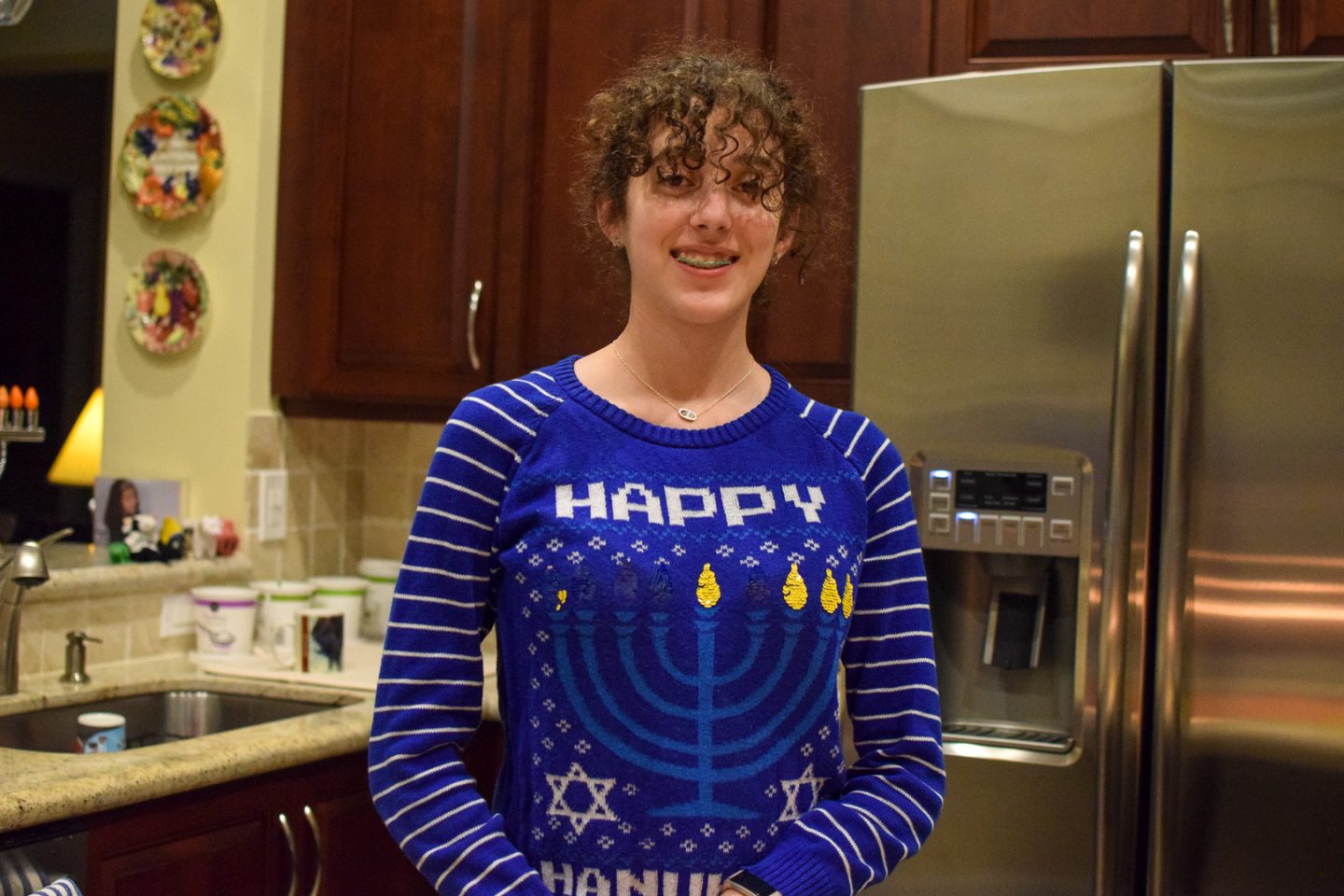 Favorite Holiday Recipe / Dish?
Simon says: Mashed potatoes.
I think he's thinking of Thanksgiving again – see also his Kids Behind the Blog answers posted last week!
One of my must have foods on Hanukkah is definitely latkes!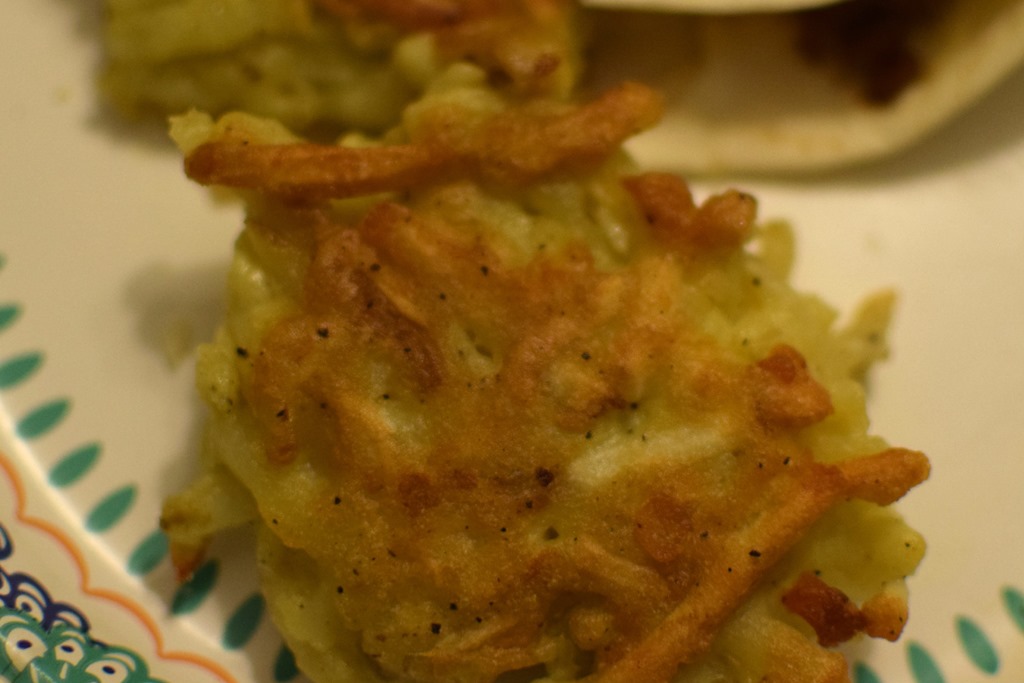 What Will Your Holiday Plans Look Like This Year?
Simon says: Staying at home.
Yes, that has been the common theme this year! Hanukkah has in the past been spent with my parents, as well as Dave's, if we are in Florida over the holiday.
Favorite Holiday Song?
Simon says: I don't have one. Wait no, the turkey one that Daddy sings all the time.
Any guesses as to which song he's referring to?
My favorite Hanukkah song is definitely Light One Candle by Peter, Paul, and Mary.
Although I don't listen to a lot of Christmas music, some of my favorites are Jingle Bell Rock, Rockin' Around the Christmas Tree, White Christmas, The Christmas Song, and Have Yourself a Merry Little Christmas (specifically James Taylor's version). Oh, and Santa Claus is Coming To Town by Bruce Springsteen.
Does Covid Make You Want To Do Up the Holidays or Are You Into It Less?
Simon says: We would have to less.
He didn't really get the question. I would say I have been a little less into holidays this year so far because I miss seeing my friends on them, though we did get to have two outdoor meals on two separate holidays, so that was nice!
Do You Have Any Charities You Like To Help This Time Of Year?
Simon says: JFS – Jewish food pantry.
Simon is on the lower school student council and they are raising money for Jewish Family Services right now. Here's a video about it:
You can help them raise the money here! In the Leave a Comment box, write from HBHA. I generally donate to charities at various times throughout the year.
Tree Before or After Thanksgiving?
Simon says: Never, we don't do Christmas
Don't really need to clarify that one.
Egg Nog, Yes or No?
Simon says: No. I don't even know what that is.
I think I've tried egg nog maybe once!
Hope no one minds my interesting take on this month's questions!