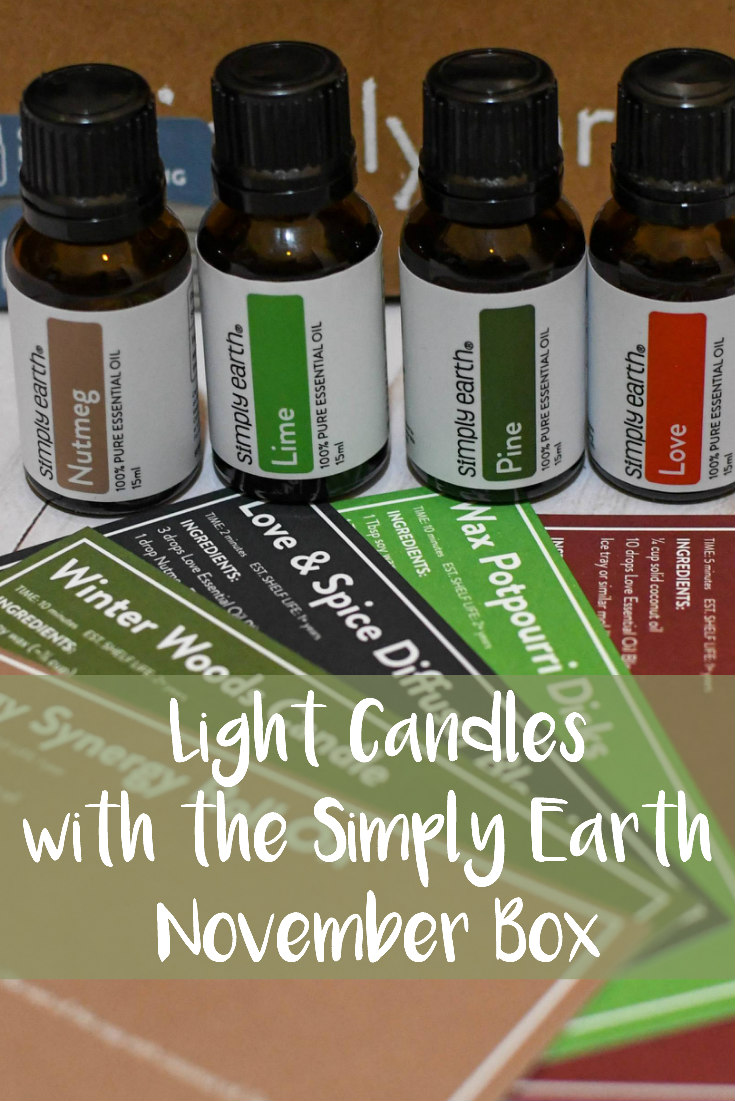 Because many store bought candles use synthetic fragrances with toxic chemicals, Simply Early Essential Oils has curated an November box with home candles you can make without the toxins. Simply Earth's recipe formulator is a certified aromatherapist and she chose the November recipes help you create toxin free candles for your home. Let's take a look at what's in the November box!
This post is in collaboration with Simply Earth and contains affiliate links. I received this box in exchange for my review and all opinions are my own. You can use my code NOTINJERSEYFREE to receive a $40 gift card to Simply Earth with your first box purchase!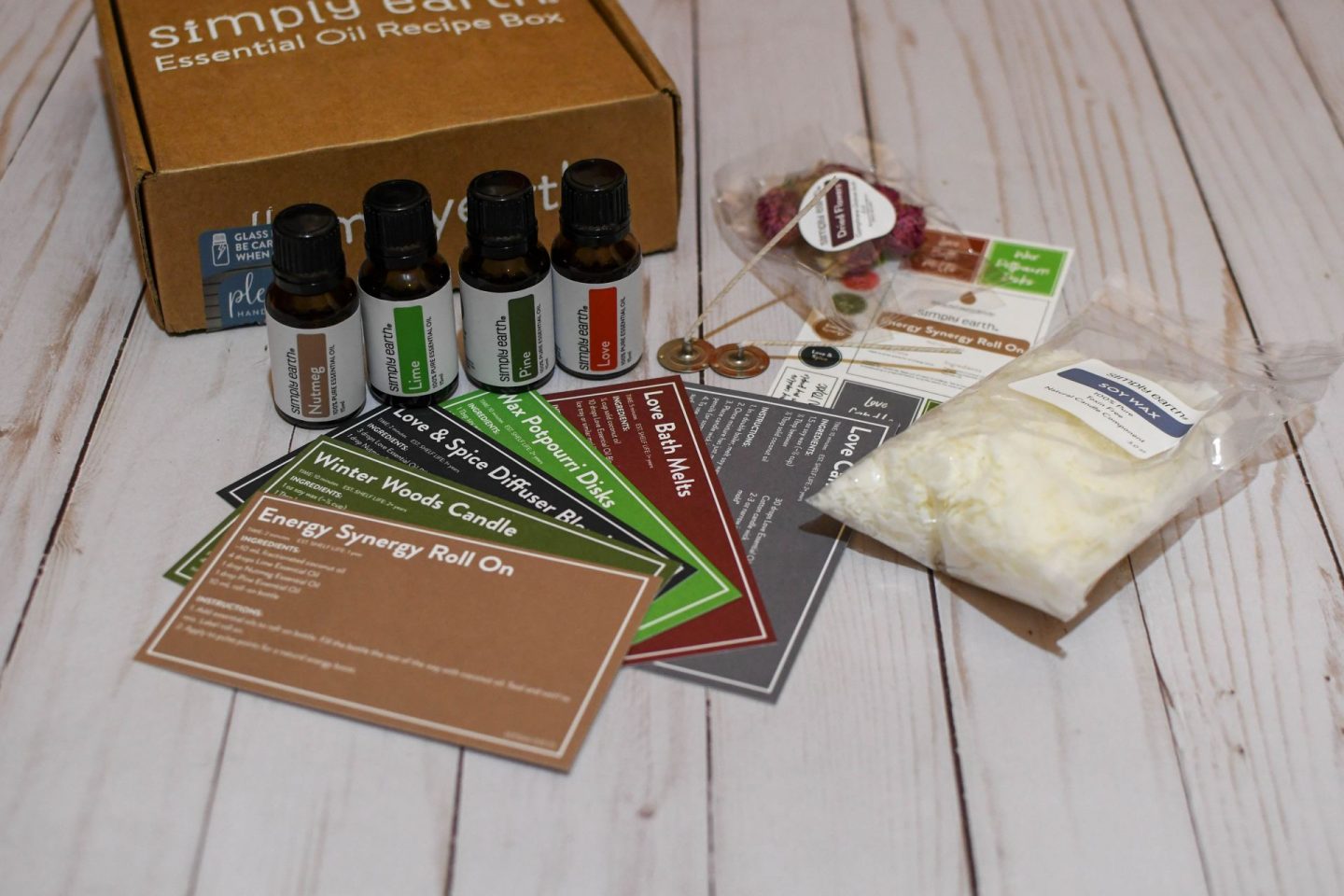 Each month, Simply Earth's boxes come with 4 essential oils, 6 recipes to go along with them, and other supplies needed for the recipes of the month. Plus, when you get your first recipe box, you will also receive the Big Bonus Box, which contains items that you can use along side your monthly boxes, such as empty bottles and carrier oils.
What's in the Simply Earth November Essential Oils Box?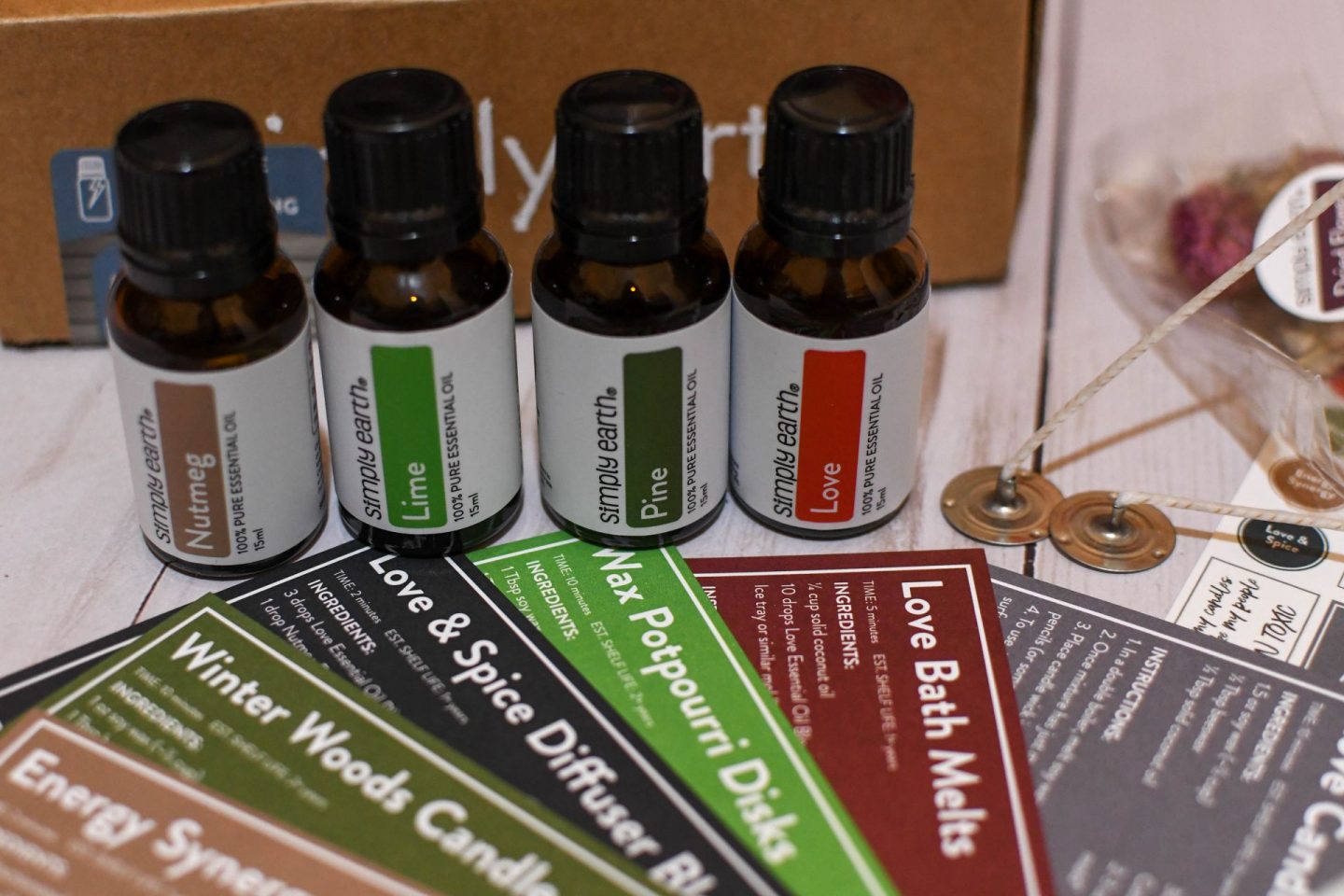 Simply Earth's November Essential Oils box contains essential oils that you can use to create your own candles and more!
Nutmeg Essential Oil: Nutmeg is a popular oil for aromatherapy because of its various uses, including helping ease queasy stomachs and relieving achy joints and muscles. It is also a warming oil that can help sleeplessness.
Lime Essential Oil: It is said that the mere inhalation of the beautiful citrus scent of lime can stimulate the sympathetic nervous system and evoke alertness. Massaging the oil can have a relaxing and stress-relieving effect.
Pine Essential Oil: Pine scotch is a popular choice in aromatherapy because of its soft scent. Pine scotch supports a healthier respiratory tract, improves circulation, and has a warm and soothing effect.
Love Essential Oil Blend: Love Essential Oil Blend is a sensual blend that's sure to add a little romance to your life.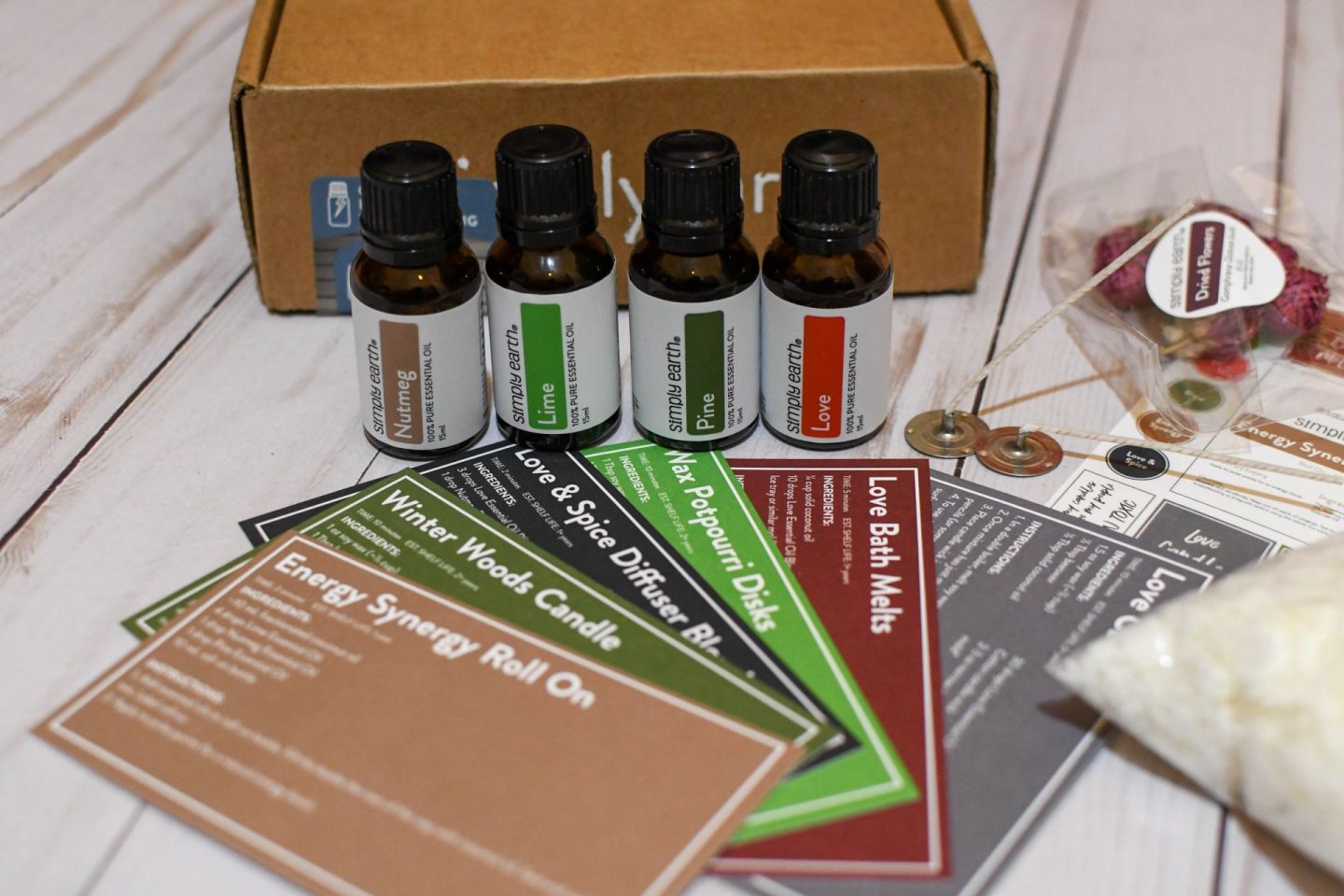 What Extras are in the November Simply Earth Essential Oils Box?
The November box comes with Soy Wax, Dried Flowers, and Cotton Candle Wicks for use with the included recipes.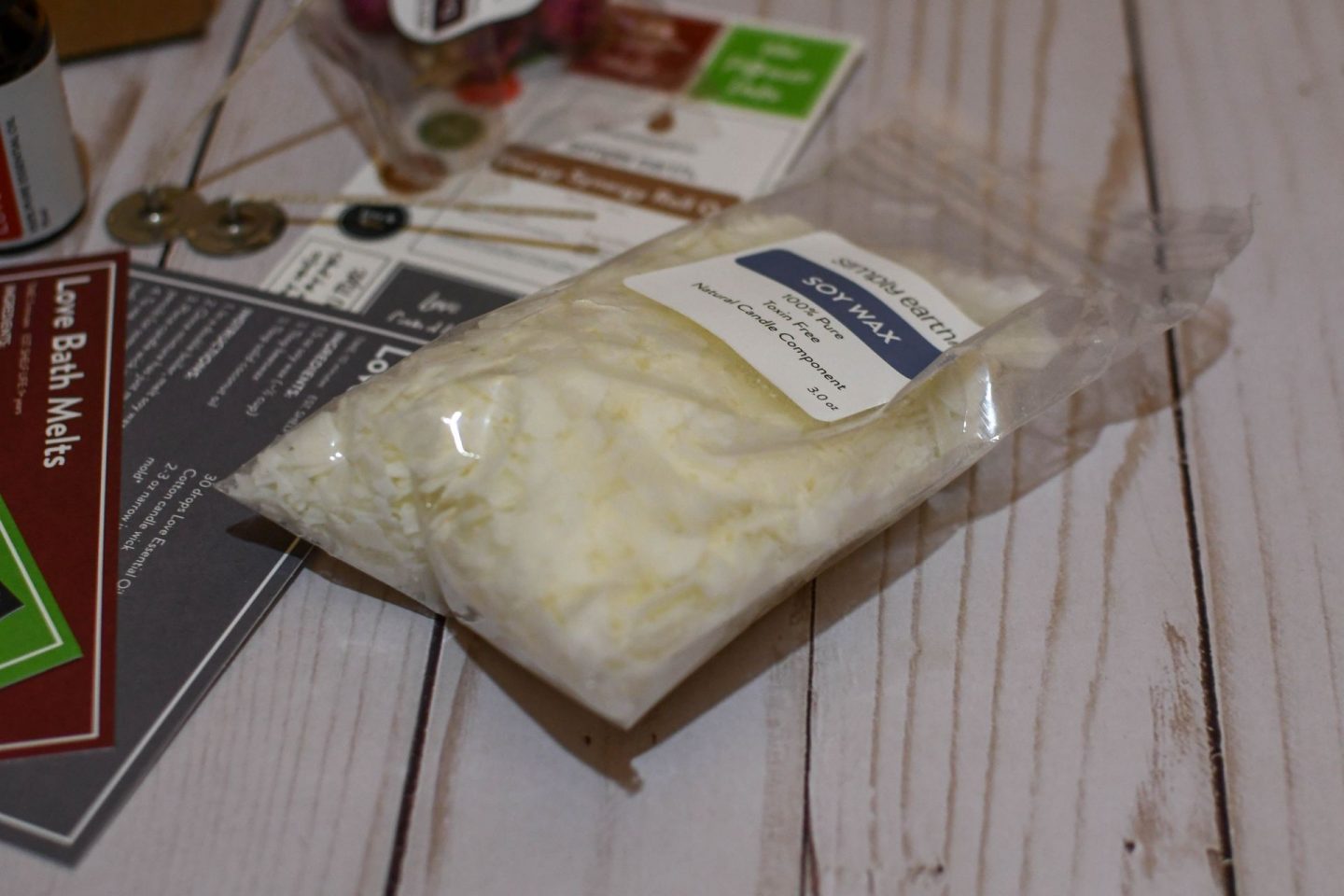 What Recipes are in the November Simply Earth Essential Oils Box?
Energy Synergy Roll On
Love Candle
Winter Woods Candle
Love Bath Melts
Wax Potpurri Disks
Love & Spice Diffuser Blend
What Additional Items are Needed to Create These Recipes?
Each recipe requires you to use items that come in your monthly box, but may also use a carrier blend. Plus, what about roll on bottles? All of this will come in your Big Bonus Box that you get along with your first order. Items that are not in the bonus box or the monthly box are starred and they include easy to find ingredients such as Epsom salt, sugar etc. This month some of the items you need are a cupcake tin or other mold, ice tray, and a 2-3 oz narrow jar.
How Much Does This All Cost?
A monthly box from Simply Earth costs $39 per month. With your first month's box you will receive your Big Bonus Box, which contains a value of an additional $40 of products. Plus, when you use my code NOTINJERSEYFREE, you will receive a $40 gift card that you can apply to your next box – essentially another box for free!
These affordable essential oils and recipe boxes can help you transition to a toxin-free home!