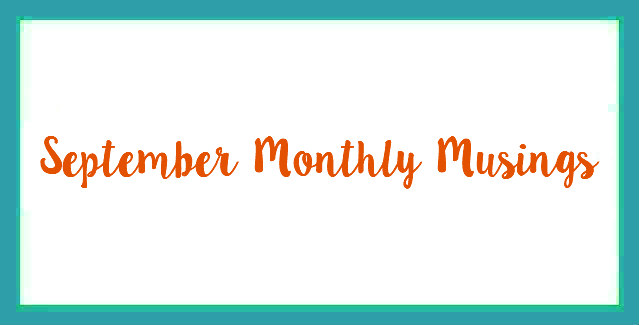 Today I'm sharing my September Monthly Musings with Patty and Holly. This month, the questions are about fall and Halloween. I don't celebrate Halloween, so I have some blank answers.
1. Favorite Fall Tradition?
I love going apple picking in the fall and to the pumpkin patch! We also celebrate a month's worth of Jewish holidays in the fall, from Rosh Hashanah through Simchat Torah.
2. Favorite Halloween Tradition?
N/A
3. What will Halloween look like this year for you and your family?
Just a regular day. We do usually buy candy in case anyone comes by, but we don't usually get very many trick-or-treaters, so it will probably be even less this year.
4. Share your favorite fall recipe:
My vegetarian chili is one of them – I need to make some soon!
5. Favorite fall fashion staples?
Anything cozy! Hoodies, joggers, sweaters, cardigans. And boots!
6. Favorite Halloween costume?
Well…I did celebrate Halloween when I was a kid. I always say my favorite was when my mom dressed me as a present. She used a cardboard box which she wrapped in various wrapping papers and I had ribbons in my hair.
7. Favorite Halloween candy?
My favorite candy is Reese's Peanut Butter Cups.
8. Favorite family Halloween movie?
No idea.
9. Scary movies, yes or no?
Not my thing!
10. Favorite fall beverage?
Apple cider, frozen apple cider, hot apple cider…all of that! And I like salted caramel mochas.
Tell me if we have any of these things in common!