It's time for my monthly book review post! These are the books that I finished in July. I will be linking up this post with the Show Us Your Books Link Up, and as always, the Amazon links to the books I've read are affiliate links and if you use them and make a purchase, I may receive a small commission. If you've read any of these books or are interested in them, I'd love to hear about it in the comments! This month I realized how much I love YA books. I also read three books that I reviewed separately: Well-Behaved Indian Women, This Is My America, and Vanessa Yu's Magical Paris Tea Shop.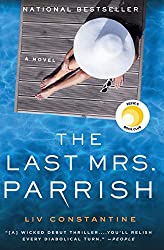 Title: The Last Mrs. Parrish
Author: Liv Constantine
Genre: Thriller
Publisher: Harper Paperbacks, 7/3/18
Source: Book Swap
Why I Read It: Was waiting on my shelf.
My Rating: 3 Stars
While this was a quick, page-turning read, I had an unpopular opinion on it in that I didn't love the way the story turned out – without giving spoilers it's hard to share why!
"Amber Patterson is fed up. She's tired of being a nobody: a plain, invisible woman who blends into the background. She deserves more—a life of money and power like the one blond-haired, blue-eyed goddess Daphne Parrish takes for granted. To everyone in the exclusive town of Bishops Harbor, Connecticut, Daphne—a socialite and philanthropist—and her real-estate mogul husband, Jackson, are a couple straight out of a fairy tale. Amber's envy could eat her alive . . . if she didn't have a plan. Amber uses Daphne's compassion and caring to insinuate herself into the family's life—the first step in a meticulous scheme to undermine her. Before long, Amber is Daphne's closest confidante, traveling to Europe with the Parrishes and their lovely young daughters, and growing closer to Jackson. But a skeleton from her past may undermine everything that Amber has worked towards, and if it is discovered, her well-laid plan may fall to pieces."
This book reminded me a lot of The Wife Between Us, which I really liked. If you like thrillers, you will probably like this one. I will say that it contains domestic abuse as well as emotional abuse of children.
---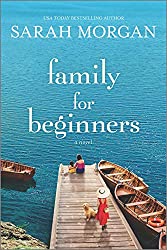 Title: Family For Beginners
Author: Sarah Morgan
Genre: Contemporary Fiction
Publisher: HQN Books, 5/5/20
Source: Harlequin Publicity Team
Why I Read It: I enjoy her writing.
My Rating: 4 Stars
Sarah Morgan is one of my favorite contemporary authors. In this book about creating a family, Jack's new girlfriend Flora tries to connect with his daughter Izzy.
"New York florist Flora Donovan is living the dream, but her bubbly optimism hides a secret. She's lonely. Orphaned as a child, she's never felt like she's belonged anywhere…until she meets Jack Parker. He's the first man to ever really see her, and it's life changing. Teenager Izzy Parker is holding it together by her fingertips. Since her mother passed away a year ago, looking after her dad and little sister is the only thing that makes Izzy feel safe. Discovering her father has a new girlfriend is her worst nightmare—she is not in the market for a replacement mom. Then her father invites Flora on their summer vacation…Flora's heart aches for Izzy, but she badly wants her relationship with Jack to work. As the summer unfolds, Flora must push her own boundaries to discover parts of herself she never knew existed—and to find the family she's always wanted."
I really liked this sweet story about a family learning to communicate and to love each other. This book took place in both New York City and in the Lake District in the UK.
---
Title: She's Faking It
Author: Kristin Rockaway
Genre: Contemporary Fiction
Publisher: Graydon House, 6/30/20
Source: Harlequin Publicity Team
Why I Read It: Reading near publication date.
My Rating: 4 Stars
I really enjoyed Kristin Rockaway's previous book last summer and I was very excited to read this one as well. Bree is a mess – her car dies, she has no money, and she can't continue her job as a food delivery person without a car. So she decides to become an Instagram influencer!
"Bree Bozeman isn't exactly pursuing the life of her dreams. Then again, she isn't too sure what those dreams are. After dropping out of college, she's living a pretty chill life in the surf community of Pacific Beach, San Diego…if 'chill' means delivering food as a GrubGetter, and if it means 'uneventful'. But when Bree starts a new Instagram account — @breebythesea — one of her posts gets a signal boost from none other than wildly popular self-help guru Demi DiPalma, owner of a lifestyle brand empire. Suddenly, Bree just might be a rising star in the world of Instagram influencing. Is this the direction her life has been lacking? It's not a career choice she'd ever seriously considered, but maybe it's a sign from the universe. After all, Demi's the real deal… right? Everything is lining up for Bree: life goals, career, and even a blossoming romance with the chiseled guy next door, surf star Trey Cantu. But things are about to go sideways fast, and even the perfect filter's not gonna fix it. Instagram might be free, but when your life looks flawless on camera, what's the cost?"
While there is a romance in this book, it is mainly about Bree's relationship with her sister, conquering fears, and realizing who she actually is. It was a sweet summer read and I recommend it!
---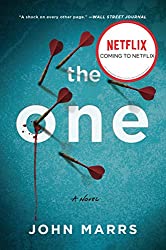 Title: The One
Author: John Marrs
Genre: Thriller
Publisher: Random House Audio, 2/20/18
Source: Scribd
Why I Read It: Book Group.
My Rating: 4 Stars
This was an excellent book group selection as there was a lot to discuss! When a researcher finds a DNA link between a person and their perfect match, you can find out if you are with "the one," or who that person may be. But what if he or she is sick or has passed away? What if they live around the world from you? The book follows multiple characters who find themselves in these situations and more.
"A simple DNA test is all it takes. Just a quick mouth swab and soon you'll be matched with your perfect partner—the one you're genetically made for. That's the promise made by Match Your DNA. A decade ago, the company announced that they had found the gene that pairs each of us with our soul mate. Since then, millions of people around the world have been matched. But the discovery has its downsides: test results have led to the breakup of countless relationships and upended the traditional ideas of dating, romance and love. Now five very different people have received the notification that they've been 'Matched.' They're each about to meet their one true love. But 'happily ever after' isn't guaranteed for everyone. Because even soul mates have secrets. And some are more shocking than others…"
This consists of short chapters about each of five characters and each chapter ends on a cliffhanger which makes you want to keep reading. I listened to this book and each character has a separate narrator. At first it was hard to keep track of who was who, but I became interested in all of their individual stories.
---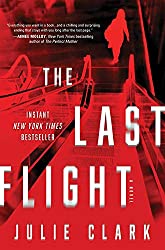 Title: The Last Flight
Author: Julie Clark
Genre: Thriller
Publisher: Sourcebooks Landmark, 6/23/20
Source: Book of the Month
Why I Read It: Buddy Read on Instagram.
My Rating: 4 Stars
This is another book in which there are two main characters who don't really interact with one another. They have separate story lines throughout the book.
"Claire Cook has a perfect life. Married to the scion of a political dynasty, with a Manhattan townhouse and a staff of ten, her surroundings are elegant, her days flawlessly choreographed, and her future auspicious. But behind closed doors, nothing is quite as it seems. That perfect husband has a temper that burns as bright as his promising political career, and he's not above using his staff to track Claire's every move, making sure she's living up to his impossible standards. But what he doesn't know is that Claire has worked for months on a plan to vanish. A chance meeting in an airport bar brings her together with a woman whose circumstances seem equally dire. Together they make a last-minute decision to switch tickets—Claire taking Eva's flight to Oakland, and Eva traveling to Puerto Rico as Claire. They believe the swap will give each of them the head start they need to begin again somewhere far away. But when the flight to Puerto Rico goes down, Claire realizes it's no longer a head start but a new life. Cut off, out of options, with the news of her death about to explode in the media, Claire will assume Eva's identity, and along with it, the secrets Eva fought so hard to keep hidden."
I was more interested in Claire's back story than in Eva's. The stories were told with Claire's leading forwards after the flight and Eva's leading from the past until the flight. I loved the way the stories ultimately combined and was happy with the way it all played out.
---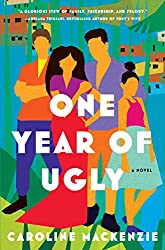 Title: One Year of Ugly
Author: Caroline Mackenzie
Genre: Contemporary Fiction
Publisher: 37 Ink, 7/14/20
Source: Publisher
Why I Read It: Reading near publication date.
My Rating: 3 Stars
I found One Year of Ugly to be more literary in style and slower than I prefer. This story is about a family who escapes Venezuela to Trinidad and becomes entrenched with a local crime lord who forces them into illegal activities to repay him for helping them escape.
"After fleeing crumbling, volatile Venezuela, Yola Palacio wants nothing more than to settle into a peaceful new life in Trinidad with her family. And who cares if they're there illegally—aren't most of the people on the island? But life for the Palacios is far from quiet—and when Yola's Aunt Celia dies, the family once again find their lives turned upside down. For Celia had been keeping a very big secret—she owed a LOT of money to a local criminal called Ugly. And without the funds to pay him off, Ugly has the entire family do his bidding until Celia's debt is settled. What Ugly says, the Palacios do, otherwise the circumstances are too dreadful to imagine. To say that the year that follows is tumultuous for the Palacios is an understatement. But in the midst of the turmoil appears Roman—Ugly's distractingly gorgeous right-hand man. And although she knows it's terrible and quite possibly dangerous, Yola just can't help but give in to the attraction. Where, though, do Roman's loyalties lie? And could this wildly inappropriate romance just be the antidote to a terrible year of Ugly?"
I would say this book is worth reading for the cultural aspects of it, as well as for the variety of relationships depicted. I'm sad to say I didn't love it, because I think it was well written and an interesting story.
---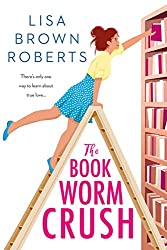 Title: The Bookworm Crush
Author: Lisa Roberts
Genre: YA
Publisher: Entangled: Teen, 10/29/19
Source: Library
Why I Read It: Was on my list as it is about Bookstagram.
My Rating: 4 Stars
This was a sweet YA book about a book nerd and a surfer. I loved that Amy was involved in the bookstagram world! This is the second book in a series, but it can be read as a stand alone.
"Shy bookworm Amy McIntyre is about to compete for the chance to interview her favorite author, who hasn't spoken to the press in years. The only way to win is to step out of the shadows and into the spotlight, but that level of confidence has never come easy. The solution? A competition coach. The problem? The best person for the job is the guy she's secretly crushing on…local surfer celebrity Toff Nichols. He's a player. He's a heartthrob. He makes her forget basic things, like how to breathe. How can she feel any confidence around him? To her surprise, Toff agrees to help. And he's an excellent teacher. Amy feels braver―maybe even brave enough to admit her feelings for him. When their late night practices become less about coaching and more about making out, Amy's newfound confidence wavers. But does Toff really like her or is this just another lesson?"
I would recommend this for older YA readers as there is more than just kissing in the relationship between Amy and Toff! It was very cute that Amy and Toff pretended to be a couple for the competition as fake romances are a fun trope that always turn into fun real romances!
---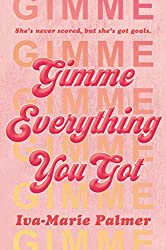 Title: Gimme Everything You Got
Author: Iva-Marie Palmer
Genre: YA
Publisher: Balzer + Bray, 7/14/20
Source: Epic Reads
Why I Read It: Reading near publication date.
My Rating: 4 Stars
This was such a fun story set in 1979 in the world of girls' soccer. Soccer wasn't popular at the time, much less for girls, so the girls who joined their team were trailblazers.
"It's 1979—the age of roller skates and feathered bangs, Charlie's Angels and Saturday Night Fever—and Susan Klintock is a junior in high school with a lot of sexual fantasies . . . but not a lot of sexual experience. No boy—at least not any she knows—has been worth taking a shot on. That is, until Bobby McMann arrives. Bobby is foxy, he's charming . . . and he's also the coach of the brand-new girls' soccer team. Sure, he's totally, 100 percent, completely off limits. Sure, Susan doesn't stand a chance. But that doesn't mean she can't try out for the team to get closer to him, and Susan Klintock has always liked a challenge. Between the endless drills and grueling practices, Susan discovers something else: She might actually love soccer. But being a part of the first girls' team at school means dealing with other challenges. As friendships shifts, she finds her real passions might lie in places she didn't expect when the season began—and that discovering who she is will mean taking risks, both on and off the pitch."
Susan learns about friendship, family, and trying your best. I would call this one an older YA book and excellent for adults as well.
---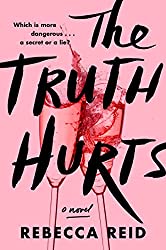 Title: The Truth Hurts
Author: Rebecca Reid
Genre: Thriller
Publisher: Harper Perennial, 7/28/20
Source: Publisher
Why I Read It: Reading near publication date.
My Rating: 4 Stars
The Truth Hurts was a fun thriller centered around a couple who both have pasts but agree to never discuss them. As the book goes on, we find out about both of the pasts that they are keeping from one another.
"Caught up in a whirlwind romance that starts in sunny Ibiza and leads to the cool corridors of a luxurious English country estate, Poppy barely has time to catch her breath, let alone seriously question if all this is too good to be true. Drew is enamored, devoted, and, okay, a little mysterious―but that's part of the thrill. What's the harm in letting his past remain private? Fortunately, Drew never seems to wonder why his young wife has so readily agreed to their unusual pact to live only in the here and now and not probe their personal histories. Perhaps he assumes, as others do, that she is simply swept up in the intoxication of infatuation and sudden wealth. What's the harm in letting them believe that? Isolated in Drew's sprawling mansion, Poppy starts to have time to doubt the man she's married, to wonder what in his past might be so terrible that it can't be spoken of, to imagine what harm he might be capable of. She doesn't want this dream to shatter. But Poppy may soon be forced to confront the dark truth that there are sins far more dangerous than the sin of omission…"
What annoyed me about this story was how Poppy seemingly forgot that she could use Google. Even when she started getting curious, she didn't do any digging! If you're looking for a quick and fun thriller, I do recommend this one.
---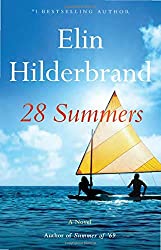 Title: 28 Summers
Author: Elin Hilderbrand
Genre: Contemporary Fiction
Publisher: Little, Brown & Company, 6/16/20
Source: libro.fm
Why I Read It: Buddy Read on Instagram.
My Rating: 4 Stars
This book brought up a lot of feelings! The main relationship in the book is between Mallory and Jake, who decide to meet up on Labor Day Weekend every year, no matter what.
"When Mallory Blessing's son, Link, receives deathbed instructions from his mother to call a number on a slip of paper in her desk drawer, he's not sure what to expect. But he certainly does not expect Jake McCloud to answer. It's the late spring of 2020 and Jake's wife, Ursula DeGournsey, is the frontrunner in the upcoming Presidential election. There must be a mistake, Link thinks. How do Mallory and Jake know each other? Flash back to the sweet summer of 1993: Mallory has just inherited a beachfront cottage on Nantucket from her aunt, and she agrees to host her brother's bachelor party. Cooper's friend from college, Jake McCloud, attends, and Jake and Mallory form a bond that will persevere — through marriage, children, and Ursula's stratospheric political rise — until Mallory learns she's dying. Based on the classic film Same Time Next Year (which Mallory and Jake watch every summer), 28 Summers explores the agony and romance of a one-weekend-per-year affair and the dramatic ways this relationship complicates and enriches their lives, and the lives of the people they love."
There were good parts of the book such as the yearly recaps of the current news and cultural events happening that year and the woven in aspects of history (up until the present – there is a different current president). Each section is considered a summer, although not every summer is included. It is more of a yearly recap of each of the book's characters, which is interesting and kept me listening. The part I did not enjoy was the yearly struggle that the couple had to go through to make sure they met up without giving away their secret relationship. It started to be a hate listen in which I was hoping they'd get caught and rolling my eyes at all they did to continue their relationship. You can read more of my thoughts on this book on my Instagram!
---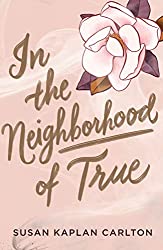 Title: In The Neighborhood of True
Author: Susan Kaplan Carlton
Genre: YA Historical Fiction
Publisher: Algonquin Young Readers, 4/9/19
Source: Sent to me by a friend.
Why I Read It: Sounded good!
My Rating: 5 Stars
My friend sent me this book because it is about a Jewish girl and she knows that I am Jewish. This is the kind of Own Voices book that I needed! While it takes place in 1958, it feels like it could be happening in the present.
"After her father's death, Ruth Robb and her family transplant themselves in the summer of 1958 from New York City to Atlanta—the land of debutantes, sweet tea, and the Ku Klux Klan. In her new hometown, Ruth quickly figures out she can be Jewish or she can be popular, but she can't be both. Eager to fit in with the blond girls in the "pastel posse," Ruth decides to hide her religion. Before she knows it, she is falling for the handsome and charming Davis and sipping Cokes with him and his friends at the all-white, all-Christian Club. Does it matter that Ruth's mother makes her attend services at the local synagogue every week? Not as long as nobody outside her family knows the truth. At temple Ruth meets Max, who is serious and intense about the fight for social justice, and now she is caught between two worlds, two religions, and two boys. But when a violent hate crime brings the different parts of Ruth's life into sharp conflict, she will have to choose between all she's come to love about her new life and standing up for what she believes."
Ruth hides who she is but she realizes she has to stand up after hate crimes occur. I loved Ruth's funny and smart voice. Some quotes I loved were: "If you don't stand up, you're only brave in theory." and "When hatred shows its face, you need to make a little ruckus." At the end of the book, I realized that the temple that Ruth goes to was based on the one where my brother got married!
---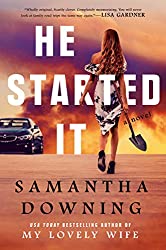 Title: He Started It
Author: Samantha Downing
Genre: Thriller
Publisher: Berkley, 7/21/20
Source: Publisher via Edelweiss.
Why I Read It: Reading near publication date.
My Rating: 4 Stars
This book revolves around one messed up family! A set of three siblings recreate a road trip they took as children. They visit actual locations from Alabama to California and I loved the way the story was told as they went from state to state.
"Beth, Portia, and Eddie Morgan haven't all been together in years. And for very good reasons—we'll get to those later. But when their wealthy grandfather dies and leaves a cryptic final message in his wake, the siblings and their respective partners must come together for a cross-country road trip to fulfill his final wish and—more importantly—secure their inheritance. But time with your family can be tough. It is for everyone. It's even harder when you're all keeping secrets and trying to forget a memory, a missing person, an act of revenge, the man in the black truck who won't stop following your car—and especially when at least one of you is a killer and there's a body in the trunk. Just to name a few reasons. But money is a powerful motivator. It is for everyone."
The twists that the story took were fun and I enjoyed reading it. There are reviewers who didn't love how the book ended without a true closing to the story. I thought it was unique and worth reading anyway!
---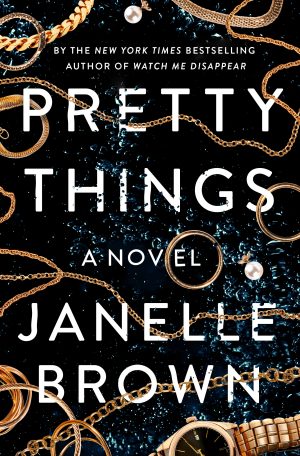 Title: Pretty Things
Author: Janelle Brown
Genre: Thriller
Publisher: Random House Audio, 4/21/20
Source: Library Audio App
Why I Read It: Became available.
My Rating: 4 Stars
I had this book as an ebook but when the audio became available I decided to listen to it instead. The narration was well done by two women voicing the two characters in the book. This was a thriller that was similar to others I have read in which you don't know who is good and bad and who is scheming against someone else.
"Nina once bought into the idea that her fancy liberal arts degree would lead to a fulfilling career. When that dream crashed, she turned to stealing from rich kids in L.A. alongside her wily Irish boyfriend, Lachlan. Nina learned from the best: Her mother was the original con artist, hustling to give her daughter a decent childhood despite their wayward life. But when her mom gets sick, Nina puts everything on the line to help her, even if it means running her most audacious, dangerous scam yet. Vanessa is a privileged young heiress who wanted to make her mark in the world. Instead she becomes an Instagram influencer—traveling the globe, receiving free clothes and products, and posing for pictures in exotic locales. But behind the covetable façade is a life marked by tragedy. After a broken engagement, Vanessa retreats to her family's sprawling mountain estate, Stonehaven: a mansion of dark secrets not just from Vanessa's past, but from that of a lost and troubled girl named Nina. Nina's, Vanessa's, and Lachlan's paths collide here, on the cold shores of Lake Tahoe, where their intertwined lives give way to a winter of aspiration and desire, duplicity and revenge."
I think this book was good but like I said, there are a lot of books like this right now. I did like the ending of this one and I won't say why, because it would be a spoiler!
---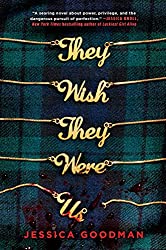 Title: They Wish They Were Us
Author: Jessica Goodman
Genre: YA Thriller
Publisher: Razorbill, 8/4/20
Source: Publisher
Why I Read It: Reading near publication date.
My Rating: 5 Stars
This was a fun book centered around an exclusive Long Island prep school where there is a secret society for the most exclusive class members. In order to be initiated into the society, prospective members must complete tasks or "pops" that are meant to be embarrassing or maybe a little dangerous.
"In Gold Coast, Long Island, everything from the expensive downtown shops to the manicured beaches, to the pressed uniforms of Jill Newman and her friends, looks perfect. But as Jill found out three years ago, nothing is as it seems. Freshman year Jill's best friend, the brilliant, dazzling Shaila Arnold, was killed by her boyfriend. After that dark night on the beach, Graham confessed, the case was closed, and Jill tried to move on. Now, it's Jill's senior year and she's determined to make it her best yet. After all, she's a senior and a Player–a member of Gold Coast Prep's exclusive, not-so-secret secret society. Senior Players have the best parties, highest grades and the admiration of the entire school. This is going to be Jill's year. She's sure of it. But when Jill starts getting texts proclaiming Graham's innocence, her dreams of the perfect senior year start to crumble. If Graham didn't kill Shaila, who did? Jill vows to find out, but digging deeper could mean putting her friendships, and her future, in jeopardy."
I loved the main character, Jill, and her relationship with her younger brother Jared. I was very invested in finding out what happened to Shaila! I did figure it out, but that didn't decrease my enjoyment of the story. I loved all of the Billy Joel references and I'm very excited that there is to be a sequel! This is for older YA readers as it contains sex and drug use.
---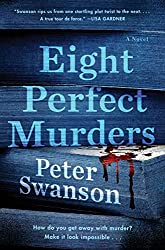 Title: Eight Perfect Murders
Author: Peter Swanson
Genre: Mystery
Publisher: William Morrow, 3/3/20
Source: Library
Why I Read It: Had been waiting for it for awhile.
My Rating: 4 Stars
This mystery revolved around murders that were committed based on a list Malcolm had written called Eight Perfect Murders, about eight murders in mystery books.
"Years ago, bookseller and mystery aficionado Malcolm Kershaw compiled a list of the genre's most unsolvable murders, those that are almost impossible to crack—which he titled 'Eight Perfect Murders'—chosen from among the best of the best including Agatha Christie's A. B. C. Murders, Patricia Highsmith's Strangers on a Train, Ira Levin's Death Trap, A. A. Milne's Red House Mystery, Anthony Berkeley Cox's Malice Aforethought, James M. Cain's Double Indemnity, John D. Macdonald's The Drowner, and Donna Tartt's A Secret History. But no one is more surprised than Mal, now the owner of the Old Devils Bookstore in Boston, when an FBI agent comes knocking on his door one snowy day in February. She's looking for information about a series of unsolved murders that look eerily similar to the killings on Mal's old list. And the FBI agent isn't the only one interested in this bookseller who spends almost every night at home reading. The killer is out there, watching his every move—a diabolical threat who knows way too much about Mal's personal history, especially the secrets he's never told anyone, even his recently deceased wife. To protect himself, Mal begins looking into possible suspects . . . and sees a killer in everyone around him. But Mal doesn't count on the investigation leaving a trail of death in its wake. Suddenly, a series of shocking twists leaves more victims dead—and the noose around Mal's neck grows so tight he might never escape."
There were a lot of characters in this book and it was hard to keep track of who might have been the murderer, so I did not predict the answer! I thought this was a fun read which was not too long and went quickly. I would read more by this author.
---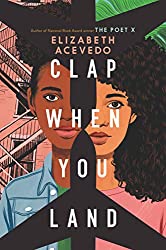 Title: Clap When You Land
Author: Elizabeth Acevedo
Genre: YA Novel in Verse
Publisher: HarperTeen, 5/5/20
Source: Scribd
Why I Read It: Buddy Read on Instagram.
My Rating: 5 Stars
I listened to this novel in verse which is also partially narrated by the author. A pair of sisters finds out about each other after their father dies in a plane crash. This was based on a crash that happened shortly after 9/11, which I remember myself. 90% of the passengers on the flight were Dominican.
"Camino Rios lives for the summers when her father visits her in the Dominican Republic. But this time, on the day when his plane is supposed to land, Camino arrives at the airport to see crowds of crying people…In New York City, Yahaira Rios is called to the principal's office, where her mother is waiting to tell her that her father, her hero, has died in a plane crash. Separated by distance—and Papi's secrets—the two girls are forced to face a new reality in which their father is dead and their lives are forever altered. And then, when it seems like they've lost everything of their father, they learn of each other."
It was so interesting to see how the sisters grew up differently based on where they lived. The poetry of the book was so well done. I loved the story and the voices of Camino and Yahaira. I wondered if the text was written differently in the book based on who was speaking, because when you are listening, you can tell. Towards the end, it wasn't always specified before each speaker. Strangely, the voice of Camino sounded more New York than the voice of Yahaira!
---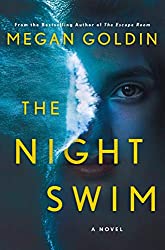 Title: The Night Swim
Author: Megan Goldin
Genre: Thriller
Publisher: St. Martin's Press, 8/4/20
Source: Publisher
Why I Read It: Reading near publication date.
My Rating: 4 Stars
I requested this book directly from the publisher because I had heard great things about Goldin's previous book, even though I haven't read that one yet! This one revolves around a rape trial and therefore comes with content warnings involving rape and assault.
"Ever since her true-crime podcast became an overnight sensation and set an innocent man free, Rachel Krall has become a household name―and the last hope for people seeking justice. But she's used to being recognized for her voice, not her face. Which makes it all the more unsettling when she finds a note on her car windshield, addressed to her, begging for help. The new season of Rachel's podcast has brought her to a small town being torn apart by a devastating rape trial. A local golden boy, a swimmer destined for Olympic greatness, has been accused of raping the beloved granddaughter of the police chief. Under pressure to make Season 3 a success, Rachel throws herself into her investigation―but the mysterious letters keep coming. Someone is following her, and she won't stop until Rachel finds out what happened to her sister twenty-five years ago. Officially, Jenny Stills tragically drowned, but the letters insist she was murdered―and when Rachel starts asking questions, nobody in town wants to answer. The past and present start to collide as Rachel uncovers startling connections between the two cases―and a revelation that will change the course of the trial and the lives of everyone involved."
I really liked the format of this book – part podcast, which I could almost hear being read out loud in my head. Then there is Rachel's viewpoint as well as Hannah's, who is sending letters about her sister Jenny. I loved how everything tied together as these things do when taking place in a small town. Rachel was a great heroine and did not stop searching until she found answers. I did find the book somewhat upsetting, as it dealt with the treatment of a victim both during an assault and by the court system. However, it is well worth the read and would be a great companion book to the memoir Know My Name. The Night Swim is a BOTM pick for August!
---
In conclusion, in July I read 20 books, 17 of which are reviewed in this post. This month I read 12 print books, 4 e-books, and 4 audio books. My favorite books this month were all YA! This Is My America, In The Neighborhood of True, Clap When You Land, and They Wish They Were Us.
Have you read any of these books or do you want to? What have you been reading lately?