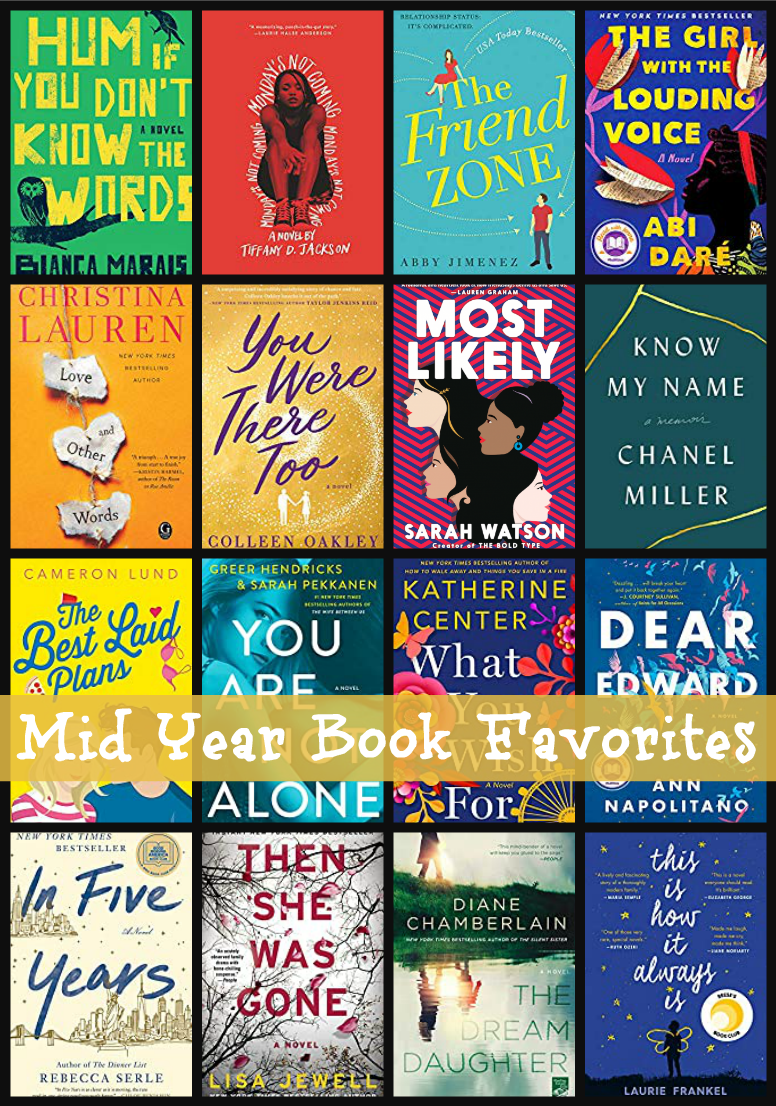 Since June marked the midway point of this year, I thought it would be fun to take a look back at my mid year book favorites from January through June. Over those months, I read a total of 116 books, even though my yearly goal was 120! Yes, I know I read a lot.
Here are some stats on my reading so far this year:
I read the most books in April, when I read 24, followed by June, when I read 23.
I read the least books in May, when I read 16.
By far, the type of book I read the most is Contemporary Fiction. That is followed by Thrillers and Romance (rom coms).
The majority of books I've read this year have been ARCs.
I read mainly print books and lesser so ebooks and audio books.
The majority of authors I have read are female and from the United States.
My average days per book is about 6 with an average of 90 pages per day.
I've read 95% fiction and only 5% non fiction.
I've read about 80% adult books and 20% YA / Middle Grade.
Only 18% of my books have been written by a POC.
How I Keep Track of What I Read
These are the books that I labeled my top books each month:
January: Monday's Not Coming by Tiffany D Jackson
February – The Friend Zone by Abby Jimenez
March – Most Likely by Sarah Watson
April – Dear Edward by Ann Napolitano
May – This Is How It Always Is by Laurie Frankel
June – Yes No Maybe So by Becky Albertalli and Aisha Saeed
I think it's funny that 50% of these books are YA!
I did have other favorites besides these each month and some months were harder to choose a favorite for than others.
Here are my favorites so far in a variety of categories:
Favorite Rom-Coms: The Friend Zone, Love and Other Words, You Were There Too, Take a Hint, Dani Brown
Favorite Literary: Hum If You Don't Know The Words, Dear Edward, The Girl With The Louding Voice
Favorite Contemporary: What You Wish For, Big Summer, In Five Years, The Dream Daughter
Favorite YA: Monday's Not Coming, Most Likely, Yes No Maybe So, The Best Laid Plans, A Good Girl's Guide to Murder
Favorite Thriller: The Red Lotus, You Are Not Alone, Then She Was Gone, Home Before Dark
Favorite Non-Fiction: The Girls, White Fragility
Favorite Middle Grade: I Have No Secrets, Fly Back Agnes
Favorite Memoir: Know My Name
Favorite Audio: In Five Years, The Girls, White Fragility, Know My Name
As you can see, it's hard to narrow down my favorites! I guess that's what happens when you read so many books. Maybe if you're looking for a place to start, my favorites will help you! If you want my reviews of any of these books, just search my site!
What have been your favorite books you've read this year?