To a lot of people, there isn't much that can be done to improve the experience of a camping trip. Having some time to spend with your loved ones amongst gorgeous vistas, away from the pressures of daily life doesn't need much improvement. However, some of us need a little more luxury, a little fun, a little more stimulation, maybe, to really let loose and enjoy being out there. As such, here are a few tips that can help you get even more out of your future camping trips.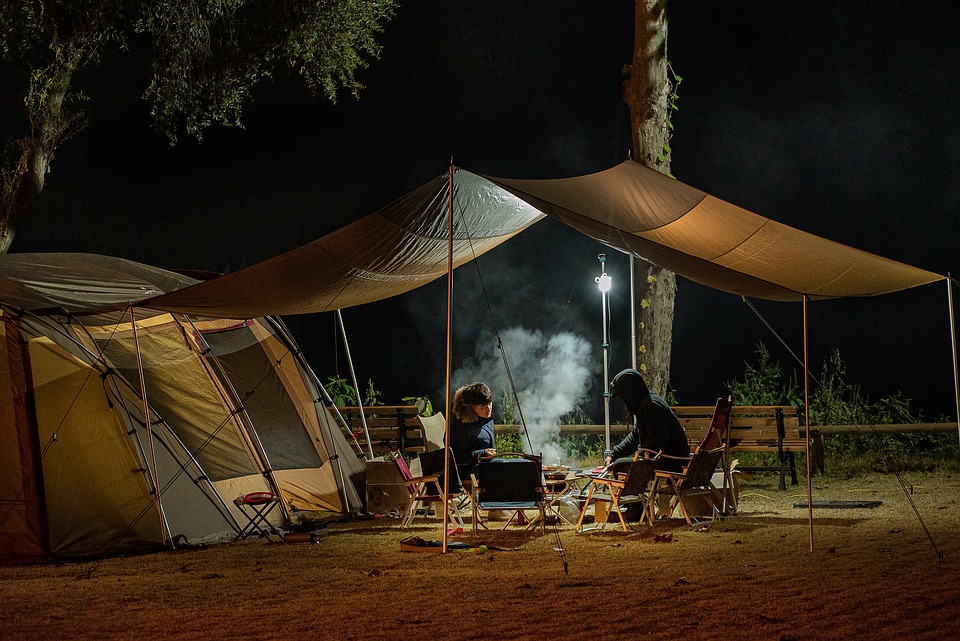 Pic – Pixabay License
Don't underestimate those little luxuries
To some people, camping is all about getting down to the bare essentials, stripping yourself of the luxuries of life in order to get closer to nature and, in a way, get closer to yourself at the same time. However, that's not what everyone wants out of that trip. Some people are just as happy to see beautiful natural environments and get away from their usual habitat, but still bring some luxuries with them. A portable coffee maker, a camping shower kit, there are plenty of little luxuries you can bring with you to make sure you get the best of both the natural and the man-made world o your trip.
The perfect place to relax
One of the common complaints experienced camping is that the elements can be a little harder to deal with than you might have thought. Even with the right clothes, sunscreen, and waterproof gear, you might have a tough time getting comfortable enough to simply sit and enjoy your surroundings. Whether you don't want to be cooped up in the tent due to a little rain, want to keep the sun out of your eyes, or are dealing with some strong winds, the best canopy tent can keep you nice and sheltered. It will be much easier to appreciate your environment, no matter what the weather is throwing at you.
Some alone time is essential
There's no denying that camping is best done with some company. You can get down to some really intimate and interesting conversations with your loved ones when you know you have the privacy of the wilderness and little else to take your attention away from them. However, that doesn't mean that you're going to want to spend every waking moment of every day with them. For the introverts, especially, you know you're going to need some alone time. As such, some means of entertainment for that alone time is important, too. For most people, this is going to mean bringing a good book or two. However, if there are other games or crafts you want to bring with you, that's fine too.
Learn a little on the way
To some people, the opportunity to better know the natural environment and to even learn a little is very valuable. However, unless you have a woodman out there with you, you might be stuck with as little information as your compadres on the journey. As such, if you want to learn something about your surroundings, make sure you have a tool that can help teach you, as well. For instance, there are nature and wildlife apps that can help you identify different flora and fauna species depending on the environment that you're in. That way, you can come back to camp with some pretty cool facts about the things surrounding you. It can help you feel a little more connected to your environment, too.
Go with a big group
Intimacy is part of the appeal of the camping trip for a lot of people. However, if you're something of an extrovert and you have a lot of social energy to work off, then you don't have to follow the rules of stripping things down as much as possible. Instead, get talking to your friends about putting together a big wilderness retreat to get everyone involved. That way, you are a lot less likely to get bored thanks to all of the company you have. If you need a little alone time, you're less likely to feel guilty, too. After all, everyone will have plenty of people around them to keep them entertained.
The tips above aren't supposed to be a callout on what's missing from your camping trip. If you're happy with the minimalist approach and simply enjoying nature as it is, then you do you. However, if you feel your trip could use a little extra something then hopefully, these tips have helped you find what that something is.
---
This post was contributed by Simone Devonshire.