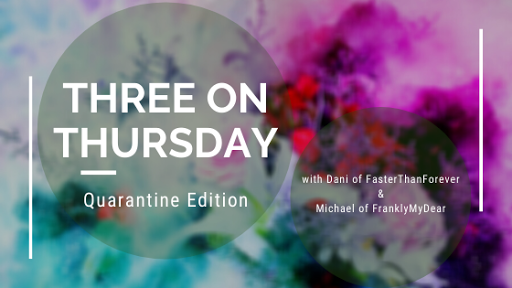 Today I'm joining Dani and Michael for a Quarantine Edition of Three on Thursday. Thanks for the idea, ladies!
Three Creature Comforts
1. books
2. coffee
3. cozy clothes like hoodies and leggings
Three Comfort Foods
1. soup
2. mac and cheese
3. chili
Three New Recipes Attempted
1. banana muffins
2. monster cake (will be attempting Sunday)
3. I must have made something else recently but can't think of a thing!
Three Things Entertaining Me Right Now
1. books
2. Jane the Virgin
3. more books.
Three Shows or Movies Recently Watched
1. Jane the Virgin
2. one episode so far of Never Have I Ever
3. In The Dark
Top Three Songs Played
(changing this to most recently sung along to in the car…)

1. Copa Cabana
2. An Innocent Man
3. ok I didn't sing it, but the graduation song for our school's parking lot from our cars graduation.
Three Recent Purchases
1. masks
2. birthday gift for my niece
3. Scribd monthly renewal
Three Things Keeping Me Sane
1. have I mentioned books?
2. my husband
3. puzzles
Three Things That I Miss Most (people, places, things)
1. just wandering around a store
2. traveling
3. the kids going to school
Three Things I'm Looking Forward To
1. a possible trip in the summer
2. reading by the pool if we decide we can go
3. hanging out with my friends
How about you?