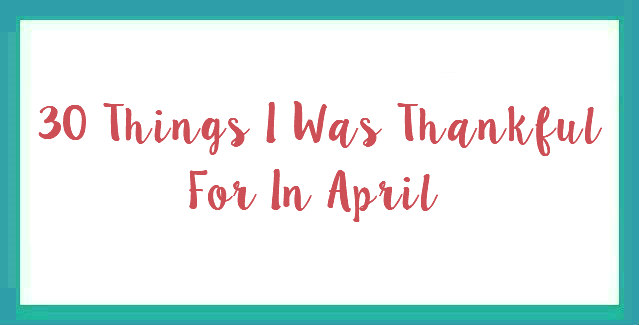 Well, it happened. I haven't written in my gratitude journal since April 3. I have been trying to keep track of the things I'm thankful for by the day, but I seem to have given up this month. Now I may try to write them in my planner, which is always in front of me, rather than having to remember to write them in a separate journal. Because I do still want to focus on gratitude and share the things I'm thankful for here every month! This may be a challenge, but I'm going to type this list from memory, so rather than all of them being by the day, they will just be things I know I was thankful for at some point in April.
1. Gabbie turned 15 and seemed to have a good day despite it being very different.
2. Dave is doing the grocery shopping although that is usually my job.
3. Even though I ate mac and cheese in honor of Gabbie's birthday, my weight went down instead of up!
4. I'm so grateful I am a stay at home mom.
5. Family movie night – we watched Onward.
6. Family game night – we played Bingo.
7. Although I greatly dreaded having no school as well as nothing to do, the kids did ok being off and entertaining themselves.
8. We celebrated Passover at home instead of going away. It went pretty well.
9. We figured out how to talk to our friends from their driveway with them on their porch and I realized how nice it is to see people in person!
10. We took a long walk.
11. Yummy food.
12. Working on puzzles – thankful for our friend who loaned us some!
13. I actually didn't gain weight over the beginning of Passover…
14. It's been one month since this all started.
15. We celebrated the end of Passover and it was nice family time.
16. Enjoying reading to the boys. And reading to myself!
17. Baking bread.
18. Our friends stopped by our sidewalk.
19. I'm enjoying talking to my parents and we actually agree on things these days.
20. The kids have online classes again.
21. Zachary's Chromebook wasn't charging correctly but it started working again.
22. I set up a book swap with someone who turned out to be pretty local so we swapped in person (from a distance)
23. Taking a ride in the car is a new form of entertainment.
24. Gabbie and I painted each other's nails.
25. When the family goes for a walk and I stay home, I get some alone time.
26. Tailgating on the driveway was fun!
27. Going out for ice cream – yum.
28. Supportive online friends.
29. When my boys play together.
30. Catching up with a friend on our evening walk.
What are you thankful for today?