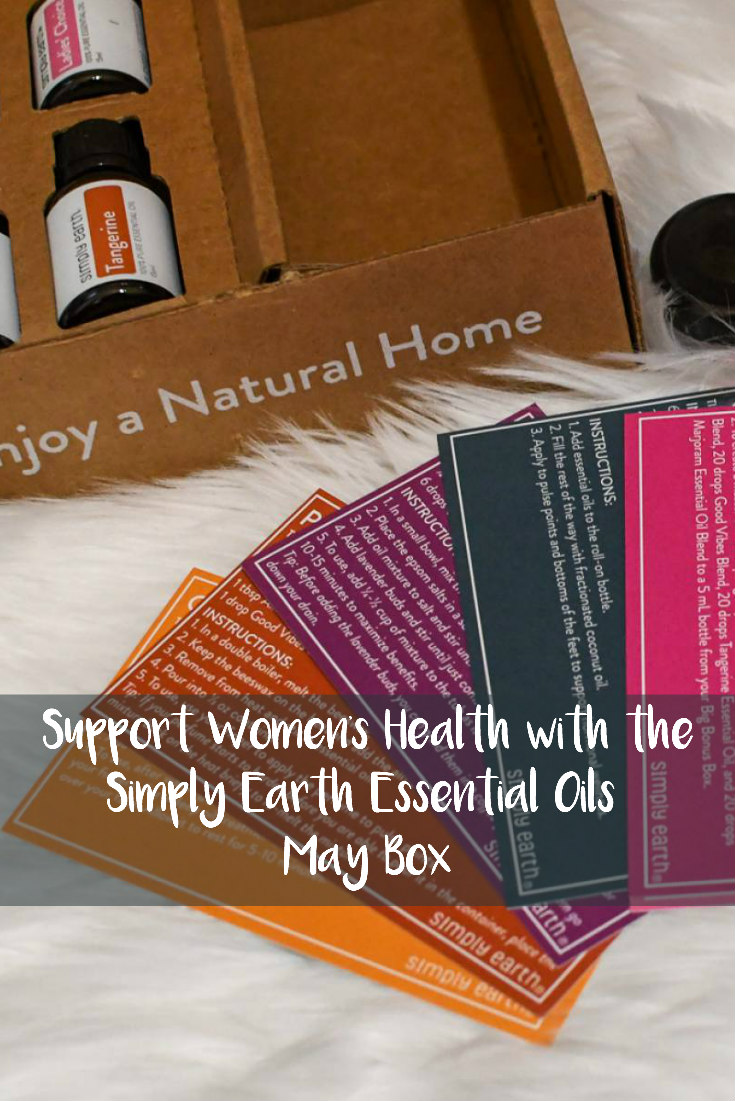 May is Women's Health Month so Simply Early Essential Oils has curated a May box in that theme! Simply Earth's recipe formulator is a certified aromatherapist and she chose the May recipes to help with mood swings, difficulty sleeping, monthly acne, and other symptoms of hormonal imbalance. Let's take a look at what's in the May box!
This post is in collaboration with Simply Earth and contains affiliate links. I received this box in exchange for my review and all opinions are my own. You can use my code NOTINJERSEYFREE to receive a $40 gift card to Simply Earth with your first box purchase!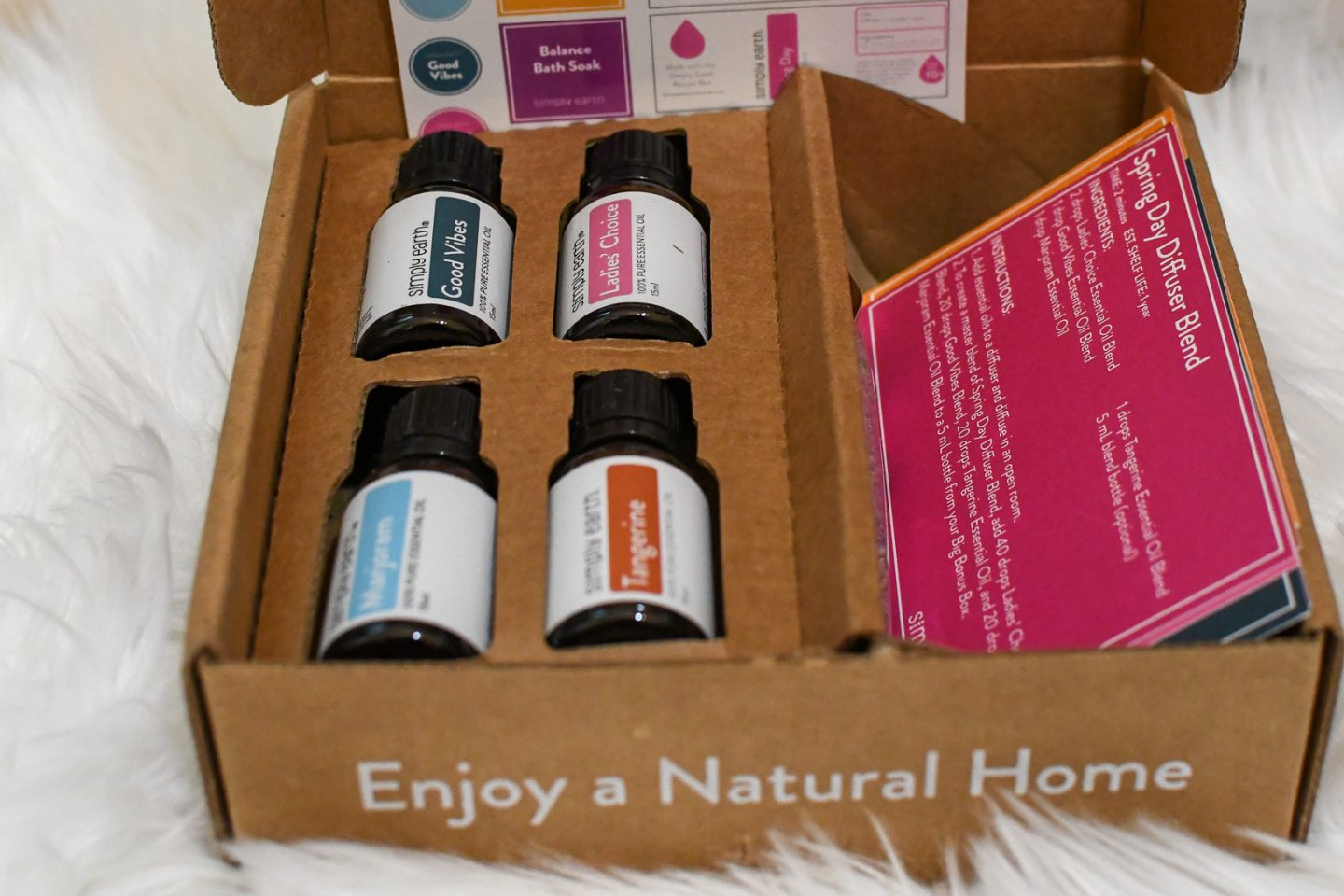 Each month, Simply Earth's boxes come with 4 essential oils, 6 recipes to go along with them, and other supplies needed for the recipes of the month. Plus, when you get your first recipe box, you will also receive the Big Bonus Box, which contains items that you can use along side your monthly boxes, such as empty bottles and carrier oils.
What's in the Simply Earth May Essential Oils Box?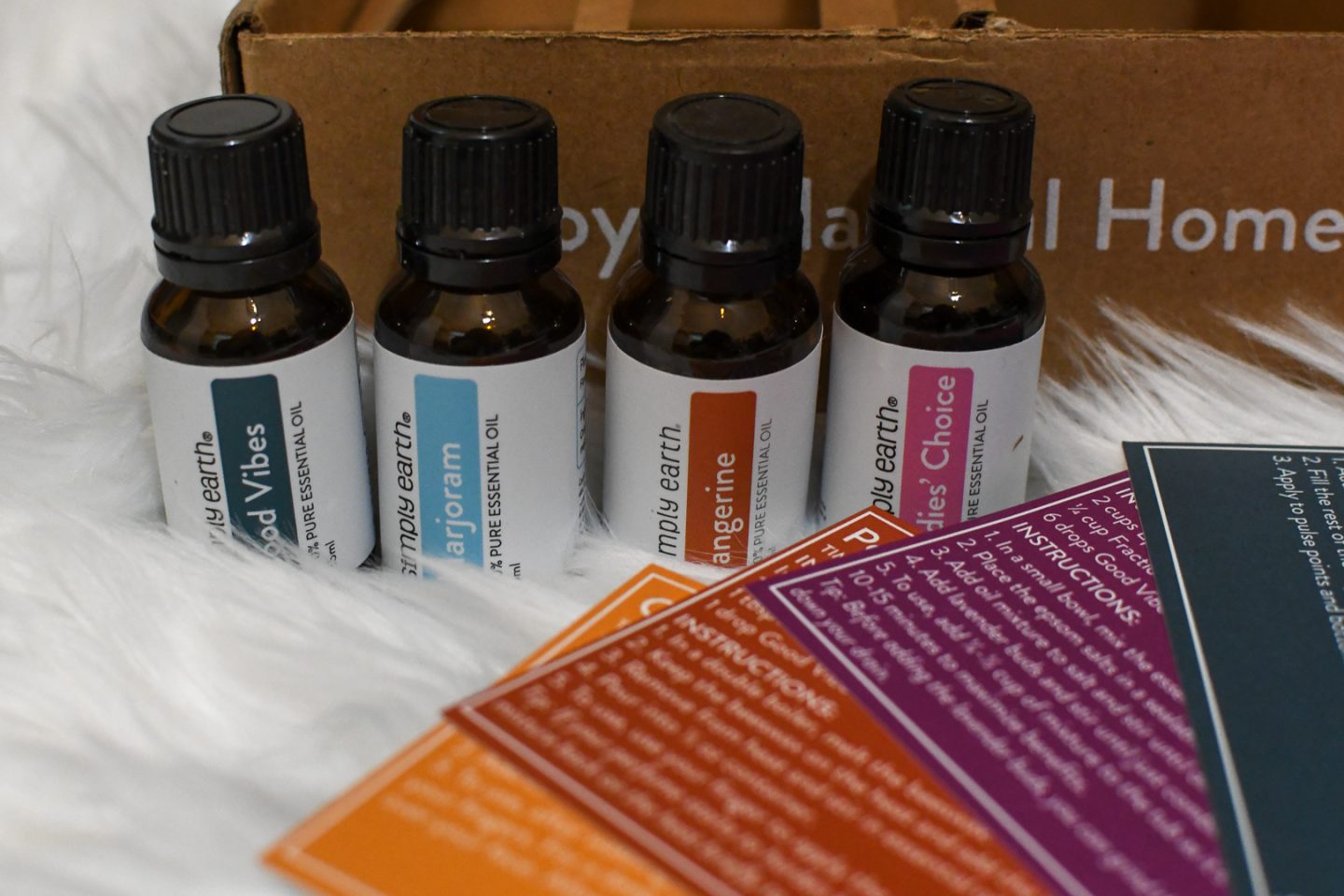 Simply Earth's May Essential Oils box contains essential oils that you can use to support women's health!
Good Vibes Essential Oils Blend: A Blend of lavender, lemon, ho wood, geranium, and clary sage that supports hormone health.
Marjoram Essential Oil: Marjoram is an herb that is calming and warming, which makes it great for using before bed at night! Marjoram can be used to relieve menstrual pain and provides relief from seasonal threats.
Tangerine Essential Oil: Tangerine's fresh citrusy smell can have a refreshing and rejuvenating effect, while at the same time providing support to the immune system and soothing a queasy stomach.
Ladies' Choice Essential Oils Blend: Ladies, tired of PMS disrupting your week? Ladies' Choice Essential Oil Blend gives you a weapon against monthly discomfort. A blend of Clary sage, marjoram, lavender, and geranium.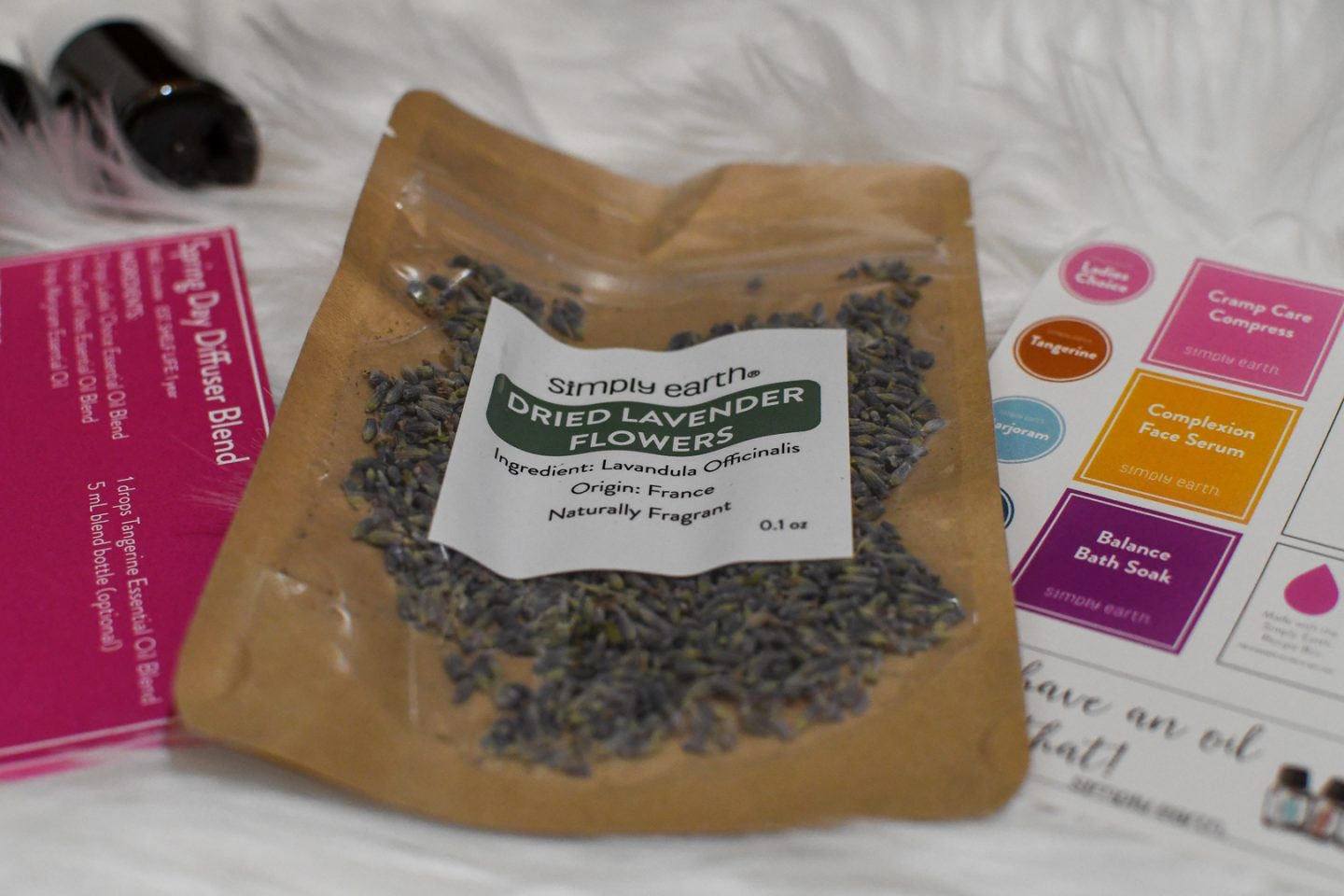 What Extras are in the May Simply Earth Essential Oils Box?
The May box comes with Lavender Buds for use in the recipes included with the box, as well as a 1 oz flip top container and a 1/3 oz container.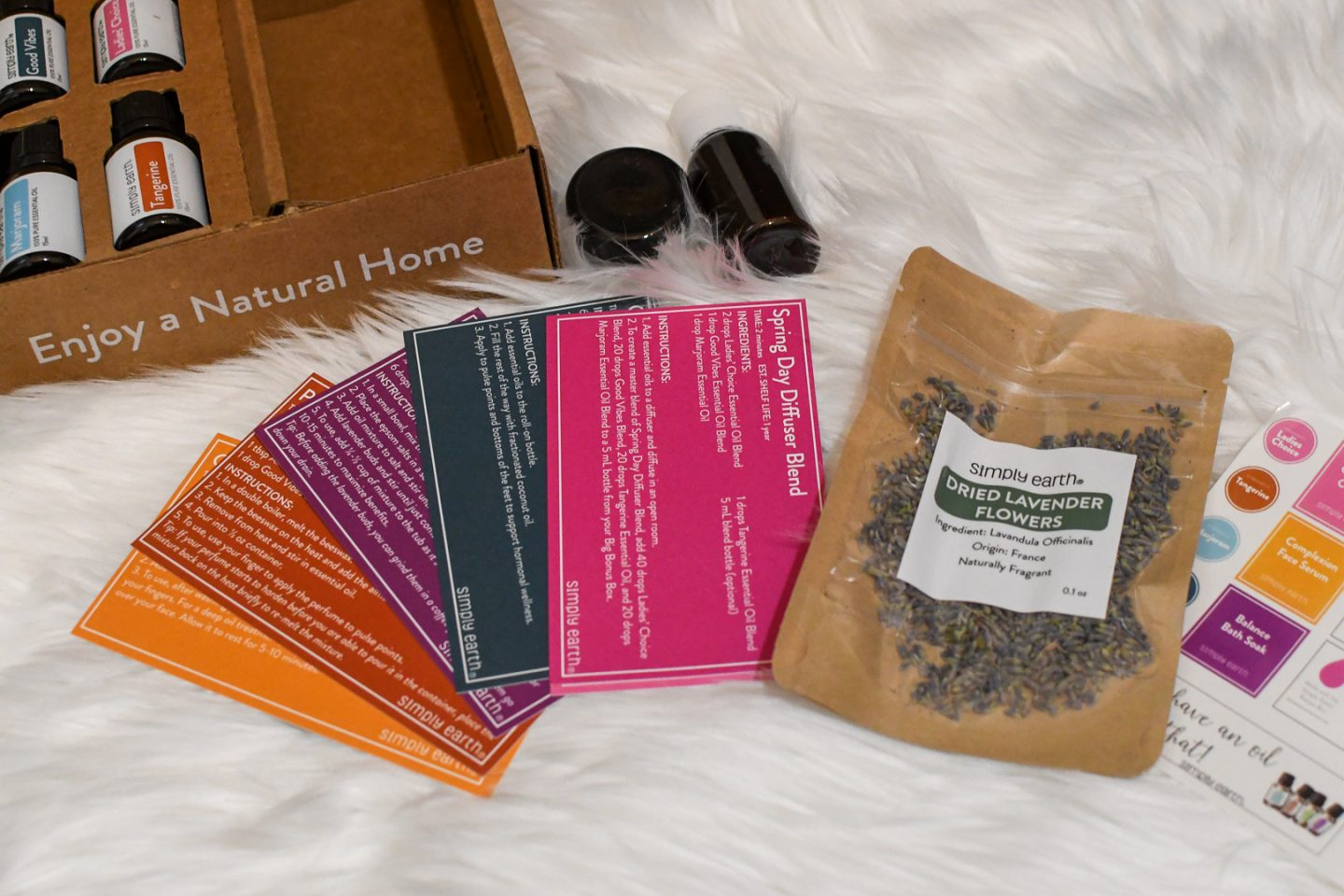 What Recipes are in the May Simply Earth Essential Oils Box?
Spring Day Diffuser Blend
Good Vibes Roll On
Balance Bath Soak
Positivity Solid Perfume
Complexion Face Serum
Cramp Care Compress
What Additional Items are Needed to Create These Recipes?
Each recipe requires you to use items that come in your monthly box, but may also use a carrier blend. Plus, what about roll on bottles? All of this will come in your Big Bonus Box that you get along with your first order. Items that are not in the bonus box or the monthly box are starred and they include easy to find ingredients such as Epsom salt, sugar etc. However, this month the only starred items are a container and a soft cloth or towel.
How Much Does This All Cost?
A monthly box from Simply Earth costs $39 per month. With your first month's box you will receive your Big Bonus Box, which contains a value of an additional $40 of products. Plus, when you use my code NOTINJERSEYFREE, you will receive a $40 gift card that you can apply to your next box – essentially another box for free!
These affordable essential oils and recipe boxes can help you transition to a toxin-free home!